Neuschwanstein Castle is the most popular tourist attraction in Germany, and the best place to view it from is Queen Mary's Bridge.
Work on the Disney-like castle started in 1869 and was only partially completed in 1886 when King Ludwig II mysteriously died.
Since then, the castle has been open to the public, attracting more than a million visitors annually.
Some tourists step inside for a tour of Neuschwanstein Castle, and some decide to take in the stunning visuals from Mary's Bridge. Some choose to do both.
This article shares everything there is to know about the bridge, which is locally also known as Marienbrücke.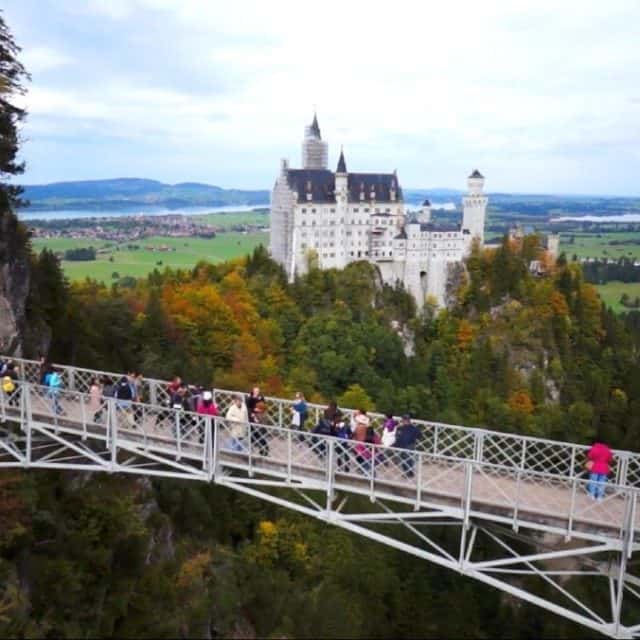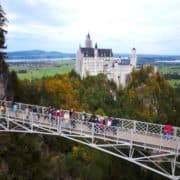 About Marienbrücke
Marienbrücke in Schwangau is a bridge across Pöllat gorge, overlooking Castle Neuschwanstein.
King Ludwig II built the bridge so that people could admire his castle from a distance as well.
The bridge gets its name after Ludwig's mother, Queen Mary, and Marienbrücke translates in English to Mary's Bridge.
Since the bridge runs over the Pöllat gorge, it is often referred to as the Pöllat Bridge.
There is no entrance fee to enter or cross the bridge, and you can spend as much time on it as you prefer.
---
---
How to get to Mary's bridge?
There are two ways to get to Queen Mary's Bridge – you can book one of the coach (or train) tours from Munich or drive down to the attraction.
The most popular Neuschwanstein Castle tour from Munich also includes a visit to Linderhof Palace.
If you have already seen Linderhof, opt for the shorter Neuschwanstein Castle tour.
If you are driving to Schwangau village, head for parking P4 directly underneath Hohenschwangau Castle (near the Alpsee).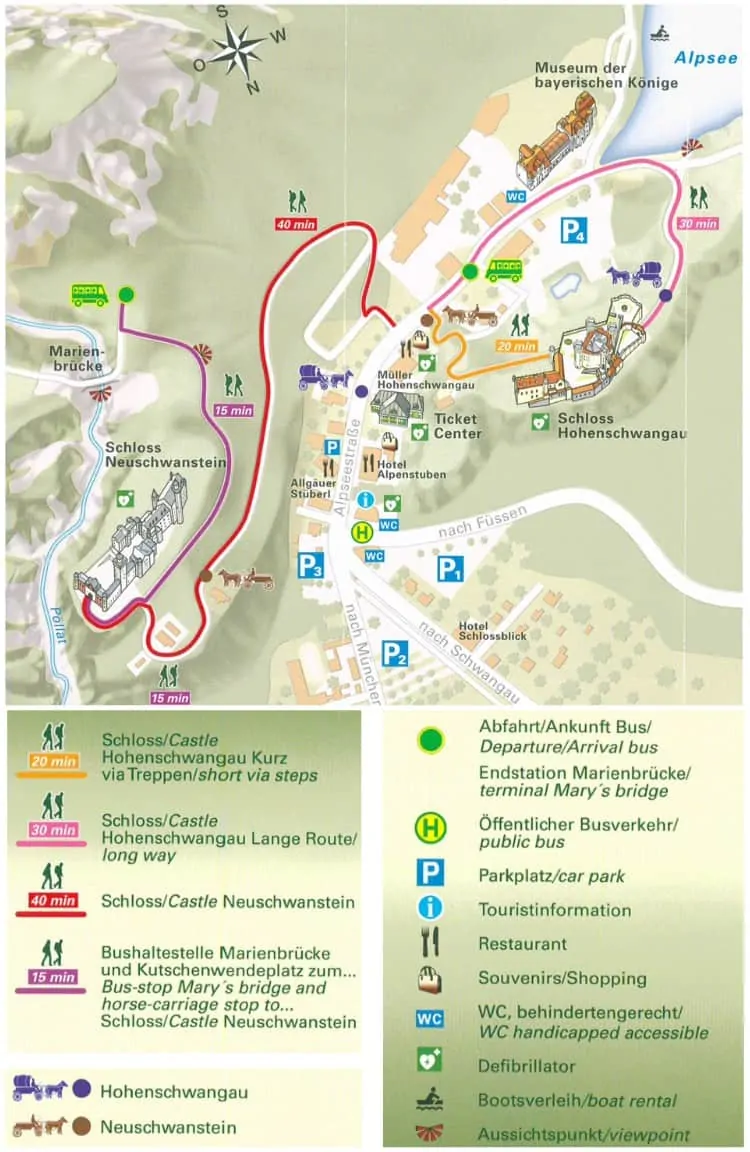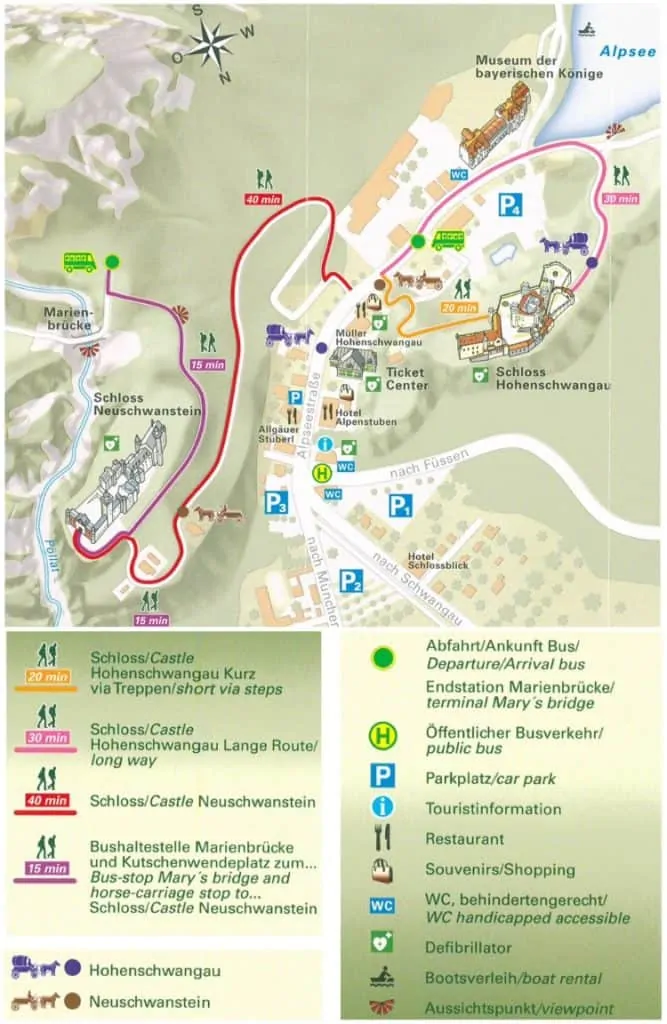 From P4, you can open directions to Marienbrücke on Google Maps and start walking.
After a 45-minute slightly uphill trek, you will reach Mary's Bridge.
The hiking trail up to Queen Mary's Bridge is paved and well-signposted until you get to the top's dirt trail.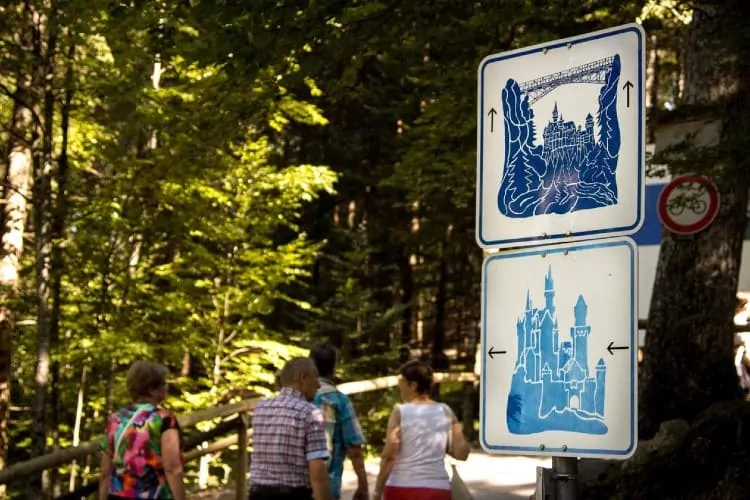 If you don't fancy a trek, from P4 itself, you can board a shuttle bus that can drop you close to the Neuschwanstein bridge.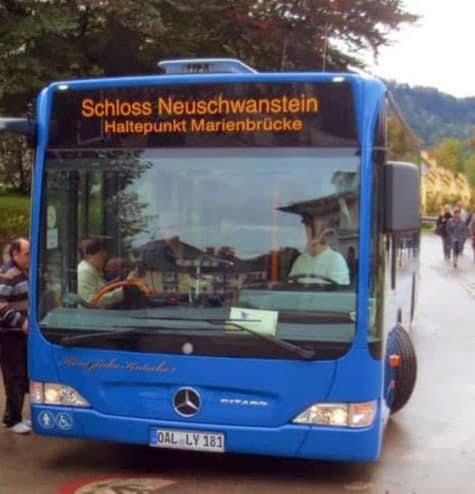 Visitors must get down from the bus and take a downhill walk of about 500 meters (1650 feet) to reach the bridge.
From Mary's bridge, a brisk 15 minutes walk can get you to the castle.
Image: New-swan-stone.eu
The buses operate all year round without a fixed timetable, and you can purchase the tickets from the bus itself.
The uphill trip costs €2.50, the downhill trip €1.50, and the return trip is priced at €3.
Summer shuttle timings
First shuttle uphill: 8 am
Last shuttle uphill: 5.30 pm
Last shuttle downhill: 6.45 pm
Winter shuttle timings
First shuttle uphill: 9 am
Last shuttle uphill: 3.30 pm
Last shuttle downhill: 5 pm
---
---
Best time to visit Mary's Bridge
Neuschwanstein Castle's bridge can get crowded on weekends, school breaks, and during peak summer months.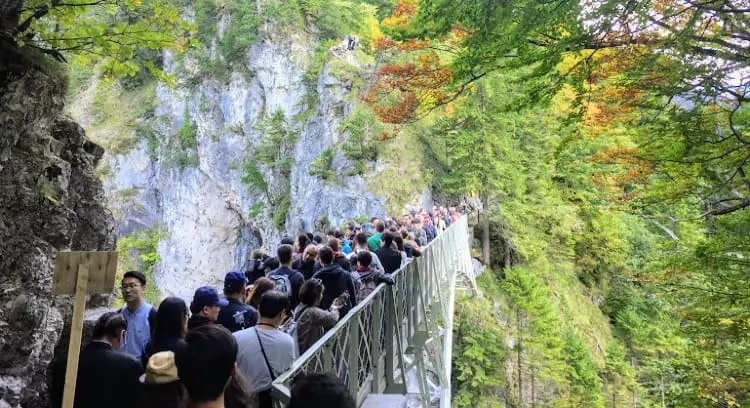 On such days, due to safety reasons, the number of people on the bridge is regulated by security guards.
This leads to queuing at one end of the bridge, and the waiting time can even go up to half an hour.
Visitors get only a few peaceful minutes to take in the beautiful views and also snap photographs.
To avoid crowds, it is best to visit during the shoulder season of May, June, September, and October.
You can also reach early or after 4 pm to avoid the midday crowds.
You can also spot the long line of visitors waiting to get on Queen Mary's bridge, in this Google's Street View of the Bridge.
---
---
Mary's Bridge in winter
If you are visiting Neuschwanstein Castle in Winter, you will find it all covered in snow.
However, due to ice and snow, the bridge remains closed for visitors.
Even when the bridge is closed, access to Neuschwanstein Castle and the guided tours inside are continuously on.
---
---
Photography from Marienbrücke
Photography is not allowed inside Neuschwanstein Castle, and using a drone to take aerial photos or videos is also prohibited in the whole area.
That is why Mary's Bridge becomes such an essential part of the Neuschwanstein Castle experience.
This is precisely the spot from where the castle looks like it has been picked straight out of a fairytale book.
Talking of fairytales, did you know that Walt Disney got inspired by Neuschwanstein Castle and built the Sleeping Beauty Castle in Disneyland?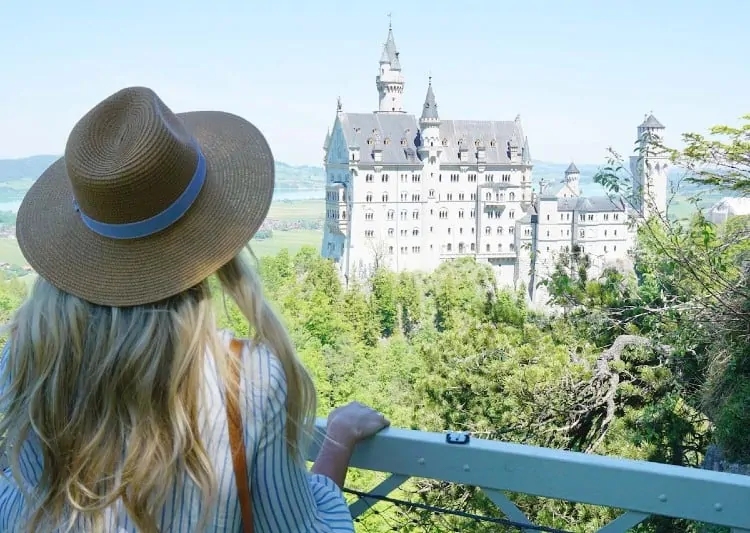 If you want to spend a lot of time taking photographs, it is better to visit on weekdays or non-peak months.
If you don't mind the risk, you can, however, try yet another viewpoint near the bridge.
Follow the trail at the other end of the bridge and turn left after a few meters to get to the spot.
However, venture on this route only if you are wearing suitable footwear and feel sure-footed.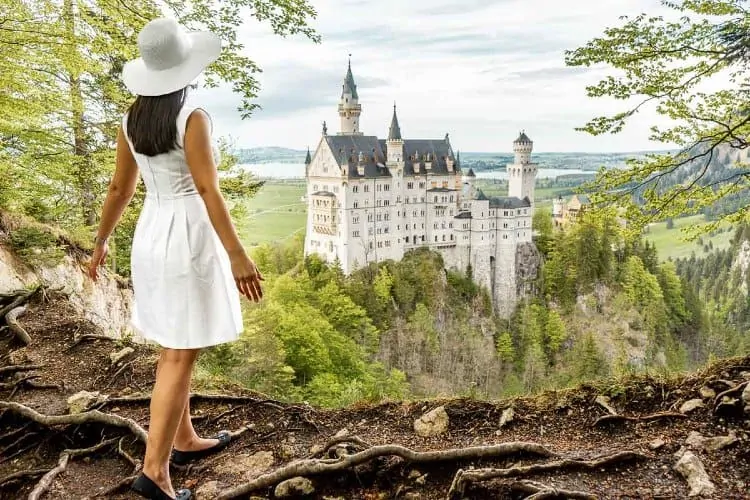 ---
---
History of Queen Mary's Bridge
At this location, the first bridge was built by Ludwig's father, King Maximilian II, in 1845.
However, the footbridge was wooden, unstable, and had to be repaired every few years.
When Ludwig II became King and started work on his fairytale castle, he didn't like the 35 meters (115 feet) long bridge's aesthetics.
He wanted the bridge to match his castle's extravaganza and decided to replace it with a filigree iron structure in 1866.
The construction was strong enough to last more than a century until the authorities restored it in 1984.
However, some of the original parts of the Neuschwanstein Castle bridge are still in use.
So what are you waiting for? Will it be both Neuschwanstein or Linderhof Castles or just Neuschwanstein Castle?
Sources

# Hohenschwangau.de
# Historicbridges.org
# Tripadvisor.com
# Nothingfamiliar.com

The travel specialists at TheBetterVacation.com use only high-quality sources while researching & writing their articles. We make every attempt to keep our content current, reliable and trustworthy.
Popular attractions in Munich
# Neuschwanstein Castle
# Linderhof Palace
# Hofbrauhaus Munich
# Allianz Arena Tour
# Dachau Concentration Camp