Allianz Arena is FC Bayern Munich's home ground and welcomes five million visitors annually for its two attractions – the Allianz Arena tour and the FC Bayern Museum.
It has a seating capacity of 75,000 for football matches and is the first stadium in the world with a full color-changing exterior.
This article shares everything you must know before you book your Allianz Arena tour or purchase the FC Bayern Museum tickets.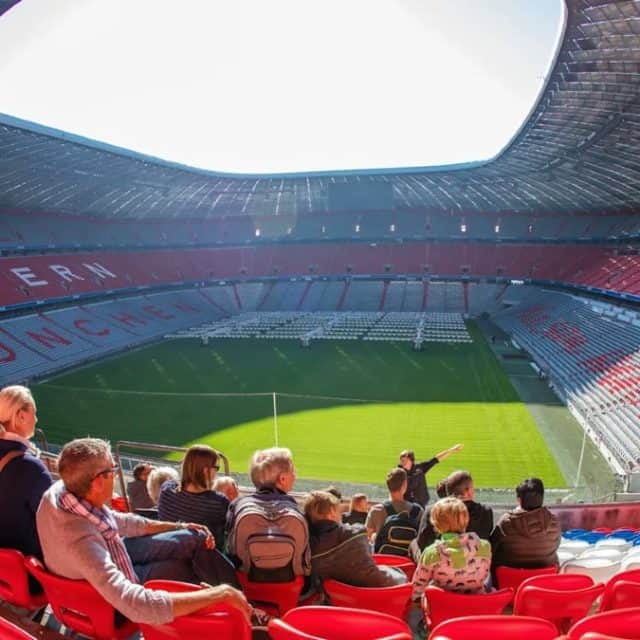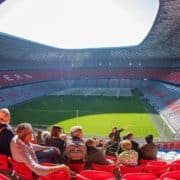 How to reach Allianz Arena
Allianz Arena is in the Northern part of Munich, approximately 12 kilometers from the city center.
Matchday or no match day, it is better to start early because of potentially heavy traffic near the Allianz Arena.
S-Bahn to Allianz Arena
It is best to take an S-Bahn train from München Hauptbahnhof (Munich's Central Station) or Munich East Station to Marienplatz, a central transit point.
From the Central Station, you can board S1, S2, S3, S4, S6, S7 or S8 and from Munich East, you can get on to S1, S2, S3, S4, S7 or S8 to reach Marienplatz.
Allianz Arena U Bahn
Marienplatz Station is 11 kms (almost 7 miles) from Allianz Arena, FC Bayern Munich's football stadium.
From Marienplatz, visitors must take the U6 underground line (in the direction of Garching-Hochbrück) to Fröttmaning.
The U-Bahn from Marienplatz to Fröttmanning takes approximately 16 minutes.
Once you get down at Fröttmanning, visitors must walk a distance of 1 km (two-third of a mile) via the Esplanade to get to the stadium.
CityTourCard gets you free travel on public transport. It is a fantastic way to save money if you are a large group or on a budget holiday.
Allianz Arena parking
There is ample parking at Allianz Arena stadium – 11,900 spaces to be precise, making it the largest football stadium car park in Europe.
On non-matchdays, visitors to the FC Bayern Museum and the Allianz Arena Munich can park in the North Coach Park.
Parking is free for the first 45 minutes.
After the free period, cars, vans, camper vans, trailers, and motorbikes must pay €5 per day.
The automatic ticket machine is at the entrance/exit gate, and payment is possible by cash, EC, or credit card.
---
---
Tickets for Allianz Arena
Visitors can buy their FC Bayern Museum and Arena Tour tickets in the foyer of the FC Bayern Museum on Level 3, which can be accessed via Stairway L.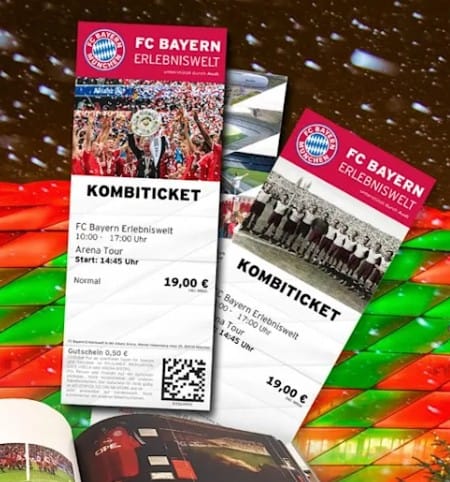 However, to avoid last-minute disappointment, it is better to purchase Allianz Arena stadium tour tickets in advance.
Since the Allianz Arena tour and the visit to Bayern Football Club's Museum take up only two hours, most tourists prefer to add one more activity before their stadium visit in Munich.
Allianz Arena tour tickets
This four-hour football tour starts at 10 am, with a bus tour through the city of Munich.
After driving around the city checking out its most important landmark, you reach the home of one of the most popular football clubs in the world.
After a trained guide takes you around the Allianz Arena stadium, you step into the FC Bayern Museum to learn about the football club's 120-year history.
This Allianz Arena tour is available in English and German, and you must choose your language on the ticket booking page.
Allianz Arena tour ticket price
Adult ticket (15+ years): €30
Child ticket (4 to 14 years): €19
Infant ticket (less than 3 years): Free entry
---
---
FC Bayern Museum
It was known initially known as FC Bayern Erlebniswelt, meaning the 'world of experience,' and inaugurated on 25 May 2012.
Since FC Bayern Museum is inside the Allianz Arena stadium, it also gets referred to as the Allianz Arena museum.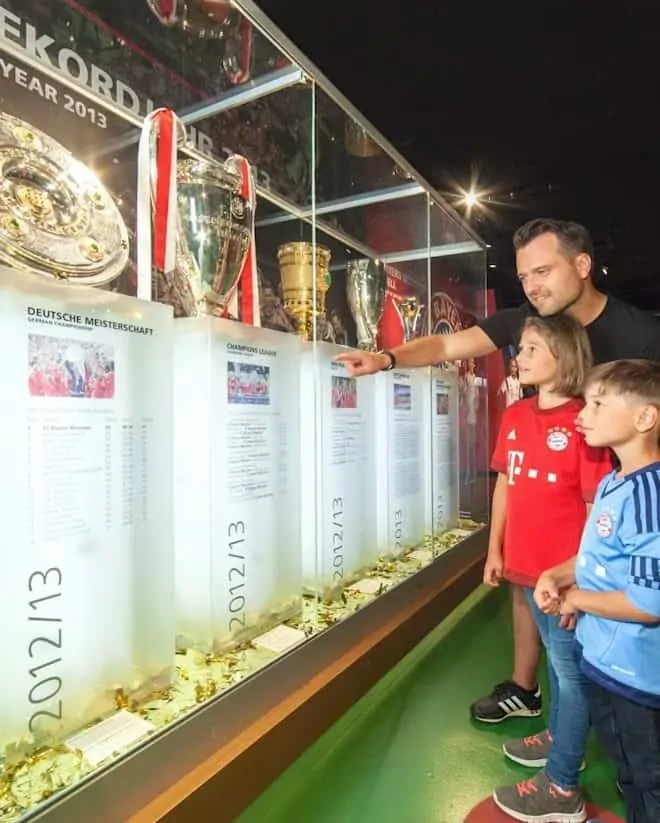 The 3,000-square-metre FC Bayern Museum presents the club's 120-year history with massive video screens, multimedia, and interactive elements.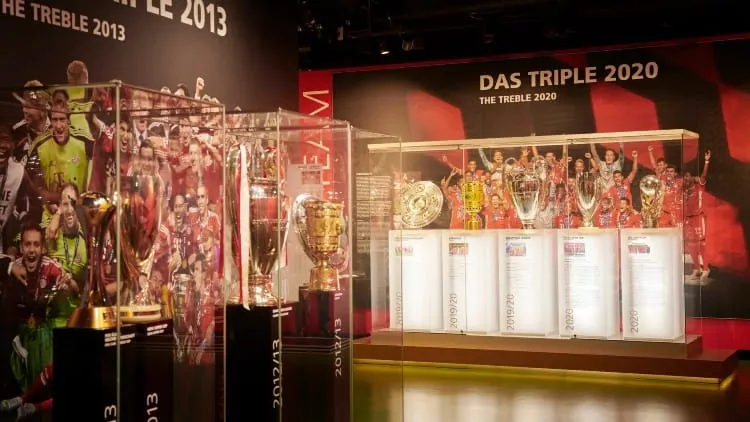 Here are a few things you must not miss during your visit to FC Bayern Museum –
Louis van Gaal's speech from the town hall balcony in May 2010
The Hall of Fame, which honors the 18 mega stars of FC Bayern Munich
FC Bayern Munich postcard from 1900 and two pub newsletters from 1902 and 1903 are three of the oldest items in the Museum
'Via Triumphalis' which is a large section and contains all the Gold and Silver cups won by the team over the last 120 years
Treble Corner, which displays the club's historic achievement in 2013 when they won Bundesliga, DFB Cup, and the Champions League trophies
12-minute movie in FC Bayern Museum's cinema about the most important and emotional moments in the club's history
The Sanyo advertising barrel Jürgen Klinsmann kicked and made a hole after the coach substituted him during a match in 1997.
Before you step out, don't forget to take a photo with the current squad.
FC Bayern Museum tickets
Bayern Football Club's Museum is on the third level of Allianz Arena Munich.
Access to FC Bayern Museum is included in the Allianz Arena tour ticket.
FC Bayern Museum's entry tickets and the Allianz Arena stadium tour costs €30 for all visitors 15 years and above, and for kids 4 to 14 years, it costs €19.
---
---
Allianz Arena tour entrance
If you have already booked your guided Allianz Arena tour, you must be at the Paulaner Fantreff North meeting point with your valid ticket 15 minutes before the tour starts.
If you plan to arrive at the North Entrance by taxi, get dropped off at Parkplatz Mitte.
The entrance to the Allianz Arena tour is well signposted, and you can't miss it. Download layout of stadium
---
---
Allianz Arena tour hours
Both Allianz Arena and FC Bayern Museum open at 10 am and close at 6 pm, every day.
The last admission is at 5.15 pm.
The Arena and the Museum remain closed on Christmas (24, 25, and 26 December), New Year's Eve, and New Year's Day.
They also remain closed on days when the FC Bayern football team plays its home matches at the stadium.
---
---
Allianz Arena tour
At Allianz Arena Munich, there are two things you can do – visit FC Bayern Museum and tour the Allianz Arena football stadium.
Most tourists prefer to do both during their visit, which is why the Allianz Arena combination ticket is popular.
The Arena Tour is a great way to get behind the scenes insight into an extraordinary and unusual stadium and is available in both English and German.
A trained Allianz Arena stadium guide takes you through the Arena for 45 minutes, explaining everything a soccer fan would love to know.
You also get to experience the Allianz Arena's atmosphere from the players' perspective as you walk through the tunnel.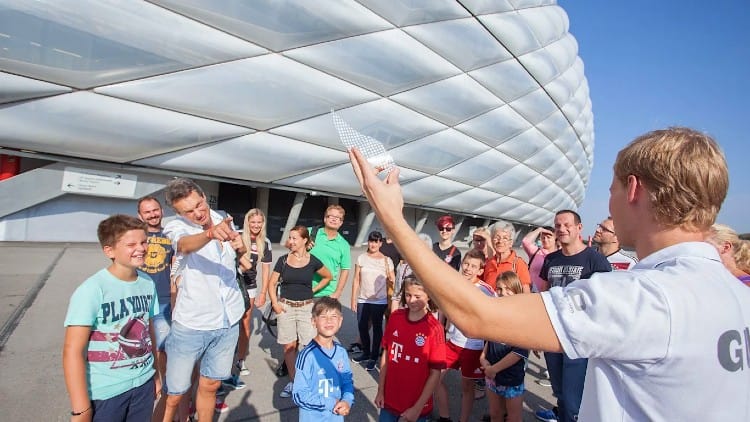 Kids love this sightseeing in Allianz Arena, and the soccer stadium makes for a great day outing for them.
What visitors see during the Arena tour
Main stand lower tier
Press conference area
Mixed Zone
Players' tunnel
Explanation of the exterior facade
Once you have explored the Arena, the guide takes drops you at the FC Bayern Museum, and you continue the tour by yourself.
At the Bayern Museum, you may end up spending 60 to 90 minutes seeing all trophies Bayern have won, learning about their top stars, and listening to fascinating stories.
How long does Allianz Arena take?
Visitors usually need around two hours to explore Allianz Arena.
The guided Allianz Arena tour lasts 45 minutes, and then you need 60 to 90 minutes to explore FC Bayern Museum.
Tips for a better Allianz Arena tour
The FC Bayern Munich's Arena tour involves a considerable amount of walking and use of stairways. Please wear comfortable shoes.
While you can take as many personal photographs and videos as you want, the use of photographic, video, and audio recording equipment for commercial purposes is strictly prohibited.
Don't bring along pushchairs and strollers since they are not permitted on the tours.
---
---
Allianz Arena lights
Allianz Arena is Europe's biggest stadium with surrounding outdoor LED lighting for dynamic mood lighting.
Earlier, the stadium could only project three colors – red, blue, and white.
However, by the end of 2014, Allianz Arena installed new LED lighting on the facade, producing 16 million different colors.
The Allianz Arena gets illuminated for approximately three hours from sunset on non-matchdays.
The Munich stadium also lights up on certain evenings to celebrate special events.
More than 300,000 LED lights — over a surface area of 26,000 square meters — light up the stadium facade's inflatable outer membrane.
The authorities have also introduced lighting to enhance the action on the pitch inside the Allianz Arena.
For example, a Mexican wave can be created to celebrate a goal during the match.
Check out how FC Bayern Munich celebrated Christmas with a lighting show inside the stadium.
---
---
History of Allianz Arena
FC Bayern Munich and their opponents TSV 1860 Munich used the city's Olympic Stadium as their home ground.
In the mid-1990s, the clubs decided that the Olympiastadion built for the 1972 Summer Olympics would no longer be enough.
They had two options – reconstruct the Olympiastadion or build a new stadium.
The stadium's foundation stone was laid on 21 Oct 2002, and construction got completed on 30 Apr 2005.
It was in time for the 2006 FIFA World Cup.
Swiss architect firm Herzog & de Meuron built the soccer stadium at the cost of €340 million.
The first official match held was a game between TSV 1860 Munchen and against FC Nuremberg.
Allianz, the financial services provider, secured the new stadium's naming rights and signed a 30-year sponsorship deal.
And that is the reason why this football stadium in Munich is referred to as Allianz Arena.
Check out this Allianz Arena 360 panorama tour if you want to explore the stadium from your armchair.
Sources

# Allianz-arena.com
# Fcbayern.com
# Tripadvisor.com

The travel specialists at TheBetterVacation.com use only high-quality sources while researching & writing their articles. We make every attempt to keep our content current, reliable and trustworthy.
Popular attractions in Munich
# Linderhof Palace
# Neuschwanstein Castle
# Hofbrauhaus Munich
# Dachau Concentration Camp