Dachau concentration camp is the first Nazi camp to be set up and formed the template for the others that followed.
Within a few weeks of being appointed Reich Chancellor, Adolf Hitler set up the Dachau camp to eliminate his political opponents.
Eventually, Jews, Sinti, Roma, gay, criminals, and other perceived 'anti-socials' were also brought to the camp and left to die.
SS ran the camp from March 1933 to April 1945 when the Allied forces liberated it.
More than a million people visit the Dachau concentration camp memorial site annually to pay their respects.
In this article, we share everything you must know before booking your Dachau concentration camp tour.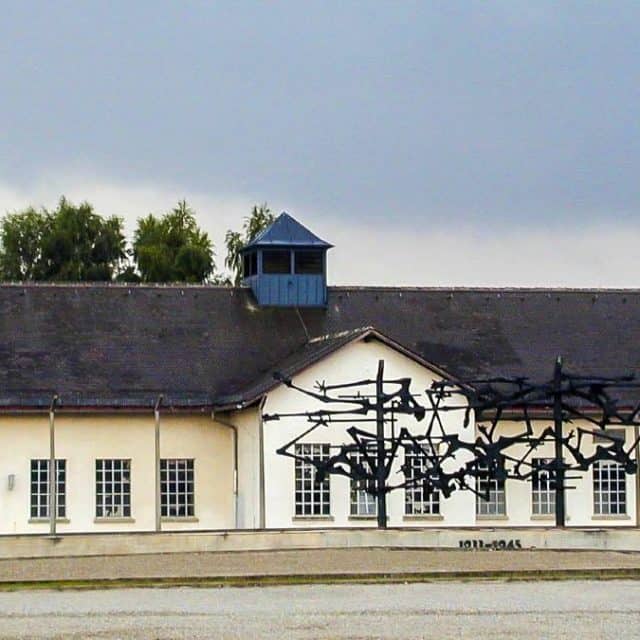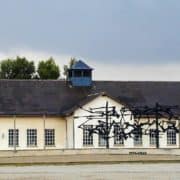 What to expect at Dachau camp
Watch out this Dachau concentration camp video for a fair idea of what to expect at this attraction.
---
---
Best Dachau concentration camp tours
In this section, we share a few of our favorite Dachau concentration camp guided tours.
Before we list out the tours, here are some key tips:
Book a tour only if you can behave in an appropriate and dignified manner. The holocaust memorial is one of particular sensitivity and historical significance and expects visitors to behave appropriately.
Most of the tour takes place out of doors in an open and exposed environment. Please wear weather-appropriate clothes.
Visitors may have to walk some distance while exploring the site – anywhere from 1.5 kms (1 mile) to 3 kms (2 miles). Come prepared with comfortable shoes.
Visitors can't purchase any food or drinks inside the memorial site. It is better to pack water and some food, especially if you are visiting with children. However, the Dachau concentration camp memorial's visitor center has a Bistro, open from 9 am to 5 pm.
Since the memorial site isn't suitable for kids below 13 years, many of these tours don't recommend taking them along.
Dachau Memorial Site Day Tour in English
This trip is the most popular tour from Munich to the Dachau Holocaust camp.
The 5-hour tour starts at 10.10 am from in front of the Town Hall in Marienplatz, where you meet the official guide.
The group travels with the guide on public transport to get to the Dachau camp. Train and bus tickets are included in the cost of the tour.
Your tour guide explains the significance of the Dachau concentration camp and takes you around the numerous exhibits.
Once the tour is done, the local guide escorts you back to Munich.
Tour costs
Adult tickets (27 to 66 years): €28
Seniors ticket (67+ years): €26
Child ticket (13 to 26 years): €26
Choose the 'Non-Private Dachau Memorial Site Day Tour' on the ticket booking page.
Tour of Dachau Memorial Site + SS Shooting Range
This six and a half hour Dachau Memorial tour from Munich starts at 9 am.
You travel to Dachau in an air-conditioned coach along with your licensed guide.
Once you reach, the guide takes you on a tour of the concentration camp memorial site.
You then visit the Museum and see a documentary film showing the camp's inmates' daily life.
Before returning to Munich, the group stops at the SS shooting range at Hebertshausen.
The range is 2 km (more than a mile) from the Dachau main camp, and between 1941 and 1942, it was used by SS guards to kill around 4000 Soviet prisoners of war for live practice.
Tour costs
Adult tickets (27+ years): €29
Youth ticket (14 to 26 years): €24
Private tour of Dachau
If you want to have a private tour of Dachau Camp with your own guide, on the ticket booking page, opt for 'Private Dachau Memorial Day Tour.' The private tour costs €300 for up to five visitors.
Tour for families with kids
Not all tours allow you to book tickets with kids younger than 12 years.
If you plan to visit Dachau memorial site with your younger kids, check out this tour.
Guided tour in Spanish
If you prefer a Spanish speaking guide to narrate the holocaust stories at the Dachau memorial, you can book the tour that starts at 8.45 am or the tour that begins at 9.15 am. Both these Spanish tours start from Munich.
Don't forget to select 'Spanish' from the drop-down before booking your tour.
---
---
How to get to Dachau concentration camp
Dachau is in Southern Germany, 16 km (10 miles) northwest of Munich.
The Dachau memorial is in the northeast part of Dachau city on a munitions factory's abandoned grounds.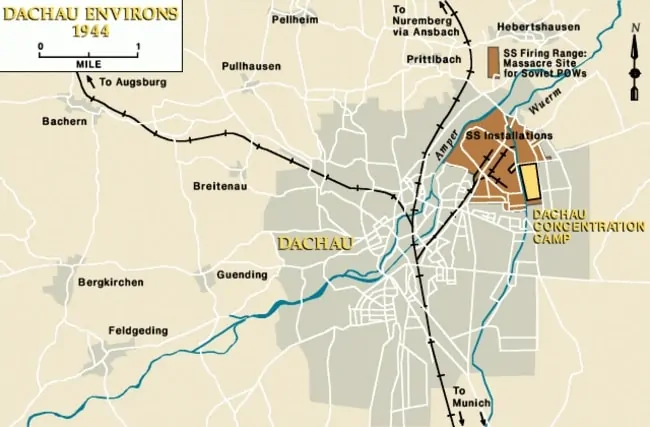 Munich to Dachau concentration camp
Dachau is within the Munich S-Bahn network, and you have two options from the Munich Central Station.
You can either board the S2 towards Dachau / Petershausen or take the regional train towards Ingolstadt / Treuchtlingen.
We recommend S2 trains because it is a much more comfortable experience for visitors.
For exact train departure timings, check MVV Munich or Deutsche Bahn.
The train journey from Munich to Dachau Station lasts 25 minutes.
Once you get down at the Dachau station, you can board Bus No. 726, going in the direction of 'Saubachsiedlung' from right in front of the station.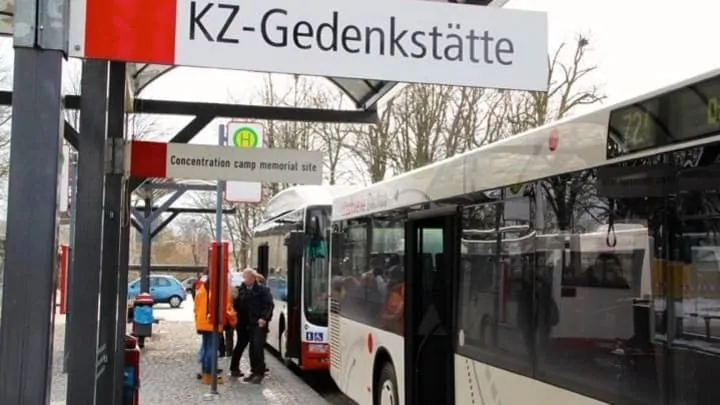 In ten minutes, the bus drops you in front of the Concentration camp memorial.
Path of Remembrance
If you don't mind a 30-minute walk from the station to the Dachau concentration camp memorial, we recommend the Path of Remembrance.
It is a well-marked path with information panels containing texts and photos narrating the town's history and the concentration camp during the Third Reich.
If you want a local guide to help you travel to the Dachau concentration camp, you can opt for one of the guided tours from Munich.
Car Parking
Driving from Munich to Dachau is easy because Autobahn A8, A9, and A92 pass by the town.
If you follow the signs, you can't miss the memorial.
There are enough slots at the parking lot at Alte Römerstraße 73, near the information center.
During the peak season of March to October, cars and motorcycles must pay 3 Euros for the parking.
From November to February, parking is free.
---
---
Dachau concentration camp hours
The Dachau concentration camp memorial is open every day from 9 am to 5 pm.
However, it remains closed on Christmas Eve (24 December).
---
---
How long does Dachau Camp take?
Visitors need at least four and a half hours to explore the Dachau concentration camp memorial site.
The trip from Munich Central Station (Hauptbahnhof) to the Dachau Camp by S-Bahn train and bus lasts around 45 minutes.
After spending three hours exploring the Dachau camp site, you need another 45 minutes to get back to Munich.
Even though the official guided tour lasts only two and a half hours, some visitors are known to spend up to six hours exploring the numerous sections and exhibitions on display.
Note: The tour is all about the Nazi regime's cruel crimes and can weigh down most people. Do factor in some time at a local beer garden.
---
---
Tour guides at Dachau Memorial Camp
Only tour guides licensed by the memorial's education department are authorized to take groups of visitors around Dachau Concentration Camp Memorial.
Dachau site isn't a usual tourist attraction, and that's why these guides are trained to convey often disturbing and challenging information to visitors with sensitivity.
They also learn to respect the victims' dignity and not resort to cheap sensationalism while conducting the tours.
When you book a guided tour, the guides help set the scene and also explain everything at the camp.
Under their guidance, you also cover a large portion of the camp and don't miss anything important.
Note: If you prefer to be on your own, we recommend the memorial site's audio guide, which you can rent from the visitor center.
---
---
When to book Dachau camp tour?
Dachau concentration camp memorial site is free to enter, and visitors don't need to purchase any tickets.
However, if visitors want a guide to take them around, they must pay for the tours.
There are two ways to book a guided tour of the Dachau concentration camp.
Same-day guided tour booking
This option is cheaper and a favorite of travelers on a budget holiday.
You travel from Munich to Dachau Camp by yourself and book a guided tour of the Dachau concentration camp at the visitor center's information desk.
Unfortunately, visitors can't reserve these guided tours in advance.
And since the number of participants in these guided tours is limited to 15 per session, there is no guarantee that you will find a slot.
These tours are meant for visitors aged 13 and above and cover the history of Dachau concentration camp and how the past relates to the present.
Guided tour of the Dachau memorial site costs 3.5 Euros per person and lasts 90 minutes to two hours.
Schedule of the tours
German Tour: 11 am, 12 pm, 1 pm
English Tour: 12 pm*
*On peak days, the authorities add another tour either at 11 am or 1 pm.
If you want to book the guided tour scheduled at noon, you must start from Munich station by 10 am.
Our thoughts: Opt for the same day guided tour only if you are on a budget holiday because you aren't guaranteed a spot in the group.
Guided tour booking in advance
If you don't want the hassle of managing the transport yourself and want a guaranteed guided tour of the Dachau memorial site, it is best to book a guided tour from Munich itself.
This option also makes sense if you are traveling with elders or kids.
A trained local organizes all travel arrangements for you and takes you to Dachau and brings you back to Munich, and in between provides a guided tour of the memorial site.
Our recommendation
We suggest you book one of the Dachau concentration camp tours in advance for the following three reasons –
Dachau Camp is a unique site, and without an expert's guidance, you won't get the full value out of your visit.
The Memorial site offers only one (or two) guided tour in English per day and three guided tours in German, and each of these tours can only have 15 visitors, which means they sell out fast.
Unfortunately, you can't book these official guided tours offered by the camp in advance. You can only reserve a spot in person on the day of your visit.
---
---
Audio Guides at Dachau Camp
The Dachau Camp audio guides are for visitors who prefer to explore the concentration camp memorial independently.
You can rent the audio guide from the visitor center of the concentration camp memorial for 4 Euros.
Students, large groups, etc. only need to pay the discounted rate of 3 Euros per person.
The audio guide is available in Arabic, German, English, French, Hebrew, Italian, Mandarin, Dutch, Polish, Portuguese, Russian, Spanish, Turkish, and Hungarian.
Special audio guides customized for kids isn't available.
You can also download their Android app or iOS app for understanding the memorial site better.
---
---
What to see at Dachau concentration camp
Visitors to Dachau Camp spend anywhere from three to six hours exploring what's there to see.
If you have the time and inclination, you can spend the whole at this holocaust memorial.
However, here is our list of must-sees at the Dachau camp –
Gate of Dachau memorial
The Dachau memorial gate reads "Arbeit Macht Frei," which translates to "Work sets you free" and has an infamous history of being stolen twice.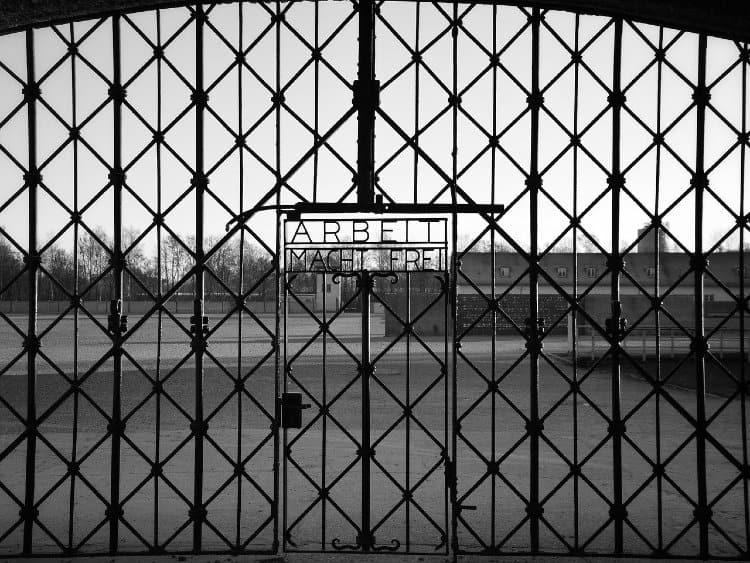 Dachau memorial sculpture
The Dachau Memorial Sculpture was designed by Nandor Gild, who was a concentration camp survivor and an international artist.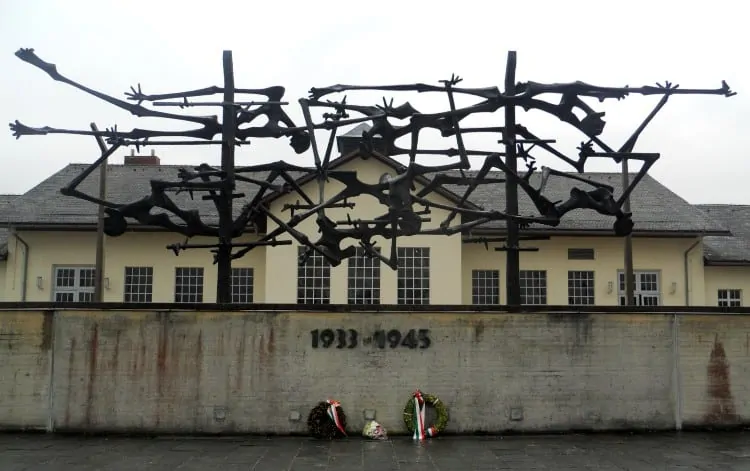 The sculpture portrays the barbed wires and human skeletons of those who tried to run and jumped onto the barbed fence, if not shot by the guards first.
Dachau memorial quote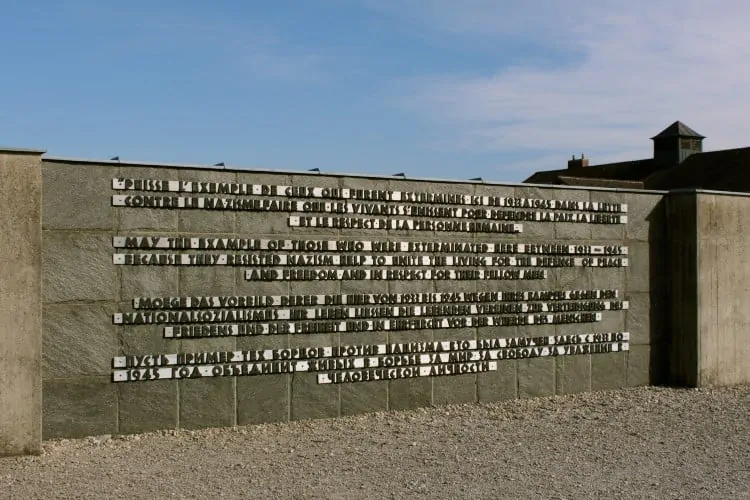 The Dachau memorial quote is written in French, English, German and Russian, and it reads, "May the example of those who were exterminated here between 1933 and 1945 because they resisted Nazism, help to unite the living for the defense of peace and freedom and in respect for their fellow men."
'Never Again' monument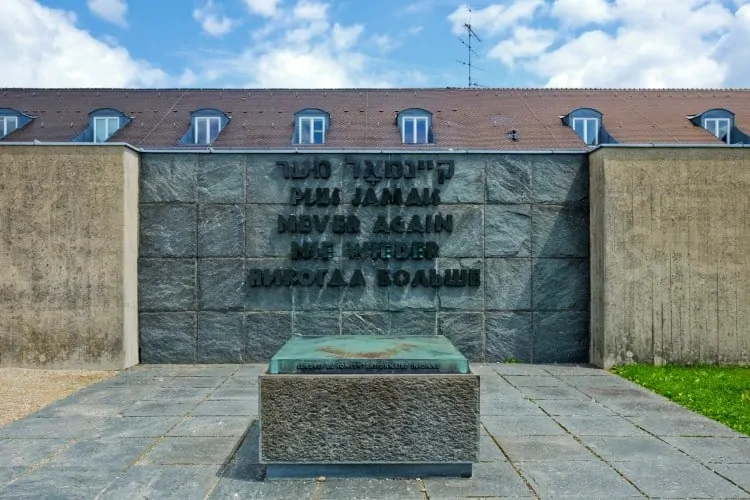 Towards the relief monument's end, there is an urn with the ashes of unknown prisoners, and behind it are the words "Never Again," wish written in French, Yiddish, English, German and Russian.
Statue of the unknown prisoner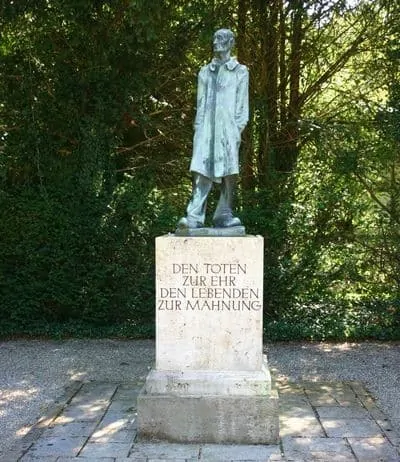 If you take a walk through the camp's gardens, you will find many memorial statues.
Don't miss out on the 'Statue of the unknown prisoner' near the crematorium. It is a tribute to the numerous prisoners who died nameless at the camp.
Image: Tracesofwar.com
Religious Memorials
There are several religious monuments in Dachau concentration camp memorial sites like churches, chapels, convent, and a Jewish Memorial.
Don't miss out on the Protestant Church of Reconciliation by Helmet Striffler.
Permanent exhibitions
There are four permanent exhibitions at Dachau Camp.
Main exhibition
This is in the former farm building and revolves around the 'fate of the prisoners.'
It is divided into six sections and these are spread across 13 rooms and areas.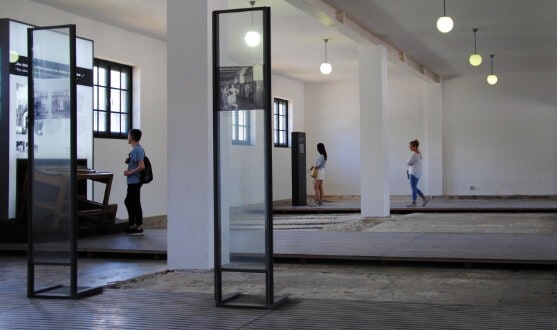 It focuses on prisoners' arrival in the concentration camp, their life in the camp, and the path to death or liberation.
Camp prison exhibition
The camp prison was a terror center, and it was officially called 'Kommandanturarrest.'
The prisoners called the building 'Bunker' and tried to stay away because it was here that the SS implemented more severe punitive measures.
This exhibition has information on the prisoners imprisoned here.
Don't miss out on the special section on Georg Elser, who almost assassinated Hitler.
Barracks exhibition
Here, you get to see the crowded conditions in which the inmates live.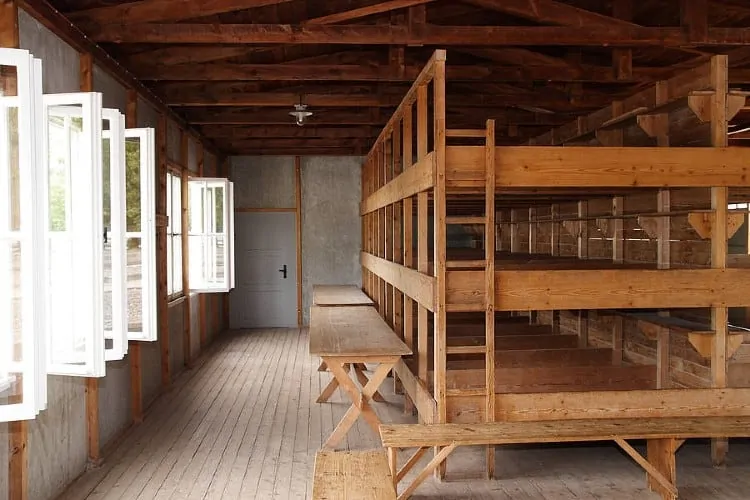 It is a small exhibition with a reconstruction of the spatial conditions in which the prisoners lived from 1933-34, 1937-38, and 1944-45.
Crematorium exhibition
This place is in the new crematorium, which came up in 1943, with four furnaces built to keep up with prisoners' influx.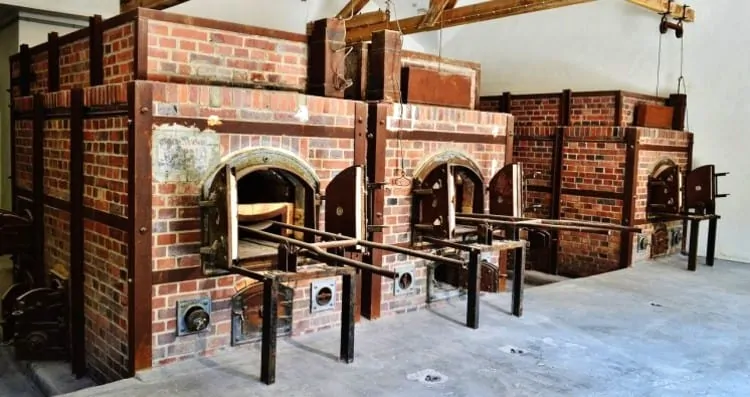 It was called Baracke X and had five gas chambers.
Four of these gas chambers were for treatment of lice-borne Typhus, and the fifth was an actual gas chamber disguised as a shower room.
This exhibition provides information about the individual rooms and their functions.
---
---
Visiting Dachau concentration camp with kids
Everything that Dachau Concentration Camp is a reminder of evokes a piercing sadness that stays with you long after your visit.
That's why it is not a good idea to bring young kids to the camp.
This is precisely why the Dachau Memorial Site also doesn't offer any special exhibitions for children.
In fact, the camp authorities claim (on their website) that some of the content at the Museum exhibitions, memorial site grounds, or the former crematorium may not be appropriate for children under 12 years.
We highly recommend that you bring along your 13+ kids (if you think they can handle it) so that they see the cruelty the Nazis meted out to innocents and understand the importance of empathy and equality.
Note: Bringing a young kid along will also distract you from exploring the Dachau memorial museum to the fullest because you will always be looking out for the child.
---
---
Map of Dachau concentration camp
Dachau concentration camp memorial site is massive, and there is a lot to see.
It is important not to get lost and not miss out on the essential aspects of the experience.
If you have booked a guided tour of Dachau Camp, you don't need a map because a guide will always be there with you.
But if you are going to be on your own, we suggest you pick up the free map from the Visitor Center or save this page for later use.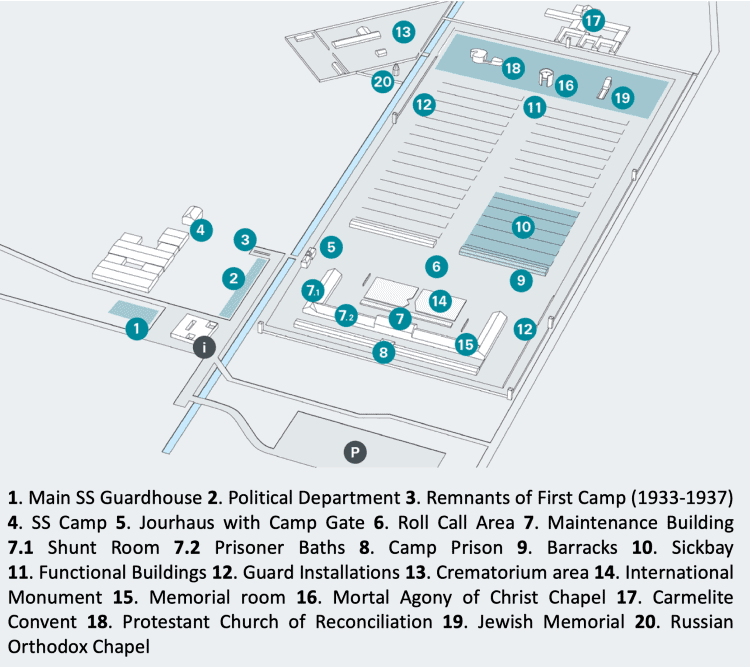 ---
---
Dachau concentration camp history
Dachau got selected as the first location for a concentration camp because it was close to Munich.
Nazi Party had its official headquarters in Munich, and it was here that Adolf Hitler had come to power.
Dachau concentration camp was in operation for the most prolonged duration – from March 1933 to April 1945. The full 12 years of the Nazi regime.
It was the first of many concentration camps to be set up across Reich for mass imprisonment.
Who were the inmates
Initially, Dachau was to house the political prisoners – anybody who opposed Hilter's ideology.
With time, thousands of Jews also joined the political prisoners in the camp.
Eventually, many groups whom Hitler considered unfit for the new Germany found their way to the camp.
They included artists, intellectuals, the physically and mentally disabled, gay, Jehovah's Witnesses, Catholic priests, Communists, Romani, etc.
Life in Dachau concentration camp
At Dachau Concentration camp, life was horrific, and everyone was struggling to survive in a system designed to kill them.
Built initially for 5000 residents, by the mid-1940s, the camp had 30,000 inmates making it overcrowded.
Living conditions were harsh and extreme and also changed over time.
There was a hierarchical system in place with the influential people given high posts and power.
Inmates lower down on the social ladder had the most demeaning tasks and had to endure a lot of injustice from people above them.
Malnutrition, disease, and overwork kept taking a regular toll on the people in the Dachau camp.
Dachau concentration camp liberation
The Dachau Concentration camp was liberated on 29 April 1945 by the US troops who found more than 30 railroad cars filled with bodies in an advanced state of decomposition.
The U. Seventh Army's 45th Infantry Division liberated the Dachau camp, while another major Dachau subcamp was take away from the Germans on the same day by the 42nd Rainbow Division.
It is believed that the US forces executed some (or all) of the German SS soldiers guarding the concentration camp on the day they liberated it.
The camp had 30,000 survivors, all suffering from malnutrition, shock, and diseases when they got freed.
Sources

# Wikipedia.org
# Encyclopedia.ushmm.org
# Kz-gedenkstaette-dachau.de
# Britannica.com

The travel specialists at TheBetterVacation.com use only high-quality sources while researching & writing their articles. We make every attempt to keep our content current, reliable and trustworthy.
Popular attractions in Munich
# Linderhof Palace
# Neuschwanstein Castle
# Hofbrauhaus Munich
# Allianz Arena Tour