The Hofbrauhaus is the best place for beer in Munich. Or perhaps, the world.
Established in 1589 as the Royal Brewery in the Kingdom of Bavaria, it is today a major attraction welcoming more than 1.5 million visitors annually.
At Hofbrauhaus, tourists and locals experience Bavarian culture, food, and some of the world's finest beer.
Locals refer to Hofbrauhaus in Munich as Hofbräuhaus München.
In this article, we share everything you must know before visiting Hofbrauhaus Munich.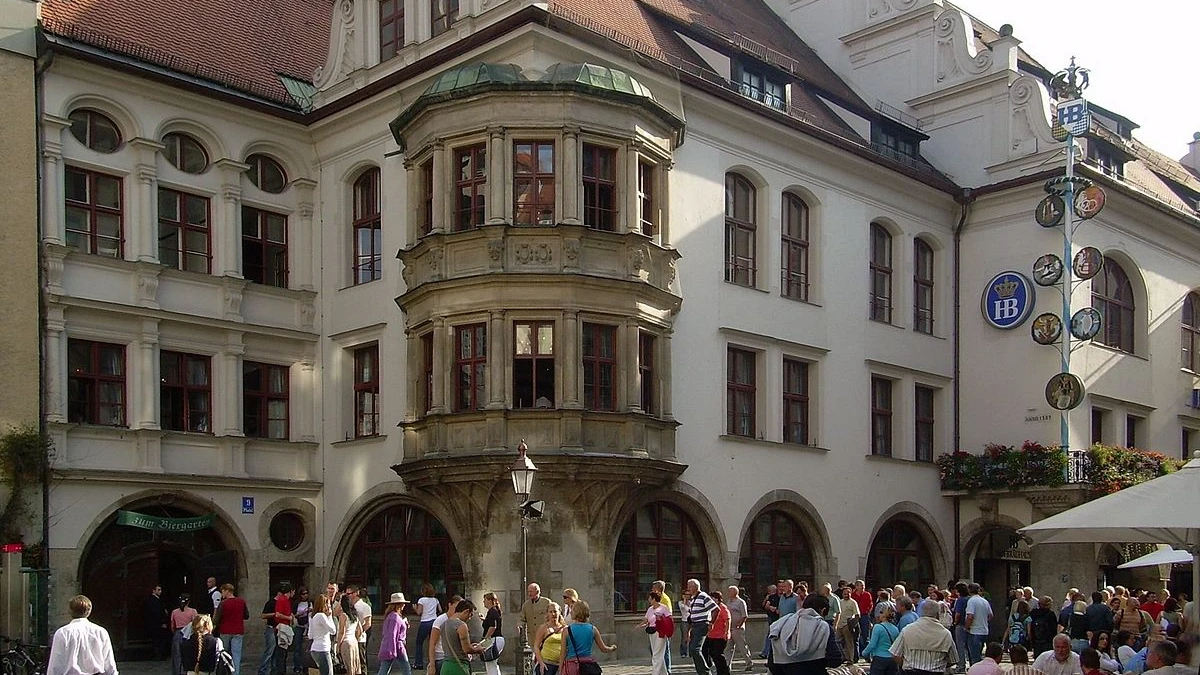 How to reach Hofbrauhaus Munich
Public transport is the best way to get to Hofbrauhaus in Munich.
You can take U3 or U6 to get to Marienplatz Station, located under the square of the same name in Munich's city center.
If you are taking the S-Bahn train, hop on to S1, S2, S3, S4, S6, S7, or S8 line.
Hofbrauhaus Munich is a 5-minute walk from Marienplatz station.
Parking at Hofbrauhaus Munich
Hofbrauhaus has its own car park, and its entry is from Hochbrückenstraße.
For directions to the car park, fire up Google Maps on your mobile, and start driving.
---
---
Best beer tours in Munich
If you are interested in visiting Hofbrauhaus Munich, here are three beer tours we recommend –
Bavarian Beer and Food Culture tour
This evening tour of Munich starts at 6 pm, and you get to enjoy the best of German beer and food.
A friendly local guide takes you to Munich's best beer places and narrates German brewing's fascinating history.
You also visit the Beer and Oktoberfest Museum.
Even as you listen to the stories, you sample delicious beer varieties and the best of traditional Bavarian food, including Weisswurst (white sausage), dumpling, roast pork, etc.
At the end of the tour, your guide takes you to Hofbräuhaus, where if you want, you can finish the night drinking beer and listening to the Bavarian Oompah bands.
Adult ticket (16+ years): €43
If you prefer less touring and more drinking, check out this tour of Munich's Beer Halls and Breweries.
Size Matters Beer Tour of Munich
If you are looking to do a pub crawl of Munich, look no further than the Size Matters Beer Tour.
The four-hour beer tour starts at 6.45 pm.
Lively local guides take you to four different beer gardens and/or beer halls, and you get 1.5 liters of free beers as well.
This tour is not suitable for children under 18 years.
You need to have your driver's license or some other valid identification papers.
Adult ticket (18+ years): €23
Private Guided Tour of Munich's Beer Halls
If you are a large family or group of up to ten visitors, this is an ideal way to understand and experience the Beer Capital of the World.
First, you discover the city's legendary beer-making history and then visit the world-famous Hofbräuhaus beer hall.
Since it is a private tour, you choose your time and date.
Tour price: €350 for up to 10 people
On the tour booking page, you must select 'Private Tour in English'
---
---
Hofbrauhaus Munich hours
Hofbrauhaus in Munich opens at 9 am and closes at midnight every day of the year.
The last drinks get served at 11.30 pm.
---
---
Rooms at Hofbrauhaus Munich
There are seven rooms and one garden in Hofbrau Munchen, where visitors can enjoy their beer.
Of these, the Beer Garden and three rooms – Beer Hall, Braustuberl and Ballroom are the most popular.
Most tourists are not sure where they would want to sit, and that's why in this section we explain all the rooms in Hofbrauhaus Munich.
Beer Garden
The Beer Garden is an open-air setting under chestnut trees with historical walls surrounding it.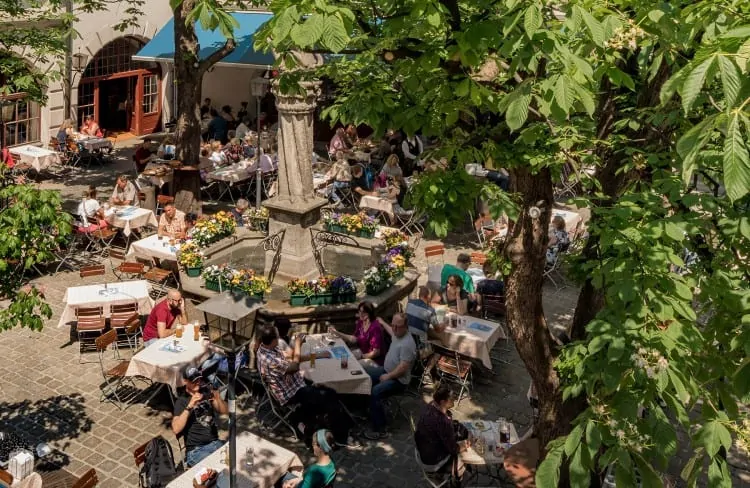 Over 400 people can simultaneously enjoy their beer and food in this unique Hofbrauhaus environment.
It is a great place to get away from the hustle of city life.
Beer Hall
Beer Hall is also referred to as Schwemme and is on the ground floor of Hofbrauhaus.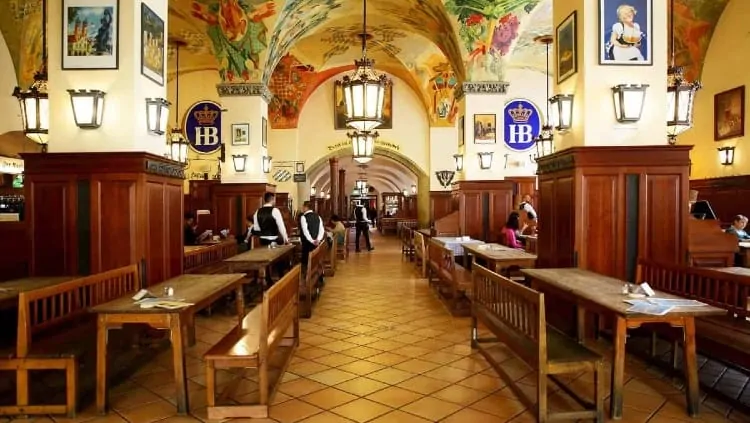 It is the best place to experience the Bavarian way of living where you sip on your Hofbrau beer with 1300 others, even as the in-house band plays.
Some of the tables in the Beer Hall have been around since 1897.
Bräustüberl
Bräustüberl is on the first floor of Hofbrauhaus Munich.
You will be blown away with its cuisine while you chug some Hofbräu beer while looking over the Platzi square.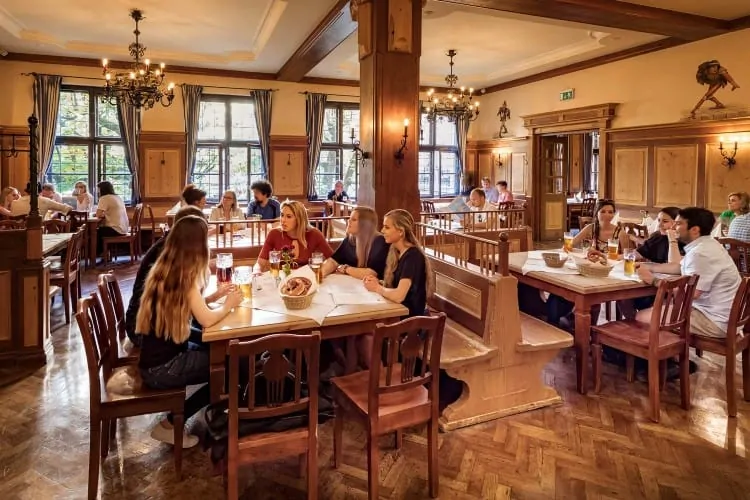 This part of the beerhouse offers a mix of both traditional Munich and Bavarian dishes.
Locals prefer Bräustüberl because it offers the best of hospitality, culture, and the Bavarian ambiance.
Ballroom
The Ballroom (known as Festsaal in German) can seat 700 people and is the most festive of all the places in Munich's best drinking spot.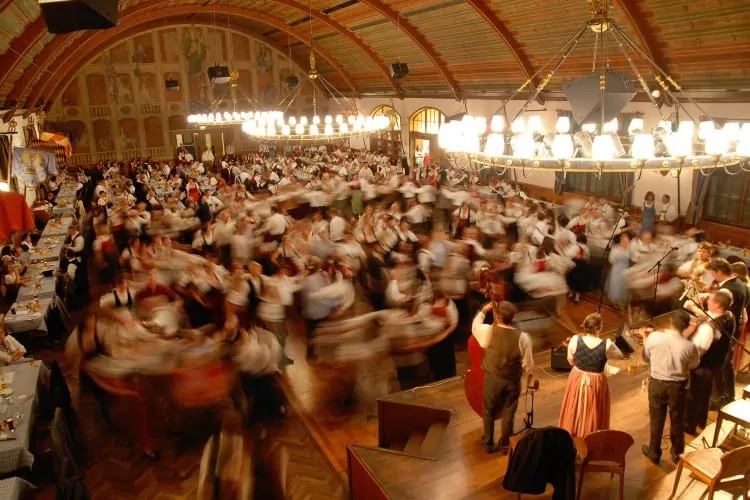 It regularly hosts traditional folk music and dance, which go well with fresh Hofbräu beer and á la carte Bavarian Specialities.
After being destroyed in WW II, this massive room was reconstructed in 1958.
The other four rooms at Hofbrauhaus Munchen are the Munich room (Münchner Zimmer), Wappensaal, Erkerbar, and Erkerzimmer (Bay Window Room).
---
---
Hofbrauhaus Munich reservation
At Hofbrauhaus Munich, visitors need a reservation if they want to drink their beer at Bräustüberl or the Ballroom (Festsaal).
If you prefer to drink at Beer Hall (Schwemme), the largest and most famous of the rooms, or in the Beer Garden (Biergarten), no reservations are needed.
You can reach Hofbrauhaus Munich and walk in to find a seat for yourself.
If you want to reserve a table at Bräustüberl or the Ballroom or rent out any of the other rooms, you must visit the reservation office on the first floor of Hofbrauhaus in the rear part of the building.
---
---
Hofbrauhaus Munich's beer
Hofbräuhaus am Platzl started as a brewery, and till about 100 years ago, its brewing equipment was still available at the venue.
Over the years, the Hofbrau beer got such a reputation that Swedish King Gustavus negotiated 600,000 barrels during the Thirty Years War for not attacking Munich.
The standard beer serving at the Hofbräuhaus is a Maß, or liter and alcohol content runs from 5.1 to 5.5 percent.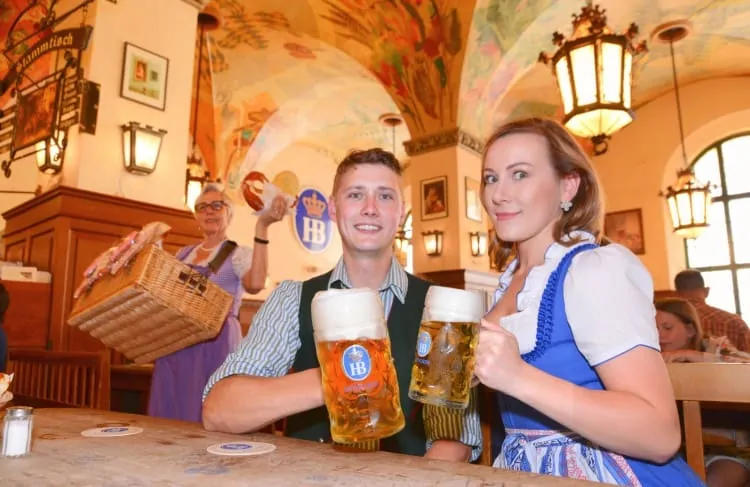 Hofbrauhaus at Munich serves four types of beer.
Hofbrau Original
Hofbräuhaus original is the main attraction for beer lovers worldwide with a bitter but refreshing flavor.
Its 5.1% alcoholic content gives it character and has made it a famous Munich beer worldwide.
Hofbrau Dunkel
Dark beer was the first type of beer to be brewed at Hofbrauhaus long before light beer.
No wonder it has been a world favorite for the longest time.
It has a 5.5% volume of alcoholic content with a spicy and refreshing taste to suit all occasions.
Truly a traditional Munich style dark beer.
Munchner Weisse
Münchner Weisse dates back to 1589, and for more than 200 years, Hofbrauhaus had a monopoly on brewing this beer.
With an alcoholic content of 5.1% volume, it is pure and refreshing.
You are sure to feel the tingling, fizzy sensation in your mouth as you take your first sip.
Hofbrau Oktoberfestbier
The Oktoberfest or the Munich Beer festival is the largest and most popular festival for beer lovers.
Every year, millions of visitors come to enjoy the unique German celebration.
Hofbrau Oktoberfestbier is the beer specially brewed for the festival.
This rich, full-bodied beer does down well with Bavarian cuisine and is only available from mid-July to the end of September.
Oktoberfestbier takes bitter and has an alcoholic content of 6.3% by volume.
---
---
Dining at Hofbrauhaus Munchen
Munich's most popular beerhouse is a great place to dine for three reasons – Bavarian hospitality, authentic Bavarian dishes, and live traditional tavern music.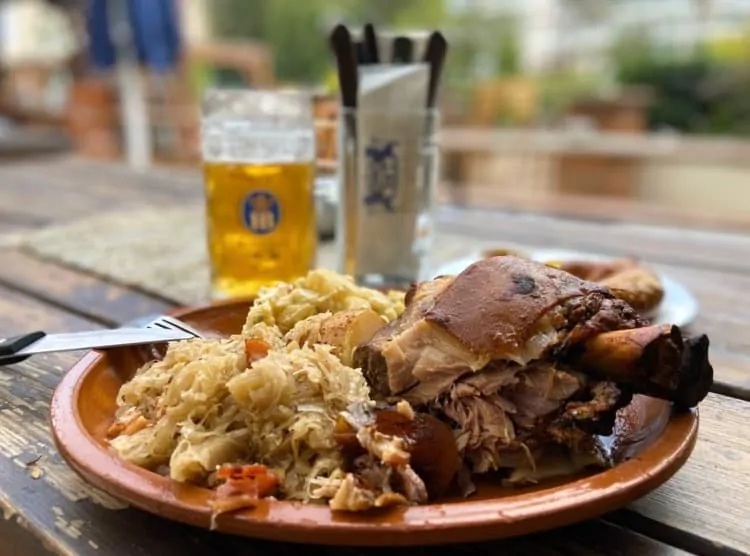 Everything at Hofbrauhaus Munich gets sourced locally, and with an in-house butcher and brewery, they serve the best of traditional Bavarian food.
Visitors who dined or drank at Hofbrauhaus loved their roasted pork knuckle, sausages, dumplings, and pretzels.
You can even have a beer for breakfast, or you can have your giant pretzel as a light' snack' with some Obatzda cheese.
Vegetarians and vegan people have a more challenging time, but they can still find many things to eat with spätzle and flammkuchen.
Hofbrauhaus Munich's menu
There are many items on the Hofbrauhaus Munchen's menu, and the crowd favourites are:
Weisswurst
Schweinshaxe
Brezen
Spätzle'
Hendl
Fischbrötchen
Steckerlfisch
Obatzda
Knödel
Ochs am Spieß
---
---
Music at Hofbrauhaus Munich
Traditional Bavarian music is available at Hofbrauhaus Munich every day of the year.
At the Beer Hall on the ground floor (also known as Schwemme), live Oompah music starts at noon and lasts until 4 pm.
Live music in the Beer Hall starts again at 6 pm and goes on till 11.30 pm.
Bräustüberl hosts live music starting at 7 pm, from Tuesdays to Saturdays.
At Festsaal, the most festive of all the beer-drinking places in Germany, music starts almost every day at 6:30 pm. Once in a while, dancing performances are also scheduled.
Two days a year, Hofbräuhaus in Munich doesn't play music – on Good Friday and All Saint's Day.
Visitors can get the latest information about music programs from the reservation office.
---
---
Hofbrauhaus Munchen FAQs
Here are some questions visitors to Hofbräuhaus München end up asking.
Does Hofbrauhaus Munich have a brewery, and can we visit it?

No, visitors can't visit because the brewery at Hofbrauhaus Munich is no longer in use. 

Does Hofbrauhaus Munich offer any guided tours?

Unfortunately, Hofbrau in Munich doesn't offer guided tours of its premises.

Does Hofbrauhaus Munich have beer tastings?

No, Hofbrauhaus Munich doesn't have beer tastings. However, you can order any of the four types of beer they have and drink to your satisfaction. 

Does Hofbrauhaus Munich show any sports such as soccer, etc., on big screens?

Unfortunately, Hofbrau Munich doesn't telecast any sports events.

Is smoking allowed at Hofbräuhaus Munich?

Yes, smoking is allowed at the World's most famous beer house. However, patrons can only smoke in exterior areas. The non-smoking rule applies indoors.

At Hofbrauhaus Munich, what is the minimum age to be served alcohol?

Hofbrauhaus in Munich serves alcohol only to visitors who are 18 years and older.
---
---
Hofbrauhaus Munich history
The Bavarian Dukes and locals were unhappy with the beer brewed in Munich and therefore had to import good beer from Einbeck.
Einbeck is a city almost 500 km (310 miles), and the transportation costs made the beer very costly.
Under these circumstances, Wilhelm V, Duke of Bavaria, set up Hofbräuhaus am Platzl in 1589.
Initially, Hofbrauhaus was the brewery for the old Royal Residence.
Because of the excellent quality of beer brewed, it became a massive hit in the area.
The tradition continued, but till World War II, it was only a local favorite.
When World War II ended, many American soldiers stationed in Munich started to bring home beer mugs, which had the "HB" logo.
Thus the Hofbrauhaus quickly became Munich's number one tourist attraction.
The need for Hofbrauhauser in other parts of the World rose almost immediately, and currently, it has 40 branches all over the World.
The State government of Bavaria owns Hofbräuhaus München.
Hofbrauhaus Munich and Hitler
In February 1920, Adolf Hitler founded his German National Socialist Party in the Hofbräuhaus.
Here, he presented his "25-point Program," which threatened to strip the Jews of all their civic rights and set up a dictatorship.
Three years later, the Beer Hall Putsch also started at Hofbräuhaus.
Also known as Munich Putsch, it was an abortive attempt by Adolf Hitler and Erich Ludendorff to start an insurrection in Germany against the Weimar Republic on November 8–9, 1923.
Bavarian Beer Purity Law
The Bavarian Beer Purity Law, which is also known as Reinheitsgebot, has a fascinating history.
Bavarian noblemen didn't want the crops that would have been used to make bread to be used for making beer.
To ensure this, they introduced the Bavarian Beer Purity Law, which said, "Only water, barley, and hops can be used to brew beer."
When scientists discovered the fermenting agent Yeast many centuries later, it got added to the list of allowed ingredients.
Beer Purity Law was introduced in 1516, and in 2016, the whole of Germany celebrated its 500 years of its existence.
Today, more than 5000 different beers carry their seal.
Money Hofbrauhaus Munich makes
The Hofbräuhaus München had been the only brewery in Bavaria for a long, brewing both white and stout beer.
The Bavarian rulers used the brewery monopoly to their advantage and gained money from it.
In the 17th Century, it accounted for 30 to 50 percent of the State's income.
Even today, Hofbräuhaus contributes to the Free State of Bavaria, who still owns the brand.
For instance, between 2017 to 2018, the State got two and a half million Euros as profits from the Beer House.
Sources

# Hofbraeuhaus.de
# Wikipedia.org
# Tripadvisor.com
# Munich.travel

The travel specialists at TheBetterVacation.com use only high-quality sources while researching & writing their articles. We make every attempt to keep our content current, reliable and trustworthy.
Popular attractions in Munich
# Linderhof Palace
# Neuschwanstein Castle
# Allianz Arena Tour
# Dachau Concentration Camp