Neuschwanstein Castle is in Bavaria, near Fussen, approximately a two-hour drive south of Munich.
Unlike the traditional, dark castles, Neuschwanstein is different – its bright colors, beautiful design, and fairytale-like location make it seem out of a dream.
Built by Bavarian King Ludwig II, also known as the 'Fairytale King,' it is now Germany's most popular tourist attraction.
More than 1.5 million tourists take the Neuschwanstein Castle tour annually.
A large part of the credit for this popularity must go to Walt Disney and Walt Disney Pictures.
This article tells the story of how a fairy tale-like castle in the German Alps called Neuschwanstein castle inspired Walt Disney to create Sleeping Beauty Castle in Disneyland.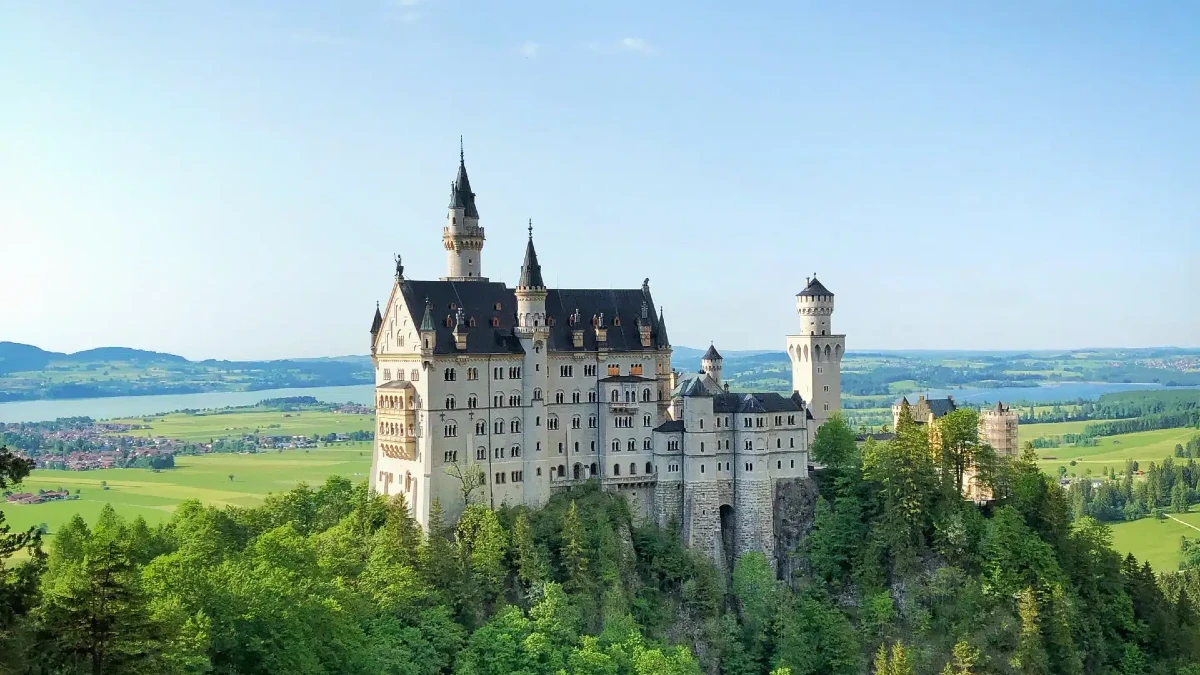 Walt Disney gets inspired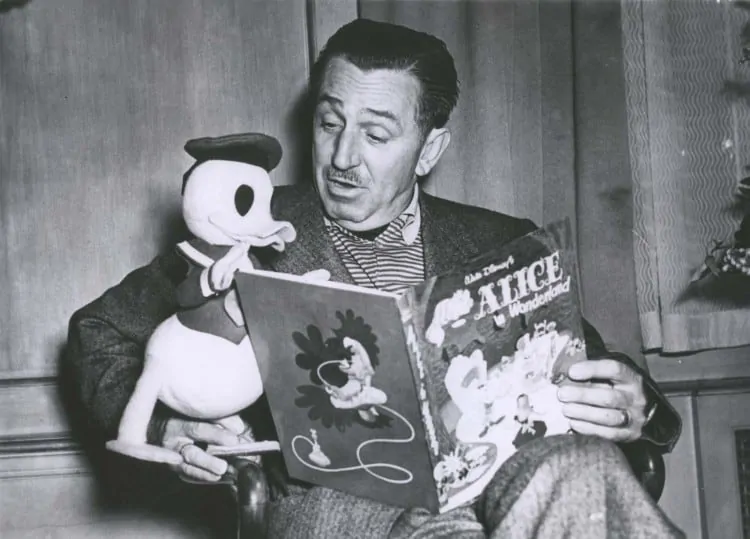 Every once in a while, Walt Disney looked outside for inspiration. That is why he was known to spend a lot of time in Austrian and German book stores.
In fact, during his two-month-long European tour in 1935, with his wife and his brother's family, he is known to have bought hundreds of books.
During this tour, he spent two days in Munich and had a chance to see Neuschwanstein Castle.
However, some claim that the animator, writer, voice actor, and film producer didn't even visit Neuschwanstein Castle.
Whatever be the case, the way things unfolded in the forthcoming decades, it became sure that King Ludwig II's castle had found a place in Walt Disney's heart.
---
---
Neuschwanstein Castle's replica in Disneyland
In 1955, two decades after his European tour, Walt Disney inaugurated Disneyland in Anaheim, California.
It was the first of many Disneylands that would crop up all over the world.
Interestingly, this tourist attraction had a 23 meters (77 feet) high Sleeping Beauty Castle that looked precisely like Neuschwanstein Castle in Bavaria.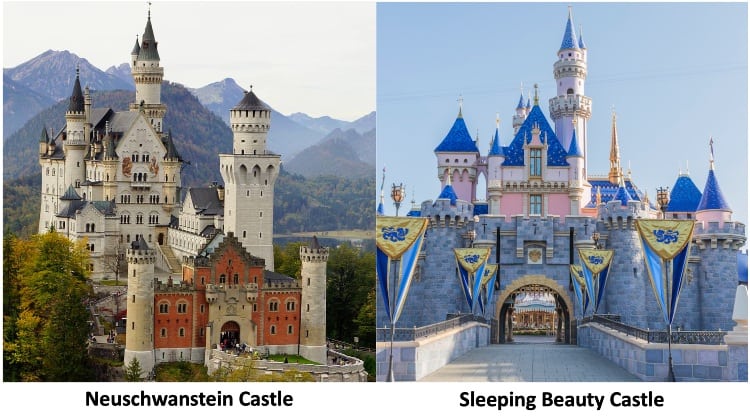 The version at Disneyland is the only Disney castle whose construction was overseen by Walt Disney.
The castle's designer Roland E. Hill used the concept of forced perspective to make it seem taller than it really was.
Hill achieved this by making the design elements at the foundation larger than the details at the turrets.
Many replicas follow
Since Walt Disney inaugurated Neuschwanstein inspired Sleeping Beauty Castle in California, many more have been built worldwide.
Even though they are named differently, every Disneyland has a castle:
---
---
Disney's logo also gets the castle
The first Disney logo showed the profile of Mickey Mouse, the character central to everything the company produced.
In 1995, the Disney logo transformed and included a light blue castle with the text 'Walt Disney Pictures.'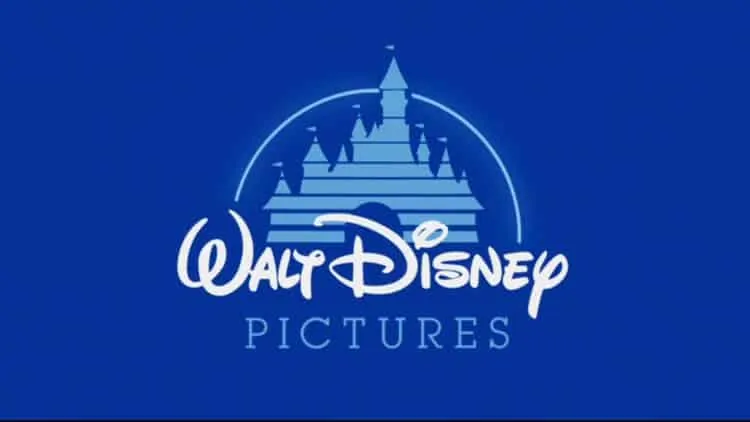 The Cinderella's Castle used in the logo was meant to create a sense of curiosity. And Disney offered a ticket to get inside and quench this interest.
With time even their movies started with an animation of the Neuschwanstein Castle inspired logo.
Since then, the logo has changed many times, but the castle has been a permanent fixture.
---
---
What's so special about Neuschwanstein Castle
Some say Walt Disney's castle wasn't just inspired by Neuschwanstein Castle but by many others such as Château d'Ussé, Fontainebleau, Palace of Versailles, Châteaux of Chenonceau, Chambord, Pierrefonds, Chaumont and Alcázar of Segovia.
The other castles may have been similar in design, but Neuschwanstein castle stands out because of its location.
'Mad King' Ludwig II's castle is nestled in the Bavarian Alps, which summer or winter makes it seem like a fairytale.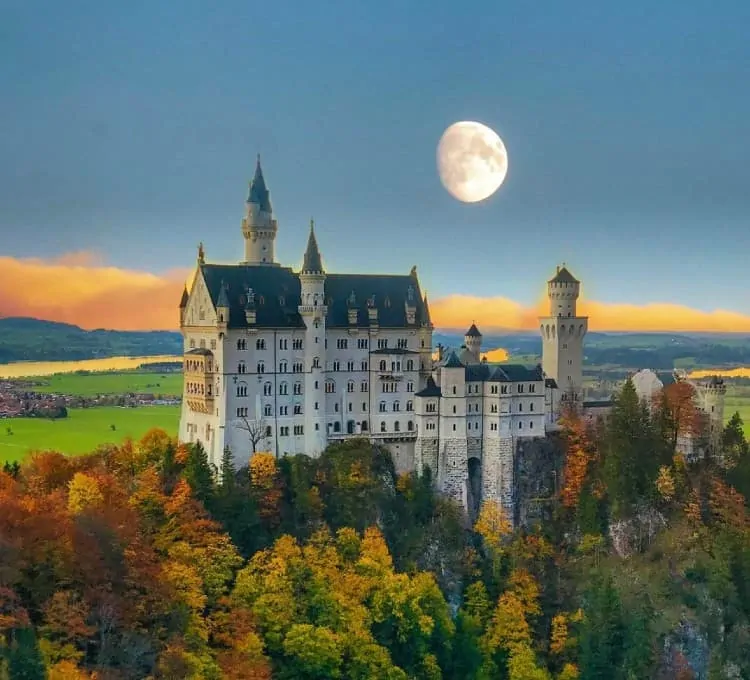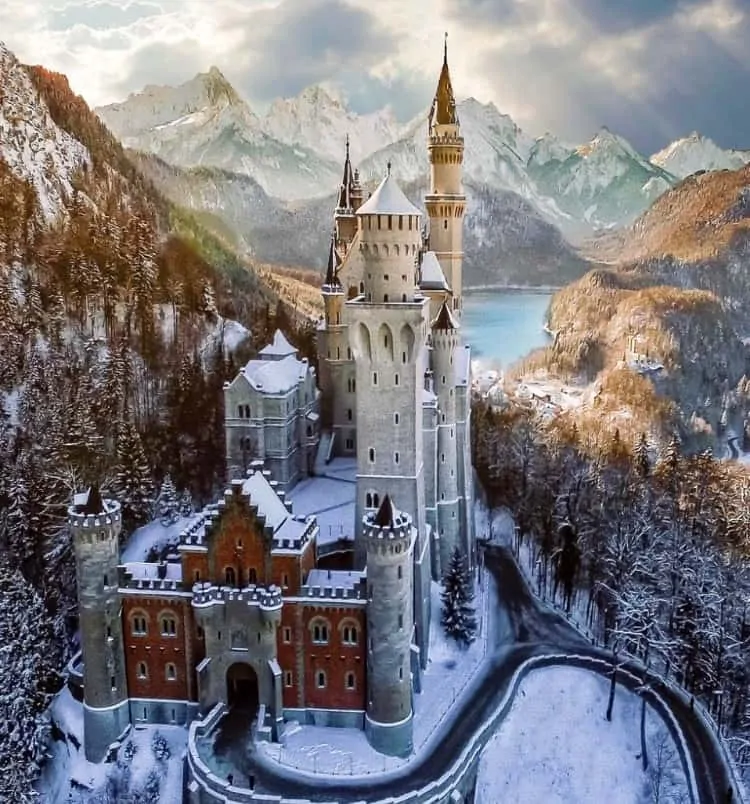 This fairy-tale like masterpiece is best seen from the Neuschwanstein Castle's bridge which King Ludwig II built especially for the purpose.
---
---
It is a story of two 'innovators'
Ironically, the man who always gave us happy endings (remember all the Disney movies!) got inspired by a man who didn't have a happy ending.
But it is no surprise that it took an 'out of the box' thinker like Walt Disney to make Ludwig II's imagination mainstream.
After all, King Ludwig II was also different.
In 1869, the Bavarian King built Neuschwanstein Castle for his retirement in a style that was popular at least 500 years earlier.
Interestingly, a castle built for one man today gets recognized by billions of the people, thanks to Disneyland.
So what are you waiting for? Will it be both Neuschwanstein or Linderhof Castles or just Neuschwanstein Castle?
Sources

# Discovery.com
# Cntraveller.com
# Wikipedia.org
# En-vols.com

The travel specialists at TheBetterVacation.com use only high-quality sources while researching & writing their articles. We make every attempt to keep our content current, reliable and trustworthy.
Popular attractions in Munich
# Neuschwanstein Castle
# Linderhof Palace
# Hofbrauhaus Munich
# Allianz Arena Tour
# Dachau Concentration Camp