If you want to experience the best of New England's marine wildlife, go for a Boston whale-watching cruise around the Stellwagen Bank National Marine Sanctuary.
The high-speed catamaran provides quick hop-on and hop-off service.
On your Boston Whale Watching cruise, you can see some majestic marine species dip and dive into the sea.
This article shares everything you must know before booking Boston whale-watching cruise tickets.
Top Boston Whale Watching Tickets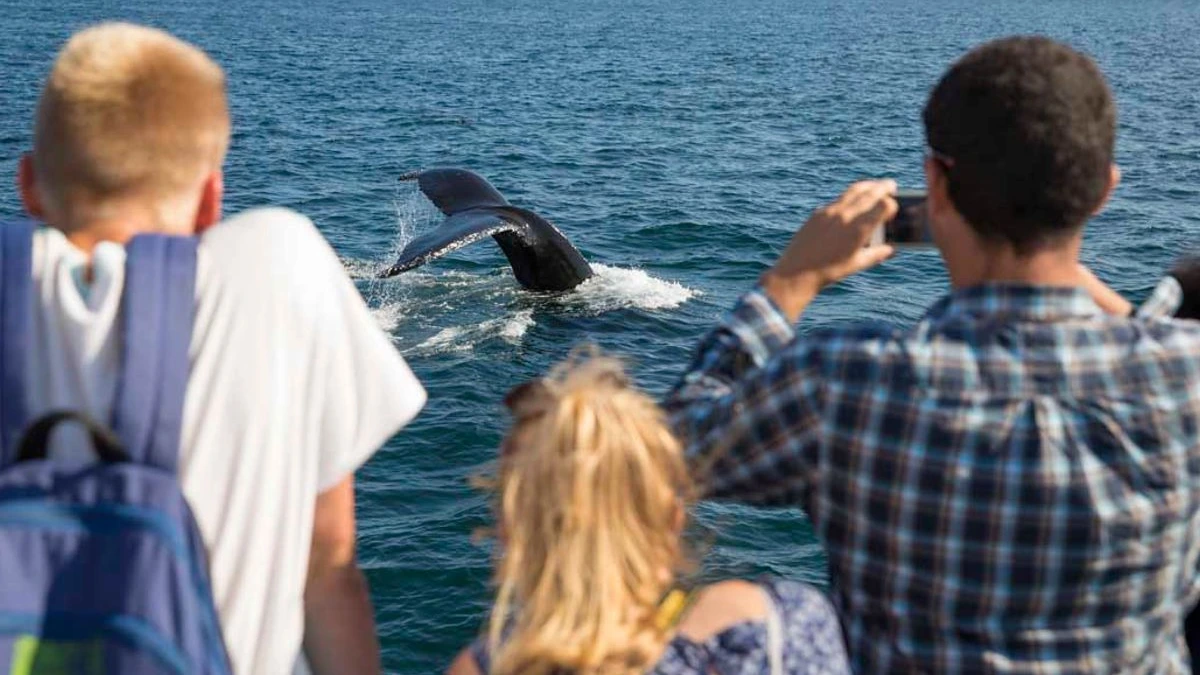 What to expect from a Whale Watching cruise
Whale watching in Boston in a catamaran is no less than an adventure.
While sailing on the sea, you can spot several elusive species you might not have seen or heard of before.
Some species you'll get to see include Humpbacks, Finbacks, Minkes, and other critically endangered whales.
New England Aquarium naturalists will share all the fascinating facts and knowledge that will help you understand marine life a little deeper.
The tour guides on the catamaran are friendly and answer your questions diligently.
Whale-watching in Boston is worth it!
Best place near Boston to watch whales
To experience the best whale watching in Boston, you must sail for Stellwagen Bank Marine Sanctuary.
The sanctuary is at the mouth of Massachusetts Bay, between Cape Cod and Cape Ann.
Marine species of various shapes and colors can be found in this sanctuary.
Major marine species include Atlantic Cod, Silver Hake, Great White Shark, Humpback Whales, Bottlenose Dolphin, and many more.
From where do whale cruises start?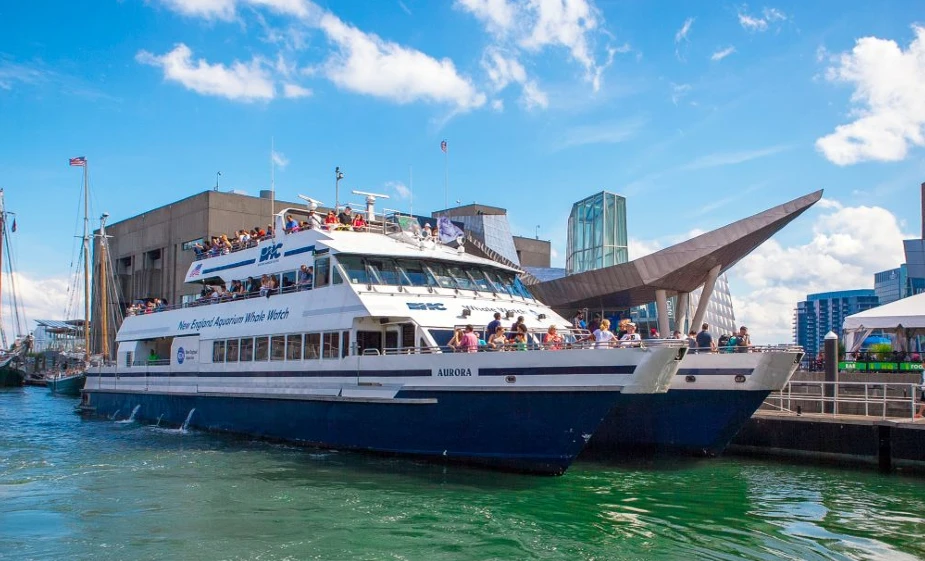 The Boston Whale Watching tours begin at Long Wharf.
Popular Boston landmarks surrounding Long Wharf are New England Aquarium, the North End, and Faneuil Hall. Get directions
Address: 1 Long Wharf, Boston, MA 02110
The Ticket Center is on Long Wharf, just a few steps from the Marriott Hotel.
You can easily spot the Ticket Center as it has a statue of a Humpback whale on its roof.
However, buying whale-watching cruise tickets much in advance is better to avoid last-minute disappointment.
Most cruises board 30 minutes before their departure time. Please check your confirmation email to confirm your cruise boarding & departure time.
How long are whale-watching cruises
The whale-watching tour in Boston can last between 3.5 to 4 hours.
The duration of a cruise on a particular day varies depending on the activities of whales, weather, and other wildlife sightings.
There are days when you can easily spot a whale just at the start of your cruise, while others require far more searching and traveling offshore.
The migratory and feeding habits are two major determinants of the duration of the Whale Watching Boston tour.
Boston Whale Watching tour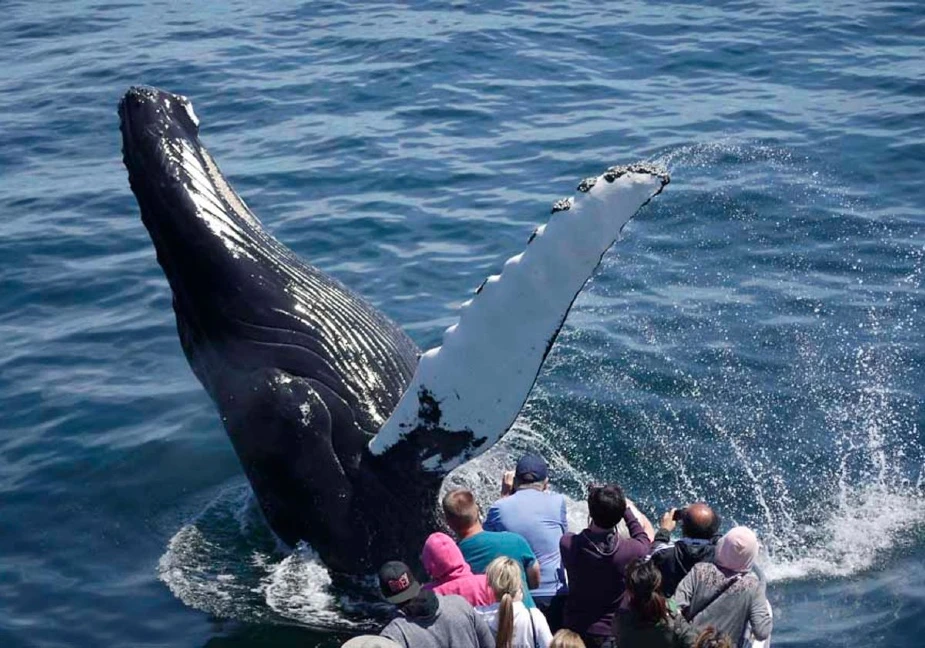 This three-and-a-half-hour whale-watching tour is the most popular in Boston and is operated by Boston Harbor City Cruises.
Professional researchers from the Whale Center of New England, the region's foremost authority on whale populations, double up as guided on these tours.
Tour inclusions
3.5 – 4 hour whale watching tour on the Stellwagen Bank Marine Sanctuary
High-speed catamarans for sailing into the ocean
Climate-controlled cabin space
Cushioned seating and tables
State-of-the-art sound and video systems
English-speaking guide
Guaranteed whale sightings
Cash bar
Light snacks available for purchase
Outdoor viewing decks and indoor spaces with large windows
Tour price
Adult ticket (12 to 64 years): US$ 68.07
Child ticket (3 to 11 years): US$ 47.07
Infant ticket (up to 2 years): Free entry
Boston whale watching season
The best time to go whale watching in Boston is from May to October.
During this time, the weather is warm, so the whales migrate to Massachusetts water.
The pleasant weather attracts tourists from all around the world.
Several docks support whale watching near Boston. You can board your catamaran from any of them.
Dress code for Boston whale watching
We recommend dressing up for the whale watching tour, depending on the season.
Bring a jacket, sweater, or hoodie for a hot summer day. It can be a little cool and windy offshore.
Bring extra layers with a scarf, cap, and gloves for a cold winter day.
Regardless of the season, you must bring the following items along –
A sunscreen to prevent tanning
Sunglasses to protect eyes from UV rays
Rubber shoes or sneakers for traction on a moving boat
Binoculars to spot even the farthest whale
Camera to store memories
Seasickness medication
About the Catamarans
The catamarans are boats or ships that take tourists on whale-watching tours.
These high-speed and high-powered water vehicles are suited for long voyages on the ocean, including whale watching.
They can carry nearly 400 passengers and are stable.
Almost all catamarans these days come with a climate-controlled interior cabin, cushy suits, and snack counter.
A catamaran promises fun, entertainment, adventure, and comfort all at the same time.
Will you get seasick?
Although most passengers experience no discomfort on the cruise, you must come a little prepared!
Whale Watching in Boston is an open ocean activity that may make you feel uneasy and cause motion sickness (includes symptoms like nausea, vomiting, dizziness, and headache).
We recommend you take anti-seasickness medicines 30 minutes before your scheduled departure or bring essential pills on the catamaran.
Sources

# Cityexperiences.com
# Neaq.org
# Bostoncentral.com
# Boston.com

The travel specialists at TheBetterVacation.com use only high-quality sources while researching & writing their articles. We make every attempt to keep our content current, reliable and trustworthy.
Popular attractions in Boston
# Boston Tea Party Ships & Museum
# Boston Trolley Tours
# New England Aquarium
# Boston Ghost Tours
# Zoo New England
# Codzilla Boston
# Fenway Park tours
# Boston Harbor Cruises
# Whale Watching in Boston
# Harvard Tours
# Boston Duck Tours