Trolley Tour is the best way to explore Boston.
You don't have to carry a map, keep looking at your phone for information, or worry about the commute.
Boston trolley takes you on a fun ride to visit the city's marvels on wheels.
This article shares everything you must know before booking your Boston Trolley Tour tickets.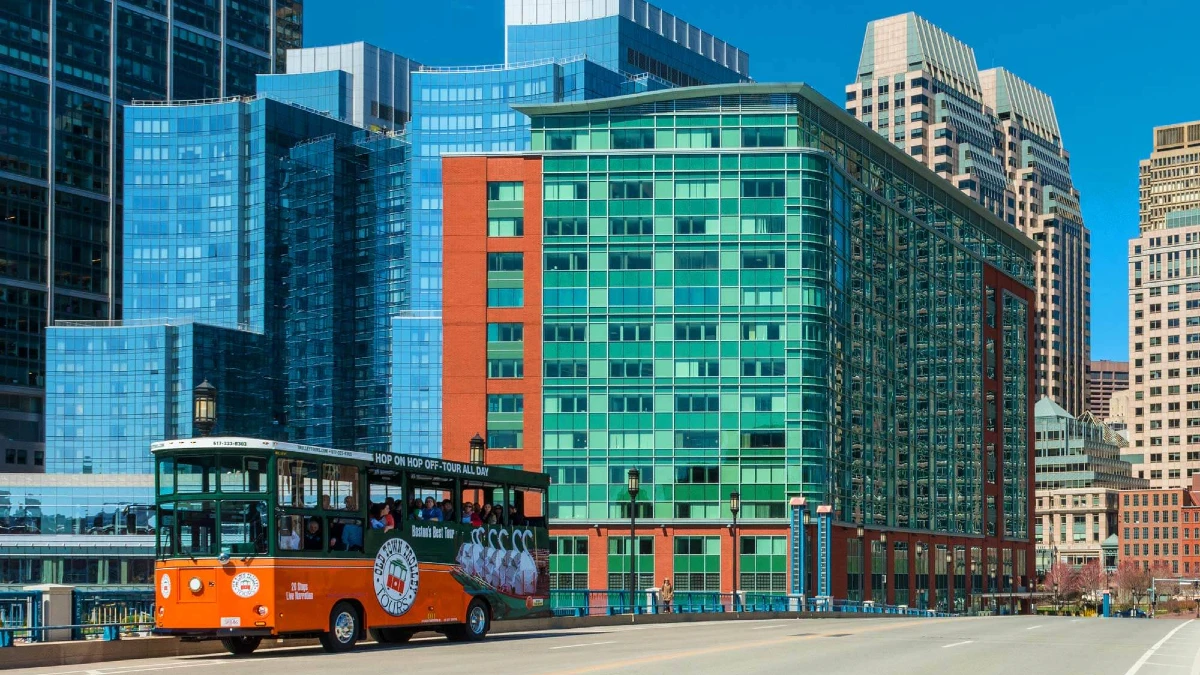 What to expect on a Boston Trolley Tour
The open-air trolleys have isinglass windows that you can roll up and down depending on the weather conditions.
The large windows offer a wide, clear view of the city.
You can book three types of Trolley tours in Boston city: Hop-on Hop-off Old Town Trolley Tour, Ghosts and Gravestones Tour, and Summer Nights Sunset Trolley Tour.
All these Trolley Tours are in English and are led by knowledgeable conductors who are also great storytellers and entertainers.
When you book your tour of Boston in a Trolley, the tickets are good for six months from the date of purchase.
Trolley Tour schedule
Boston's Hop-on Hop-off Old Town Trolley Tour runs daily from 9 am to 5 pm.
Ghosts and Gravestones Tours start daily at 6 pm, 7 pm, 8 pm, and 9 pm.
Summer Nights Sunset Trolley Tour runs from June to September only, starting at 7 pm.
Where do the tours start from
The first stop for all Trolley tours is at Atlantic Avenue at the corner of State Street.
Address: 200 Atlantic Ave, Boston, MA 02110. Get Directions
It is at the end of the Marriott Long Wharf Hotel, directly across the street from Faneuil Hall Marketplace, and immediately next door to Christopher Columbus Park.
Tickets are sold at this stop, but buying your Old Town Boston Trolley Tour tickets online is better to avoid last-minute disappointment.
However, you may start your Trolley Tour at any stop.
Subway
Take the blue T line or subway to the Aquarium station to get to the first stop of the Boston Trolley Tour.
By Bus
The nearest bus stop to the tour's first stop is Atlantic Ave @ State St-Marriott Hotel.
You can visit MBTA's website to plan your trip by subway or bus.
By Ferry
Get down at Long Wharf North or Long Wharf South terminal if you're traveling by ferry.
The stop at Atlantic Avenue is a 4-minute walking distance from Long Wharf North and 6 minutes from Long Wharf South.
How long does the Trolley Tour last
The Old Town Trolley Tour in Boston is approximately 1 hour and 50 minutes if you ride the tour all the way around without getting off and on.
The Ghosts and Gravestones Tour and Summer Nights Sunset Trolley Tour last 90 minutes.
Frequency of Boston Trolley Tours
Boston Trolley Tours provides faster pick-up and drop-off service.
The frequency of the trolleys depends on the time of the year, traffic, and, most importantly, weather conditions.
In addition, the trolleys tend to run more frequently on weekends than on weekdays due to the high visitor rush.
Hop-on Hop-off Old Town Trolley Tour
Enjoy the hop-on and hop-off tour in Boston in alluring green and orange double-decker buses.
Why Old Town Trolley Tour is worth it
The hop-on and hop-off old town trolley tour take you for a historical and cultural ride in Boston, where you cover more than 100 interesting locations.
The trolley is the best way for sightseeing and exploring Boston neighborhoods such as Downtown, Beacon Hill, Back Bay, the Theater District, and the Waterfront District.
The tour is both entertaining and educational.
While riding the bus, the conductors narrate stories packed with history and humor.
You can get down at any stop and hop on at any stop at your pace.
The trolley runs all seasons and all weather round the year.
Old Town Trolley stops in Boston
The hop-on and hop-off services are available at 18 stops.
Stop 1: Faneuil Hall Marketplace
Stop 2: Historic North End
Stop 3: USS Constitution and Museum
Stop 4: North Station/ TD Garden
Stop 5: Old State House
Stop 6: Beacon Hill/ Antique Row
Stop 7: Cheers Bar
Stop 8: Prudential Center
Stop 9: Christian Science Plaza/ Symphony Hall
Stop 10: Copley Place Mall
Stop 11: Copley Square/ Back Bay
Stop 12: Old Town Trolley Welcome Center/ Theater District
Stop 13: New State House/ Boston Common
Stop 14: Boston Tea Party Ships & Museum
Stop 15: Boston Convention center
Stop 16: Massport/ Black Falcon Cruise Ship Terminal
Stop 17: Boston Fish Pier
Stop 18: South Station
Stops 15, 16, 17, and 18 are available from 9 am till 12.30 pm, and the return shuttle leaves Stop #1 at 5 pm daily.
On the booking page, guests can book their Trolley Tour for two consecutive days as well.
One-day tour prices
Adult ticket (13+ years): US$ 66.15
Child ticket (4 to 12 years): US$ 29.40
Two-day tour prices
Adult ticket (13+ years): US$ 91.35
Child ticket (4 to 12 years): US$ 44.10
Ghosts and Gravestones Tour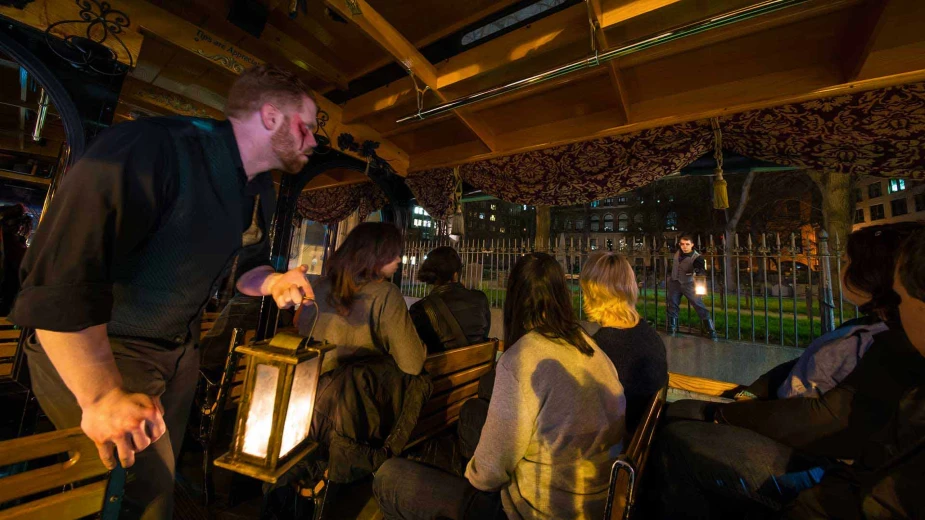 Boston, known for its interesting historical sites, lush gardens, adventurous cruises, and delicious cuisines, has a darker side, too.
Ghosts and Gravestones Tour takes you to haunted locations of Boston whose ghastly history will amaze you.
The tour guides wearing black cloaks with blood-red teardrops on their faces and holding lanterns and sticks are not ordinary.
The guides tell you about the horrifying stories of Quaker martyrs and unravel the mysteries of the shining Boston city and its macabre.
Highlights of the tour
Climb the trolley of doomed ghosts and gravestones and prepare for the fright scene tour.
The major highlights of the tour are:
Walk along the graveyard of John Hancock, Paul Revere, Samuel Adams, and many others.
Explore Boston's oldest burial grounds on foot: Copp Hill Burying Ground, Granary Burying Ground, and Kings Chapel Burial Ground.
Walk down the streets where the Boston Strangler once loomed.
Visit the most haunted hotel, The Omni Parker's House.
Listen to the heart-wrenching stories behind robberies, torture, punishment, and execution.
Learn astonishing truths behind witchcraft and frightening curses.
Hear tales of murder, mayhem, ghosts, and ghouls that will give you goosebumps.
The visit to the graveyard during the night may scare you a little.
The jumbled bones of many forgotten souls and tales like Ephraim Littlefield and his shocking black-market body trading scandal can flutter you.
The experience is not suitable for kids under 13 years, and kids five years and younger are not allowed on this tour.
Tour prices
Adult ticket (13+ years): US$ 46.20
Child ticket (4 to 12 years): US$ 38.85
Summer Nights Sunset Trolley Tour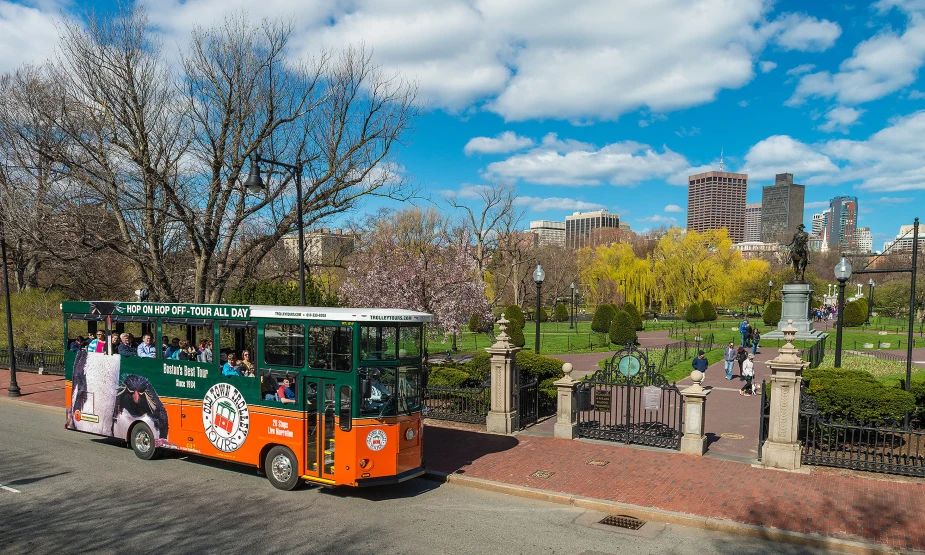 Nothing can be better than ending your day watching the sky illuminated with colors whose brilliance soothes your eyes, body, and soul.
During the Summer Nights Sunset Trolley Tour, you jump into the vehicle and see the illuminating skyline over the Charles River and the moonlit streets of Boston.
The tour guides on the trolley will narrate beautiful stories about Boston's history, architecture, and culture that will make you fall in love with the city.
The fading sunshine, light music in the background, and gentle breeze entering through the window will elevate your mood.
Highlights of the tour
You get a 360-degree view of the following locations from the comfort of your seats.
Boston Harbor
Rose Kennedy Greenway
North End
Bunker Hill Memorial Bridge
TD Garden
Longfellow Bridge
Museum of Science Planetarium
Cambridge
The Esplanade
Prudential Center
Boston Public Library
Trinity Church
John Hancock Tower
Boston Public Garden
Boston Common
Massachusets State House
Seaport District
The Summer Night Sunset Trolley doesn't stop at any of the above landmarks.
Tour prices
Adult ticket (13+ years): US$ 31.50
Child ticket (4 to 12 years): US$ 21
Sources
# Viator.com
# Thrillophilia.com
# Boston-discovery-guide.com

The travel specialists at TheBetterVacation.com use only high-quality sources while researching & writing their articles. We make every attempt to keep our content current, reliable and trustworthy.
Popular attractions in Boston
# Boston Tea Party Ships & Museum
# Boston Trolley Tours
# New England Aquarium
# Boston Ghost Tours
# Franklin Park Zoo
# Codzilla Boston
# Fenway Park tours
# Boston Harbor Cruises
# Whale Watching in Boston
# Harvard Tours
# Boston Duck Tours