If you couldn't make it to Harvard University, then worry not! You can still explore the campus – just book a through Harvard Campus Tour.
A Harvard tour gives you insights into campus life and tells you why it is the best institute in the world.
This article shares everything you must know before booking your tour of the Harvard Campus, which is also known as the Hahvahd Tour.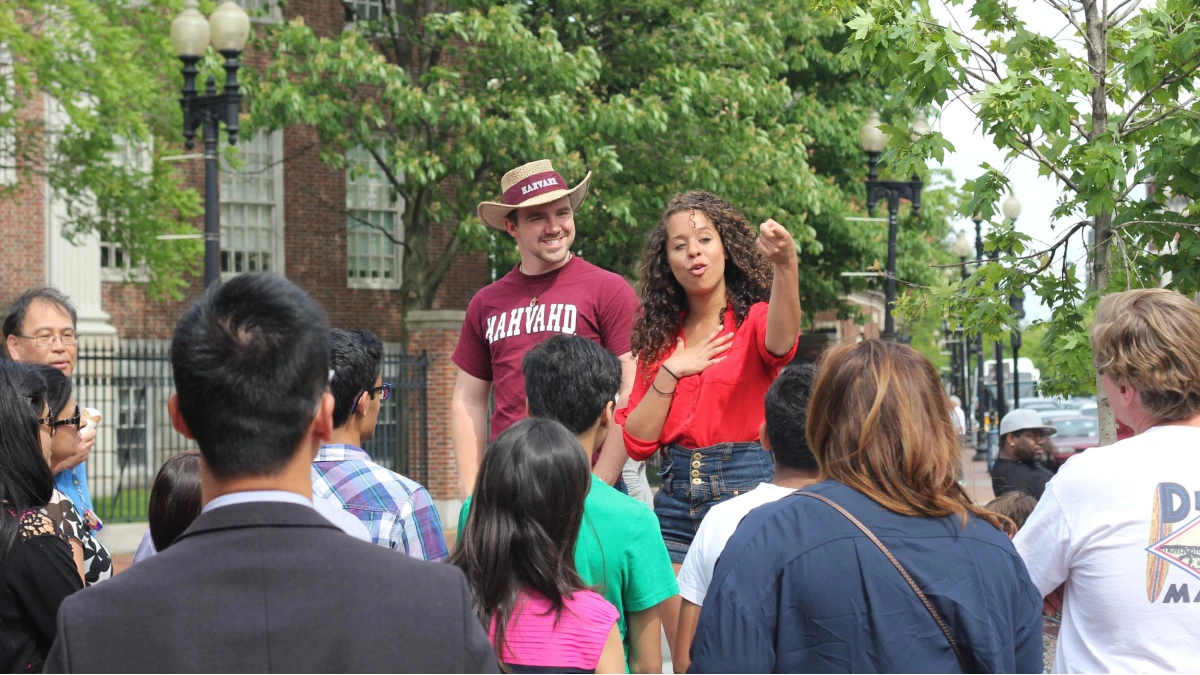 What to expect at Hahvahd Tour
The Harvard tours introduce you to the dynamic Harvard History, Harvard Culture, and Famous Harvardians.
Harvard campus tour covers many landmarks such as Harvard Square, Harvard Yard, the John Harvard Statue (the university founder), Harvard Lampoon, and many more.
All the tour guides are Harvard students who are charismatic, engaging, and enthusiastic.
These guides make Harvard tours more like a show or a theatre filled with non-stop fun and entertainment.
With the students' guides by your side, you get to learn the interesting facts about the university, its hidden secrets, and stories of popular Harvardians like Mark Zuckerberg, Barack Obama, Conan O'Brien, and many more.
Guests can either book a 70-minute group tour or a 90-minute private tour of the Harvard Campus.
Hahvahd tours are designed to entertain both adults and children. AAA Magazine called them "great for families!" The tour guides cater to guests of all ages and families.
Is a tour of Harvard worth it?
Established in 1636, Harvard is America's oldest university and perhaps the most famous institution of higher education on the planet. Harvard is very much worth visiting.
This prestigious university contains tall buildings, libraries packed with books, and iconic sites that are breathtaking.
Whether you're a student or not, the campus has much to please your mind and soul.
Since the students will walk you through the campus, you get an insider perspective about the university.
All of this make the Hahvahd Tour worth your money and time.
Where do Harvard tours start from?
The Harvard campus tour starts from Harvard Square.
Located at the junction of Massachusetts Avenue, Brattle Street, and John F. Kennedy Street, Harvard Square is thronged by visitors, students, and artists daily..
You'll find your tour guides outside the Harvard Red Line Subway Station next to the Out of Town News Kiosk. Get Directions
The closest street address is 1380 Massachusetts Ave, Cambridge, MA 02138.
Schedule of Tours
The first 70-Minute Harvard Tour starts at 10 am and continues every half hour till 4 pm.
The private 90-minute tour of Harvard is available at 10.30 am, 12.30 pm, and 1.30 pm.
How long does the Harvard Tour last?
The Harvard walking tour lasts for about 705 minutes.
There are many umpteen stops on the 1-mile (1.6 km) long tour.
The tour guides will tell you the stories and significance of various landmarks you pass by.
Harvard Tour tickets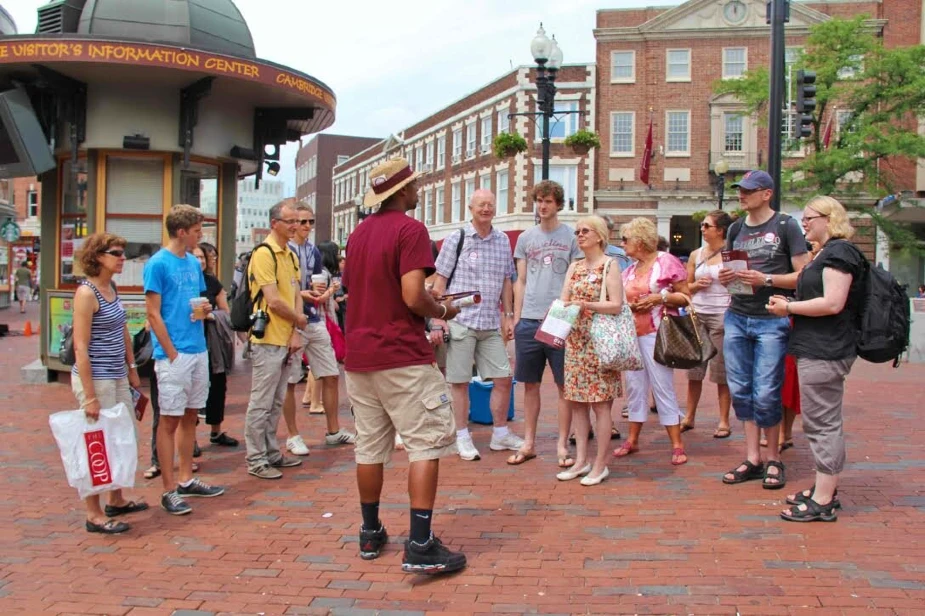 There are three ways to experience the student-led Harvard campus tour – you can book the most popular 70-minute group tour, a 90-minute private tour, or opt for the Harvard & MIT combo tour.
Where to book the tickets
On the day of your visit, you can buy the Harvard tour tickets from the guide just outside the Harvard Red Line Subway Station (next to the Out of Town News Kiosk).
However, we suggest you purchase them online in advance to avoid last-minute disappointment.
How online tickets work
When you book Hahvahd Tour tickets in Boston, you select your preferred time of visit and date.
Immediately after purchase, your tickets get emailed to you. You don't need to take any printouts.
On the day of your tour, you must be near the Out of Town News Kiosk, just outside Harvard Red Line Subway Station, 15 minutes before your tour starts.
Since you have a ticket and are on time, you can show it to your guide and join the tour.
Ticket prices
The 70-minute group tour, also known as the public tour of the Harvard campus, costs US$ 19.50 for guests aged 18 to 54 years.
Seniors aged 65 years and above get a US$ 1 discount and pay US$ 18.50, while kids aged four to 17 years get a US$ 2 discount and thus pay only US$ 17.50.
The private tour of the Harvard campus costs US$ 250 for groups of up to 9 members.
The Harvard University and MIT Combo Walking Tour cost US$ 34.99 per person.
Along with their Hahvahd Campus Tour, some tourists prefer to book a group tour of the Massachusetts Institute of Technology.
Sites you will see on the Harvard Tour
You'll walk through the university gates, around the yard, and past some historic buildings with Harvard Tour guides.
The major sites covered under Harvard Tours are:
Harvard Square
It is a commercial center in Cambridge with streets lined with cafes, restaurants, retail stores, cinemas, and bookstores.
Johnston Gate
This majestic gate takes you to the world of knowledge and wisdom. It is one of the many doorways to Harvard Yard.
Harvard Yard
It is the heart of Harvard University, enclosed by wrought iron fences, walls, and a thick canopy of trees. The John Harvard Statue is situated in this beautiful yard.
Science Center
It is a place for science and math buffs who experiment and do research.
Memorial Hall
The cornerstone of the building was laid in 1870 in memory of those who laid down their lives during the civil war.
New College Theatre
It hosts several theatrical and musical performances of Harvard students every year. NCT is also open to the general public to enjoy the performances of Harvard-affiliated groups and performers.
The Harvard Lampoon
Sometimes referred to as "Lampoon Castle," this sturdy castle consists of an office, library, dining hall, and a lounge. It is famous for publishing comic and humor magazines.
Lowell Bell Tower
This blue-capped bell tower is in proximity to Harvard Yard and Harvard Square. It houses the iconic Russian bells.
What to bring on the tour?
It is better to come prepared for the weather to avoid surprises.
When coming for the tour, you can bring along the following items-
Comfortable shoes
Umbrella
Jacket
Sunglasses
Things to know before starting a tour
Before starting the campus tour, keep in mind the following points-
The tour will go on despite rain or sunshine.
Reach the tour's starting point (Harvard Square) at least 10-15 minutes before the scheduled time.
The tour does not take you inside any of the buildings.
Sources

# College.harvard.edu
# Harvard.edu
# Apply.college.harvard.edu
# Seas.harvard.edu

The travel specialists at TheBetterVacation.com use only high-quality sources while researching & writing their articles. We make every attempt to keep our content current, reliable and trustworthy.
Popular attractions in Boston
# Boston Tea Party Ships & Museum
# Boston Trolley Tours
# New England Aquarium
# Boston Ghost Tours
# Zoo New England
# Codzilla Boston
# Fenway Park tours
# Boston Harbor Cruises
# Whale Watching in Boston
# Harvard Tours
# Boston Duck Tours