Fenway Park, whose cornerstone was laid in 1911, is one of the oldest baseball stadiums in the United States.
Major League Baseball and sports enthusiasts have called it "America's Most Beloved Ballpark."
This stadium is home to the Boston Red Sox and featured in movies like Good Will Hunting, Money Ball, Fever Pitch, etc.
This article shares everything you must know before booking your Fenway Park tour.
Top Fenway Park tours Tickets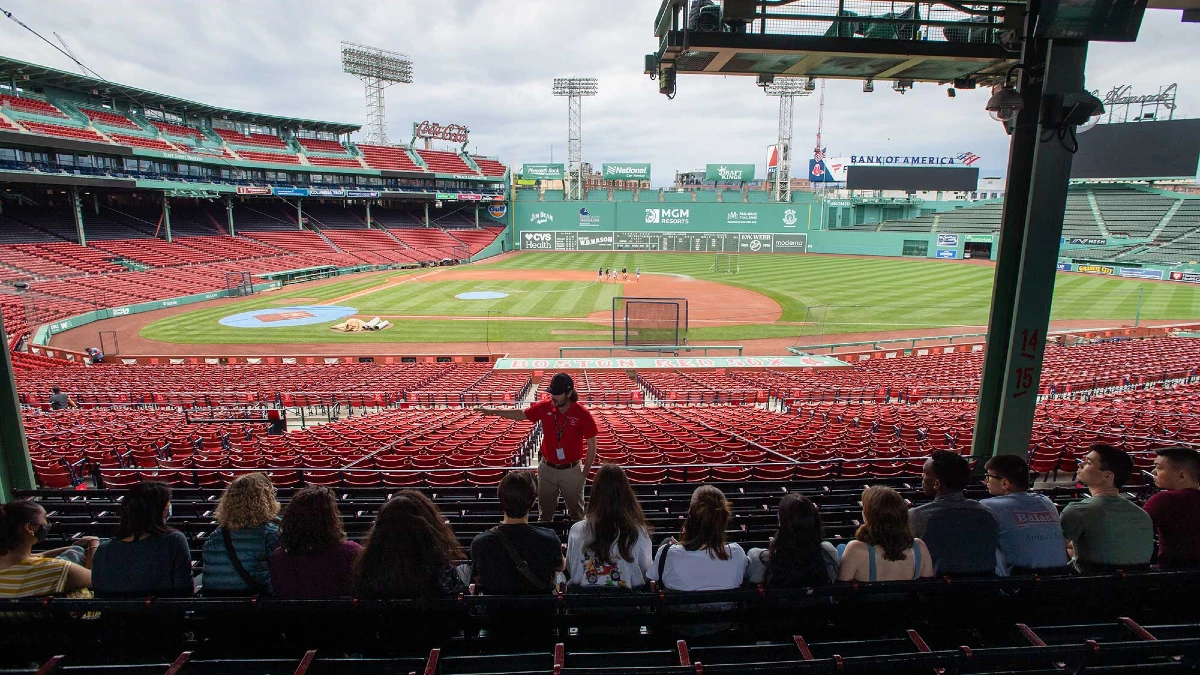 What to expect on a tour of Fenway Park
Who doesn't want to catch a baseball game at Fenway Park?
Or better still, have a behind-the-scenes tour of one of the most famous baseball parks in the USA.
Here are some of the major highlights of the Fenway Park Boston tour:
Pesky's Pole
Fenway's right-field foul pole is dubbed "Pesky's Pole."
Named after Johnny Pesky, the famous Red Sox player, this pole stands 302 meters away from the home plate and has become an intrinsic part of Red Sox folklores.
Green Monster
The 37-foot and 2-inch left field green wall in Fenway Park is known as Green Monster.
This wall runs parallel to Lansdowne Street and is extremely tall and wide. When you're here, don't forget to take pictures.
At the bottom of the Green Monster is a scoreboard whose scores are still changed manually.
Roof Deck
The Roof Deck facing towards the right field gives a picture-perfect view.
The whole stadium is visible from this vantage point.
Fenway Park Living Museum collection
Fenway Park Living Museum collection preserves the history and culture of Fenway Park.
It features and displays baseball bats, balls, gloves, and other memorabilia signed by famous baseball players.
The tour guides give you great insights into the Red Sox history and the iconic sites in the stadium.
Friendly, engaging, and high-spirited tour guides make this one-hour tour fun.
Fenway Park tour timings
From April to October, Fenway Park tours operate from 9 am to 5 pm, and rest of the year, they run from 10 am to 5 pm.
The last tour departs at 5 pm on non-game days.
On game days, the last tour departs 3 hours before game time.
The last tour departs at 5 pm on non-game days.
Fenway Park stadium tour takes place all year except Thanksgiving, Christmas, and New Year's Day.
Best time to visit Fenway Park
For a diehard baseball fan, every day is the best day to go on a tour of Fenway Park.
On home game days, you'll see a lot of hustle-bustle and excitement in and around the park and Jersey Street.
If you book a Park tour on a game day, you will surely breathe baseball in the air, but we recommend reaching the location early.
If you don't prefer crowds, booking a tour on a non-game day is better.
You don't have to be a baseball fan to visit Fenway Park. The Fenway Park tour helps both fans and non-fans understand the beautiful history and architecture of Fenway Park.
How long does the Fenway Park tour last?
The tour of Fenway Park starts from Gate D of the stadium and lasts around 60 minutes.
During the one hour, local tour guides tell you about the long-cherished history of Fenway Park, its most outstanding baseball team, the Red Sox, and famous players such as Ted Williams, Babe Ruth, and Carl Yastrzemski.
Fenway Park tour tickets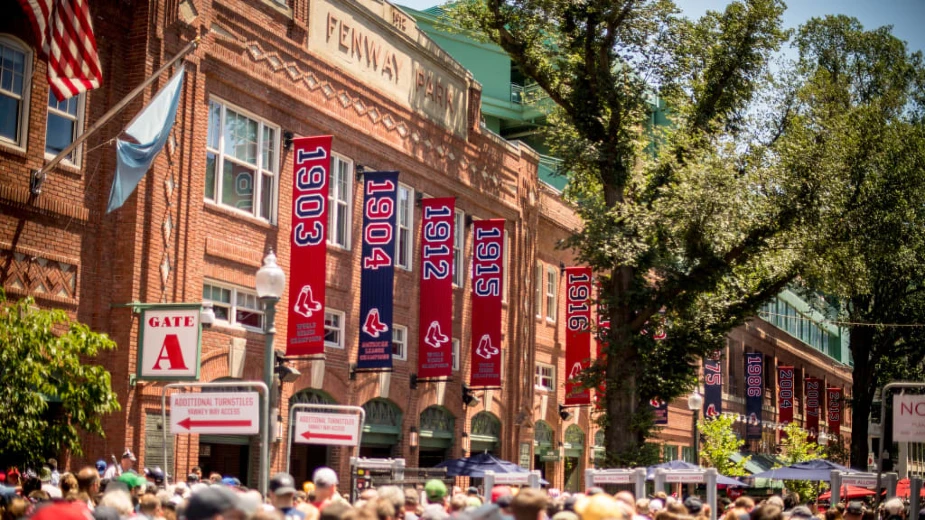 The Fenway Park Boston tour tickets are available both offline and online.
Tourists can buy Fenway Park tickets at the intersection of Jersey Street and Van Ness Street (Gate D).
The tickets at the ticket booth are provided on a first come, first served basis.
However, when you buy Fenway Park tour tickets online and in advance, you can avoid last-minute disappointment.
Public tour of the stadium
The public tour is a shared group tour of Fenway Park with up to 50 other visitors.
During this one-hour tour, guests enjoy up close access inside the hallowed walls of Fenway Park.
A local guide leads you as you discover the stadium's collection of more than 170,000 stadium artifacts.
Tour price
Adult ticket (13+ years): US$ 25
Child ticket (3 to 12 years): US$ 17
Infants (up to 2 years): Free
Private Fenway Park tour
Book a private tour if you're traveling with a large group and want your personal guide.
Private tours are for groups of up to 10 people.
These tours cover all the exhibits covered under the public tour (Pesky's Pole, Green Monster, Fenway Park Living Museum collection, etc.) and also include additional locations such as:
Red Seat
Visiting Team Clubhouse
Visiting Team Batting Cage
Red Sox Hall of Fame
Red Sox Front Office and Trophy Case
Batting Titles & Golden Glove Awards Display
State Street Pavilion Club
Warning Track
Green Monster Scoreboard
Tour Price: US$ 75 per person
Are Fenway Park tours worth it?
Boston is a hub for sports, and people here play sports, watch sports, breathe sports and celebrate sports.
So if you want to understand the Boston city culture, you need to understand the local sports culture.
Fenway Park is the home of the Red Sox and is the oldest Major League Baseball ballpark in Boston today.
Though the stadium might look small, it has a long and remarkable history that will drive you crazy!
You can learn much from the Fenway Park tour, like the legendary stories behind the Lone Red Seat, Pesky's Pole, and Green Monster.
The treasure at the museum includes the following:
170,000+ artifacts related to the history of Fenway Park and the Boston Red Sox
24,000+ 3-D artifacts and 150,000+ photographs
Memorabilia from Red Sox greats such as Ted Williams, Babe Ruth, and Carl Yastrzemski
90 World Series team signed baseballs and 36 game-used baseball bats
Artifacts from the historic 2004, 2007, and 2013 World Series
17 different displays, including eight located in Fenway Park concourses and eight in the Nation's Archives at the Royal Rooter's Club
All of this makes a tour of Fenway Park worth it in every sense.
How to reach Fenway Park
Public transport is the most convenient and affordable means to reach Fenway Park.
The park is just around the corner from the Kenmore station, and you can plan your trip on MBTA's website.
When you exit the Kenmore station, follow the signs to Fenway Park.
Turn left on Commonwealth Ave, left on Brookline Ave, and Fenway Park is just over the bridge.
If you decide to drive, you can pay to park in one of several garages located within a few blocks.
Address: 4 Jersey St, Boston, MA 02215, United States. Get Directions
Sources

# Freetoursbyfoot.com
# Bostonattractionsgroup.com
# Tripadvisor.com
# Cocity.com

The travel specialists at TheBetterVacation.com use only high-quality sources while researching & writing their articles. We make every attempt to keep our content current, reliable and trustworthy.
Popular attractions in Boston
# Boston Tea Party Ships & Museum
# Boston Trolley Tours
# New England Aquarium
# Boston Ghost Tours
# Zoo New England
# Codzilla Boston
# Fenway Park tours
# Boston Harbor Cruises
# Whale Watching in Boston
# Harvard Tours
# Boston Duck Tours