When one thinks about Boston, its illuminated skyline, sparkling Charles River, gorgeous green garden, and unique architecture come to mind.
But besides Fenway Park, Boston Common, New England Aquarium, Harvard University, sightseeing cruises, etc., Boston has many surprises for unsuspecting tourists.
A part of the city's history is soaked in darkness and tragedy that is worth knowing.
The city has gloomy graveyards, spooky sightings, haunted houses and hotels, and strange stories of looming spirits that will scare you.
This article shares everything you must know before booking your Boston Ghost Tour tickets.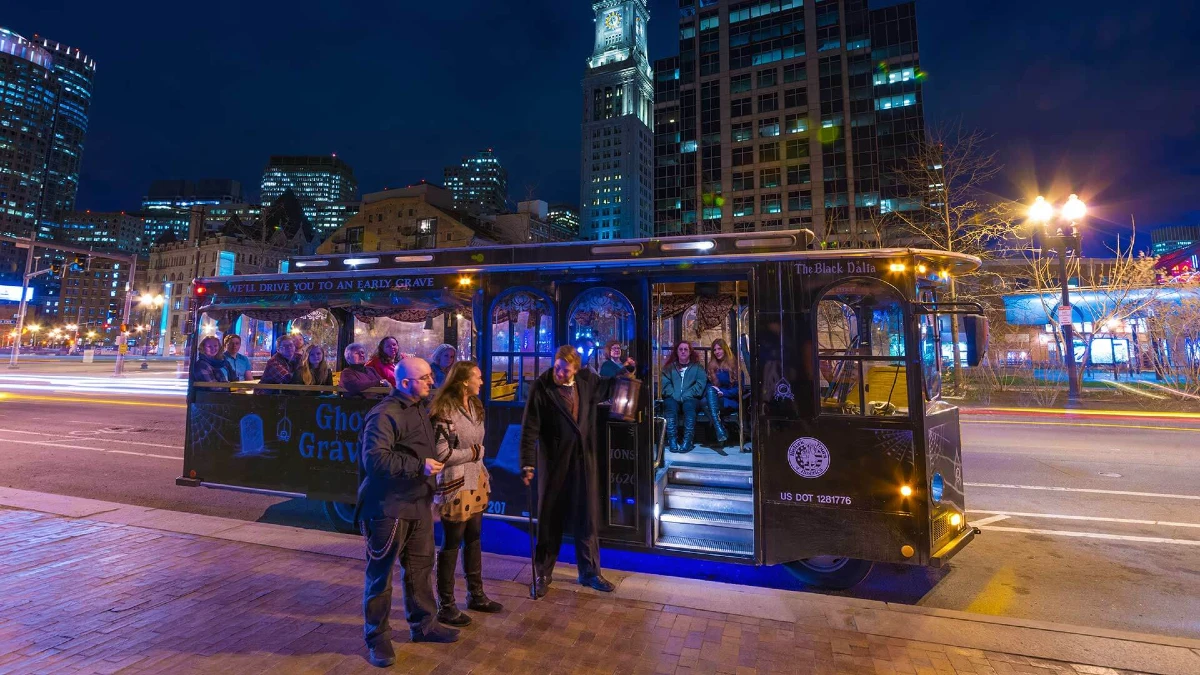 What to expect at the Boston Ghost Tours
Boston Ghost tours give you a hands-on experience of the city's most unusual yet remarkable locations.
Highlights of the Ghosts and Gravestones Tour
Explore the Granary Burying Ground, a resting place of many American revolutionaries, including John Hancock, Robert Treat Paine, and Samuel Adams.
Walk through the Copp Hill Burying Ground, a grave of many merchants, artisans, and craftsmen, where you may experience a sudden chill.
Visit the King's Chapel Burial Ground, a place known for the premature burial of King Chapel.
See Boston's most haunted hotel, The Omni Parker House, where many guests have reported paranormal activities.
Listen to the spine-chilling folklores about ghosts, ghouls, and graveyards.
Hear the sordid history of torture, gruesome murders, brutal execution, and live burial and unearth the darker side of Boston.
The Ghost tour is scary. You may feel spirits around you scratching coffins, making noises, and grabbing you from behind.
The tour guides, wearing white contacts with black teardrops and black lipsticks, fake bloody scars, and holding lanterns in their hands, create the right ambiance for the experience.
They narrate stories and try to strike a perfect balance between fear and fun.
Ghost tour schedule
Boston Ghosts and Gravestones Tours begin when the sun goes down.
The tours start daily at 6 pm, 7 pm, 8 pm, and 9 pm.
You get a unique feeling while exploring graveyards with gravediggers after dark.
Where does Boston Ghost Tour start from
Boston Ghost Tours start from 200 Atlantic Ave, Boston, MA 02110. Get Directions
It is at the end of the Marriott Long Wharf Hotel, directly across the street from Faneuil Hall Marketplace, and immediately next door to Christopher Columbus Park.
The nearest T station is Aquarium, and the nearest bus stop is Atlantic Ave @ State St-Marriott Hotel.
Opt for the Long Wharf North terminal if you plan to take the ferry.
If you're traveling by subway, bus, or ferry, plan your trip by visiting the MBTA's website.
Ghosts and Gravestones Tour tickets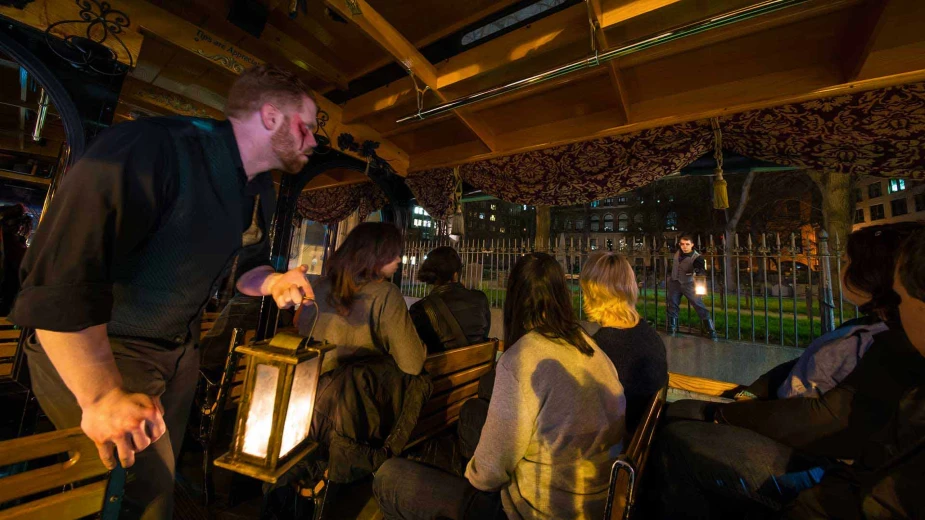 The Ghosts and Gravestones tour tickets are available both offline and online.
You can purchase the tickets from the ticket booth at Atlantic Avenue before or on the tour day.
However, purchasing tickets online can save money and avoid last-minute disappointment.
These tickets are in high demand, so we recommend you book much earlier.
Ticket Price
Adult ticket (13+ years): US$ 46.20
Child ticket (6 to 12 years): US$ 38.85
Children aged five or below are not permitted.
How long does the Boston Ghost Tour take?
The Boston Ghost Tour runs for 90 minutes.
In these 90 minutes, you get a chance to visit the oldest burial sites of John Hancock, Robert Treat Paine, Samuel Adams, and King Chapel.
The tour takes you to the haunted hotel, the Omni Parker House, where only the boldest decide to stay at night.
Is the Boston Ghost Tour worth it?
If you're bored of listening to or reciting ghost stories, you must go for a ghost tour to experience the thrill and terror.
Boston Ghosts and Gravestones Tour shows you the city's shadowy past, which your mother or grandma might have missed while sharing bedtime stories.
The tour unveils the mysteries, mishaps, and misfortunes that took the lives of many.
The tour guides on this scary tour have the knack for turning tragic history into entertainment.
The tour is not just about visiting graveyards or haunted locations; it is meant to introduce you to the darker side of Boston by turning back the pages of the city's violent history.
On Boston Ghost Tour, you are exposed to tales of ghosts and ghouls from a historical and cultural perspective.
The guides will tell you tales like Ephraim Littlefield and his shocking black-market body trading scandal that gives you goosebumps.
Learn about The story of King Chapel and how he was buried alive.
The uncanny nature of ghosts and their weird life stories will show you a different side of Boston which you won't find even in books.
Ghosts and Gravestones Tour on Halloween
Although the Ghost and Gravestones Tour is available year-round, Halloween is the best time for the bloodcurdling and bumpy ride.
Explore the spooky side of Boston on the trolley of the doomed with gravediggers, the leaders of the frightful adventure.
The scary sightseeing begins the moment you hop on the trolley.
The 90 minutes tour will take you to the city's oldest and most horrifying graveyards and hotels.
You'll hear stories of those whose remains lie beneath your feet.
The folklores of the Boston Strangler, Angel of Death, Captain Kidd, William Dawes, and other mysterious figures will surely drive you crazy!
Choose your Halloween avatar, get your costume and hop on to the Ghosts and Gravestone Tour trolley for unlimited eerie and entertainment.
If you are visiting Boston during Halloween, go ahead and book the Ghost tour.
Sources

# Ghostsandgravestones.com
# Trolleytours.com
# Tripadvisor.com
# Ghostcitytours.com

The travel specialists at TheBetterVacation.com use only high-quality sources while researching & writing their articles. We make every attempt to keep our content current, reliable and trustworthy.
Popular attractions in Boston
# Boston Tea Party Ships & Museum
# Boston Trolley Tours
# New England Aquarium
# Boston Ghost Tours
# Franklin Park Zoo
# Codzilla Boston
# Fenway Park tours
# Boston Harbor Cruises
# Whale Watching in Boston
# Harvard Tours
# Boston Duck Tours