If you want to explore Boston, Boston Duck Tours is the best way to see the city from land and water, and that too in the same vehicle.
These giant and pop-colored amphibian vehicles will take you on a thrilling historical tour via long, busy Boston streets and the pristine Charles River.
This article explains everything you need to know before buying your Boston Duck Tour Tickets.
What to expect from Boston Duck Tours
Once you step into the truck cum boat, the ConDUCKtors will greet you and narrate all the legendary stories associated with the landmarks the amphibious vehicle passes by.
Some of the tour's highlights are Boston Public Garden, Old State House, Museum Of Science, Boylston Street, Old South Church, Arlington Street Chruch, etc.
---
---
Duck Tour timings
Duck boat tours in Boston depart every hour, starting at 9 am or 10 am until one hour before sunset.
The ticket booths at Prudential Center, the Museum of Science, and the New England Aquarium open 30 minutes before the first tour and close after the last tour departs.
However, we suggest you purchase a Boston Duck Tour ticket in advance to avoid last-minute disappointment.
How long is the Boston Duck tour
Boston Duck Tours are around 80 minutes long – n hour on land and 20 minutes in the water.
There are no stops and breaks along the route.
However, the tour duration may vary depending on external and uncontrollable factors such as weather, traffic, and ongoing construction.
Best time for Duck tours in Boston
Boston's Duck boat tour is a fantastic experience that takes you through the past and present of the city.
If you're planning to go sightseeing and witness the beauty of the city's historic neighborhoods like Charlestown, Beacon Hill, Downtown, and Back Bay on these ducks, then late spring through early fall is the perfect time to do so.
This tourist-friendly season falls between March and November when the weather is pleasant.
The cool breeze emerging from the womb of the Charles River brushes your hair, and the skyline soothes your body, mind, and soul.
The rest of the months aren't bad either – drive by the Boston landmarks and dive into the Charles River by booking your Boston Duck Tour tickets today!
Will you get drenched?
You won't get drenched in water as the World War II amphibian vehicles splash into the charming Charles River. However, you may get a light spray of water right on your face depending on the speed of the truck cum boat and the direction and strength of the wind.
---
---
Boston Duck tours tickets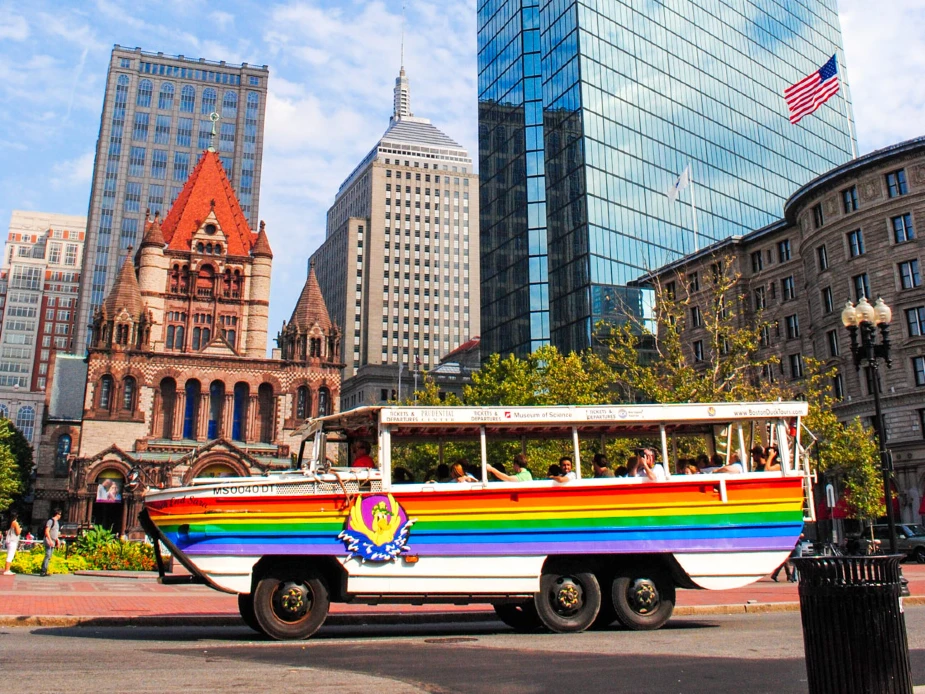 Where to book the tickets
You can book your Boston Duck Tours tickets 30 days before your visit – both online and offline.
Ticket booths are at Prudential Center, the Museum of Science, and the New England Aquarium.
But when you buy the tickets online, you need not go through the hassle of standing in long queues.
How online tickets work
When you book tickets for Duck Tours in Boston, you select your preferred time of visit and date.
Immediately after purchase, your tickets get emailed to you. You don't need to take any printouts.
Now all you must do is, reach one of the three departure points – Prudential Center, Museum of Science, or New England Aquarium – at least 15 minutes before the time on your ticket.
Since you have a ticket and are on time, you can show it on your smartphone and board the vehicle.
Last minute tickets
A limited number of Duck tour Boston tickets go on sale online at 8:45 am five days prior.
If these tickets are sold out online, they won't be available at the ticket booths either.
Ticket prices
Visitors aged 12 to 64 years pay the full Boston Duck Tour ticket price of US$ 53.44 per person.
Seniors 65 years and above and guests with a Military ID qualify for a Boston Duck tour discount of US$ 9.5 and pay only US$ 43.99 for entry.
Kids aged three to 11 years get a US$ 15.75 discount on the full ticket cost and pay only US$ 37.69.
Unfortunately, infants younger than three don't get a free entry – but pay a reduced price of US$ 13.54.
Adult ticket (12 to 64 years): US$ 53.44
Seniors ticket (65+ years): US$ 43.99
Military ticket (with ID): US$ 43.99
Child ticket (3 to 11 years): US$ 37.69
Infant ticket (up to 2 years): US$ 13.54
---
---
Where do Duck tours depart from
Duck tours Boston has three departure locations: the Museum of Science, Prudential Center, and New England Aquarium.
Each location is conveniently located near public transportation.
Museum of Science
The Museum of Science is located near Boston's West End, the Bulfinch Triangle, and Charlestown neighborhoods, and it borders the City of Cambridge on the Charles River.
The ducks boarding area is in front of the Museum of Science, next to the giant Tyrannosaurus rex!
Address: 1 Science Park, Boston, MA 02114. Get Directions
New England Aquarium
The New England Aquarium is a popular aquatic wonder in Boston. It is located on Boston's historic Waterfront and is near Faneuil Hall.
Boston Duck Tours departs from the New England Aquarium's driveway in front of the Whale Watch Booth.
Address: 1 Central Wharf, Boston, MA 02110. Get Directions
Prudential Center
Prudential Center is a huge shopping complex hosting nearly 75 stores, and the Boston Ducks depart from here.
Address: 53 Huntington Avenue, Boston, MA 02116. Get Directions
Multi-language tours
Now you can experience Duck Tours in Boston in your language. All you need to do is wear the GPS headsets and quack, quack, there you go! These language tours depart from the Museum of Science and are available in Mandarin, Spanish, French, German, Italian, Brazilian Portuguese, Japanese, Cantonese & Korean.
---
---
Route of Duck tour Boston
The best way to explore the heritage and history of Boston is through Duck Tours Boston.
The fun and entertainment begin as soon as you hop on your "DUCK", a World War II-styled amphibian vehicle that takes you on a land and water excursion.
You'll cruise by all the significant places that make Boston the birthplace of freedom and a city of firsts.
Some of the highlights are –
the golden-domed State House, which is the state Capitol and the seat of the government for the Commonwealth of Massachusetts
the historical Bunker Hill that echoes the stories of the American Revolution
the multi-purpose Fleet Center, which hosts different sports activities
Boston Common which is a perfect picnic site
Newbury Street which contains tonnes of restaurants and shopping centers
The DUCK transports you to different neighbourhoods where you experience nature and man-made architecture a little closer.
Your ConDUCKtor will be giving you lots of little-known facts and interesting insights about Boston city.
Their witty and humorous commentary will make your journey a lot more fun!
To know the path you will take, check out the tour's route map.
What to wear during the trip
For Duck boat tours in Boston, you need not wear a swimsuit. But proper clothing is a must because as the amphibian vehicle travel from land to water, there are chances of getting a little wet despite the ducks being heated and enclosed. Dress according to the weather on the day of your voyage. It is often breezy on Charles River.
Popular attractions in Boston
# Boston Tea Party Ships & Museum
# Boston Trolley Tours
# New England Aquarium
# Boston Ghost Tours
# Zoo New England
# Codzilla Boston
# Fenway Park tours
# Boston Harbor Cruises
# Whale Watching in Boston
# Harvard Tours
# Boston Duck Tours