The Codzilla speed boat ride in Boston is the ultimate adventure you can have in the city.
Codzilla, also known as water coasters, are boats that will make you wet and wild.
The pop red-colored Codzilla boats with painted fish jaws tear through the water at high speed, giving the passengers an adrenaline rush.
This article shares everything you must know before booking your Codzilla Boston tickets.
Top Codzilla Boston Tickets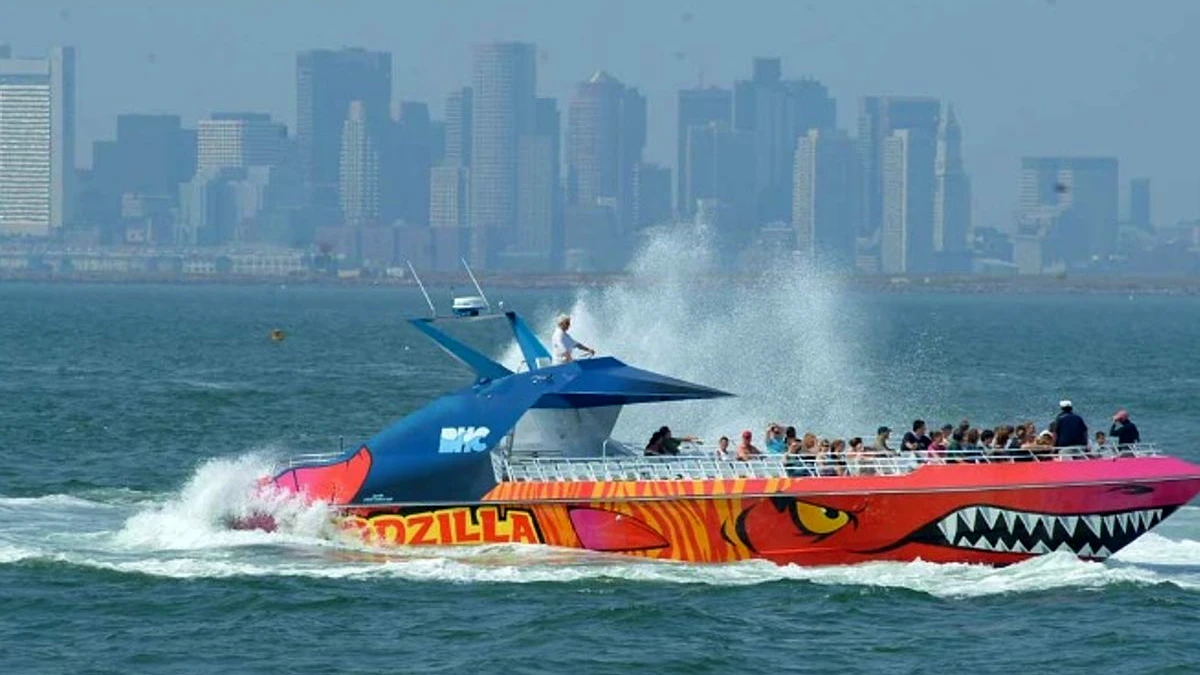 What to expect on the thrill boat ride
Codzilla Boston High-Speed Thrill Boat tour is not an ordinary tour and isn't for a faint-hearted person.
Unlike other cruise tours where you sit, relax, and watch the sun going down and the sky getting lit with radiant colors, the Codzilla boat tour is filled with thrill and terror.
The high speed, loud music, soaring engine, and spinning turns of the Codzilla will make you scream loud.
You'll see some beautiful views of Boston, and while this isn't a typical sightseeing cruise, the crew points out some famous locations.
As the boat makes sharp 360-degree turns, you may get a splash of water on your face and wind in your hair.
The cruise ship will throw you back on your seat, whirl you around and drench you in water.
You'll feel the water, wind, and wave on the unusual Codzilla boat tour.
Codzilla Boston tickets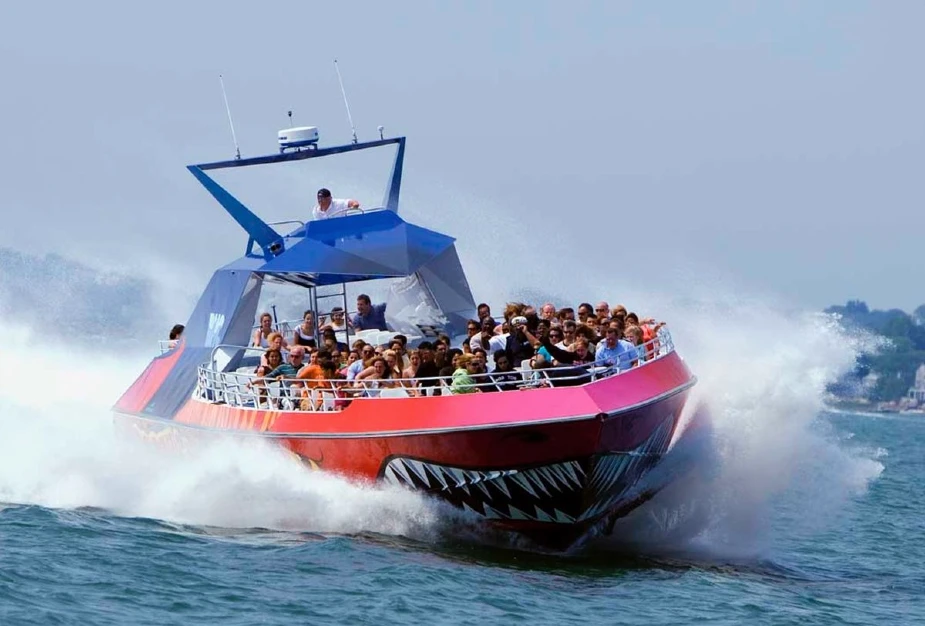 You can purchase your Codzilla Boston tickets both offline and online.
The ticket center is located on the Long Wharf; you can easily spot it as it has a whale on top.
But you need to line up and wait to get your tickets.
We recommend booking your Codzilla Boston tickets in advance to avoid last-minute disappointment.
The tours of Codzilla Boston get fully booked on weekends and holidays, so it is better to reserve your adventure in advance.
Immediately after purchase, you will receive a smartphone voucher in your email.
On the day of your visit, you can redeem your boarding pass by showing your voucher at the Ticket Center.
Ticket inclusions
40 minutes high-speed thrill boat ride
Narrated tour
Free ponchos
Ticket price
Adult (12+ years): US$ 45
Child (3-11 years): US$ 34
What does the Codzilla Boat Tour include?
Once you board the Codzilla speed boat in Boston, the crew will offer you a free plastic bag or ponchos to protect you and your belongings from water.
The high-spirited captain and crew will keep you entertained and energized throughout the tour.
Blaring music on the boat will make you sing and shriek.
The Codzilla ride is rapid and pulsating and may cause an intense adrenaline rush in your body.
About Codzilla Boston boats
Codzilla is a "Sea Monster," 70 feet (21 meters) in height with two turbo-charged diesel engines, state-of-the-art water jets, and 2,800 horsepower.
The boat rips through the water at 40 miles (65 km) per hour.
The red color boat warns you that the ride is going to be violent and vigorous.
Its unique hull design makes it capable of thrilling turns and spinning on a dime.
The jaws painted on the boat give it a monster kind of look.
So be sure to secure all hats, scarves, eyewear, and bad hairpieces.
How long is Codzilla Boston Tour?
The Codzilla Boston tour lasts for 40 minutes.
The tour duration or timing may vary based on weather, wind, and speed of waves.
There are no stops and no breaks during the cruise.
The tour runs non stop offering you amazing views and an exhilarating experience.
From where do Codzilla boats depart?
Codzilla boat cruises depart from Long Wharf, just steps from the New England Aquarium, the North End, Faneuil Hall, and other popular Boston landmarks.
Address: 1 Long Wharf, Boston, MA 02110, USA. Get directions
If you're coming by subway, take the Blue Line to Aquarium Station.
Look for the BHC (Boston Harbor Cruises) sign on Long Wharf, and the port is within a 1-minute walking distance.
The nearest ferry terminal to the cruise is Long Wharf South.
The nearest bus stops to the port are Atlantic Ave @ State St-Marriott Hotel, Congress St @ State St, and Government Center (Congress St @ North St).
You can visit MBTA's website to plan your trip by subway, ferry, and bus.
Timings for Codzilla Speed Boat ride
During the peak season, the first Codzilla boat ride starts at 11.15 am, and the last one departs at 5.15 pm.
During the lean months of September and October, there is no change in the timing of the first ride, but the day's last tour happens at 4.15 pm.
While purchasing Boston's Codzilla boat ride tickets, tourists can choose their preferred time on the booking page.
The adrenaline-filled tour is available only from May to October.
Best time for Codzilla Thrill Boat Tour
The Boston Codzilla operates only from May to October, which are great months to be in the city.
The weather is cool and pleasant during this time, offering you the best environment to go on a thrilling cruise.
What to wear for Boston's high-speed boat
For a Codzilla thrill boat tour, you can wear casual and comfortable clothes and pair them with rubber-sole sneakers.
Shirts, t-shirts, shorts, pants, anything would go as long as you're comfortable.
But Codzilla is an extraordinary boat that can soak you in seawater.
For the Boston speed boat tour, we recommend you carry some extra clothes so that in case you get wet, you can change immediately.
Wear glasses so that water doesn't enter your eyes.
Will you get seasick?
Although most passengers experience no discomfort on Codzillas, you must come a little prepared!
Codzilla Cruise is an open ocean activity that may make you feel uneasy and cause motion sickness (includes symptoms like nausea, vomiting, dizziness, and headache).
We recommend you take anti-seasickness medicines 30 minutes before your scheduled departure or bring essential pills on the boat.
Things to remember for the thrill boat ride
Make sure you arrive 30 minutes before the cruise starts.
If you suffer from high blood pressure, heart problems, neck and back pain, and motion sickness, we advise you not to take the ride.
Once you get seated, wear your seat belts and ponchos for safety.
Keep kids on your laps and hold them tightly.
If you see a wave coming up, it is not the right time to make videos or click photos on your phone and update your Instagram or Facebook stories.
Even if you don't want to use ponchos, hold them until the ride finishes (DO NOT let them fall into the sea).
There are no restrooms on the boat, so get yourself relieved before the ride.
Sources

# Cityexperiences.com
# Adrenaline.com
# Tripadvisor.com
# Boston-discovery-guide.com

The travel specialists at TheBetterVacation.com use only high-quality sources while researching & writing their articles. We make every attempt to keep our content current, reliable and trustworthy.
Popular attractions in Boston
# Boston Tea Party Ships & Museum
# Boston Trolley Tours
# New England Aquarium
# Boston Ghost Tours
# Franklin Park Zoo
# Codzilla Boston
# Fenway Park tours
# Boston Harbor Cruises
# Whale Watching in Boston
# Harvard Tours
# Boston Duck Tours