New England Aquarium in Boston is home to more than a thousand marine species.
From Green Sea Turtles to Bonnethead Sharks to Stingrays, you get a glimpse of amazing majestic sea creatures that are sure to overwhelm you.
The aquarium showcases the marine species in their natural habitats and is a massive hit with both kids and adults.
This article shares everything you must know before booking your New England Aquarium tickets.
Top New England Aquarium Tickets
What to expect at New England Aquarium
The New England Aquarium in Boston is home to hundreds of aquatic creatures, including African penguins, enormous Pacific octopuses, and the northern fur sea.
A visit to the Aquarium guarantees you unlimited fun and infotainment.
New England Aquarium tickets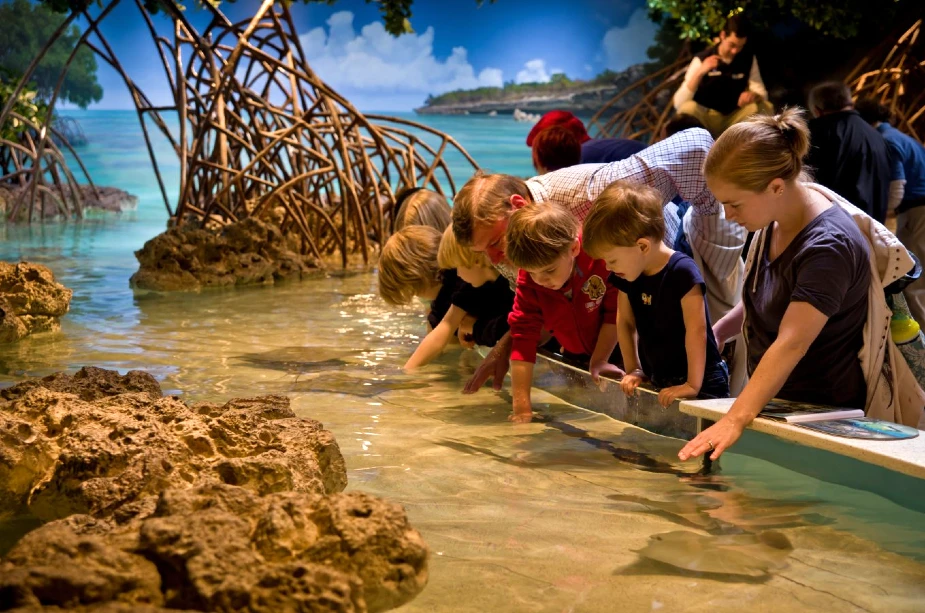 You can purchase Boston Aquarium tickets, both offline as well as online.
We advise you to book your tickets online and save time and money.
When you buy your tickets at the venue, you pay more and stand in the long ticket counter queues.
Timed Ticketing
The New England Aquarium uses a timed-ticketing system.
Every visitor must select a time slot when purchasing tickets.
For guaranteed admission, please purchase your tickets ahead of time.
A limited number of tickets are available for purchase on-site every day.
On-site tickets sell out early when schools are not in session or during holidays.
Children two years and under can enter for free but require a timed entry ticket.
Ticket prices
Adult ticket (12 to 59 years): US$ 34
Senior ticket (60+ years): US$ 32
Child ticket (3 to 11 years): US$ 25
Infant tickets (less than 3 years): FREE
Note: Visitors using wheelchairs and those visitors with visual impairments are welcome at the Aquarium free of charge.
Opening hours
From 27 May to 6 September, the New England Aquarium operates from 9 am to 6 pm on all days of the week, except Friday.
On Friday, the Aquarium operates from 10 am to 8 pm.
During the summer months, Shark and Ray Touch Tank opens at 9.30 am from Saturday to Thursday and at 10 am on Friday.
From 7 September to 26 May, the aquarium operates from 9 am to 5 pm on weekdays.
On Saturday and Sunday, it runs from 9 am to 6 pm.
On Thanksgiving Day and Christmas Day, the Boston Aquarium remains closed.
Best time to visit the aquarium
The best time to visit the New England Aquarium Boston is as soon as they open at 9 am.
The marine animals are active in the morning, and you can watch them paddling through the glass enclosures.
If you can't make it in the morning, the next best time to visit the Aquarium is after 3 pm.
You won't get stuck behind the crowd if you visit the aquarium early or after 3 pm.
How long does the Aquarium take
Most visitors spend around 90 minutes exploring the marine life at the Boston aquarium.
Families with kids spend two to three hours at the aquarium because they tend to spend more time at the marine animal exhibits.
New England Aquarium map
New England Aquarium Boston is spread over a vast area and is extremely big.
Having a map with you is better for reaching the exhibits easily, especially if you visit with kids, who tend to tire easily.
The map also helps you locate restrooms, dining areas, ATMs, gift shops, etc.
How to reach New England Aquarium
The New England Aquarium is located at 1 Central Wharf, near Long Wharf and close to Faneuil Hall/Quincy Market.
Address: 1 Central Wharf, Boston, MA 02110. Get Directions
By Subway
Take the blue T line or subway to the Aquarium station to get to The New England Aquarium.
After you reach the station, take the escalator up and walk towards the Boston waterfront area.
The Aquarium is a four-minute walk from the station.
By Bus
The nearest bus stops to the Aquarium are Atlantic Ave @ State St-Marriott Hotel, Congress St @ State St, and Government Center (Congress St @ North St).
You can visit MBTA's website to plan your trip by subway or bus.
Car parking
If you're visiting the Aquarium in a car, turn on your google maps and get started.
The Aquarium does not own or operate any parking garages.
However, visitors can access five parking garages within 0.3 miles (half a km) of the Aquarium.
Click here to view the New England Aquarium parking map.
Must-see exhibits at New England Aquarium
What can be better than exploring the ocean's wonders without diving into the sea?
The New England Aquarium has the following exhibits that are worth exploring.
Indo-Pacific Coral Reef
Situated across the Giant Ocean Tank, this man-made coral reef brings you closer to biological species of the Indian Ocean and Western and Central Pacific Ocean.
The Reef is also dubbed as "Rainforest of the Sea."
This exhibit hosts diverse marine species like Tomato Clownfish, Longnose Butterflyfish, and Organspine Unicornfish, whose shape, color, and size will leave you amazed.
Atlantic Harbor Seal Exhibits
Atlantic Harbor Seal Exhibit introduces you to a small corner of the New England rocky coast, where Atlantic harbor seals are found naturally.
This exhibit became quite famous due to Hoover, the Aquarium's renowned talking harbor seal who could say several phrases like "how are you?" and "come over here."
After the demise of Hoover, his grandson Chacoda is now training to learn new phrases.
The Atlantic Harbor Seal Exhibit is located outside the Aquarium and is the only exhibit you can see before buying aquarium tickets.
Penguin Colony
Who said you need to go to the south of the equator or Antarctica to catch sight of penguins?
Visit the New England Aquarium and see these beautiful flightless birds in action.
Penguin Colony at New England Aquarium is home to two graceful species of penguins – African Penguins and Rockhoppers.
African Penguins are famous for their loud calls, which sound like a donkey bray, while the Rockhoppers are famous for jumping.
New Balance Foundation Marine Center
This open-air exhibit houses two important species, the Northern Fur Seals and Californa Sea Lions.
The center has designed an open structure with shallow pools and large decks that let these creatures fly through the water, lounge on the deck, and play in the pool.
The goal of this center is not just to display these mesmerizing creatures but also to show the visitors the strength, intelligence, and athleticism of seals.
The open space lets you see Northern Fur Seals and Sea Lions face-to-face.
Giant Ocean Tank
Giant Ocean Tank is a Caribbean coral reef exhibit.
The 4-story giant water tank goes down 26 feet, is 40 feet wide, and holds 200,000 gallons of salt water.
This exhibit is so big that it was built before building the Aquarium.
This exhibit is a nursery of thousands of marine animals which couldn't have survived hadn't this Reef been constructed.
The iconic four-story spiral has more than 50 windows and viewing bays, offering plenty of opportunities to catch glimpses of the myriad fish leaping from the water.
Olympic Coast
Olympic Coast exhibit provides shelter to various marine animals from this region of the Pacific Northwest.
Some of the species that you can spot here include:
-Tidepool invertebrates: Hermit Crabs, Sea Stars, Sea Cucumbers, Snails, and Anemones.
– Octopus: Giant Pacific Octopus, the largest known species of Octopus.
– Fishes: Wolf-eel, Starry Flounder, Spotted Ratfish, Kelp Perch, and Pacific Spiny Lumpfish.
This exhibit shows diverse and vibrant marine life in the shallower tidepools and kelp forests of the Olympic Coast National Marine Sanctuary.
Food at New England Aquarium
If you feel hungry during your visit, the New England Aquarium has you covered.
Central Snack Bar
Central Snack Bar, located on Central Wharf Plaza in front of the Aquarium, offers quick-bite snacks, salads, and beverages that are tasty and fulfilling.
The restaurant operates from 11 am to 3 pm Monday to Friday and from 11 am to 4 pm on weekends.
The Harbor View Café
Harbor View Café offers sandwiches, pizza, grilled items, soups, salads, and snacks that will tantalize your taste buds.
Aside from food, the cafe's floor-to-ceiling windows offer spectacular views of Boston Harbor.
The restaurant operates from 10 am to 3 pm from Monday to Friday and from 10 am to 4 pm on weekends.
The Reef
The Reef, a bar on the Aquarium Plaza, offers light bites, including appetizers, sandwiches, hot dogs, salads, and New England clam chowder.
You can also enjoy alcoholic and non-alcoholic beverages.
The cafe operates from 12 pm to 7 pm throughout the week.
Sources

# Neaq.org
# Travel.usnews.com
# Tripadvisor.com
# Wikipedia.org

The travel specialists at TheBetterVacation.com use only high-quality sources while researching & writing their articles. We make every attempt to keep our content current, reliable and trustworthy.
Popular attractions in Boston
# Boston Tea Party Ships & Museum
# Boston Trolley Tours
# New England Aquarium
# Boston Ghost Tours
# Franklin Park Zoo
# Codzilla Boston
# Fenway Park tours
# Boston Harbor Cruises
# Whale Watching in Boston
# Harvard Tours
# Boston Duck Tours