Before electronic gadgets, cinemas, shopping malls, and cafes invaded our lives, Zoo was the most preferred destination for family outings.
Nestled in Boston, Massachusetts is Franklin Park Zoo, where you find nature and wildlife in their finest and fresh form.
In 1997, it was renamed as the New England Zoo but most of the locals still refer to it as the Franklin Park Zoo.
It is home to diverse species that are nurtured with love and care.
This article explains everything you need to know before buying Franklin Park Zoo tickets.
What to expect from Franklin Park Zoo
There is so much the Franklin Zoo Park offers to you and your toddlers.
Watching animals live and having hands-on interactions with them makes Franklin Park Zoo exciting and entertaining.
Children's Zoo, Franklin Farm, Tropical Forest, Butterfly Hollo, Kalahari Kingdom, etc., are the top exhibits and attractions of the wildlife attraction.
Your kids will love the Zoo when they see Masai giraffes feeding, Grevy Zebras yawning, gorillas sleeping, and butterflies swinging.
Franklin Park Zoo hours
Franklin Park Zoo is open all around the year.
From April to September, the Zoo operates from 9 am to 5 pm on weekdays, and 9 am to 6 pm on weekends and major holidays.
The Zoo operates daily from 9 am to 4 pm from October to March.
The last entry is one hour before the closing.
The Zoo remains closed on Thanksgiving and Christmas Day
Best time to visit the Zoo
The best time to visit Franklin Park Zoo is as soon as they open at 9 am.
Visiting the Zoo early in the morning is better because the animals are most active, the temperature is moderate, and the crowd is yet to get in.
When you start early, you get more time to explore the Zoo. In between, you can have lunch at one of the restaurants and start exploring the Zoo again.
Avoid visiting the Zoo when the weather is too hot as animals would seek shelter in the shade and won't be easily visible.
How long does it take
If you plan to take your toddlers to Franklin Park Zoo, you will need at least four hours to explore the entire Zoo covering all the exhibits and attractions.
Kids love animals and are curious to see how animals feed their babies, where they sleep, and how they walk.
You can quickly explore the attraction in 90 minutes or so if you are a bunch of adults.
Franklin Park Zoo tickets
Entry to the Franklin Park Zoo is only through tickets bought online.
When you book tickets online and in advance, you can avoid last-minute disappointment.
Online tickets help save both time and money – time because you don't need to stand at the ticket counter queue and money because they are cheaper than the tickets available at the venue.
How does online ticket work
Once you purchase your Franklin Park Zoo ticket online, a voucher will be delivered to your email address.
On the day of your visit, you must show this voucher in your email at the admissions booth for entry.
Ticket Prices
Adult ticket (13 to 61 years): US$ 22.95
Senior ticket (62+ years): US$ 20.95
Child ticket (2 to 12 years): US$ 15.95
Infant ticket (up to 1 year): Free entry
Map of Franklin Park Zoo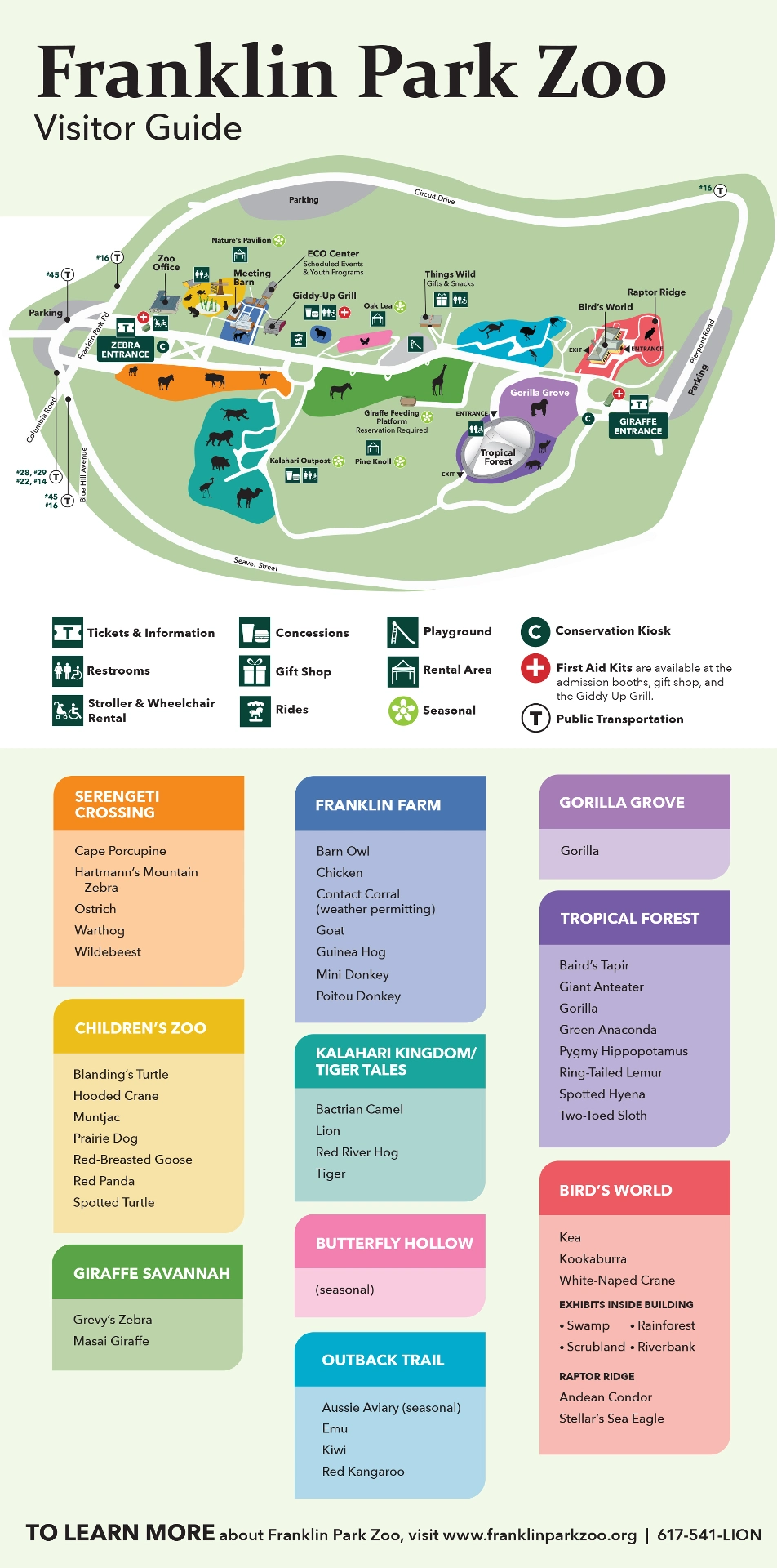 Franklin Park Zoo is spread across 72 acres of land.
It's better to keep a copy of the Zoo's map to navigate and explore the attraction, especially if you are visiting with kids.
With a map, you can easily locate the exhibits, playgrounds, medical rooms, restrooms, gift shops, etc.
You can download and save the Zoo map.
How to reach Franklin Park Zoo
Franklin Park Zoo is located at 1 Franklin Park Rd, Boston, MA 02121, United States. Get Directions
Public Transport
Take the Orange Line or Commuter Rail to the Forest Hills station, then take bus no. 16 to the Franklin Park Zoo.
Take the Red line to the Andrew station, then take bus no. 16 to the Franklin Park Zoo.
Take the Orange Line or Commuter Rail to the Ruggles station, then take bus no. 22, 28, 29, 44, or 45 to the Franklin Park Zoo.
You can plan your trip by visiting MBTA's website.
Car Parking
Those who wish to travel by car, turn on your google maps and get started!
Car parking is free and offered at all three entrances of the Zoo.
Major exhibits at Franklin Park Zoo
Guests spend up to three hours exploring the 1000-plus animals on display.
We list some of the highlights of the wildlife attraction in Boston.
Children's Zoo
The first thing you encounter when entering the Franklin Park Zoo is the Children's Zoo.
It represents three unique geographical regions: Wetlands, Woodlands, and Grasslands.
You can spot Red Pandas, Prairie Dogs, White-Naped Cranes, and many other species here.
It has amazing exhibits that ensure kids are involved and inspired by the wildlife, some of which are:
Grass Maze– This exhibit offers fun activities for kids, like finding out sculpted animals that live in the grassland.
Prairie Dogs Window Display– Here kids can interact with Praire Dogs, which are nothing but squirrels.
Eagle Nest– You get a birds-eye view of the Zoo from Eagle Nest.
Franklin Farm
Adjacent to the children's Zoo is the Franklin Farm, where you see animals chewing food, playing, and resting.
Watch Ponies, Guinea Hogs, Goats, Sheep, and Donkeys lounging in barns and Chickens hiding in coops.
Tropical Forest
Tropical Forest transports you into the jungle, where you hear the pleasant sound of cascading waterfalls on one side and birds chirping on tropical trees on the other side.
Here you can spot Giant 350 lb Gorillas, Pygmy Hippos, Lemurs, and an Anaconda.
Giraffe Savannah
At Giraffe Savannah, you'll find beautiful Masai Giraffes, the tallest land mammal in the world.
You also see a herd of Grevy's Zebras, the largest member of the wild horse family, moving alongside giraffes.
Bird's World Exhibit
Bird's World Exhibit is home to many species of birds from all around the globe.
Kea, Black Crake, Great Indian Hornbill, Gouldian Finch, Green Aracari, Marbled Teal Duck, Eastern River Cooter, etc., are birds you hear hooting, cooing, and whistling.
Butterfly Hollow
Walk into the greenhouse, and hundreds of colorful butterflies welcome you.
At Butterfly Hollow, you will catch magical glimpses of butterflies sucking nectar and flying with their colorful wings open.
Play statue and see if you can get one land on you.
This exhibit is open only during summers, so check the official website before you visit this exhibit.
Serengeti Crossing
At Serengeti Crossing, visitors can see Ostrich, Grant's Zebras, Hartmann's Mountain Zebras, White-Bearded Wildebeests, and Warthogs roaming and rolling in the grassland.
Outback Trail
Outback Trail introduces you to the wildlife of Australia that will mesmerize you.
Red Kangaroo, Brown Kiwi, Citron-Crested Cockatoo, Emu, Kookaburra, Palm Cockatoo, and Tawny Frogmouth are animals you can see at this exhibit.
Kalahari Kingdom
The Kalahari Kingdom is home to the wildest beast and the jungle king, the lion.
Even before you reach this exhibit, you can hear lions roaring.
Let your kids climb into a "crashed" land rover against the exhibit and make them feel like they've come for an African safari.
Get nose to nose with lions through the glass and watch them bathing in the sun.
Tiger Tales
Tiger Tales opened in 2006, i.e., much after the Zoo came into existence.
It features not just tigers but tells the heart-wrenching tale of Anala, the first tiger brought to the Zoo after being rescued from her owners, who kept her illegally.
It also educates visitors about illegal wildlife trafficking.
Gorilla Grove
At Gorilla Grove, guests come face-to-face with gorillas around the viewing stations and see their behavior and social dynamics.
This immersive space is spread across 360,000 cubic feet of land with built-in vines, trees for climbing, and forage opportunities for gorillas.
Food at Franklin Park Zoo
No excursion is complete without good food, and when you've kids along, you cannot leave the Franklin Park Zoo without a meal.
The Boston zoo has amazing dining options that follow a sustainable approach to reducing the wastage of food.
Giddy-Up Grill
The grill serves a selection of wraps, burgers (including veggie options), fries, sandwiches, salads, pizza, and many other foods kids crave.
Kalahari Outpost
This outpost is seasonal and offers delicious quick bites options like hamburgers and hotdogs that are simply delicious.
Picnic Area
The Zoo also offers a BYO meal option.
Visitors can bring their food along and enjoy meals with their friends and family in the laps of nature.
Know before you go
Franklin Park Zoo is part of the greater Zoos in New England, including the Stone Zoo.
The Zoo is open year-round for visits.
During winters, you may encounter fewer animals.
Wear comfortable clothes and shoes for the excursion. It helps to carry your sunglasses, hats, and binoculars.
Check out the zoo calendar before planning your visit, as they often offer special kids programs and host special annual events.
Reap the benefits of zoo membership like priority tickets for special events and express entry on busy days if you plan to visit the Zoo multiple times a year.
Sources

# Tclf.org
# Bostoncentral.com
# Tripadvisor.com
# Wikipedia.org

The travel specialists at TheBetterVacation.com use only high-quality sources while researching & writing their articles. We make every attempt to keep our content current, reliable and trustworthy.
Popular attractions in Boston
# Boston Tea Party Ships & Museum
# Boston Trolley Tours
# New England Aquarium
# Boston Ghost Tours
# Franklin Park Zoo
# Codzilla Boston
# Fenway Park tours
# Boston Harbor Cruises
# Whale Watching in Boston
# Harvard Tours
# Boston Duck Tours