Singapore's River Wonders is Asia's first and only river-themed wildlife park. It was formerly known as the Singapore River Safari.
At this 12-hectares wildlife reserve, you explore the ecosystem of eight of the largest rivers in the World – Mississippi, Congo, Amazon, Nile, Ganges, Mary, Mekong, and the Yangtze River.
Besides these river trails, you also experience the Amazon River Quest and the Reservoir cruise – the two times you will get on a boat.
The River Safari features over 6,000 animals from 200 species, including the manatee, capybara, electric eel, and many more.
Visitors can take a leisurely boat ride along the river to see the exhibits and animals up close.
One of the main attractions at the River Safari is the Giant Panda Forest, where visitors can see the rare giant pandas Kai Kai and Jia Jia in their specially designed habitat.
In addition to the various animal exhibits, the River Safari also offers educational programs and activities for visitors of all ages.
There are guided tours, animal shows, and interactive exhibits that teach visitors about the importance of freshwater habitats and the animals that live in them.
In this article, we share everything you must know before booking your Singapore River Wonders tickets.
Top Singapore River Safari Tickets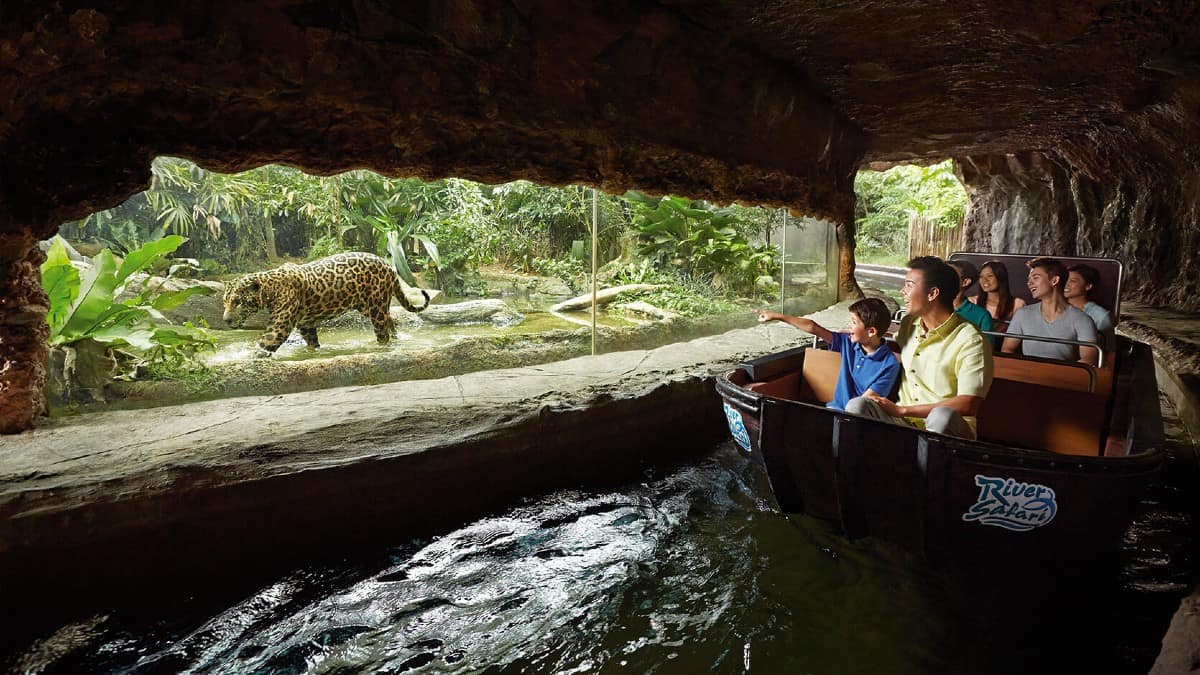 Singapore River Safari tickets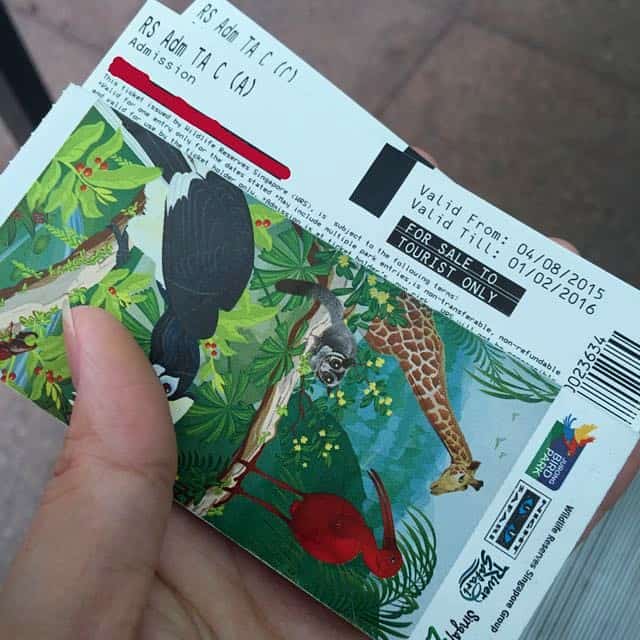 Singapore River Wonder tickets get emailed to you as soon as you make the purchase.
On the day of your visit, you can show the ticket in your email and enter the River Safari.
If you want, you can take a printout too.
River Safari ticket inclusions
Besides admission to the Singapore River Safari, this ticket also gets you access to the Amazon River Quest boat ride and the River Cruise, if you upgrade at the venue.
You can also attend the River Talk Show.
Ticket price for River Wonders + Boat Ride
Adult ticket (13+ years): S$40
Child ticket (3 to 12 years): S$28
Senior ticket SG Resident (60+ years): S$20
---
---
River Safari opening hours
Singapore's River Wonders opens at 10 am and closes at 7 pm every day of the year.
The last entry to River Wonders is at 6 pm.
Some of the exhibits at Singapore River Safari operate at different timings.
Touch Pool's timings
River Safari Touch Pools open at 10 am and close at 6.30 pm on weekends and public holidays.
On weekdays, the animals at the Touch Pools are given a short break during the day.
The weekday timings of the Touch Pools are 10 am to 1 pm and 2.30 pm to 6.30 pm.
Amazon River Quest hours
River Safari's Amazon River Quest is a 10-minute boat ride that starts at 11 am and goes on till 6 pm daily.
The last ride of the day is at 6 pm.
Giant Panda Forest's timings
River Safari's Giant Pandas Kai Kai and Jia Jia start welcoming visitors at 10 am daily.
The climate-controlled forest remains open till 6.15 pm.
Squirrel Monkey Forest's hours
The Squirrel Monkey Forest opens at 10 am and closes at 6 pm daily.
Reservoir Cruise's operating hours
The Reservoir Cruise starts at 10.30 am, half an hour after the River Safari opens for the day.
The 15-minute long cruises continue all through the day, till 6 pm when the last cruise sets sail.
---
---
How long does River Wonders take?
At 12 hectares, the River Wonders in Singapore is a moderately sized attraction.
Eighty-five percent of the River Safari (freshwater aquariums, walk-through exhibits, etc.) must be explored on foot and rest on the Amazon River Quest boat ride.
If you are visiting with kids, spend time at each exhibit, see the animal show, dine, etc., you will need at least three hours to explore the River Wonders.
If you are a bunch of adults in a hurry, you can learn about the fascinating flora and fauna at the Singapore River Safari in two hours.
---
---
Things to do at Singapore River Safari
Since River Wonders in Singapore is a unique concept, many visitors don't know what to expect.
Here is a list of things you get to do, see and explore at this fantastic wildlife attraction.
Rivers of the World
At this Singapore River Safari exhibit, animals and plants of some of the world's most significant rivers are on display.
Two to three massive glass tanks are used to create the ecosystem of each of these large rivers – Mississippi, Congo, Nile, Ganges, Mary, Mekong, Yangtze, etc. and visitors walk through them as in an aquarium.
However, as in an aquarium, these glass tanks aren't indoors.
These glass tanks are outdoors to ensure sunlight is abundant – to mimic the inhabitants' natural habitat.
Squirrel Monkey Forest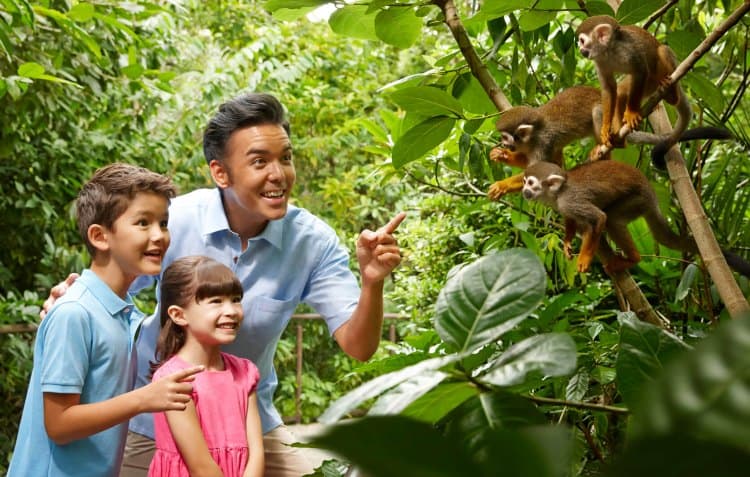 This exhibit is a kid favorite.
You get to see cute, adorable monkeys native to Central and South America at the Squirrel Monkey Forest.
Even though it is a dense forest, you don't have to worry about spotting them because the Squirrel Monkeys are very curious.
They are also known to hold hands and sit on the heads of some of the visitors.
Since the monkeys are small and weigh only about a Kilogram (2.2 Pounds), even kids don't mind all the attention.
Amazon Flooded Forest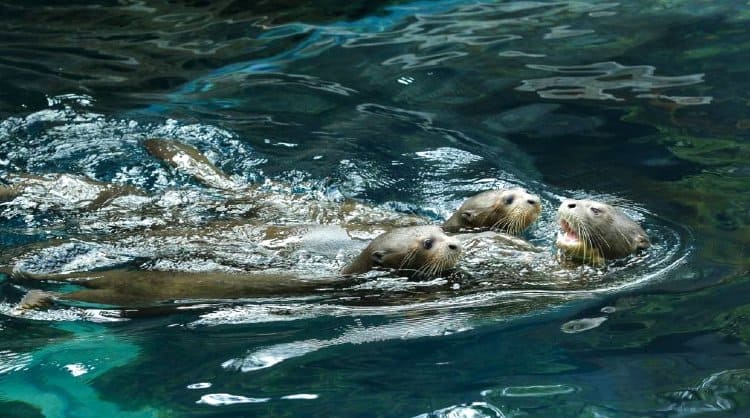 During the rainy season, the banks of the river Amazon submerge in more than 10 meters (33 feet) of water.
During such times, animals such as Manatees, Arapaimas, etc. stuff themselves with whatever they can eat.
This hurried eating helps them build fat reserves, which allows them to tide over the dry season.
At Singapore River Safari, this scenario is re-created at the Amazon Flooded Forest.
Don't miss the giant river otters called Carlos and Carmen.
Giant Panda Forest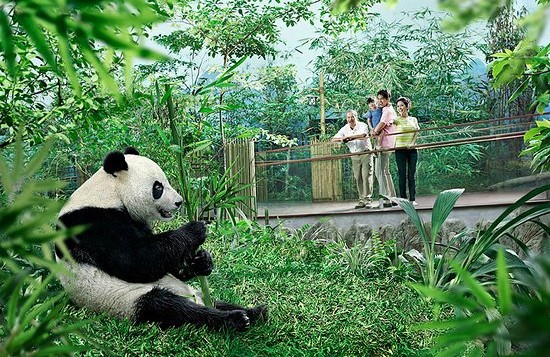 This Forest is South East Asia's largest Panda enclosure, where both temperature and humidity are controlled to ensure the animal's comfort.
The two Giant Pandas who live here are called Kai Kai and Jia Jia.
Image: Wrs.com.sg
They also have a unique outdoor area in case they want to experience Singapore's tropical climate.
Giant Panda Forest is also home to one Red Panda.
Once Upon A River show
Once Upon A River is a brand-new interactive presentation where you learn about various animal species living in and around the Rivers.
It is suitable for both kids and adults alike and has numerous exciting characters such as –
Luke and Chewie, the Pelicans
Justin and Selina, the Beavers
Peanut, Moe and Jelly, the Capybaras
Perry, the Brahminy kite
Sam, the Oriental Pied Hornbill
This River Safari show is a fantastic opportunity for the kids to feed and touch the Capybaras, Beaver, Iguana, Pelican, and the other animals mentioned above.
Since the shows are in high demand and the seats are limited, reach the Boat Plaza 15 minutes before the scheduled show.
It is also known as the River Safari show.
Where: Boat Plaza
Duration: 20 minutes
Entry: Included in the admission ticket
Timing: 11.30, 2.30 pm*, 4.30 pm
*The mid-day show is only on weekends and public holidays
Amazon River Quest
Amazon River Quest is Singapore River Safari's attempt to re-create the experience of a boat expedition on the Amazon River.
During this ten-minute ride, your boat floats through the Amazon-like jungle, and you can spot animals such as Jaguar, Brazilian Tapir, Capybara, etc.
These boat rides start at 11 am and go on till 6 pm.
Amazon River Quest can't be booked online. However, if you have bought your River Wonders tickets online, you can upgrade your experience to include the Amazon River Quest.
You can book this experience for S$5 per adult and S$3 per child (3 to 12 years) at the River Safari's Boat Plaza.
Restrictions
– The child must be at least 1.06 meters (3.5 feet) tall
– Expectant mothers, those with motion sickness, heart conditions, etc. can't join the Amazon River Quest
– Due to safety reasons, visitors with mobility issues can't board this boat
Reservoir Cruise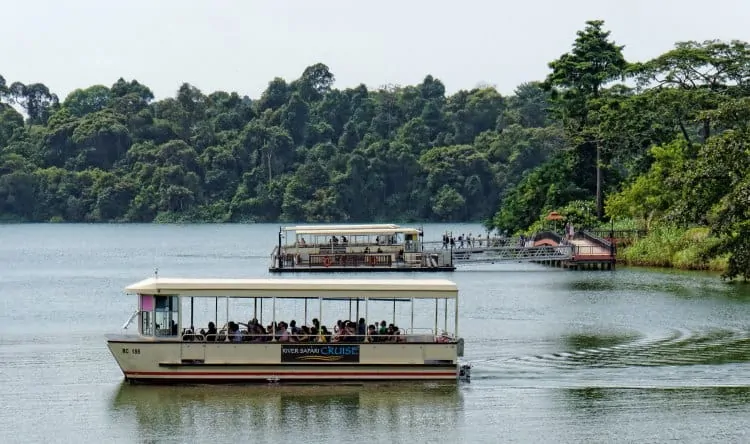 Unlike the Amazon River Quest, the Reservoir Cruise is a free activity.
The 15-minute River Safari Cruise on the scenic Upper Seletar Reservoir happens along Singapore Zoo and the Night Safari compound.
Each cruise can take up to 40 passengers, including visitors on wheelchairs.
And since there are no height or other restrictions, everybody in the family can enjoy the Reservoir Cruise together.
Duration: 15 minutes
Time: 10.30 am to 6 pm, daily
Touch Pools
The Touch Pools at River Wonders are part of the Mary River Zone, which narrates the journey of a river as it empties itself into coastal mangrove forests before flowing into the ocean.
Visitors can dip their hands at these Touch Pools and feel aquatic creatures such as the sea star, horseshoe crab, and other exotic fish.
This River Safari exhibit is quite popular with kids.
Entry: Free
Weekdays: 10 am to 1 pm, 2.30 pm to 6.30 pm
Weekends: 10 am to 6.30 pm
River Games for kids
These entertaining and yet educational games at River Wonders Singapore teach the kids about animals and their environment.
These games are included with the admission ticket and can be played at the Giant Panda Courtyard.
Recycle like the Otter: This River Game aims to teach the kids about reduce, reuse, and recycle. They get to fish out recyclable materials using a fishing rod and put them in the correct recycling bin.
Pelican's Throat: Kids try to find out how elastic the Pelican's throat can be by throwing fish into it.
Animal Memory Test: Children must match 30 pairs of animals in 30 seconds and prove they have the kind of memory to survive in the animal world!
Match the Capybaras in weight: This is a weighing booth, where one can find out how many people's weight equals that of one furry rodent.
Building a Dam: In this Game, one saves the Beavers from predators by helping them construct a dam using twigs.
---
---
How to get to River Wonders Singapore
The best way to reach the River Safari in Singapore is by public transport.
River Safari's location
Many tourists get confused between the Singapore Zoo, Singapore Night Safari, and Singapore River Safari.
These are three different attractions close to each other. In fact, within a few minutes walking distance of each other.
River Safari's entrance is adjacent to Singapore Zoo's entry gate.
Address: 80, Mandai Lake Road, Singapore, 729826.
To River Safari by MRT
If you plan to use MRT, you are in luck because five MRT stations of North South Line are around the Singapore River Safari Park.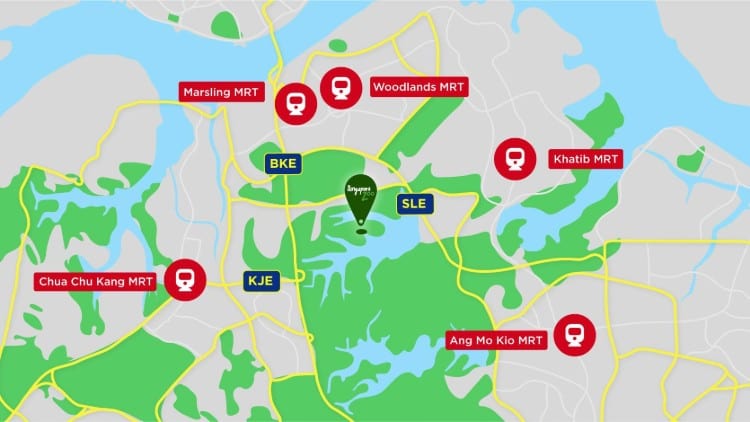 You can get down at any of these stations and catch a bus to reach the River Safari.
From Khatib MRT, you can get onto the Mandai Khatib Shuttle to reach River Safari.
From Ang Mo Kio MRT, get on to Bus No. 138, and from Choa Chu Kang MRT you must board Bus No. 927.
From both Marsiling MRT and Woodlands MRT, Bus No. 926 can get you to the Singapore River Safari.
Bus to River Wonders
If the MRT doesn't cover your travel, the next best option is to take a bus.
If you are traveling from Bedok, Sengkang, or Tampines, we recommend the Mandai Express Bus service.
The Mandai Express operates on all days of the week, including public holidays.
The adult ticket costs S$3 while kids between 3 to 12 years of age pay only S$1.
Some of the other bus services you can use to get to Water Safari, Singapore are Safari Gate Buses.
Driving to Singapore River Safari
If you are in the city center, a 30-minutes drive can get you to the Singapore River Safari.
You can either take the Central Expressway (CTE) or Pan Island Expressway (PIE). Get Directions
Taxis also follow the same route and will cost you approximately S$22.
Parking
The River Safari shares its parking slot with the Singapore Zoo and the Night Safari.
There are two parking areas – one is a covered car park while the second is an open-air parking space and there are enough slots.
The parking charges at Singapore River Safari work out cheaper if you are carrying a cash card.
First 10 minutes: Free
Next 1 hour: S$3 per hour
Every additional hour: S$2 per hour
---
---
River Safari map
We recommend you look at the River Safari Map and plan your itinerary before your visit.
To use this map while exploring the River Safari, bookmark this page.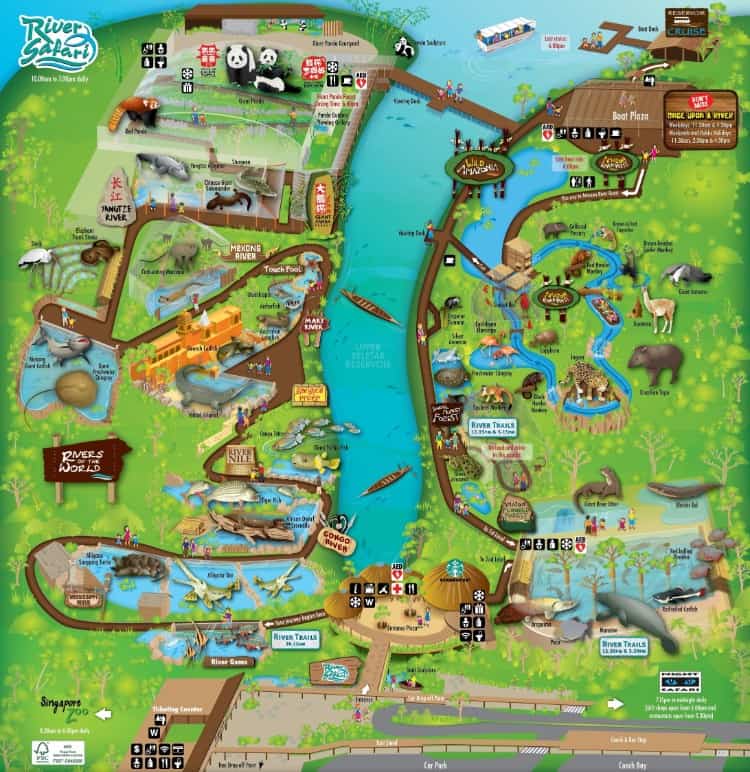 Carrying the Singapore River Safari's layout is even more necessary if you are traveling with kids.
With an exhaustive map you won't waste your time looking for the numerous animal exhibits, and in the process get exhausted.
Besides the exhibits, this Singapore River Wonders's map also points out visitor services such as food kiosks, Cool Zones, First Aid centers, etc.
---
---
Animals in River Wonders Singapore
The River Safari in Singapore is home to 6000 animals across 200 species and 400+ plant species.
More than 20% of the animal species present at the River Safari are believed to be on their way to extinction.
These River Safari animals occupy over 11 Zones.
Wild Amazonia
Yangtze River
Amazon Flooded Forest
Ganges River
Mississippi River
Giant Panda Forest
River Wonders
Congo River
Mary River
Mekong River
Nile River
Some of the River Safari animals are more popular than others. We list them below –
Alligator Snapping Turtle, Electric Eel, Giant Freshwater Stingray, Giant Panda, Giant River Otter, Green Anaconda, Indian Gharial, Manatee, Mekong Giant Catfish, Red Panda, Red-bellied Piranhas, Squirrel Monkeys, etc.
---
---
Food at River Safari, Singapore
Singapore River Safari has two dining options –
Mama Panda Kitchen
Mama Panda Kitchen is in the Giant Panda Forest and is open from 10.30 am to 6.30 pm, daily.
It offers Chinese cuisine, and some of its signature dishes are Panda Pau, Wok Rice, Noodles, etc.
If you are traveling with kids, it's a perfect stopover because they also offer kids meal.
For S$18 you can order a Set Meal including the main course, desserts, and a drink.
Starbucks
Starbucks is at the Entrance Plaza and offers excellent coffee and tea and premium pastries and other treats.
It is open from 8 am to 7 pm.
For more dining options, check out the numerous restaurants at the main entrance of Singapore Zoo, which is a few minutes away by walk.
Sources
# Visitsingapore.com
# Tripadvisor.com
# Wikipedia.org

The travel specialists at TheBetterVacation.com use only high-quality sources while researching & writing their articles. We make every attempt to keep our content current, reliable and trustworthy.
Popular attractions in Singapore
# Gardens by the Bay
# Singapore Cable Car
# Singapore Zoo
# Singapore Night Safari
# Christmas Wonderland