Christmas Wonderland is Singapore's biggest Christmas fair featuring luminaries light sculptures, rides, carnival games, amusement rides, live performances, festive market, Santa's Grotto and numerous other entertainment options.
The human-made blizzard, massive Christmas tree, and Christmas carols add to the Christmas cheer.
Garden by the Bay's Christmas Wonderland is the best place to celebrate Christmas in Singapore.
No wonder, more than 3 million tourists and locals are expected to visit Christmas Winter Wonderland in 2023, which is scheduled from 1 December 2023.
The actual dates are yet to be announced.
Garden by the Bay Christmas Wonderland is a wonderful way to get into the festive spirit and enjoy the holiday season in Singapore.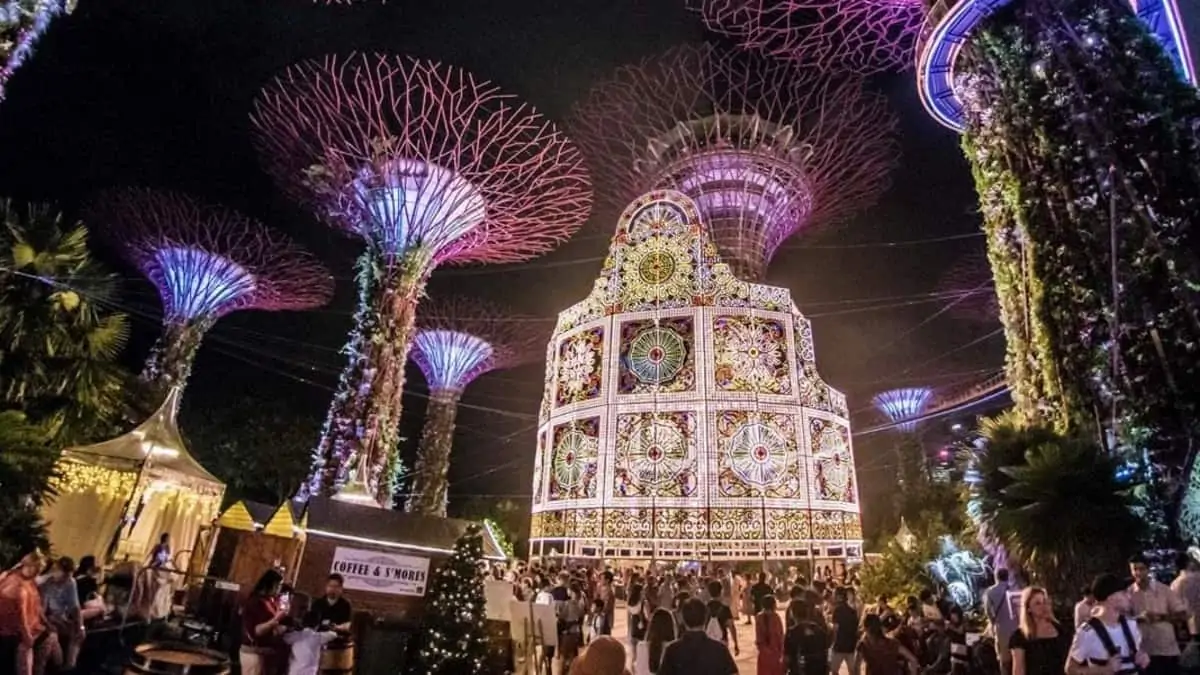 Gardens by the Bay Christmas 2023 tickets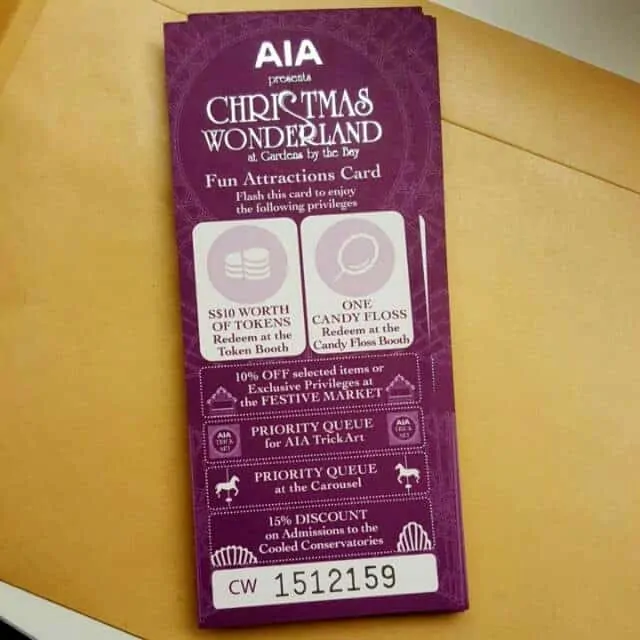 Before you go ahead and purchase your tickets to Christmas Wonderland 2023, here are a few things you must know –
1. Access to Christmas Wonderland Singapore is not included in the regular Gardens by the Bay admission ticket. You must buy the Christmas Wonderland tickets.
2. The organizers try to sell most of the Christmas Wonderland tickets online, to avoid overcrowding at ticketing counters.
3. You must buy your online tickets to enter Singapore's biggest Christmas party at least one day before your visit. You can't buy Christmas Wonderland's same-day admission tickets online.
4. Three million visitors attend the Christmas Winter Wonderland in little over 30 days. That's why it is better to book your tickets as soon as you finalize your dates. Book Now
5. Tickets sold at the venue cost more than what you will pay online.
Christmas Wonderland tickets
If you're planning to explore Gardens by the Bay as well as the Christmas Wonderland, this package from Klook is your best option.
This ticket gets you to access Flower Dome, Cloud Forest, Supertree Grove, OCBC Skyway and Christmas Wonderland as well.
We recommend this combo ticket for three reasons:
1. You can go up the OCBC Skyway (which is a high bridge) and enjoy the Christmas lights and Garden Rhapsody
2. Since this is an open date ticket, you can keep your plans flexible and visit Christmas Wonderland on a good-weather day
3. You get access to Christmas in the Gardens for S$ 1
Ticket Price
Adult ticket (13+ years): S$ 30
Child ticket (3 to 12 years): S$ 15
Important: You need to redeem this ticket at Red Dot Museum, which is five minutes' walk from Gardens by the Bay. Check distance
Visual Story: 13 must-know tips before visiting Gardens by the Bay
---
---
Christmas Wonderland's location
Christmas Wonderland 2023 is at Gardens by the Bay, 18 Marina Gardens Drive, Singapore 018953.
To Christmas Wonderland by MRT
To get to Christmas Wonderland at Gardens by the Bay, you must get down at Bayfront station – the nearest MRT station.
Both Circle Line and Downtown Line can take you to Bayfront MRT station.
On Circle Line, Bayfront Station's code is CE1, and on Downtown Line it is DT16.
Once you step out of Bayfront MRT Station via Exit B, a quick five minutes' walk can get you to the Christmas extravaganza.
If you take the East-West Line, get down at Tanjong Pagar MRT Station (EW15) and take Exit C.
From Exit C, walk to Bus Stop 03223 at International Plaza, Anson Road to take Bus number 400.
Get down at Bus stop 03371 along Marina Gardens Drive, and walk the short distance to Gardens by the Bay.
Driving to Christmas Wonderland
Driving to Gardens by the Bay's Christmas Wonderland is easy – just open this Google Map link and start driving.
Parking slots & cost
Gardens by the Bay has five car parks, totaling more than 1,200 parking slots.
However, we recommend you arrive early to get a slot because the Winter Christmas at Gardens by the Bay gets crowded.
These car parks open from 5 am to 2 am the next day.
The cost of parking a car at the Gardens by the Bay carpark is S$0.03 per minute.
At this rate, if you park your car for three hours you will end up paying S$5.4 as parking charges.
Motorcycles pay S$1.20 per entry.
---
---
Christmas Wonderland opening hours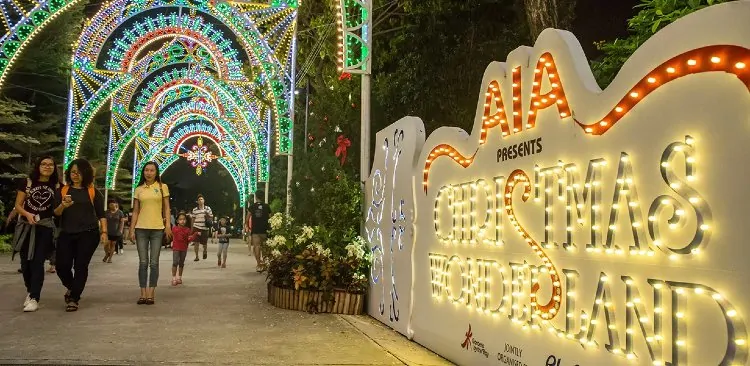 Almost every activity at Singapore's best Christmas party has its own opening and closing time.
Christmas Wonderland dates
The Gardens by the Bay Christmas Wonderland will begin on 1 December 2023 (dates are yet to be finalized).
Garden by the Bay Christmas hours
Gardens by the Bay's Christmas Wonderland opens at 4 pm and closes at 11 pm, every day.
If you have the Christmas Wonderland tickets, you can enter the tourist attraction only after 4 pm.
Luminaries Light Sculpture timings
From 1 December 2023, the Light Sculptures will be lit up daily from 7 pm to 12 am.
The Luminaries at the reception area will continue to be lit up till 1 January 2024.
Santa's Grotto timings
Kids can start entering Santa's Grotto from 4 pm.
The last admission into the Santa's Grotto is at 10.30 pm, after which even the Santa leaves.
However, you can hang around till 11 pm, when it closes for the day.
Ice Skating hours
Skating Under the Stars opens at 4 pm and closes at 11 pm, daily.
The last admission into the rink is at 10.30 pm.
Slice of SAVOUR timings
This section of the Gardens by the Bay Christmas extravaganza where Singapore's trendiest restaurants set up stalls opens at 4 pm.
The restaurants start closing at 11 pm.
Festive Market opening and closing hours
This European-style Christmas Market right in the heart of Singapore opens at 4 pm and closes at 11 pm daily.
Blizzard time
The 'snow effect' at Singapore's Christmas Wonderland 2022 happens five times between 6.30 pm and 10.35 pm.
Each snowing session lasts for six minutes.
The daily blizzard timings are:
| | |
| --- | --- |
| Snow start time | Snow end time |
| 6.30 pm | 6.36 pm |
| 7.55 pm | 8.01 pm |
| 8.55 pm | 9.01 pm |
| 9.55 pm | 10.01 pm |
| 10.30 pm | 10.36 pm |
*This schedule can get affected by weather conditions
Garden Rhapsody times
During the Christmas special at Gardens by the Bay, the light and sound shows happen at 7.45 pm and 8.45 pm.
As the Christmas fever reaches its peak, an additional show is scheduled at 9.45 pm from 22 to 25 December.
---
---
Attractions at Christmas Wonderland 2023
There is a lot to do and see at this Winter Wonderland in Singapore.
We list them below –
Christmas lights, sculptures & blizzard
The first sight that welcomes you at Gardens by the Bay Christmas Wonderland 2023 is the beautiful Christmas lights.
The stunning luminarie light sculptures made by artisans from across the world, enthrall both kids and adults alike.
Do not miss out on what may end up being Asia's tallest luminarie Christmas tree.
What's Christmas without a bit of snowfall, and that's why you need to be in Supertree Grove during 'blizzard time.'
Rides for kids
The rides at this Christmas Carnival are best suited for kids.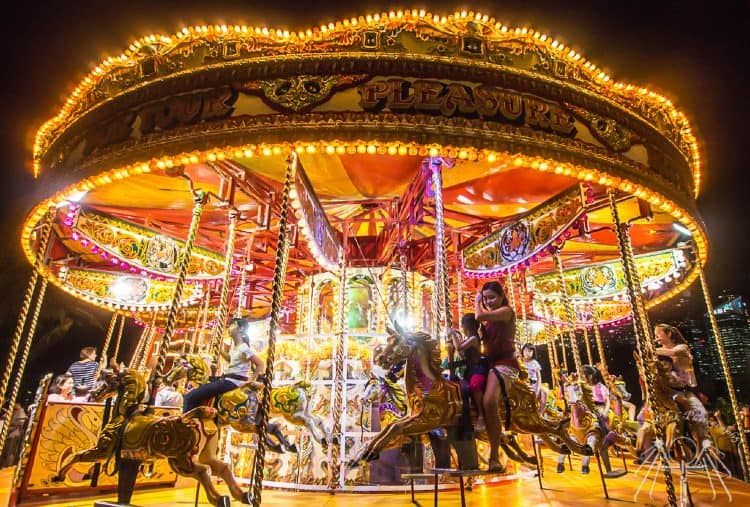 Rides such as Bumper cars, Smaller Ferris Wheel, Buggy Cars, and Christmas Train, etc. can keep the younger kids busy for a couple of hours.
However, your Christmas Wonderland tickets do not include access to these rides.
You can purchase tokens sold at S$2 per token from the token booths located within the event site.
Each ride will cost you S$6.
Tip: If you land up early, you can make use of the kids bouncy, which is free to use from 4 pm to 6 pm daily.
Carnival Games
These are the usual games one sees at Carnivals where the winners get cute toys as prizes.
Most of the Carnival games stalls are in 'The Meadow,' and some are in the 'Supertree Grove.'
At S$4 per game, these Carnival Games are cheaper than the rides.
Santa's Grotto
Santa's Grotto is a massive hit with kids of all ages.
After all, who doesn't love to visit Santa Claus during Christmas?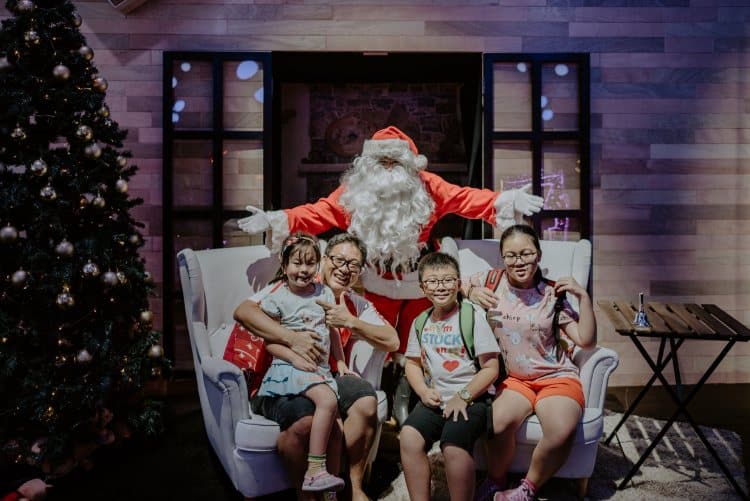 The Alpine house decked in pinewood even has reindeers and a sled to give it the authentic feel.
Tip: Most families take a family photograph in front of Santa's Grotto.
Ice Skating
There is nothing like ice skating under the stars, even as Christmas lights whiz past you as you glide on the ice.
You can now replicate this fantastic experience at the synthetic skating rink at The Meadow, at Gardens by the Bay.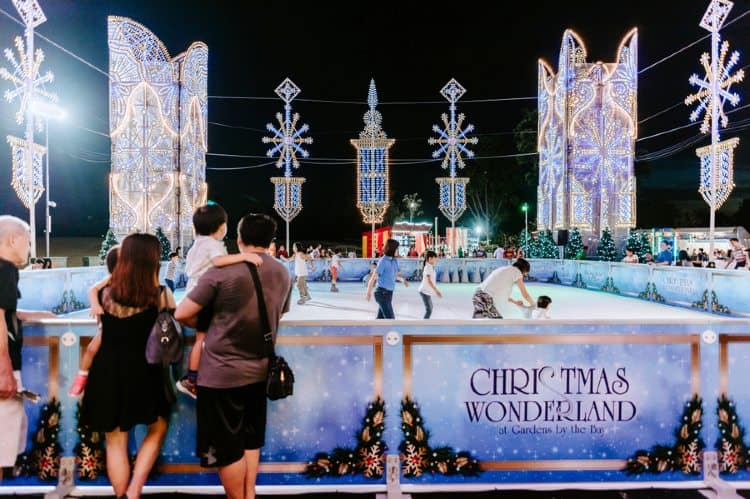 The skating rink is child-friendly, and kids get the first preference.
The regular Christmas Wonderland 2023 tickets don't cover access to the skating rink.
You need to purchase a separate ticket from the ticketing booth near the rink.
Garden Rhapsody during Christmas Wonderland
Garden Rhapsody is Gardens by the Bay's light and sound show, which happens twice daily – at 7.45 pm and 8.45 pm.
However, during the Christmas celebrations in the Gardens, this show gets customized for the festivities.
The Supertrees illuminate to a playlist of Christmas songs.
Tip: The best place to see Garden Rhapsody is from the OCBC Skyway. Book your tickets now
Christmas carols
Singapore's acclaimed choir groups land up at Winter Wonderland Singapore, to perform Christmas Carols to an animated audience.
The singers usually lead the caroling from Cassa Armonica, a tall beautifully illuminated gazebo in the Supertree Grove.
Christmas Market, Singapore
The Festive Market at Gardens by the Bay Christmas celebrations is perfect for buying gifts for self or friends and family.
The market at Christmas Wonderland is an attempt to re-create the traditional European Christmas market.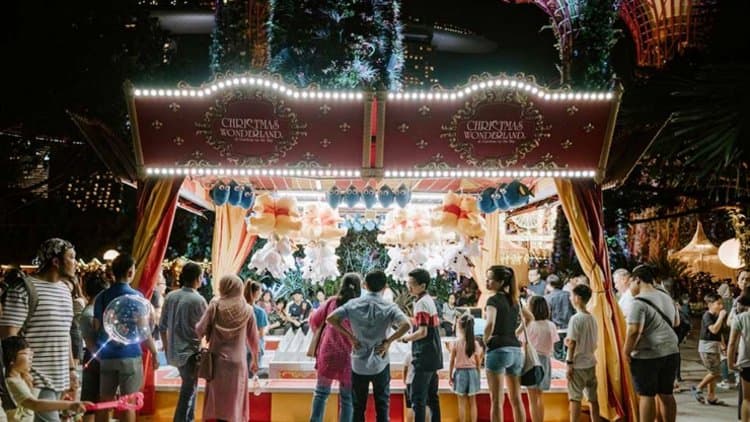 The Christmas market of Hyde Park in London has inspired the 20 plus wooden huts in the market.
Besides the numerous branded and non-branded items for purchase, the Christmas market also has tasty treats such as Turkey legs, Truffle Nachos, Beef Tenderloin cubes, etc. for the connoisseurs.
Food at Christmas Wonderland
Besides the food at the Christmas market, the Slice of Savour section also offers lots of dining options.
Every year, the food outlets keep changing, but the focus is always on tasty food at affordable prices.
Singapore's most popular restaurants set up stalls in Slice of Savour and offer the best of gourmet comfort food.
---
---
Christmas Wonderland map
Gardens by the Bay Christmas Wonderland is laid out over an area as big as five standard football fields.
With so many attractions, it makes sense to look at the available exhibits and plan the itinerary much in advance.
Keep the Christmas Wonderland floorplan handy, to spot visitor services such as token booths, toilets, ATMs, toilets, nursing rooms, etc.
Take a print out of this map or better still bookmark this page, to reach this map later.
Sources

# Tripadvisor.com
# Mothership.sg
# Bykido.com
# Trevallog.com

The travel specialists at TheBetterVacation.com use only high-quality sources while researching & writing their articles. We make every attempt to keep our content current, reliable and trustworthy.
Popular attractions in Singapore