Singapore Zoo is one of Asia's best zoos and attracts almost 2 million visitors every year.
Loved by children and adults alike, the locals often refer to Singapore Zoo as the Mandai Zoo.
The zoo is known for its innovative and immersive exhibits, which allow visitors to experience the animals up close and personal. Some popular exhibitions include the Primate Kingdom, the Fragile Forest, and the Reptile Garden.
The Singapore Zoo is committed to animal welfare and conservation and is actively involved in research and breeding programs to help protect endangered species.
Besides the daytime Singapore Zoo, this animal attraction offers many other experiences such as the Night Safari, River Safari, Rainforest Lumina, etc.
Singapore Zoo is a must-visit attraction for animal lovers and anyone interested in learning about our planet's incredible diversity of wildlife.
In this article, we explain everything you must know before buying Singapore Zoo tickets.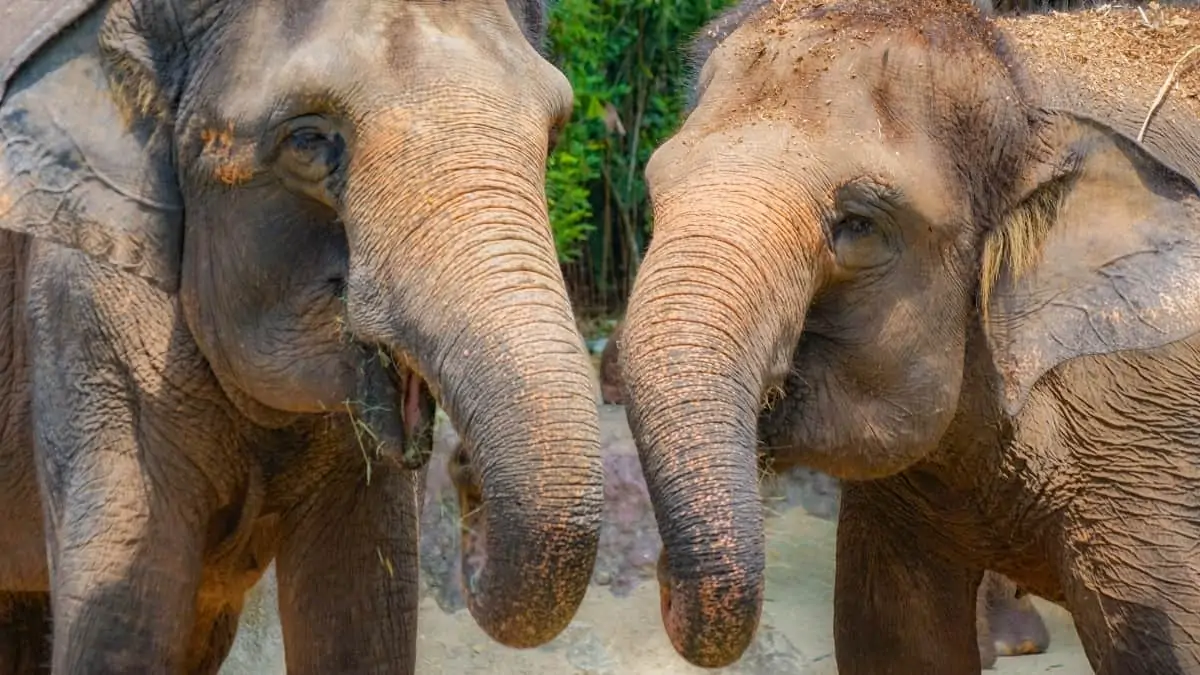 Singapore Zoo tickets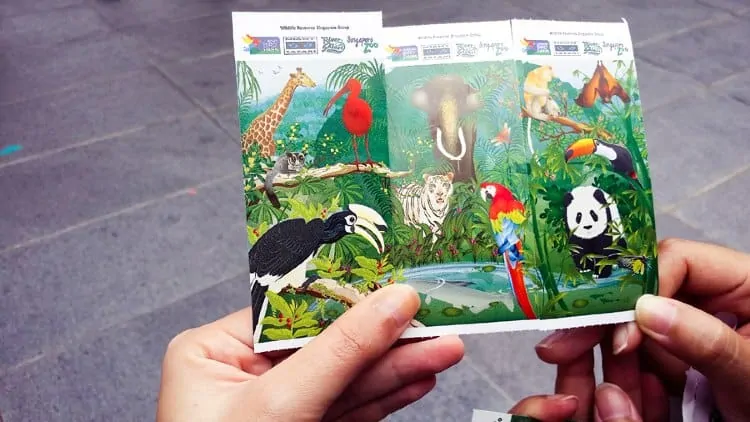 Singapore Zoo ticket gets you access to the wildlife attraction for a day, and once inside, you can stay for as long as you want.
With this Singapore Zoo ticket, you can attend all the animal shows – Splash Safari, Animal Friends, Elephant Presentation, and Rainforest Fights Back.
This entry ticket also includes unlimited free guided tram rides.
If you want to explore the Zoo quickly or get tired, the unlimited Tram rides come in handy.
Once you purchase these tickets, they get emailed to you.
On the day of your visit, you can show tickets to Singapore's Zoo on your smartphone and walk in.
No need to take printouts.
Ticket price
Adult ticket (13 to 59 years): S$ 48
Child ticket (3 to 12 years): S$ 33
Senior ticket (60+ years): S$ 20
The Singapore Zoo ticket doesn't get you access to Night Safari or the River Safari.
They are separate activities nearby, which require you to buy separate tickets.
Park Hopper Ticket
The Park Hopper ticket gets you entry to Singapore's three Wildlife Reserves – Singapore Zoo, River Safari, and Singapore Night Safari.
This combo includes tram rides at Singapore Zoo, Night Safari, and the Amazon River Quest boat ride at River Safari.
The three parks can be visited separately within seven days after the first use at Night Safari.
Tickets can be used for one-time entry to each park.
It is a must-buy combo if you love wildlife or are holidaying in Singapore with your kids.
Ticket price
Adult ticket (13+ years): S$ 110
Child ticket (3 to 12 years): S$ 77
Visual Story: 14 must-know tips before visiting Singapore Zoo
---
---
Singapore Zoo hours
Singapore Zoo opens at 8.30 am and closes at 6 pm, daily.
The ticket counter closes an hour before the zoo closes and the last entry into Singapore Zoo is at 5 pm.
All exhibits inside adhere to the hours mentioned above, except for Rainforest Kidzworld, which opens at 9 am and closes at 6 pm.
The kid's Wet Play Area, which is part of Kidzworld, closes half an hour earlier – at 5.30 pm.
---
---
Best time to visit Singapore Zoo
The best time to visit Singapore Zoo is as soon as they open at 8.30 am.
When you start early, you avoid the crowd, see the animals when they are most active, evade the high afternoon temperature, and get to Singapore Zoo's water park to relax sooner.
If you reach the Singapore Zoo after 10.30 am, you will see the same people in the line to buy entry tickets, animal exhibits, keeper talk sessions, and restaurants.
We recommend weekdays for a peaceful visit because Singapore Zoo gets crowded on weekends and school holidays.
Tip: Buying Singapore Zoo tickets online is better because you can avoid the ticket counter lines and save money (you don't pay ticketing window surcharge).
---
---
How long does Singapore Zoo take
If you see the animal shows, attend feeding sessions and spend time at the water park, you will need at least five hours to explore Singapore Zoo.
If you ride Singapore Zoo's guided Tram service, you can see all the animals spread out over the Zoo's six zones in an hour.
If you are a group of adults, you can walk through the whole of Singapore Zoo in about three hours.
---
---
Breakfast with Orangutans
Singapore Zoo's Breakfast with Orangutans is also known as Jungle Breakfast with Wildlife.
During this award-winning breakfast program, you get to dine with charming Orangutans, Cotton-top Tamarins, and slithery snakes as well.
Terrace of Ah Meng Restaurant is the venue for this Jungle breakfast at Singapore Zoo.
The breakfast timings are 9 am to 10.30 am, and the animals make an appearance from 9.30 to 10 am.
Even as you enjoy the extensive international buffet breakfast spread, you can take photos with the animals.
The food served at Breakfast with Orangutans is from a Halal-Certified Kitchen. See Breakfast Menu
Cost of tickets for Singapore Zoo with Entrance + Roundtrip Transfer + Optional Breakfast is S$81 for visitors above 13 years. The ticket price is without breakfast.
The kids aged 3 to 12 years get a discount and pay only S$57. The ticket price is without breakfast.
Adult Breakfast (13+ years): S$ 45
Child Breakfast (6 to 12 years): S$ 35
Kids below six years of age get a complimentary meal.
---
---
Singapore Zoo shows
Singapore Zoo hosts four shows daily for its visitors – Splash Safari, Animal Friends, Elephant Presentation and Rainforest Fights Back.
These Singapore Zoo's events happen twice daily, and each last for approximately 20 minutes.
You don't need to pay extra for these shows – they come free with this Singapore Zoo admission ticket.
Since all these shows get crowded, it is better to be at the venue ten minutes earlier to get good seats.
Splash Safari
The Splash Safari show happens at Shaw Foundation Amphitheatre, at 10.30 am and 5 pm.
Some of the Splash Safari show seats are designated splash zones, and you may get wet during the performance.
Animal Friends
Animal Friends show happens at Rainforest Kidzworld Amphitheatre at 1.30 pm and 4 pm.
Elephant Presentation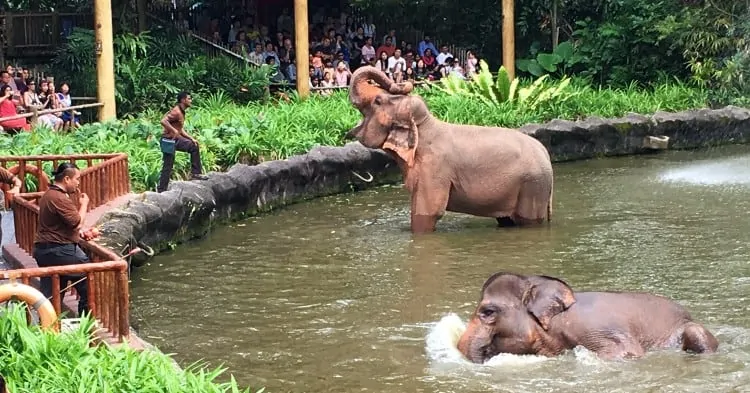 The Elephant presentation happens at the Elephants of Asia at 9.30 am, 11.45 am and 4.30 pm.
Rainforest Fights Back
Rainforest Fights Back is scheduled at 12 pm and 2.30 pm daily and happens at Shaw Foundation Amphitheatre.
Tip: If you want to take photographs with the animals, stay behind after the shows.
---
---
Activities in Singapore Zoo
There are many kinds of activities at Singapore Zoo, which are suitable for both kids and adults alike.
Animal feeding sessions
These feeding sessions are a fantastic opportunity to make the animals eat out of your hand.
You must purchase the animal feed at the venue.
Since there is a massive demand for the feeding sessions, we recommend you reach at least 15 minutes before the session begins.
1. Elephant feeding
The Elephants at Singapore Zoo are fed thrice during the day at the Elephants of Asia section. The times are: 9.30 am, 11.45 am, and 4.30 pm.
2. Giraffe feeding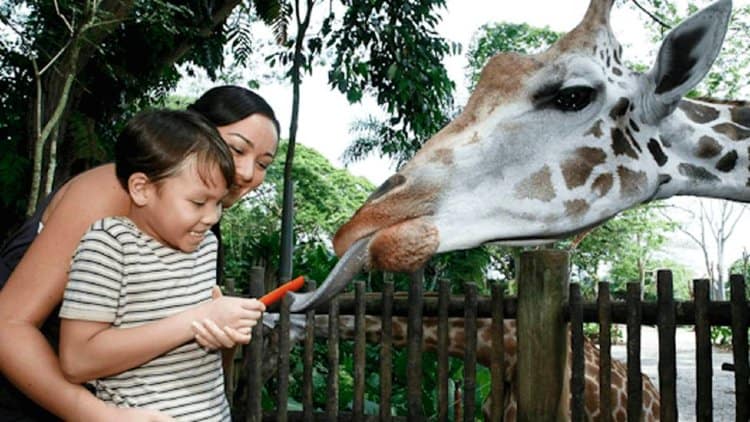 The Giraffes at the Zoo are also fed thrice daily at the Wild Africa section.
The feeding times are 10.45 am, 1.50 pm and 3.45 pm.
3. Goat Feeding
Goat feeding at Singapore Zoo is popular with kids below six years of age.
It happens twice – at 11.30 am and 3.30 pm at Rainforest Kidzworld.
4. White Rhino feeding
This session happens only once a day – at 1.15 pm at the Wild Africa Zone.
Since this is a premium feeding session, it gets crowded.
Keeper Talks
Zoo Keeper's chit-chat is a fantastic opportunity to learn more about wildlife from the people who know best.
The popular animals have 2-3 keeper talks in a day while the others have one session daily.
Animal
Venue
Time
Elephant
Elephants of Asia
11.30 am
Giraffe
Wild Africa
10.45 am, 1.50 pm,
3.45 pm
Primate Kingdom
Black Howler
Monkey exhibit
11 am, 2 pm
Orangutan
Free Ranging
Orangutan Island
11 am, 3.30 pm,
4.30 pm
Fossa
Fossa Exhibit
Check onsite
Goat
Rainforest Kidzworld
11.30 am, 3.30 pm
Proboscis Monkey
Rainforest Walk
11.30 am
White Rhino
Wild Africa
1.15 pm
Giant Tortoise
Reptile Garden
1.15 pm
Gibbon
Gibbon Island
1.30 pm
African Lion
Wild Africa
1.25 pm
Meerkat
Wild Africa
1.30 pm
African Painted Dog
Wild Africa
1.40 pm
Caiman Lizards
RepTopia
Check onsite
Pygmy Hippo
Pygmy Hippo exhibit
2.30 pm
Celebes Crested Macaque
SPH Foundation Conservation Centre
4.15 pm
Chimpanzee
Chimpanzee exhibit
4.35 pm
Crocodile
Sunset Buaya
2.30 pm
White Tiger
White Tiger exhibit
Check onsite
Otter
Otter exhibit
Check onsite
Singapore Zoo waterpark
This animal-themed slide and spray shack is Singapore Zoo's water play area.
Singapore Zoo's waterpark has slides, water fountains, water guns, and a massive water bucket that releases a deluge of water over everyone at regular intervals.
Even though a shop nearby sells swimming costumes, it makes sense to get your own.
Buddy Barn
Buddy Barn is like a petting Zoo, where kids can step in and interact with the animals.
The Buddy Bard is a massive hit with younger kids because they get to see and touch rabbits, guinea pigs, rats, mice etc.
Buddy Barn opens from 10 am to 5 pm daily.
Interaction times: 10.30 am to 12 pm, 1.30 pm – 3 pm, 4 pm to 5 pm.
The kids can feed the animals at 1.30 pm, for free.
Pony Ride
Pony Ride is a paid Singapore Zoo activity where for S$ 6, kids can get on a pony and go for a ride.
To participate in this activity, the child must be 1.2 meters (3.9 feet) and below.
Tickets for the Pony ride are available at the Rainforest Kidzworld ticketing counter.
Wild Animal Carousel
This Carousel has both fearsome and harmless animals, and both kids and adults can get on it for some merry-go-round fun.
Visitors can purchase tickets to this Carousel at Rainforest Kidzworld's ticketing counter.
A single ride costs S$ 4, while three trips will put you back by S$ 8.
---
---
Singapore Zoo tram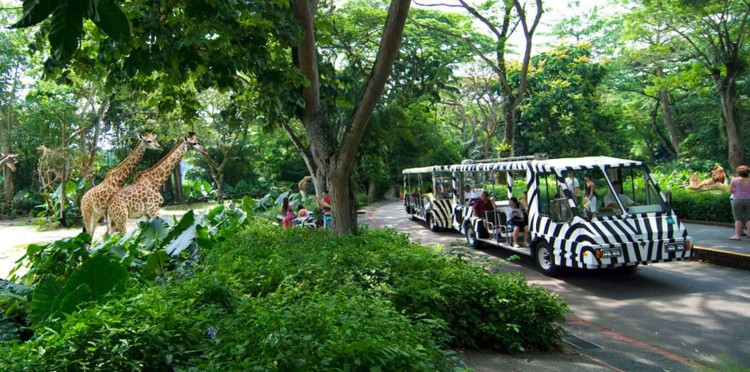 Hopping onto the Singapore Zoo's tram is one of the best ways to explore the Zoo.
During the guided tour, cover the Zoo without getting tired and listen to fantastic animal stories.
Rides are unlimited – you can go on this Tram ride multiple times.
Guided Tram ride ticket price
Adult ticket (13+ years): S$ 5
Child ticket (3 to 12 years): S$ 3
You can buy Tram tickets from 8.30 am to 5.30 pm daily at the ticketing counter or any tram station.
However, if you book your Singapore Zoo tickets online, unlimited tram rides are included with the tickets.
---
---
Singapore Zoo animals
Singapore Zoo has 2500+ animals belonging to approximately 315 species.
All these animals at Singapore Zoo are spread across eleven zones, each replicating diverse animal habitats from around the world.
1. Australasia
2. Elephants of Asia
3. Fragile Forest
4. Frozen Tundra
5. Great Rift Valley of Ethiopia
6. Primate Kingdom
7. Rainforest Kidzworld
8. Reptile Garden
9. Reptopia
10. Treetops Trails
11. Wild Africa
Some animals are more popular than others.
Elephants
You will find the Elephants in the Elephants of Asia Zone of Singapore Zoo.
Komali, the matriarch, heads the herd of five elephants.
Besides Komali, the other four are Jati, Intan, Gambir, and Aprila.
Lions
The Lions are in Wild Africa Zone of Singapore Zoo.
If you love Lions, don't miss out on the 1.25 pm Keeper's chit-chat at Cat Country where they explain everything about the majestic animal.
Pandas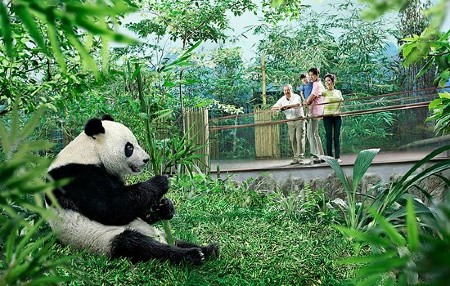 Kai Kai (male) and JiaJia (female), the two Giant Pandas in Singapore Zoo are on a ten-year loan from China.
They live in the Giant Panda Forest zone, which is part of the River Safari trail.
Unfortunately, your regular Singapore Zoo ticket won't get you access to this Zone.
To see the Giant Pandas (and Red Pandas), you must book the River Safari.
Orangutans
Singapore Zoo hosts the largest captive colony of Orangutans in the world.
The best way to enjoy the Orangutans of Singapore Zoo is by booking the popular breakfast with Orangutans.
During breakfast, you meet the new Ah Meng, granddaughter of the real Ah Meng.
Ah Meng was the legendary Orangutan who was so popular with the visitors that when she died in 2008, more than 4000 people came to pay their respects.
The second-best way is to spot these curious animals is in their habitat, the Orangutan Island.
Giraffes
You can spot lots of Giraffes at the Wild Africa Zone of Singapore Zoo.
During your visit, do note how the Zoo hoists up bunches of leaves high up in the trees so that the Giraffes continue to display their natural behavior.
Kids especially love feeding the Giraffes.
If you are visiting with kids, be at Wild Africa by 10.45 am, 1.50 pm or 3.45 pm for the feeding sessions.
Polar bears
Tourists who visited the Singapore Zoo before April 2018 fondly remember Inuka, the Polar Bear, in the Frozen Tundra Zone.
However, on 25 April 2018, the Zoo authorities decided to put him down due to ill health.
The 27-year-old animal was the first Polar Bear to be born in the Tropics.
As of today, there is no Polar bear in Singapore Zoo.
The other special animals to watch out for at the Singapore Zoo are White Rhinos, Zebras, African Penguins, Giant Tortoise, White Tiger, Sea Lions, Proboscis Monkeys, and Meerkat.
---
---
Singapore Zoo map
It is better to spend time with Singapore Zoo's map, and plan your Singapore Zoo itinerary before your visit.
Carrying the Singapore Zoo's layout is even more necessary if you are traveling with kids.
You won't waste your time looking for the numerous animal exhibits and get exhausted in the process.
It will also be helpful to rush from one Keeper Talk or Feeding session to another.
Besides the animal exhibits, this Singapore Zoo's floor plan also points out visitor services such as restaurants, washrooms, rain shelters, Tram stops, ATMs, First Aid centers, etc.
Download Singapore Zoo's Map (Jpeg, 1.4 Mb)
---
---
Rainforest Lumina
Singapore Zoo's Rainforest Lumina is a 1 Km (0.6 Mile) long walk through the Zoo where visitors get to enjoy a mesmerizing audio-visual experience.
Just that when you explore Singapore Zoo Lumina you see virtual animal characters instead of real animals. Watch Video
Eight Creature Crew members (virtual animals) guide you through this multi-sensory, interactive walk.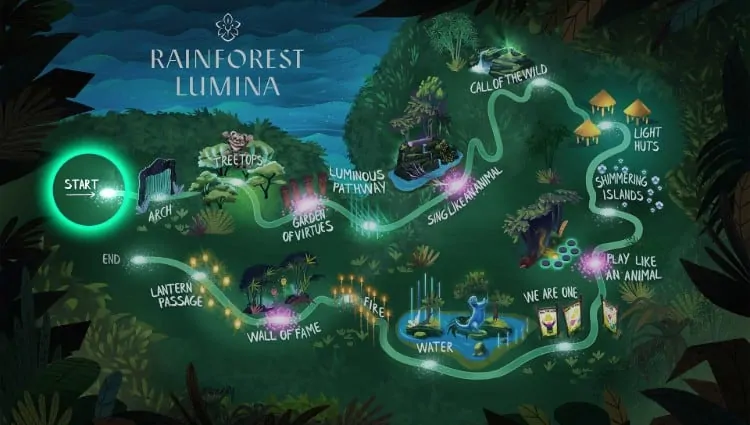 This walk is suitable for visitors on wheelchairs and prams as well.
Time: 7.30 pm to 12 midnight daily
Duration of walk: 45 to 60 minutes
Dates: 14 June 2019 to 9 February 2020
Rainforest Lumina tickets
These tickets get you access to the interactive wildlife experience on one the day of your choice.
These tickets DO NOT get you access to the Night Safari, River Safari, or the Singapore Zoo during the day.
Ticket price
Adult ticket (13+ years): S$ 16.20
Child ticket (3 to 12 years): S$ 12.60
Rainforest Lumina tickets are also available in combination with the Singapore River Safari. Find Out More
---
---
Restaurants at the zoo
Singapore Zoo has a lot of restaurants offering both vegetarian and non-vegetarian food.
If you can reach the Singapore Zoo by 9 am, we highly recommend breakfast with Orangutans.
Else, there are two kinds of restaurants at Singapore Zoo you can choose from – those at the Zoo's entrance and those inside the Zoo.
Restaurants at zoo's entrance
Kentucky Fried Chicken (KFC)
Monday to Friday: 10 am to 6.30 pm
Weekends + Holidays: 9 am to 7 pm
Inuka Café
Daily: 8 am to 7 pm
Ah Meng Kitchen
Monday to Friday: 9 am to 7 pm
Weekends + Holidays: 8.30 am to 7 pm
Ben & Jerry's
Daily: 10.30 am to 7 pm
Chawang Bristo
Daily: 10.30 am to 7 pm
The Wild Deli
Daily: 10.30 am to 7 pm
Restaurants inside Singapore Zoo
Ah Meng Restaurant
Daily: 10.30 am to 4.30 pm
Ah Meng Bistro
Daily: 10.30 am to 5 pm
KFC (Rainforest Kidzworld)
Weekdays: 10.30 am to 5.30 pm
Weekends: 9.30 am to 6 pm
---
---
How to get to Singapore Zoo
Because of the robust transport services in the City-State, reaching Singapore Zoo is very easy.
Address: 80, Mandai Lake Road, Singapore, 729826.
Singapore Zoo by MRT
There are five MRT stations around the Singapore Zoo.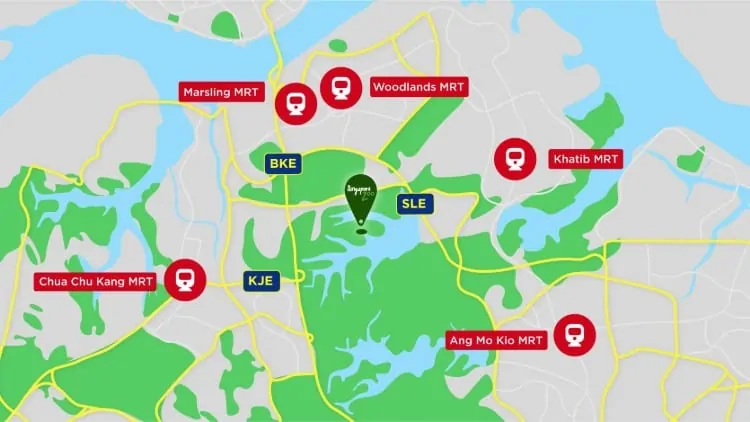 Once you get to one of these MRT stations, you can take a connecting bus.
**Bus No. 926 operates only on Sundays and Public Holidays.
*This is the Mandai Khatib Shuttle, detailed below.
Mandai Khatib Shuttle
The Mandai Khatib Shuttle service is a convenient option to get to the Singapore Zoo from Khatib MRT Station (NS14).
You need to get out of Khatib MRT from Exit A and catch the shuttle from here.
The travel time from Khatib to the Zoo is 15 minutes, subject to traffic conditions.
The fare to Singapore Zoo is only S$ 1 and payment can be made only through EZ-link or NETS FlashPay card.
This bus is also known as Singapore Zoo's Shuttle bus.
Mandai Khatib Shuttle's schedule
The Mandai Khatib Shuttle runs from Khatib MRT to the Zoo from 8 am to 10.20 pm, and its frequency varies throughout the day.
From 8 am to 5.20 pm, one shuttle leaves every 20 minutes, and from 5.20 pm to 7.40 pm, the frequency of the shuttle increases to one every 10 minutes.
At 7.40 pm (once the peak time is over), the Khatib MRT to Singapore Zoo Shuttle reduces its frequency to once every 20 minutes – till 10.20 pm.
The return shuttles – from the Zoo to Khatib MRT – start at 8.20 am and continue till 10.40 pm, at a frequency of one every 20 minutes.
Bus to Singapore Zoo
If you plan to visit Singapore Zoo from Bedok, Sengkang, or Tampines, Mandai Express Bus service is the most comfortable and affordable option.
The Mandai Express operates on weekends, school, and public holidays as well.
The adult ticket costs S$ 3 while kids between 3 to 12 years of age pay only S$ 1. You can purchase tickets here.
From Bedok to Singapore Zoo
From
To
Time
Pick Up
Bedok
Singapore Zoo
8.45 am,
10.15 am
Bedok Point
Shopping Centre,
Near Bedok
MRT, Map
Singapore Zoo
Bedok
3.15 pm,
5.15 pm
Singapore
Zoo Coach Bay
From Sengkang to Singapore Zoo
From
To
Time
Pick Up
Sengkang
Singapore Zoo
8.45 am,
10.15 am
Exit C, Sengkang
MRT (Sengkang
Square), Map
Singapore Zoo
Sengkang
3.30 pm,
5.30 pm
Singapore
Zoo Coach Bay
From Tampines to Singapore Zoo
From
To
Time
Pick Up
Tampines
Singapore Zoo
8.45 am,
10.15 am
Our Tampines
Hub, South
Plaza, Map
Singapore Zoo
Tampines
3 pm,
5 pm
Singapore
Zoo Coach Bay
To get to the Zoo, other bus service provided by Safari Gate Buses is also convenient.
Driving to Singapore Zoo
If you are driving, you can reach Singapore Zoo in about 30 minutes from the city center.
You may use Google Maps for directions to Singapore Zoo.
Singapore Zoo parking
As you near the Singapore Zoo, you will see lots of parking spots to your left.
Visitors can park both cars and motorcycles at this open-air car park.
If you prefer, you can also opt to leave your car at the covered multi-story car park.
The covered car park comes in handy during rains because an enclosed path from the car park leads to the Singapore Zoo's entrance.
Cost of parking
The first ten minutes are free.
When you pay by cash card, the first hour costs S$ 3, after which every additional hour costs S$ 2.
The maximum parking charges for a car get capped at S$ 10.
If you are not carrying a cash card and want to pay by cash, parking your car will cost you S$ 10 for the day.
Jurong Bird Park to Singapore Zoo
Many tourists do this – they first visit Jurong Bird Park and then get to Singapore Zoo to finish off both on the same day.
We think that by exploring both the Bird Park and the Mandai Zoo on the same day, you do injustice to both.
However, after exploring Jurong Bird Park, you can do the Night Safari because it starts from 7.15 pm and instead of walking you can explore the nocturnal Zoo on a Tram.
Transport from Jurong Bird Park to Singapore Zoo
SAExpress coaches run between the two destinations.
The pick-up and drop-off point at Jurong Bird Park is the Coach park, while at the Singapore Zoo, it is the bus stop right outside the Zoo.
This bus departs from Jurong Bird Park at 4.45 pm and reaches Singapore Zoo in approximately 25 minutes.
This trip gives you just enough time to eat something, stand in the queue, and get in for Singapore Zoo's Night Safari at 7.15 pm.
Sources
# Traveloka.com
# Zoo-tickets.com
# Tripadvisor.com

The travel specialists at TheBetterVacation.com use only high-quality sources while researching & writing their articles. We make every attempt to keep our content current, reliable and trustworthy.
Popular attractions in Singapore