Adventure Cove Waterpark is a terrific spot for families and friends to spend a day filled with fun and adventure.
An exciting aquatic journey is what guests can expect from Singapore's Adventure Cove Waterpark, a park with a water theme.
The Riptide Rocket, Southeast Asia's first hydro-magnetic coaster, and other exhilarating water coasters like Dueling Racer, and Tidal Twister are awaiting you!
The park also provides a variety of calmer activities, including floating down the lazy river, snorkeling with exotic species, and taking in the lush tropical surroundings.
This article shares everything you need to know before booking Adventure Cove Waterpark tickets.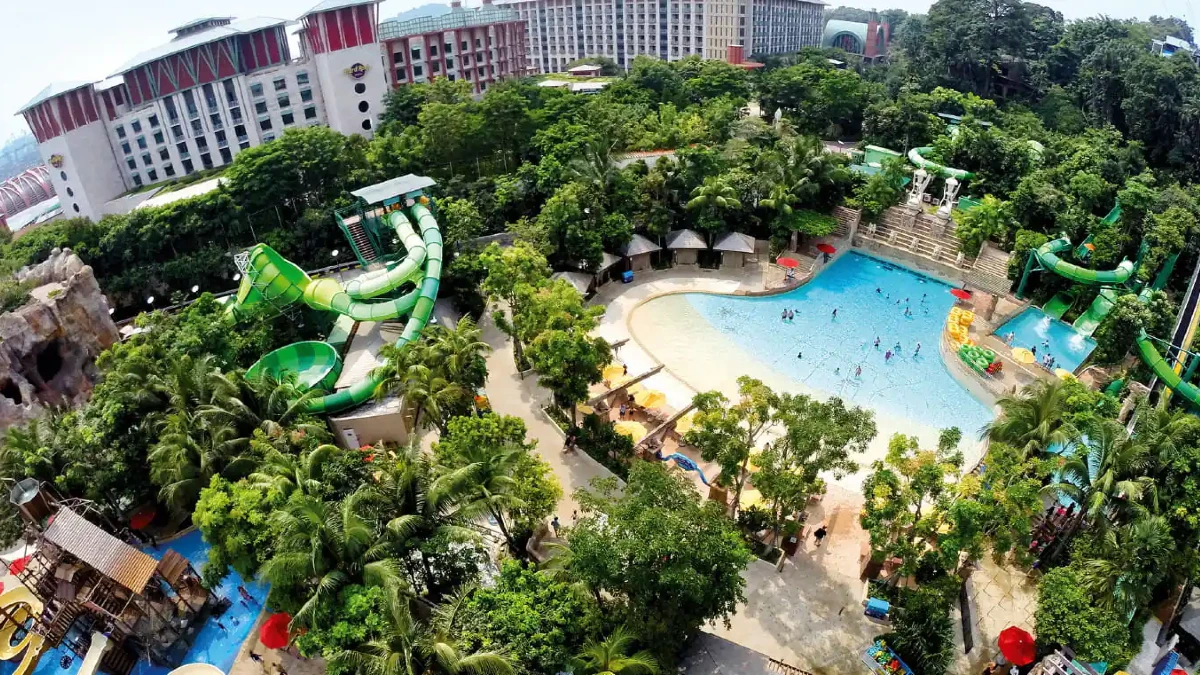 What to expect at Adventure Cove Waterpark
Adventure Cove Waterpark is a popular waterpark in Sentosa Island, Singapore.
The park features a wide range of exciting water attractions for visitors of all ages.
Adventure Cove Waterpark has several thrilling waterslides, including the Riptide Rocket, a high-speed water coaster, and the Pipeline Plunge, a series of twisting slides perfect for adrenaline junkies.
Adventure River is a lazy river that winds through the park, featuring waterfalls and rapids for a more adventurous experience.
Visitors can relax and catch some waves in the park's wave pool, which generates waves of up to 0.5 meters (1.64 feet).
Adventure Cove Waterpark also has a snorkeling attraction called Rainbow Reef, where visitors can snorkel among thousands of colorful fish in an artificial reef environment.
For a unique experience, visitors can get up close with different species of sharks in the Shark Encounter attraction, which features a tunnel visitors can walk through.
You can even shop at Adventure Cove Waterpark Singapore.
There are different stalls for convenience Stores, fashion, lifestyle, and accessories. You can even buy watches and Jewellery.
Get toys and souvenirs for your loved ones on your way out!
Apart from this, there are multiple restaurants where you can get various food, including Asian, halal, Japanese, and Western.
Try out the signature restaurants at Adventure Cove Waterpark. Have a tasty meal at the Feng Shui Inn or the Ocean Restaurant.
There are multiple signature restaurants for you to choose from.
Where to book Adventure Cove Waterpark tickets
Tickets for Adventure Cove Waterpark are available online.
It is recommended to buy your tickets online to avoid lines and take advantage of online discounts.
Online ticket purchases are advised because demand is strong for this special event.
Purchase your seats in advance to avoid last-moment disappointments.
How does online ticket work
Visit the ticket booking page and select the desired date and the number of tickets.
After you complete your transaction and make a reservation, you will instantly receive your tickets via email.
To start your trip, merely display your ticket on your phone.
Carry your photo ID with you for verification at the ticketing counter.
---
---
Cost of Adventure Cove Waterpark tickets
The tickets for Adventure Cove Waterpark costs S$39 for all visitors above the age of 13 years.
Children between the ages of 4 to 12 years enjoy a discount of S$9 and have to pay only S$30.
Infants up to the age of 4 years can enjoy the park for free!
Tickets for Adventure Cove Waterpark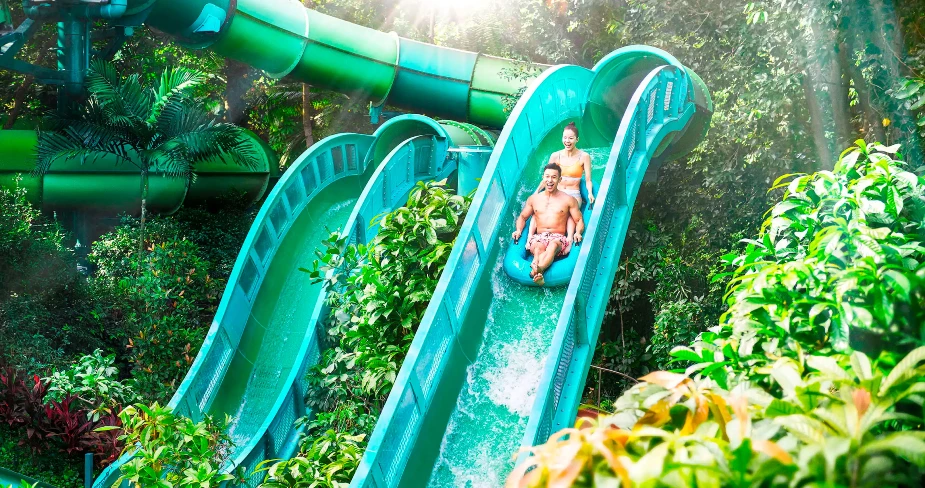 Adventure Cove Waterpark offers a variety of exciting water rides and activities for visitors to enjoy.
Some of the most thrilling rides include Southeast Asia's first hydro-magnetic coaster, the Riptide Rocket, and other exciting options such as Dueling Racer, Tidal Twister, and Spiral Washout.
For those looking for a more relaxing experience, try kids-friendly rides and opportunities to float around the park and take in the tropical surroundings.
Additionally, visitors can participate in Ultimate Marine Encounters, which offers the chance to meet sharks and exotic fish while walking around the ocean floor.
Experience a chilled-out tube cruise around the park on Adventure River, snorkeling with rare fish, scuba diving with friendly sharks, and exploring the Big Bucket Treehouse.
This is a great adventure for the whole family to enjoy.
An adult must accompany kids under 122 cm.
Ticket Prices
Adult Ticket (13+ years): S$39
Child Ticket (4 to 12 years): S$31
Infant Ticket (up to 4 years): Free
Adventure Cove Waterpark + Gardens by the Bay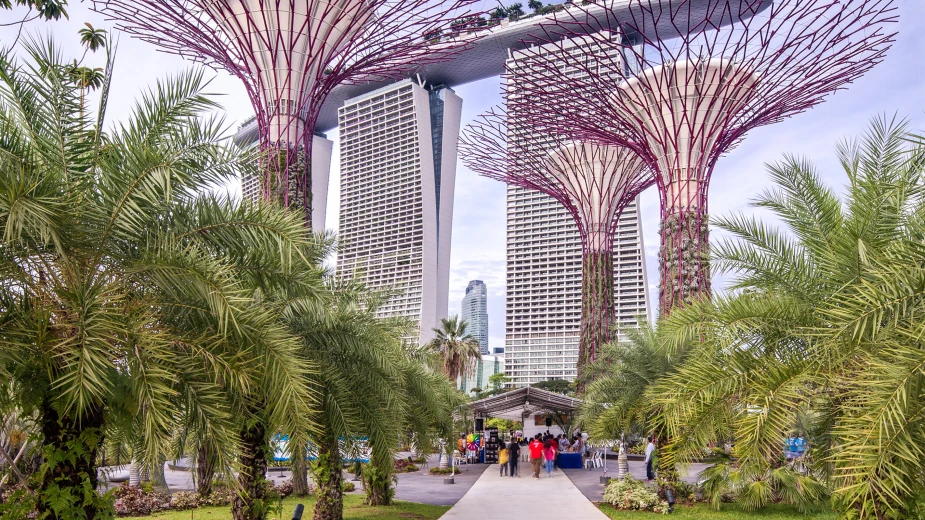 The Adventure Cove Waterpark and Gardens by the Bay are frequently visited together and are nearly 8.3 km (5.16 miles).
These two attractions are accessible by car in 11 minutes.
Book this combo ticket to cover two locations in a day and get a 5% discount.
Get ready for an exciting water adventure at this park. The ticket includes entrance to the park and life jackets.
Experience the beauty of misty rainforests, amazing light shows at night, and a stunning flower dome in Singapore in Gardens by the Bay.
The ticket includes entrance to the cooled conservatories – Cloud Forest and Flower Dome.
You will also get access to Floral Fantasy (only with a Floral Fantasy ticket) and admission to the Outdoor Common Grounds & Children's Garden (free).
You can also enter Flower Dome and Supertree if you select the option.
Ticket Cost: S$87
Save time & money! Buy Singapore Pass and dive deep into the city's top 35 attractions. Visit Universal Studios Singapore, Madame Tussauds, and Singapore Zoo, or go on a Tiger Brewery tour, Bike Tour at Marina Bay at night, or a romantic cruise. Grab this pass now and get up to a 40% discount!
How to reach Adventure Cove Waterpark
Adventure Cove Waterpark is located in the Resorts World Sentosa.
Address: 8 Sentosa Gateway, Sentosa Island, Singapore 098269. Get Directions.
You can go to the attraction either by public transport or your car!
By Bus
If you plan to take the bus, get on BUS A or C and get off at Imbiah Lookout.
From there, it is a 3-minute drive to the park!
By Car
Rent a cab or take your car to Adventure Cove Waterpark Singapore.
Put on google maps and start your journey!
Don't fret about parking your cars, either. There are multiple parking lots around the park.
Click here to find the perfect spot for you!
---
---
Adventure Cove Waterpark timings
The Adventure Cove Waterpark Sentosa is open from Friday through Tuesday from 10 am to 5 pm.
The park timings change throughout the year, so look at the calendar before booking your tickets!
How long does Adventure Cove Waterpark take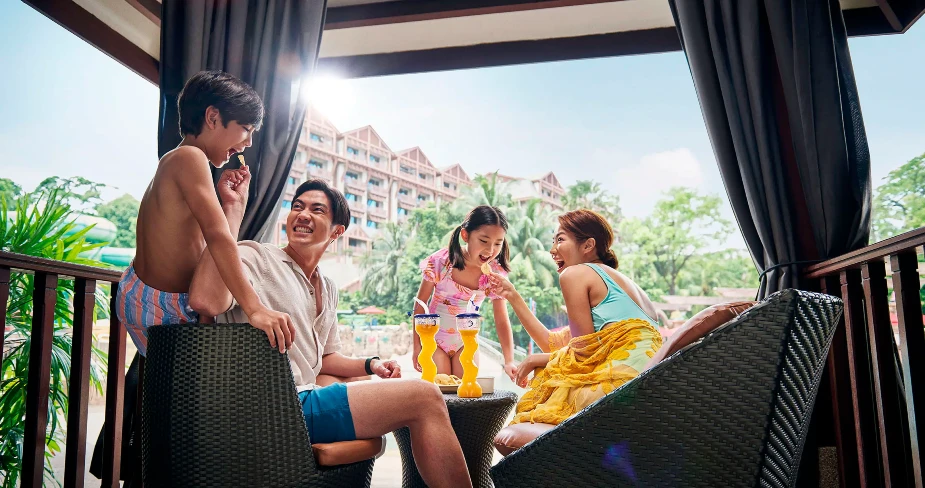 If you have limited time, you might complete the important rides at Adventure Cove Waterpark in just under three hours.
Nevertheless, we advise staying longer to take advantage of Adventure Cove Waterpark's full splendor.
It takes approximately an hour to complete special activities like swimming with dolphins and playing with rays.
A whole day is well-deserved at Adventure Cove Waterpark Sentosa.
Best time to visit Adventure Cove Waterpark
The best time to visit Adventure Cove Waterpark Sentosa is as soon as it opens at 10 am.
It is better to arrive early in the morning to avoid crowds and get a higher chance of avoiding lines at the different rides.
Map Adventure Cove Waterpark
Adventure Cove Waterpark is a huge park and thus, a map would be helpful.
You can prioritize rides and attractions, reduce time using a map, and plan your trip effectively.
You may find restrooms, water fountains, and eateries by using a map.
Click here to get the map and get started on your adventurous day at the park.
Popular attractions in Singapore