Go to Wild Wild Wet in Singapore for a fun-filled afternoon.
This waterpark has activities for both families and thrill-seekers, from exhilarating waterslides to the tranquil Shiok River that winds through the park.
Get ready for rides like the Vortex, Free Fall, and another variety of water slides and attractions it provides.
This article shares everything you need to know before booking Wild Wild Wet in Singapore tickets.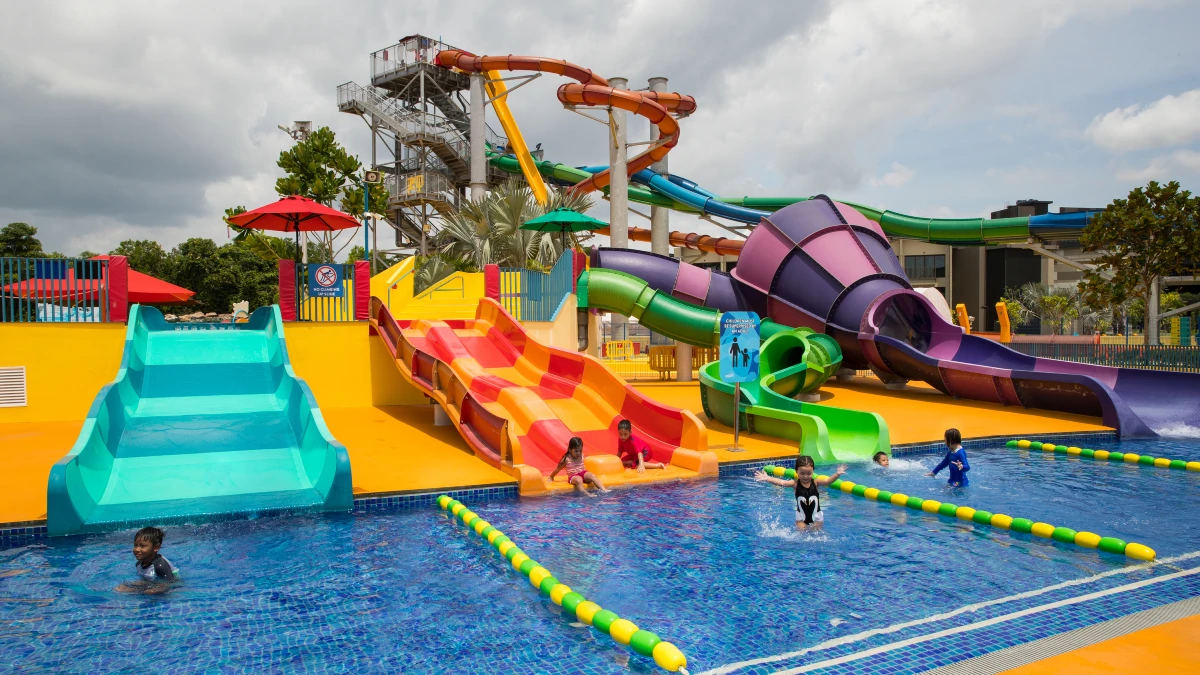 What to expect at Wild Wild Wet Singapore
For toddlers to adults, a comprehensive range of rides and attractions are available at Wild Wild Wet.
These include the Ular-Lah, a raft slide that takes you through twists and turns, Free Fall, an exhilarating slide with a steep drop, and the Tsunami, a wave pool that produces waves up to 1.5 meters (4.92 feet) high.
The Kraken Racers is a fast-moving water slide among them.
The park also features a lazy river where you can unwind by floating.
Professor's Playground, a water playground with shallow pools, slides, and water sprays, and Splash Play, which includes smaller slides and water jets, are only two kid-friendly zones at Wild Wild Wet.
The park also accommodates a range of celebrations throughout the year, including birthday celebrations, business events, and private events.
The park offers a variety of dining alternatives, from fast food to cafes and snack booths.
Additionally, you can bring your own food and have a picnic in the park in designated spots.
Overall, Singapore's Wild Wild Wet is a fun and exciting water park with something to offer everyone, whether they're looking for exhilarating water rides or a more laid-back day out with friends and family.
---
---
Where to book Wild Wild Wet Singapore tickets
Tickets for Wild Wild Wet Singapore are available online.
It is recommended to buy your tickets online to avoid lines and take advantage of discounts.
Online ticket purchases are advised because demand is strong for this special event.
Purchase your seats in advance to avoid last-moment disappointments.
How does online ticket work
Visit the booking website and select the desired date and the number of tickets.
After you complete your transaction and make a reservation, you will instantly receive your tickets via email.
You can directly scan your smartphone ticket at the turnstile and begin your journey of fun!
Cost of Wild Wild Wet Singapore tickets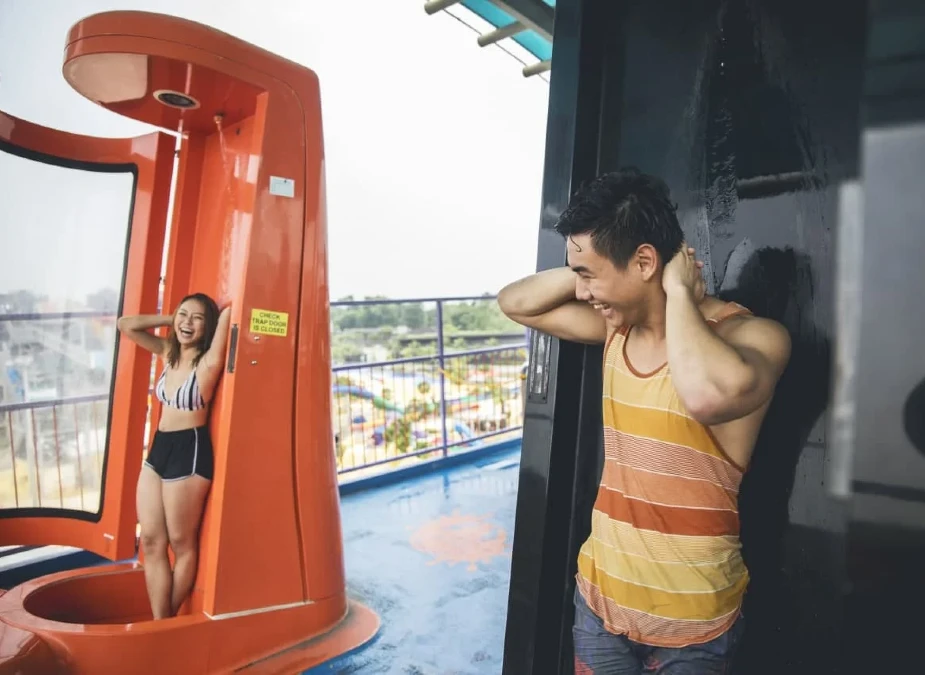 The tickets for Wild Wild Wet in Singapore costs S$35 for all visitors between the age of 13 to 54 years.
Children aged 3 to 12 years can get a S$9 discount and pay only S$26.
Tickets for seniors above the age of 55+ years cost S$26.
Kids up to the age of 2 years can enjoy the trip for free!
Tickets for Wild Wild Wet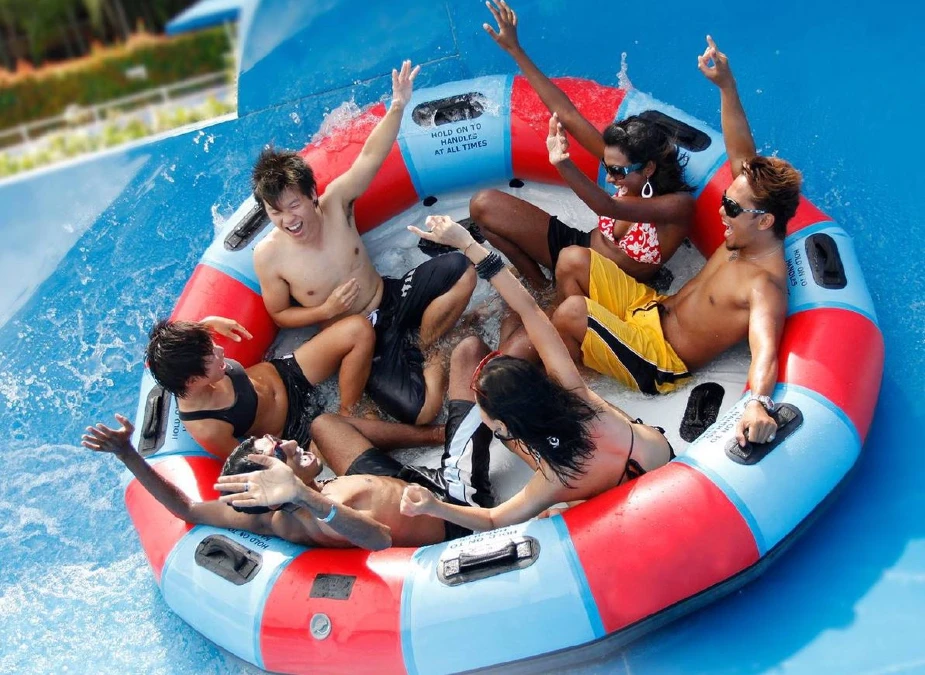 The Wild Wild Wet ticket includes admission to all slides and pools.
The park has many exciting rides like the Vortex, a high-speed 360° extreme loops ride, and the Free Fall, which has a near-vertical drop.
You can even enjoy the Royal Flush, which combines a bowl and zero-gravity wall in one ride.
There are also more relaxed options like the jacuzzi and outdoor spa.
The park is a great place to spend a hot day in Singapore, with plenty of rides and activities for kids.
If you choose the student day pass promo, you can even sign up for lunch.
Food and refreshments are not included.
Professor's Playground (attraction) will be closed for maintenance until further notice.
Ticket Prices
Adult Ticket (13 to 54 years): S$35
Child Ticket (3 to 12 years): S$26
Senior Ticket (55+ years): S$26
Infant Ticket (up to 2 years): Free
---
---
Wild Wild Wet + Gardens by the Bay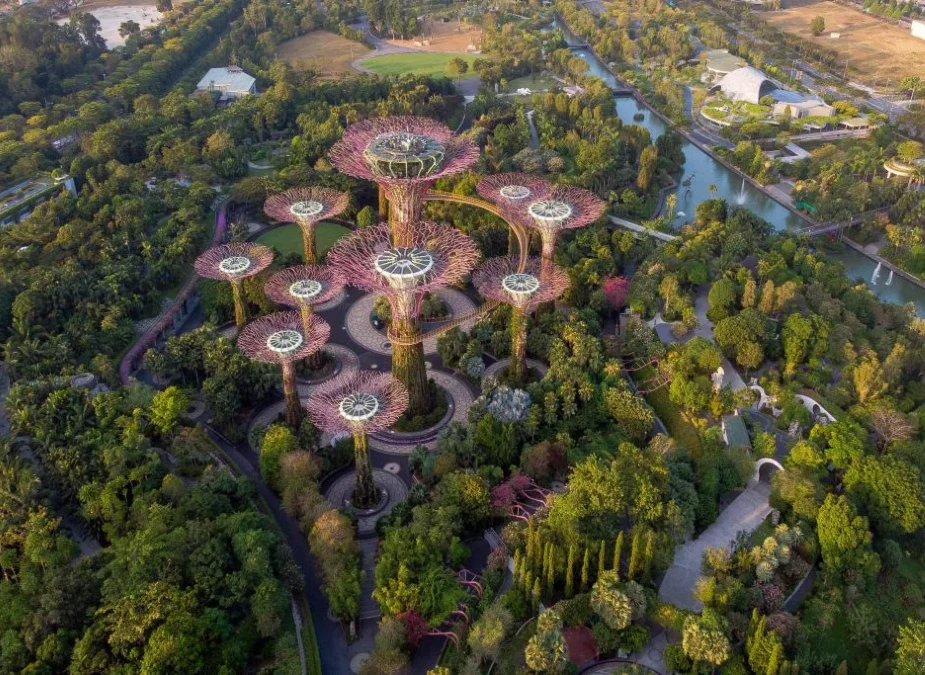 If you are enjoying your time at the Wild Wild Wet in Singapore, the Gardens by the Bay is only 22 minutes away by car (22.5 kilometers or 13.98 miles).
With this combo ticket, you can access Wild Wild Wet and its 16 slides and attractions.
You can also enter the Gardens by the Bay and enjoy misty rainforests, night-time light shows, and beautiful gardens.
You can directly enter the cooled conservatories, Cloud Forest and Flower Dome.
Book this combo ticket right now and get a 5% discount on the tickets!
Ticket Cost: S$84
Save time & money! Buy Singapore Pass and dive deep into the city's top 35 attractions. Visit Universal Studios Singapore, Madame Tussauds, and Singapore Zoo, or go on a Tiger Brewery tour, Bike Tour at Marina Bay at night, or a romantic cruise. Grab this pass now and get up to a 40% discount!
How to reach Wild Wild Wet Singapore
Singapore Wild Wild Wet is located in the downtown east of Singapore.
Address: 1 Pasir Ris Cl, Singapore 519599. Get Directions.
Drive to the park or take public transport!
By Bus
If you're taking the bus, get on the 39, 53, 81, 89, 109, or 518 and get off at Tampines Meridian Jc.
From there, it is a quick 8-minute drive to the water park.
By Car
Drive your vehicle or call a cab to get to Wild Wild Wet Singapore.
Put on Google Maps to begin your journey.
Also, don't worry about parking your cars as around the park, there are numerous parking areas.
To find the ideal location for you, click here!
Wild Wild Wet Singapore timings
Wild Wild Wet in Singapore is open from 12 pm to 6 pm, Monday to Friday.
On Saturdays, Sundays, school holidays, and public holidays, the waterpark is open from 11 am to 6 pm.
The Wild Wild Wet is closed on Tuesdays.
The last admission to the waterpark is at 5 pm.
How long does Wild Wild Wet Singapore take
The Singapore Wild Wild Wet can easily take up an entire day.
If you rush through the waterpark, you can cover the park in four hours.
However, it is better to keep aside an entire day for fun!
---
---
Best time to visit Wild Wild Wet Singapore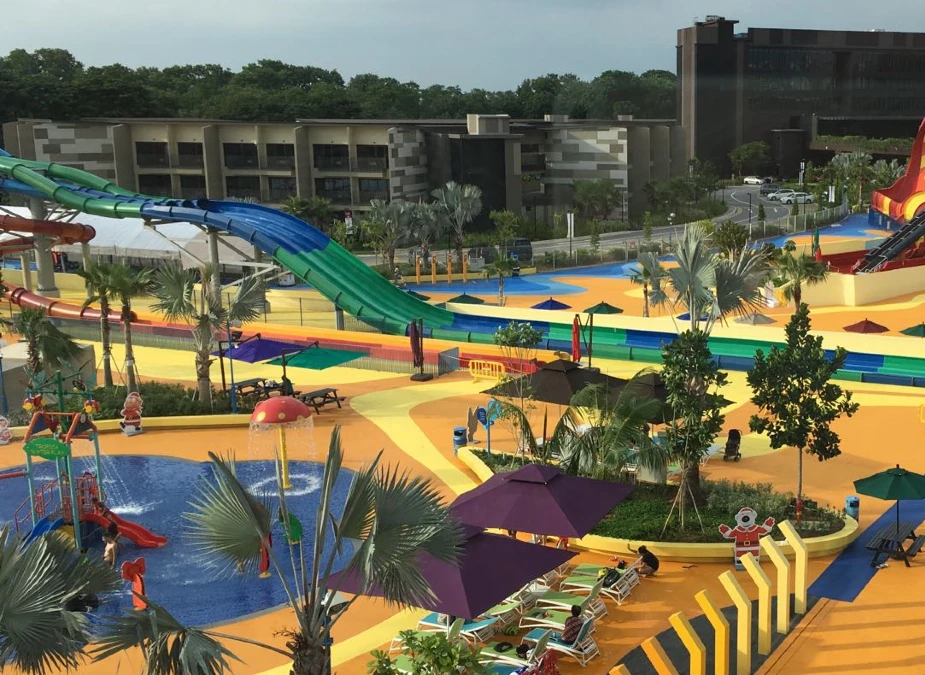 The best time to visit Wild Wild Wet Singapore is as soon as it opens at 12 noon.
It is better to go at an earlier hour to avoid crowds and maximize the time you have at the park!
Map of Wild Wild Wet Singapore
Wild Wild Wet Waterpark in Singapore is a huge park and a map would be useful for you to navigate through the park.
A map can help you save time, prioritize rides and attractions, and efficiently plan your vacation.
You can locate bathrooms, drinking fountains, and restaurants using a map.
Click here to get the map and begin your adventurous day at the park.
Things to remember
– Bring your water bottles, shower supplies, towel, change of clothing, and permitted swimwear on your tour.
– Remember that most thrill coasters won't let you wear loose goods like goggles, watches, or spectacles; instead, you'll need to store them in a temporary locker.
– You can get the basic float, life jacket, sunbed, washroom, and shower for free on your tour!
– There are certain dress-code restrictions, click here to know more.
Popular attractions in Singapore