The indoor skydiving facility – iFly Singapore, is situated on Sentosa Island in Singapore.
It allows guests to experience the exhilaration of skydiving in a secure setting.
A wind tunnel at the facility generates a strong updraft that people can use to float and soar in the air.
For solo riders, families, and groups, iFly Singapore offers a variety of packages, such as introductory flights, indoor skydiving packages, and virtual reality experiences.
This article shares everything you need to know before booking iFly Singapore Indoor Skydiving tickets.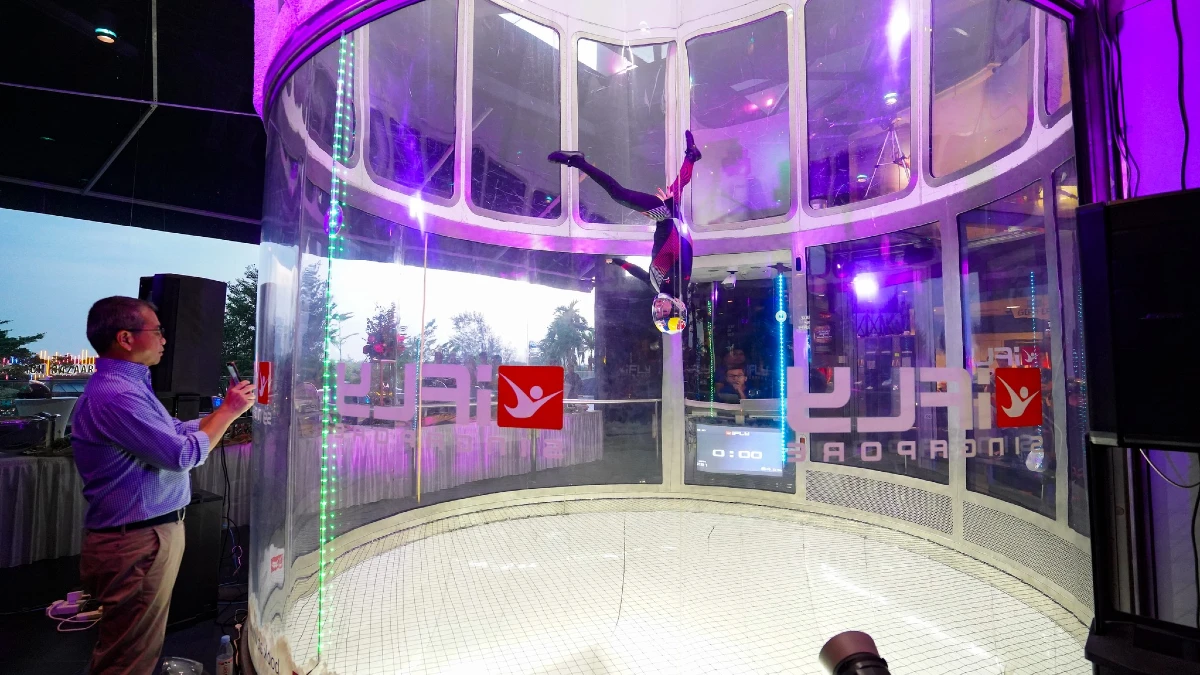 What to expect on iFly Singapore skydiving
Enjoy the rush of skydiving at iFly Singapore in a controlled and safe atmosphere.
A vertical wind tunnel with gusts of up to 175 km/h will be used to make you fly and float like a skydiver.
Before their flight, participants receive training from professional instructors and are given all essential equipment.
Then, as if they were leaping out of an airplane, they enter the wind tunnel and experience the sensation of freefall.
Where to book iFly Singapore skydiving tickets
Online tickets are available for iFly Singapore skydiving.
It is advised to purchase your tickets online in order to skip the queue and benefit from discounts.
Also, the tickets are usually in high demand, so it's better to make reservations in advance.
The ticket allows walk-ins on a first-come, first-served basis, so it is better to book your tickets online to ensure a booking.
How does online tickets work
On the booking page, select the desired date and the number of tickets and buy them.
You will immediately receive your tickets via email after purchasing and making a reservation.
At the turnstile, simply scan your smartphone ticket to get started on your enjoyable journey!
Cost of iFly Singapore skydiving tickets
The ticket prices for iFly Singapore skydiving varies based on the peak and off-peak time of the day.
Saturdays, Sundays, public holidays, and 26 December are considered the busiest days when the crowd is at its peak at iFly.
The peak hours are 12 pm to 5.30 pm on Saturday and Sunday and 10 am to 9.30 pm on public holidays and 26 December.
The Challenge Ticket during peak hours is priced at S$109 for a Singapore citizen and S$129 for an International visitor.
During the off-peak times, Monday to Friday (12 pm to 7.30 pm) and Saturdays and Sundays (10 am to 11.30 am and 6 pm to 7.30 pm), the prices differ for Singaporean citizens but not for international tourists.
The Challenge Ticket costs S$99 for a Singapore citizen and S$129 for an International visitor during off-peak hours.
---
---
Tickets for iFly Singapore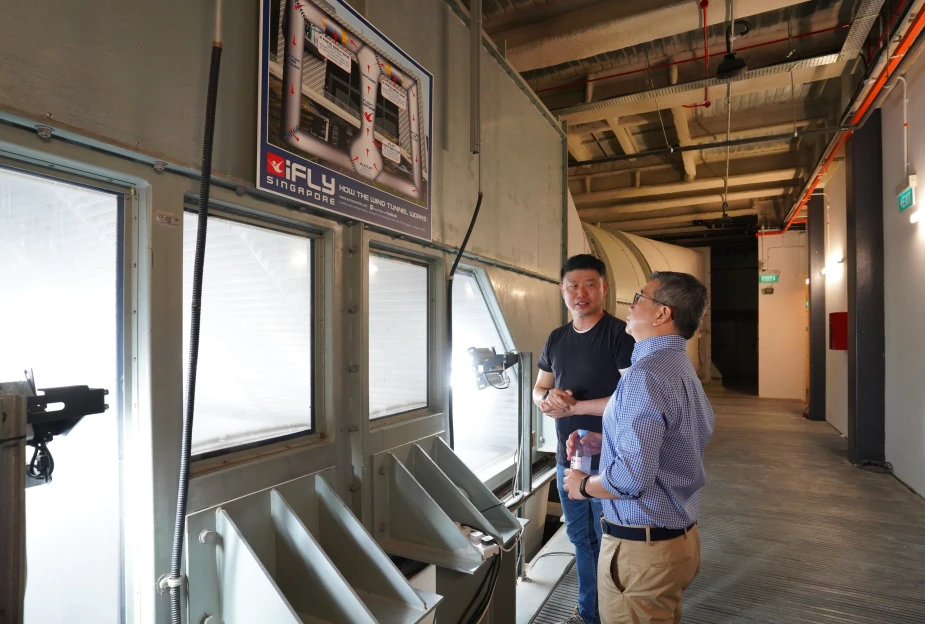 At iFly Singapore, you can experience skydiving in a wind tunnel in an air-conditioned glass-walled space.
You will receive pre-flight training and gear rental. You can choose between one or two skydives depending on your ticket selection.
The experience is suitable for everyone, from beginners to experienced skydivers.
You can try free flying, formation skydiving, and vertical relative work with the help of professional instructors and advanced patented technology.
iFly Singapore has a 16.5 feet wide and 56.5 feet tall wind tunnel, the world's first themed wind tunnel for indoor skydiving.
You can enjoy views of the South China Sea through the 18 feet tall glass wall.
After your flight, you will receive a certificate.
Ticket Prices
The Challenge (PEAK)
Singapore Citizen: S$109
International Visitor: S$129
The Challenge (OFF-PEAK)
Singapore Citizen: S$99
International Visitor: S$129
iFly Singapore + Skyline Luge Sentosa
iFly Singapore Indoor Skydiving is 2.6 km (1.61 miles) away from the Skyline Luge Sentosa.
If you enjoy your time at the iFly Singapore Indoor Skydiving, you should visit the Skyline Luge Sentosa, which is only an 8-minute drive away.
You can enjoy amazing views of Singapore and then ride down four exciting tracks on a luge.
The ticket includes a Skyride (2, 3, or 4 rides, depending on the chosen option) and a Luge (2, 3, or 4 rides out of 4 possible tracks, depending on the chosen option).
You also get access to iFly Singapore, where you can experience indoor skydiving with a pre-flight demo and instructor training.
You will receive gear, and 1or 2 skydives per participant (depending on the chosen ticket option), and a certificate presentation.
Book this ticket right now with a 5% discount!
Ticket Cost: S$104
Save time & money! Buy Singapore Pass and dive deep into the city's top 35 attractions. Visit Universal Studios Singapore, Madame Tussauds, and Singapore Zoo, or go on a Tiger Brewery tour, Bike Tour at Marina Bay at night, or a romantic cruise. Grab this pass now and get up to a 40% discount!
---
---
How to reach iFly Singapore skydiving
Indoor Skydiving at iFly Singapore is located near the Beach Station in Sentosa, Singapore.
Address: 43 Siloso Beach Walk, #01-01, iFly, Singapore 099010 Get Directions
You can either go on public transport or take your personal vehicle.
By Bus
Take the Beach Tram, and get off at Gogreen Segway Eco Adventure.
From there, it is a 3-minute walk to the adventure attraction!
By Car
Drive your vehicle or call a cab to get to the iFly Singapore skydiving.
Put on Google Maps to begin your journey.
Also, don't worry about parking your cars. There are numerous parking areas where you can park your car.
To find the ideal location for you, click here!
iFly Singapore skydiving timings
Indoor Skydiving at iFly Singapore is open all days of the week with different timings on Wednesdays.
From Monday to Sunday (except Wednesday), including public holidays, it runs from 9 am to 10 pm, with the first flight at 10 am and the last at 9.30 pm.
On Wednesdays, the attraction is open from 11 am to 10 pm, with the first flight at noon and the last at 9.30 pm.
How long does iFly Singapore skydiving take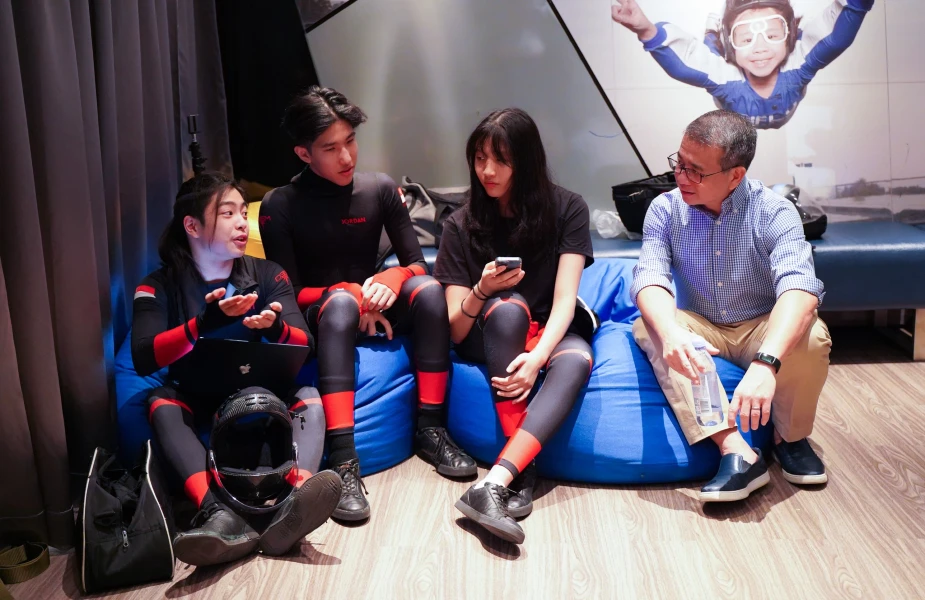 Your iFly Singapore experience will take roughly 90 minutes to complete.
This time includes check-in, the pre-flight briefing and instruction, and the required gearing up.
For a safe experience, you will receive a flight suit, helmet, and goggles.
Best time to go to iFly Singapore for skydiving
If you're planning to go to iFly Singapore, book the first flight during off-peak hours to get the best experience.
The crowd is comparatively less, and you can swiftly enjoy your flight.
Arrive at least an hour before your flight to attend the pre-training and briefing by the coach.
Skydiving Flight Criteria at iFly Singapore
The criteria for Skydiving at iFly Singapore are:
– All guests should be above 7 years of age.
– Visitors shorter than 180 cm (if less than 120 kg) or taller than 180 cm ( if less than 140 kg) are allowed to skydive.
– Visitors should be able to wear helmets without discomfort.
– The experience is not suitable for expecting mothers.
– People who don't have a history of heart issues, back or neck injuries, shoulder dislocations, or any plaster cast can try this.
– You can only experience the flight if you sign the iFly Singapore indemnity form (Flyers under 18 must have a parent's or guardian's written consent).
Popular attractions in Singapore