When one thinks of Miami, its beautiful beaches, bustling nightclubs, and stunning skyline come to mind.
But let us tell you, Miami is more than what you think.
Miami is home to several artists who have completely transformed the Wynwood district, giving the city a whole new identity.
Wynwood Walls is an outdoor street art museum in Miami where you can feast your eyes on lifelike murals.
Presently, the Wynwood district has become a sanctuary for aspiring graffiti artists, painters, and innovators.
This article shares everything you should know before booking tickets for Wynwood Walls in Miami.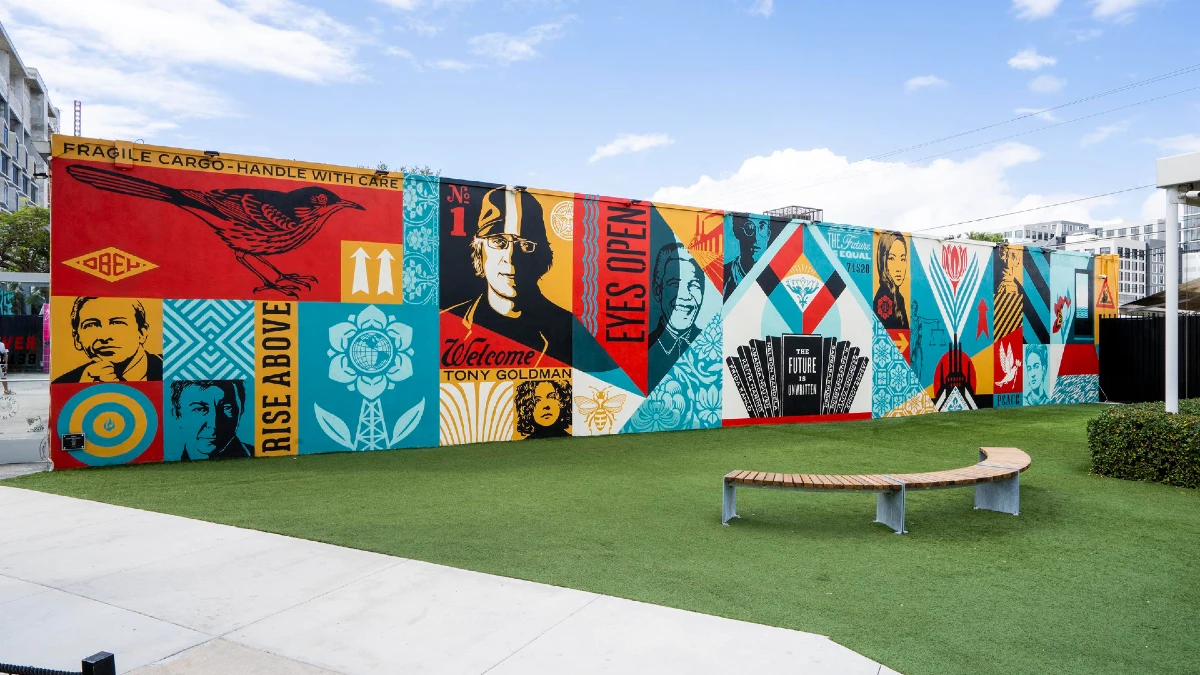 What to expect at Wynwood Walls
Every wall painting at Miami Wynwood Walls echoes a distinct story with its vibrant hues and artistic patterns.
The Wynwood Walls in Miami boasts the fine artwork of 100+ artists from over 21 countries.
The major themes of the murals revolve around one's individual and cultural identity, historical revolutions, renaissance cartooning, contemporary graffiti, kaleidoscopic patterns, Poupes, peace, unity, etc.
You can spot extraordinary artwork by renowned artists like Scott Froschauer, Ryan McGinness, Neuzz, Miss Van, Eduardo Kobra, etc.
Whether you're an art geek or not, we are sure that at Wynwood Walls in Miami, your eyes will be glued to the walls every minute and every second!
---
---
Where to buy Wynwood Walls tickets
You can buy Wynwood Walls tickets at the attraction or online.
However, booking tickets online is the best option because it offers many benefits.
– You get a discount on booking tickets online and save money.
– You don't have to stand in long queues at the ticket counter.
– You can get your preferred time slots for the tour.
– Online tickets also help you avoid last-minute disappointments when tickets get sold out.
How online ticket works
Booking Wynwood Walls tickets online is an easy process.
On the Wynwood Walls booking page, select a preferred date and the number of tickets, and hit the Book Now button!
As soon as you make the purchase, the tickets get emailed to you.
The best part is that you can pick a time slot that suits you the best.
Cost of Wynwood Walls tickets
Tickets for the Wynwood Party Bike Bar Crawl costs US $59, and the Wynwood Art District Street Art Tour by Golf Buggy, is priced at US $39 for all guests.
The Wynwood Walls Walking Tour costs US $35 for all visitors aged 13 to 64 years.
Kids up to 14 years get a US $5 discount and pay only US $30.
Tickets for seniors over 65 years are priced at US $30.
Wynwood Walls tickets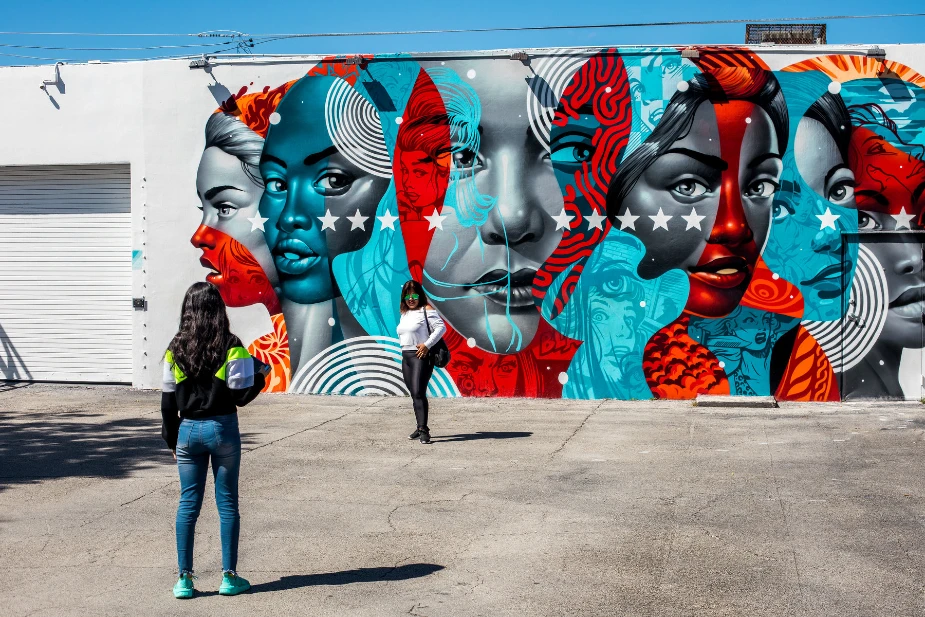 To enter the world of graffiti – Wynwood Walls Miami, we suggest you book tickets online to ensure guaranteed admission.
You can choose from various tour options – Wynwood Art District Street Art Tour by Golf Buggy, Wynwood Walls Walking Tour, Wynwood Party Bike Bar Crawl, Graffiti Experience on Wynwood Walls, or Wynwood Food and Art Tour.
Wynwood Art District Street Art Tour by Golf Buggy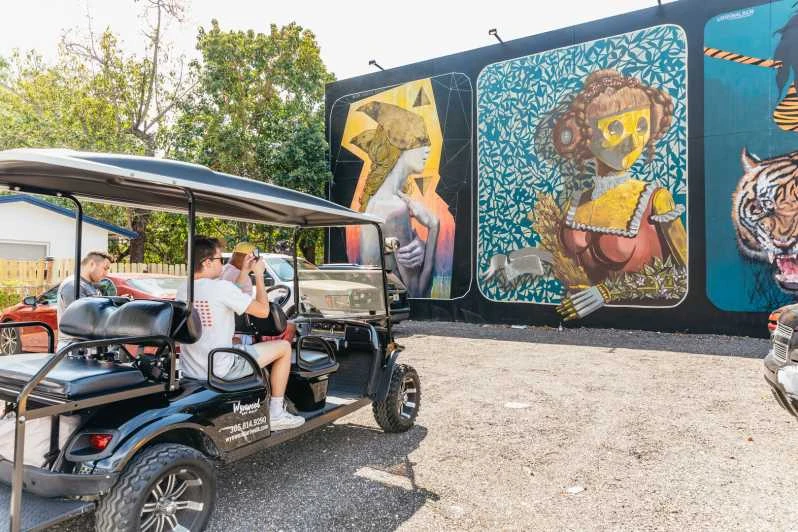 Jump into the golf buggy and get ready to explore the Wynwood Art District with this ticket.
During this 1-hour tour, pause at famous landmarks and take as many pictures as you want.
The drivers are no less than tour guides.
Chit-chat with them and learn about the murals, secret restaurants, craft beers, and the best galleries to visit.
You can pick a time slot that fits your schedule – 9.45 am, 11 am, 12.15 pm, 1.30 pm, 2.45 pm, 4 pm, and 5.15 pm.
The tour goes on irrespective of rain or shine.
It is recommended that you bring a hat and wear sunscreen.
A maximum of 10 participants can sit on the buggy, and some seats face backward.
There is no guarantee that your seat will face forward.
Ticket Price: US $39 per person
Wynwood Walls Walking Tour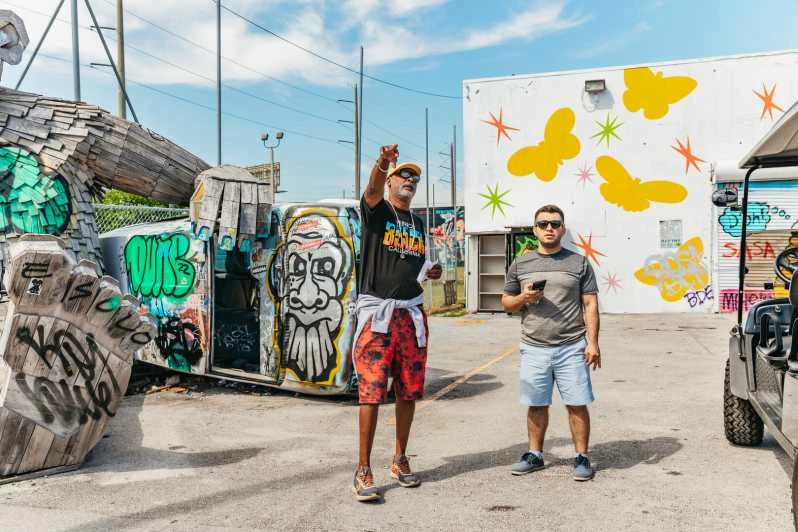 Discover the popular murals and abstract paintings on this 75-minute long Wynwood Walls Walking Tour.
With the Wynwood Walls Walking Tour ticket, you get a chance to walk past Wynwood Arts District and Gregg Shienbaum Fine Art.
Learn about the history and evolution of the art street and gallery from the tour guides and get closer to the graffiti world.
The ticket provides only a walking tour, and entrance to the galleries is excluded.
Ticket Price
Adult ticket (13 to 64 years): US $35
Child ticket (up to 14 years): US $30
Senior ticket (65+ years): US $30
Wynwood Party Bike Bar Crawl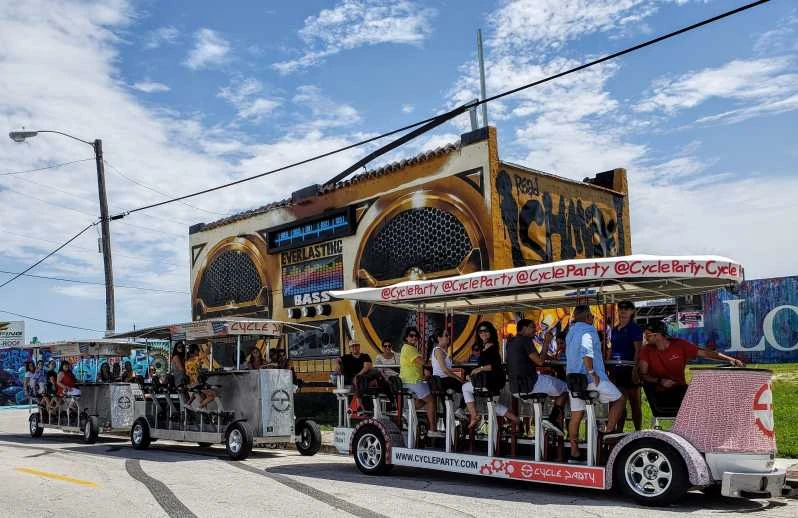 Tighten your shoelaces and get ready to party in Wynwood's best bars and restaurants on Wynwood Party Bike Bar Crawl.
On this 2-hour long tour, you will jump into party bikes that play the best party music to keep your energy high from the start until the end.
With the tour guide, you'll get closer to the Wynwood Art District and take a bar crawl at any three bars in the Wynwood neighborhood.
The party bike can fit 15 people with 10 pedaling seats and 5 lounge seats.
Don't worry! You won't get tired while pedaling.
You will receive a Souvenir cup on this tour.
Are you feeling excited? Then purchase your tickets right now!
Ticket Price: US $59 per person
Graffiti Experience on Wynwood Walls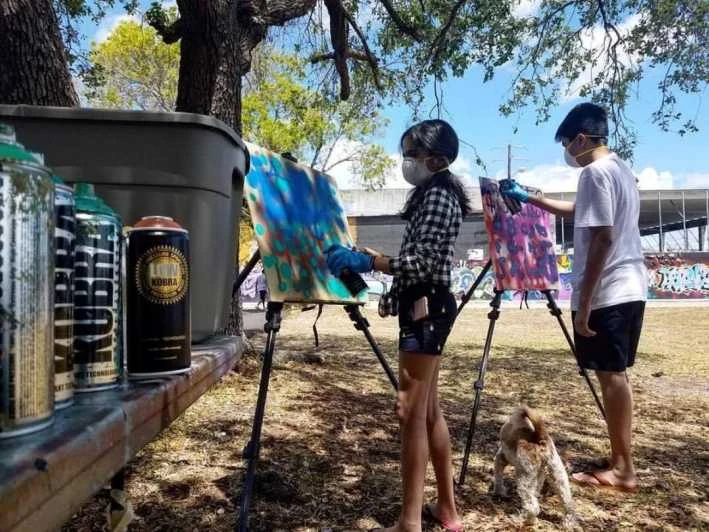 Want to learn graffiti? Want to throw your thoughts on a canvas?
Then don't think twice before booking tickets for Graffiti Experience on Wynwood Walls.
This 1-hour activity teaches you all basics and complex skills which will turn you into a pro!
First, you'll learn how to hold and handle a spray, maneuver pressure, length, and width, and write letters.
Once you get the basics, you move towards more complex skills like making drop shadows, backgrounds, patterns, and color gradients.
After this short training, you can create graffiti and take the art piece home.
Buy Graffiti Experience on Wynwood Walls tickets and let the artist inside you come out.
Things to remember
– All the art supplies (colors and sprays) are provided to participants.
– There are chances to get paint dropped on your clothes and shoes. So wear something you don't mind getting stained.
– This activity is completely wheelchair accessible but not suitable for kids under 3 years and pregnant women.
– A trained instructor will teach you the step-by-step process and ensure you learn the best in less time.
Ticket Price
Adult ticket (13+ years): US $42
Child ticket (up to 14 years): US $34
Wynwood Food and Art Tour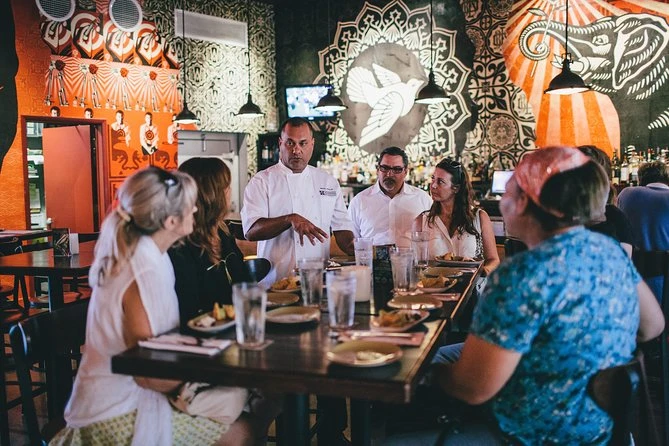 Wynwood Food and Art Tour is the best of all tours that gives you more in less – visit Wynwood Walls and Peter Tunney Gallery, and hog on to lip-smacking local cuisine.
Stroll through the Wynwood district and immerse yourself in the world of graffiti.
During this 2.5-hour tour, you will learn from the tour guides about the history of this eclectic art hub.
Along the way, get yourself food and drinks at four local restaurants.
You will try some amazing Jamaican and Spanish food made from traditional recipes.
Don't worry! The chefs provide vegetarian and gluten-free food, but the choice is limited for vegans.
This tour is limited to 10 participants.
Ticket Price
Adult ticket (13+ years): US $79
Child ticket (up to 14 years): US $69
Book This Tour
Buy Miami Go City Pass and discover over 25 top Miami-area activities, attractions, and tours. With this all-inclusive pass, you can explore Zoo Miami, Seaquarium, Big Bus Miami Hop-On Hop-Off, and many more!
---
---
How to reach Wynwood Walls?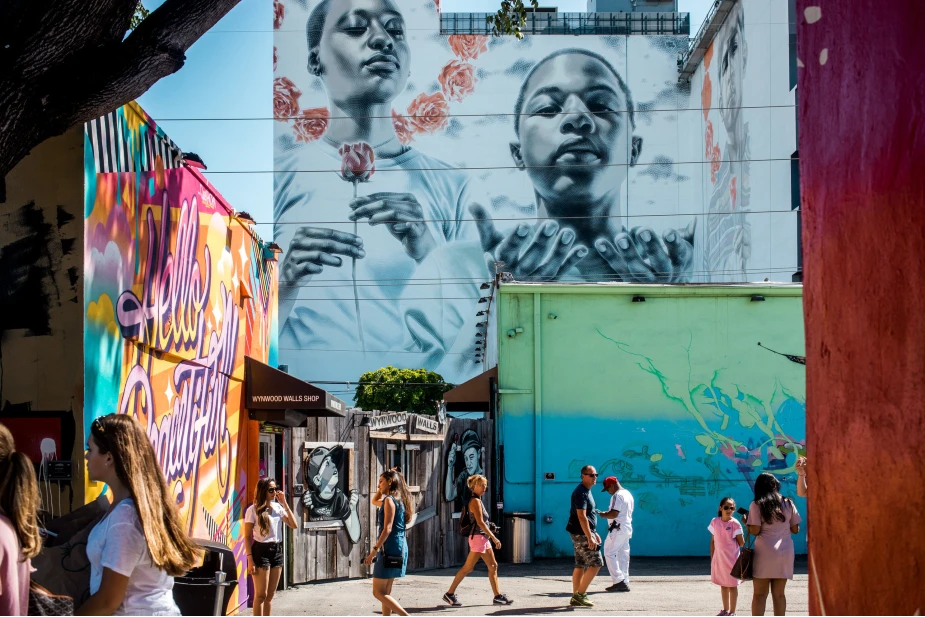 Wynwood Walls is at the Welcome Center.
Address: 266 NW 26th Street, Miami, FL33127. Get Directions
The most convenient way to reach Wynwood Walls is by bus and car. You can also try Miami Metromover, as it is free.
By Bus
Get on bus number 2 and get off at NW 2 Av & NW 25 St bus stop. The Wynwood Walls is just 1 minute walk away from the stop.
By Miami Metromover
Miami Metromover connects the Miami metro and Miami buses and provides transportation absolutely free.
Eleventh Street Metromover Station is the nearest stop to Walls Wynwood.
We have two routes to suggest to you to reach the main attraction-
– When you make an exit from the Eleventh Street Metromover station, take bus no. 9 from NE 2 Av & NE 10 St bus stop (just 2 minute walk away from the station), and get off at NE 2 Av & NE 27 St. stop. Miami Wynwood Walls is within a 12-minute walking distance.
– When you make an exit from the station, take bus no. 2 from NW 1 Pl & NW 12 St bus stop (nearly 11 minutes walk away from the station) and get down at NW 2 Av & NW 25 St stop. The Wynwood Walls is just 1 minute walk away from the stop.
Click here to download the Miami Metromover map.
By Car
If you're traveling by car, turn on your google maps and get started!
Car Parking
You can park your car at The Wynwood Garage or other garages nearby.
Wynwood Walls timings
Wynwood Walls opens daily at 11 am, but early access at 10 am is given with tours.
The closing time is 7 pm from Sunday to Thursday, while on Friday and Saturday, it is 8 pm.
---
---
Best time to visit Wynwood Walls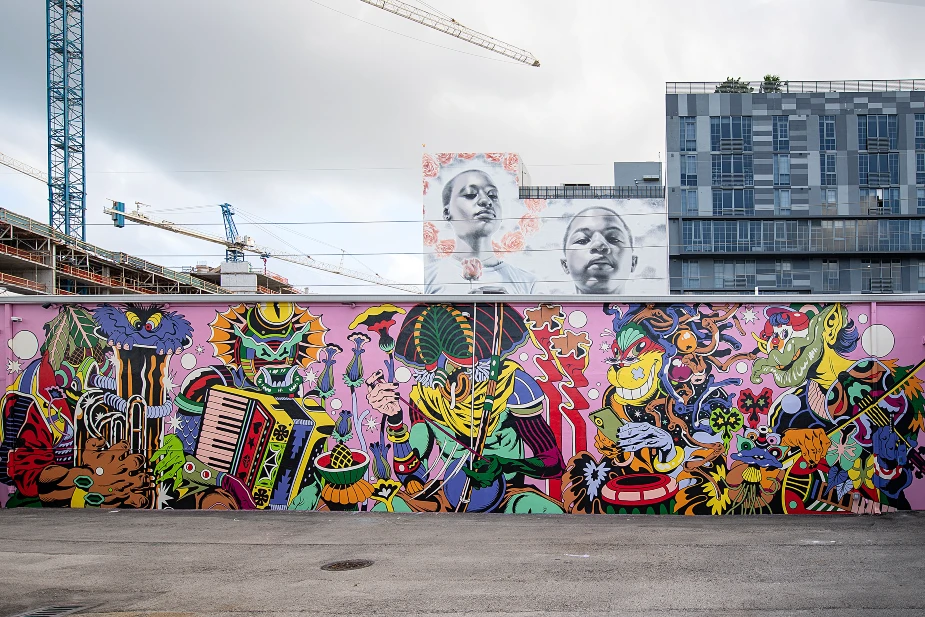 The best time to explore Wynwood walls is as soon as they open in the morning at 11 am.
Weekdays are the best to visit as the crowd is minimal, and you can stroll conveniently.
If you want to experience the nightlife of Wynwood Walls, you can go in the evening and enjoy good music, food, and drinks at bars and restaurants.
Wynwood Walls of Miami is an outdoor museum, and weather also plays a key role in determining the best time to visit.
While winter and spring are good seasons to visit Miami, summers can be a little unbearable.
But if you still plan to visit in summer, go during the early hours of the day before the sun takes over the entire city.
The Walls Wynwood is open to visitors whether it rains or shines.
So when you buy a ticket, you get an assured entry.
What to wear
Wynwood Walls offers a number of tours, and you can choose any mode to explore this artsy and aesthetic district.
You can take a buggy, bike, or even walk on foot to explore Miami Wynwood Walls.
No matter which mode you choose, we suggest you wear comfortable shoes so that it becomes easy for you to pedal on the bike and walk for long hours.
When it comes to your outfit, we highly recommend you wear solid colors (like white) so you don't clash with the colorful artistic background when you take photos.
Before leaving home, apply sufficient sunscreen on your face and body to protect yourself from sunrays.
Don't forget to bring your sunglasses and hat.
Sources

# Museum.thewynwoodwalls.com
# Wynwoodartwalk.com
# Tripadvisor.com

The travel specialists at TheBetterVacation.com use only high-quality sources while researching & writing their articles. We make every attempt to keep our content current, reliable and trustworthy.
Popular attractions in Maimi
# Miami Seaquarium
# Miami Zoo
# Jungle Island
# Everglades National Park
# Millionaire's Row Cruise
# Graffiti Museum
# Thriller Miami
# Museum of Illusions
# Miami Duck Tour
# Sawgrass Recreation Park
# Flamingo Gardens
# Skyviews Miami
# Superblue Miami
# Jungle Queen
# Lion Country Safari
# Wynwood Walls