Everglades National Park is 1.5 million acres of subtropical wilderness in South Florida which attracts tourists from World over.
Everglades gets more than a million visitors every year, who come in for one or all of the below reasons –
1. To see its wildlife, which includes Florida panthers, American crocodiles, American alligators, West Indian Manatee, Turtles, Dolphins, Snakes, etc.
2. To see more than 350 species of birds who call the Everglades their home
3. For outdoor activities such as hiking, biking through the trails, camping, fishing, boating, canoeing, kayaking, etc
4. To get on the Everglades airboat tours, which is the fastest way to explore the National park
5. For the thrilling alligator experience. After all, Everglades is the only place on Earth where alligators and crocodiles coexist.
When is Everglades National Park open
Everglades National Park is open all the time.
Yes, that's right, it is open 24 hours a day, seven days a week, 365 days a year.
Everglades is open even on public holidays.
---
---
Everglades airboat tours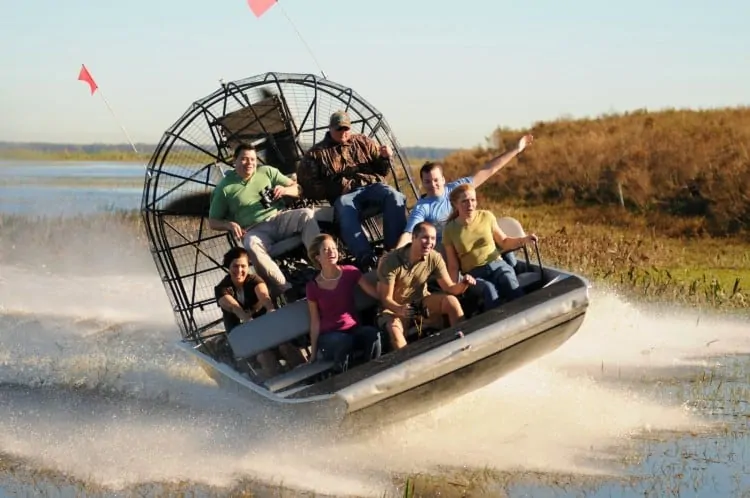 You cannot visit Everglades and not experience the fascinating Airboat Everglades.
A lot of companies such as Everglades Safari Park, Gator Park, Sawgrass Recreation Park, Everglades Holiday Park, Coopertown Airboats etc. provide airboat tours inside the Everglades Miami Park.
Before booking your Miami Everglades airboat ride, here are three things you must find out about the tour –
1. Is the transport from your city to the Everglades Park included in the package?

2. What other activities will you get to do before/after the airboat ride?

and

3. What is the duration of the ride?
We recommend you go through all the available Everglades airboat tours before choosing the one that fits you and your family best.
---
---
Everglades Airboat tours without transport
If you are a local, chances are you have a car and can drive to the location to get on your Everglades airboat tour.
Since you don't pay for transport, such tours are cheaper.
If you prefer airboat tours which include transportation to the Everglades and back, jump to the next section.
Airboat ride at Gator Park
This ticket includes three things: 40-minute airboat ride, a wildlife show (alligator wrestling!), and an opportunity to hold a baby gator in your hands.
This Everglades tour is quite popular with families because of the numerous activities involved.
The airboats start hitting the water at 9 am, and go on till 5 pm.
The last wildlife show is at 4:30 pm.
Gator Park is located just off HWY 41, and you must reach 24050 SW 8th Street Miami FL 33194 on your own. Get Directions
Tour Price
Adult ticket (12+ years): USD 25
Child ticket (6 to 11 years): USD 20
Airboat ride at Sawgrass Park
With this ticket for a 30-minute Everglades airboat tour at the Sawgrass Recreation Park, you also get to see several snakes, lizards, tortoises and other species in the animal exhibit.
This Everglades tour culminates with a photo-op with a baby alligator.
At Sawgrass Park the airboat tours begin at 9 am and go on till 5 pm.
You need to reach 1006 N. U.S. Highway 27 Weston, Florida 33327 on your own. Get Directions
Tour Price
Adult ticket (13+ years): USD 25
Child ticket (4 to 12 years): USD 14
Long duration, a small group airboat tour
If you prefer to spend more time on the Everglades airboat, opt for this highly-rated tour.
You get to choose between a 60 minute or a 90-minute airboat ride.
Since you get to sit on a 6-person boat, it is a very personalized experience.
Ticket price (1 hour): USD 50/person
Ticket price (1.5 hours): USD 70/person
If you prefer the whole airboat for your group, check out this private boat tour at Sawgrass.
---
---
Everglades Airboat tours with transport
Many visitors to the Everglades prefer to book their airboat experience along with transport.
This option is a little costlier but very convenient because you can then focus on enjoying the airboat experience.
We have listed below Everglades airboat tours with pick-ups at Miami, Orlando, Fort Lauderdale, Naples, Fort Myers, and Sanibel.
Airboat tours from Miami
These day trips from Miami to Everglades come in many flavors.
Miami double-decker combo
This 5-hour program has two starting times – 9:30 am and 1:30 pm.
An air-conditioned double-decker bus takes you to Everglades Park, where you enjoy a narrated airboat tour, an alligator show, and various exhibits.
The bus starts from 305 Lincoln Road, Miami Beach, Fl 33139. Get Directions
Tour Price: USD 30/person
If you prefer a shorter 3.5 hours tour from Miami and want to be picked up from your hotel, check out this Adventure tour of Everglades.
Miami Everglades airboat + Biscayne Bay Cruise
This tour is a unique opportunity to see the wilderness of Florida Everglades on an airboat and then take in the Miami skyline onboard a Biscayne Bay cruise.
You get picked up from your hotel in Miami a little after 8 am and get dropped back after six hours.
Tour Price
Adult ticket (12+ years): USD 78
Child ticket (2 to 11 years): USD 68
If you are holidaying in Miami and don't have much time, check out this three-in-one tour which covers, Everglades, Miami city and Biscayne Bay.
Private Airboat and Alligator show
If you are a family or a group of friends staying in Miami and would prefer a private Everglades experience, this tour is your best option.
Both your transport from Miami to Everglades Park and your airboat ride will be a private experience.
After the airboat ride, you will enjoy an Alligator show.
Tour price (2+ years): USD 60
Everglades from Orlando
Everglades tours from Orlando come in two forms.
You can either book only the Everglades airboat ride or make it a full day tour by combining it with a visit to Miami.
Everglades + Miami tour from Orlando
This Everglades tour starts at 7 am from Orlando, on every Sunday and Thursday.
You get picked up from your hotel and taken to Florida Everglades, for a thirty-minute airboat ride and an animal show.
Your transport then leaves for Miami, where you visit Bayside Marketplace Mall, before boarding the 'Island Queen.'
After the cruise where you marvel at the Miami skyline from the water, you head to the South Beach, Miami for evening fun and dinner.
Tour Price
Adult ticket (12+ years): USD 145
Child ticket (3 to 11 years): USD 125
If you plan to go on a Wednesday, opt for this Everglades & South Beach tour instead.
Everglades tour from Orlando
Wild Willy's Airboat tours are a perfect getaway if you are in Orlando and want to hop onto an airboat.
In this 60-minute tour, you glide across Lake Tohopekaliga, the source of the Everglades.
This Everglades tour departs from 4715 Kissimmee Park Rd, St Cloud, Florida 34772, and you need to manage your transport.
It is inside Lake Toho RV Resort at the dead-end of Kissimmee Park Rd. Get Directions
Tour Price
This tour requires at least two visitors, and the cost is USD 49/person.
If you want more time in the Airboat, check out this 90-minute airboat ride.
Everglades from Fort Lauderdale
There are many Everglades airboat tours from Fort Lauderdale, but our favorite is the one that starts at 7.15 am with a hotel pick up.
As part of this tour, you get to see the four main ecosystems of the Everglades.
1. You start with a 50-minute airboat ride through the sawgrass prairie of Everglades
2. Next on this alligator tour, you enjoy a wildlife drive in the Big Cypress National Preserve
3. You then relax with a nature walk in an ancient forest of towering cypress
4. In the afternoon, you enjoy a sit-down lunch including alligator appetizers
5. After lunch, you relax on a 60-minute boat cruise on the shallow waters of Everglades National Park
Tour Price
Adult ticket (13+ years): USD 165
Child ticket (5 to 12 years): USD 145
If you want your Fort Lauderdale to Everglades Airboat tour to be private, check this out.
Everglades tour from Naples, Sanibel, and Fort Myers
This tour starts from Naples at 7.15 am, picks up tourists from Sanibel and Naples (both of which are on the way) and then heads to Everglades.
You will love all the five stages of this Everglades Day Safari experience –
1. You walk through an ancient forest of towering cypresses
2. You take a 60-minute boat cruise in Everglades National Park
3. You eat your lunch (including alligator appetizers!) at a waterside restaurant in the heart of the Everglades
4. Enjoy a wildlife drive in the Big Cypress National Preserve
5. Board the airboat for a 60-minute ride
Tour Price
Adult ticket (13+ years): USD 165
Child ticket (5 to 12 years): USD 145
---
---
Everglades Airboat tour at night
It is possible to board an Everglades airboat at night and go on a ride.
Our favorite night tour is a 60-minute search for the American alligator, in the vibrant ecosystem of Everglades.
Besides the airboat tour, you also get access to the wildlife exhibits.
This Everglades night tour can be booked only on a Wednesday or a Saturday.
It starts from 1006 N. U.S. Highway 27 Weston, Florida 33327. Get Directions
Tour Price
Adult ticket (13+ years): USD 43
Child ticket (4 to 12 years): USD 22
If you are near Orlando, you may want to check out this Moonlight Swamp Safari Airboat Tour.
---
---
Where is Everglades National Park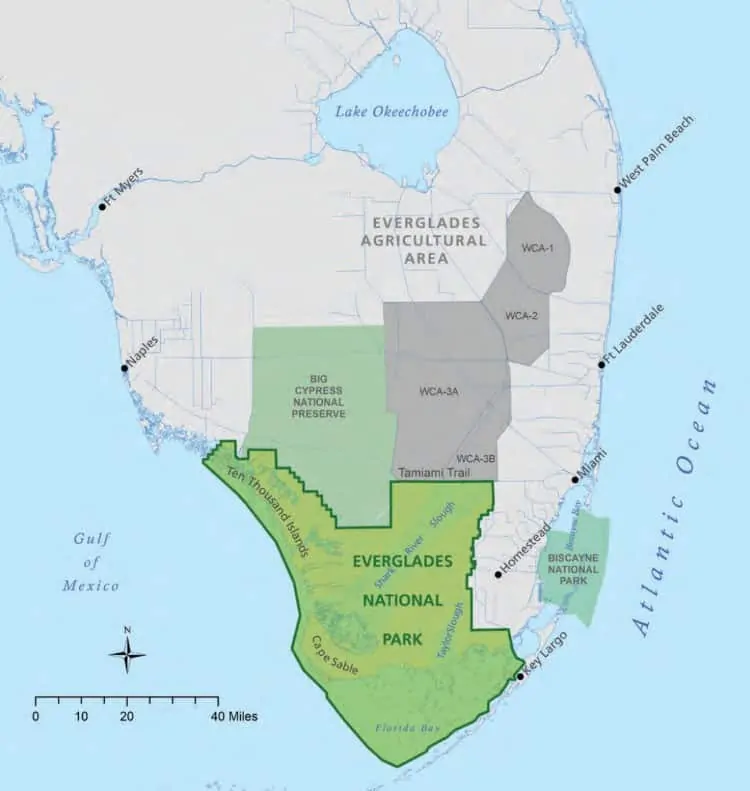 The Everglades is a massive American National park stretching over the southern part of Florida, spanning three counties Monroe, Miami-Dade, and Collier.
The Northern section of Everglades is accessible via Miami or Everglades City, and the Southern part of this massive tourist attraction is reachable from Homestead.
Note: The sections of the park are not interconnected, that is, you can't get in through one entrance and get out from the other.
---
---
Everglades entrances
There are three Everglade entrances – two in the North, and one in the South.
North Entrances
– Miami entrance
– Everglades City entrance
South Entrance
– Homestead entrance
Even though the Everglades Park is open all the time, the three entry gates of Park have different timings.
Even the visitor centers at these entrances have their own timings.
Which Everglades entrance to take
Also known as 'River of Grass,' Everglades Miami is a 1.5 million acres area in South Florida.
If you are planning a visit to the massive Everglades, the first thing to do is choose your point of entry.
The Park offers various activities, and the entrance you will take will depend on what you want out of your visit to the Everglades National Park.
Many visitors decide on the Everglades entrance closest to them.
Tip: If deciding the entrance, and organising your transport to the Everglades is too much of a hassle, you can book an airboat tour with transport.
Homestead Entrance
Address of the main Homestead Entrance is 40001 State Road 9336, Homestead, FL 33034.
The main entrance at Homestead is open 24 hours a day.
The Everglades Visitor Center here is also known as Ernest F Coe Visitor Center, and you must pay an entrance fee to get through.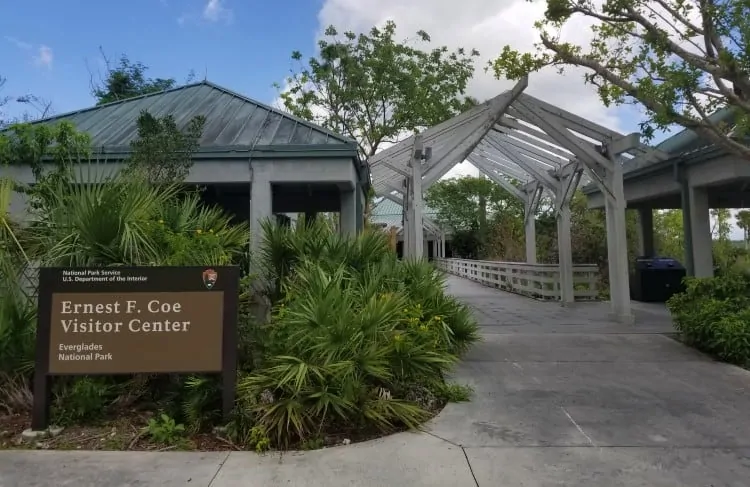 This entrance connects you to Everglades Park's Royal Palm and Flamingo area.
If you plan to try out the Anhinga Trail or the Gumbo Limbo Trail, you must take this entrance because their departure point is at the Royal Park.
Both the Trails are well known for providing you plenty of wildlife viewing.
Miami Entrance
Miami Entrance of the Everglades National Park is at 36000 SW 8th Street Miami, FL 33194.
The Miami Entrance, which is also known as the Shark Valley entrance, takes you to the heartland of the Everglades Park.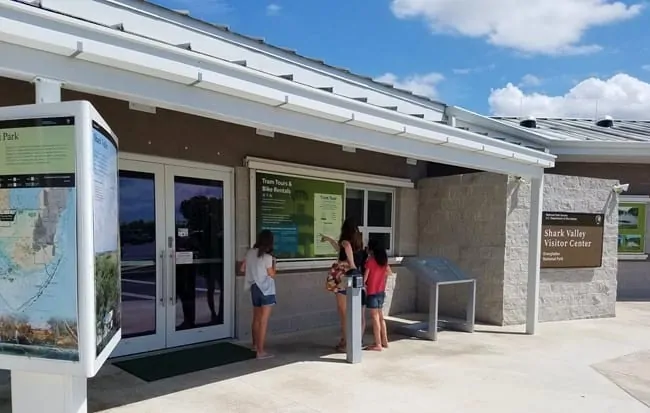 It gets this name because in this area the water from the Park flows Southwest towards the Shark River.
The gate opens daily from 8.30 am to 6 pm and to get in you need to pay the entrance fee.
The Park is open 24 hours, but there is no vehicle access after 6 pm.
The Everglades visitor center here is also known as the Shark Valley Visitor Center.
This Shark valley entrance allows you to walk, bike or take a tram ride along the 15-mile (24 Kms) scenic road and see some of the Park's most wondrous wildlife.
If you want to enjoy a 360-degree view of the Everglades Miami, go to the top of the Shark Valley Observation Tower to take in the mesmerizing wildlife.
Everglades City Entrance
The address of Everglades City Entrance is 815 Oyster Bar Lane, Everglades City, FL 34139.
If you want to explore the Gulf Coast on your trip to the Everglades Miami, you must opt for this entrance.
That's why the information center at Everglades City Entrance is called the Gulf Coast Visitor Center.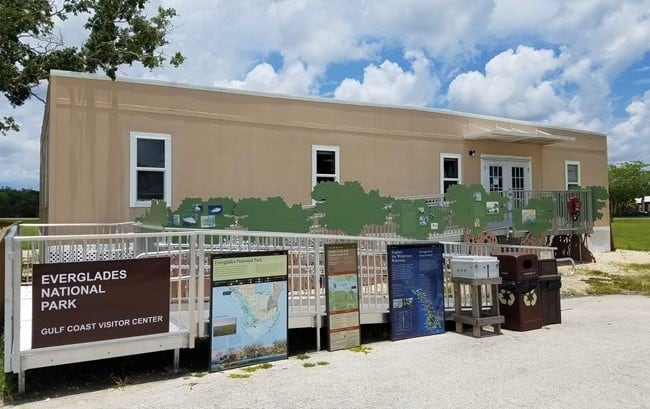 This Visitor Center is open 24 hours a day, and you don't need to pay an entrance fee to get in.
Once at the Gulf Coast Visitor Center, you can take a boat of your choice and explore the vast mangrove estuary of the Ten Thousand Islands.
Flamingo Entrance
The Flaming Entrance is at 1 Flamingo Lodge Highway, Flamingo, FL 33034
It is more like a Visitor Center than an entrance, located 38 Miles (61 Kms) South of the Homestead entrance.
On your way to the Flamingo Entrance, you will find many trails to explore off the Everglades' main Park road.
At the end of it, the Flamingo entrance is the gateway to Florida Bay.
The Florida Bay, along with the adjoining maze of mangrove waterways is home to thousands of birds and a variety of fishes, crabs, and other marine creatures.
There are many other facilities, and services at the Flamingo which include a campground, a marina with boat launching areas, as well as hiking and canoe trails for a glorious adventure.
If you are too confused about which entrance to take, jump to our airboat tours section.
---
---
Free entry into Everglades Miami
The US National Parks announce the Fee Free days every year.
These Fee Free Days apply to the Everglades National Park as well.
In 2019, the Fee Free Days are:
21 Jan 2019: Birthday of Martin Luther King, Jr
20 Apr 2019: First day of National Park Week
25 Aug 2019: National Park Service Birthday
28 Sep 2019: National Public Lands Day
11 Nov 2019: Veterans Day
---
---
Entrance fee to Everglades National Park
All Everglades Park visitors are required to pay an entrance fee.
As of today, you can purchase entrance passes at the Homestead and Shark Valley visitor centers.
Very soon, the Gulf Coast and Flamingo Visitor Centers will start selling entry passes to Everglades.
Passes can also be purchased online. However, you must print them out before reaching the National Park.
Everglades entry tickets are valid for seven consecutive days at all Park entrances and are non-transferable.
Visitors fifteen years and less, get free entry into Everglades.
Everglades entry fee
| | |
| --- | --- |
| Type of Pass | Fee |
| Private Vehicle Pass* | USD 30 |
| Vessel Pass* | USD 30 |
| Motorcycle Pass** | USD 25 |
| Pedestrian / Cyclist / Paddle-craft Pass*** | USD 15 |
*This Pass admits the pass holder and the passengers in the vehicle / vessel
**This Pass admits the pass holder and one other passenger on the motorcycle
***This Pass admits the pass holder
---
---
Everglades Weather
Everglades National Park has two main seasons – the Summer Wet Season and the Winter Dry Season
Wet Season (From May to October)
The Everglades is typically hot and humid for seven months, from May through October.
During these months, the temperature reaches an average high of 90°F (32°C), with humidity over 90%.
The heat index hovers over 100°F (38°C).
There are also heavy rainfalls in this season, but they subside quickly, and it is also common to see afternoon thunderstorms almost daily.
What to Expect
The landscape of the Everglades Park changes significantly due to hot and humid conditions.
All the visitor centers generally remain open from 9 am to 5 pm during the wet season.
Due to rainfall, the level of water in the park rises, which leads to many animals dispersing.
This makes it harder for visitors to sight wildlife.
Due to the presence of insects like mosquitoes and biting flies, outdoor activities can become uncomfortable.
If you do plan to visit the Park during these months, make sure you wear specialized clothing for maximum coverage.
There is a lack of staff in the wet season because of which there are fewer ranger-led programs as compared to the dry season.
Dry Season (From November to April)
The winter season brings low temperatures, pleasant weather conditions, and an abundance of wildlife.
This is also the dry season at Everglades.
The period from November through April is one of the best times to visit the Everglades Park.
The temperatures reach an average high of 77°F (25°C) and an average low of 53°F (12°C).
What to Expect
This season impacts your visit to Everglades Miami in two ways –
More Wildlife
The dry winter season has no rainfall, which leads to water levels dropping, bringing the animals out to the water holes.
As a result, wildlife viewing is abundant.
It is an exceptional time for bird enthusiasts since many species can be seen basking in the relative warmth of the Everglades Miami.
The lower temperatures ensure that troublesome insects such as mosquitoes and biting flies become non-existent in most areas of the Park.
More Visitors
Due to the pleasant weather conditions and more wildlife, the winter season attracts the highest number of visitors in the Everglades Miami.
There might be more crowds in the famous sites and trails of the park, but due to its vastness, you will still find a lot of opportunities for solitude and calm.
To add to all this, during this season there are many ranger-led programs at all entrances.
During this season, the park visitor centers remain open for longer duration – from 8 am to 5 pm.
---
---
What to do at Everglades
There are a wide variety of things that you can do at the Everglades National Park –
1. Airboats at Everglades
The most popular activity to indulge in, at Everglades is the airboat ride.
You can't visit the Everglades and not step into an airboat.
What to expect on an airboat ride
Airboats are open boats which help you explore wide-open grasslands and miles of mangrove forests of Florida Everglades.
Here are a few things you must know before you book your first Everglades airboat ride.
1. It is possible to book Miami Everglades airboat tours on all seven days of the week. Book your airboat tour now!
2. Airboat tours depart every 20 to 30 minutes, from 9 am to about 6 pm. Most Everglades airboat tours last for half an hour to an hour.
3. Every airboat has an Everglades expert, who also captains the boat. They know everything about the 1.5 million-acres of tropical wetlands.
4. There is no such thing as the best place to sit on an Everglades airboat. All seats on board the airboat provide amazing views of Everglades, so you share the same airboat adventure experience as everyone else.
5. There are both open and covered Everglades airboats. However, both types are the same amount of fun. In an open boat, you may experience high winds on your face and eyes.
6. There are both small and big airboats at Everglades. The small boats can seat 6 to 8 while the bigger boats can seat 16 to 20 tourists.
7. Because of the massive fan behind the boat, it gets noisy, but don't worry because the tour organizers provide noise-cancellation headsets.
8. Depending on the timing of the visit, airboat tour through Everglades can magnify the pollen and allergens for some visitors.
What to bring for Everglades airboat tour
1. To keep the sun and the wind away, you must get your sunglasses. Polarized glasses are even better because they can help you spot the alligators and fish underneath the surface.
2. Since the Everglades Airboat tour takes you through the wilderness, it is better to wear comfortable, sturdy, and practical clothes. You may want to leave the hat at home because they fly off in the wind.
3. Do not wear heels, for they are not allowed on an airboat. Wear shoes that cover your toes, and keep them safe.
4. Carry only bags and purses with zips to close them. It is not advisable to get onto the airboat with open bags because if something falls in the water, it is not possible to retrieve it.
5. Since Florida is known for its sun, bring in plenty of sunscreen and water.
2. Everglades Animals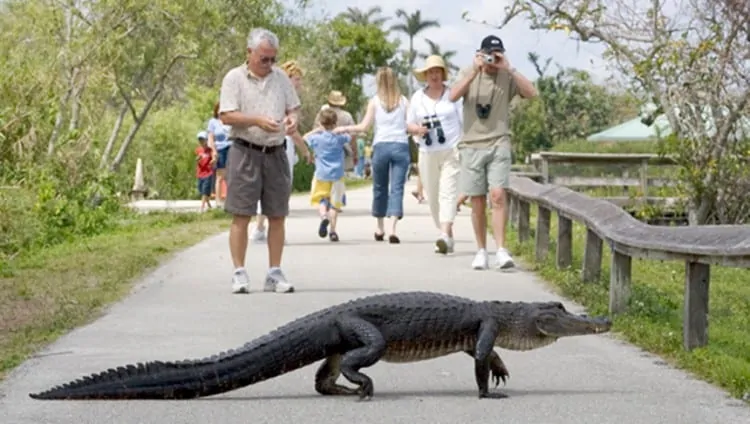 Everglades wildlife is best viewed in the dry winter season between November and April.
The weather conditions are pleasant during the winter to make for better viewing.
During this season, the standing water levels are low drawing all animals at Everglades to the central water locations of the Park.
During this period, some of the best locations to watch wildlife are the Shark Valley, the Anhinga Trail at Royal Palm, and the Eco Pond.
The Eco Pond is 1 Mile (1.5 Km) past the Flamingo Visitor Center.
If you love to canoe, you can paddle into the Snake Bight Trail near Flamingo Center and Chokoloskee Bay at the Gulf Coast.
If you are lucky, you can witness a wide variety of water birds feeding in the shallow waters and mudflats before low tide hits the water.
3. Bicycling at Everglades
Shark Valley is the most popular Everglades destination for bicyclists.
Its 15-Mile (24 Kms) long paved scenic loop offers the best opportunities to view wildlife.
Some of the other popular trails at Everglades are:
1. Long Pine Key Bike Trail
2. Rowdy Bend Bike Trail
3. Snake Bite Trail
4. Bird watching at Everglades
If bird-watching interests you, opt for the Homestead entrance.
When you enter from the Homestead, you get access to three trails and four ponds where you can enjoy watching birds.
The three trails are Anhinga Trail, Mahogany Hammock & Vicinity, and Snake Bight Trail.
The four ponds within Everglades famous for bird sightings are Paurotis Pond, Nine Mile Pond, Mrazek Pond, and Eco Pond.
If you plan to enter through Shark Valley Entrance, you can spot the birds on the Shark Valley Tram Road and its vicinity.
5. Everglades National Park Boat Tours
Everglades Miami sets you up for the most fantastic experience when it comes to boat riding.
Your visit to the park cannot end without an Everglades boat ride as one-third of the Park is covered with water.
A boat ride on the marvelous saltwater and freshwater bodies brings you even closer to the Park's many beautiful creatures.
You can either choose to rent a boat or take one of the Everglades boat tours that depart from the Flamingo Visitor Center and the Gulf Coast. Jump to airboat tours section
You can also bring a private boat to witness Everglades marine life.
However, if you do plan to explore the Grass River in a boat, you must familiarize yourself and follow some strict rules and regulations of the Park.
6. Everglades Camping
The best way to experience Everglades is by spending a night under the stars at one of its campsites.
While camping is available year-round, during the wet season (June through November), the conditions aren't camp-friendly.
Frontcountry Camping
There are two drive-in campgrounds accessible from the Homestead entrance of the park – Long Pine Key Campground and Flamingo Campground.
These camping locations have amenities such as restrooms, cold showers, a dump station, and freshwater fill-ups, tent spaces, RV spots, etc.
Long Pine Key Campground has 108 drive-up sites which are available on a first-come, first-serve basis only.
The Flamingo Campground has 235 sites you can drive to, but because of high demand during winter, you are expected to reserve.
Reservations can be made by calling 1-855-708-2207.
During the summer months of April to November, you won't need to reserve in advance.
Backcountry Camping
If you want to be one with nature and need bare-minimum camping, you must opt for Backcountry Camping.
Most backcountry camping sites are accessible by canoe, kayak, motorboat, or hiking.
These are wilderness campsites, and you need to buy a backcountry permit (which is free) from either the Flamingo or Gulf Coast Visitor Centers.
We recommend you read about the preparation required before you decide to venture on these primitive campsites.
7. Kayaking at Everglades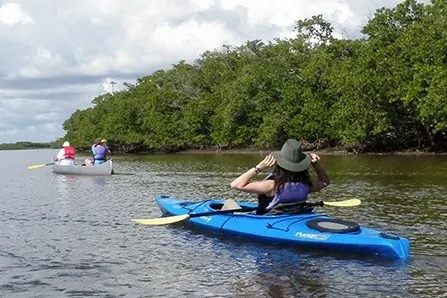 One of the best ways to explore the wildlife and vegetation of the Florida Everglades is by a canoe or Kayak.
Canoe and kayak trips range from a few hours to several days depending on the length and complexity of the trail.
For the best Canoe & Kayak trips, you must go to Flamingo's Canoe trails, which cater to both beginners and advanced users. Book a Kayaking tour of Everglades
Two of the most popular canoe trails are Nine Mile Pound and Hell's Bay.
Both are accessible from Main Park Road south of the Homestead Entrance.
8. Fishing at Everglades
The Everglades National Park offers fantastic fishing, and boating opportunities since one-third of the park is water.
You can opt between saltwater fishing and freshwater fishing.Both require separate fishing licenses.
Make sure to read up on the local fishing information, regulations, and weather conditions before you plan a fishing trip. More Info
You can charter your boats at Flamingo Visitor Center.
9. Everglades hiking
You will find a diverse range of habitats in the adventurous hiking trails of Everglades National Park.
If you decide to go on a hike in any of the hiking trails offered by the Park, make sure you have plenty of water to hydrate yourself.
It is also essential that you are aware of the changing weather patterns.
The visitors can opt to either go for leisurely walks, bicycle treks, or extended hikes.
One of the best hike trails at Florida Everglades is the Anhinga Trail in Pine Island.
Here are the recommended Everglades hiking trails –
Pine Island Trails
1. Anhinga Trail
2. Gumbo Limbo Trail
3. Pinelands Trail
4. Pa-hay-okee Overlook
5. Mahogany Hammock Trail
Shark Valley Trails
1. Otter Cave Hammock Walking Trail
2. Bobcat Boardwalk Walking Trail
Flamingo Trails
1. West Lake Trail
2. Snake Bight Trail
3. Rowdy Bend Trail
4. Christian Point Trail
5. Bear Lake Trail
6. Eco Pond Trail
7. Guy Bradley
8. Trail Bayshore Trail
9. Coastal Prairie Trail
---
---
Kayaks in Everglades
Everglades National Park offers many kayaking and canoeing opportunities through the freshwater marsh, mangrove forests, and the open waters of Florida Bay.
However, our favorite is the one where a Florida Master Naturalist guides you on a three-hour Everglades kayak tour, through a series of narrow lakes and creeks in the Everglades.
The Everglades Mangrove Tunnel Kayak Eco-Tour happens on a stable 'sit-on-top' kayak, which means you don't need any previous kayaking experience.
This Everglades kayak tour starts from Everglades Chamber of Commerce Welcome Center at Hwy 41/Hwy 29, Everglades City, Florida. Get Directions
Tour Price
Adult ticket (12+ years): USD 118
Children (1 to 11 years): USD 86
If you want a combination of boating, kayaking, and nature walking tour, check this out.
---
---
Restaurants at Everglades National Park
It is advisable to bring your food and beverages while visiting/staying at the Everglades National Park.
Snacks and beverages are available at some sites of the Park. However, the range of choices is minimal.
Food and drinks are available at these four locations –
The Ernest F. Coe Visitor Center's bookstore
The Royal Palm Visitor Center's bookstore
The Flamingo Marina Store
The Gulf Coast Visitor Center Store
You will also find a food truck located outside the Flamingo Visitor Center.
Sources

# Nps.gov
# Wikipedia.org
# Whc.unesco.org
# Britannica.com

The travel specialists at TheBetterVacation.com use only high-quality sources while researching & writing their articles. We make every attempt to keep our content current, reliable and trustworthy.
Popular attractions in Maimi
# Miami Seaquarium
# Miami Zoo
# Jungle Island
# Everglades National Park
# Millionaire's Row Cruise
# Graffiti Museum
# Thriller Miami
# Museum of Illusions
# Miami Duck Tour
# Sawgrass Recreation Park
# Flamingo Gardens
# Skyviews Miami
# Superblue Miami
# Jungle Queen
# Lion Country Safari
# Wynwood Walls