Flamingo Gardens, established in 1927, is one of South Florida's oldest animal sanctuaries.
The not-for-profit garden aims to preserve aviary creatures, butterflies, and the flamingo.
Flamingo Gardens is the premier Everglades Learning Center, Wildlife Sanctuary, and Botanical Garden of South Florida.
This article explains everything you must know before buying Flamingo Gardens Florida tickets.
What to expect at Flamingo Gardens Miami
Watch native animals such as alligators and eagles in the Everglades' live wildlife section at Flamingo Gardens Miami.
The 30-minute guided tram trip through tropical forests and 200-year-old live oak trees is the best way to get a gist of the Flamingo Gardens.
You can also visit the Wray Home Museum, one of the oldest residences in Broward County.
Visitors can even feed the flamingos and other birds at Flamingo Gardens, Florida.
Where to buy Flamingo Gardens tickets
You can buy Flamingo gardens Fort Lauderdale tickets at the attraction or online.
However, booking tickets online is the best option because it offers many benefits.
– You get a discount on booking tickets online and save money.
– You don't have to stand in long queues at the ticket counter.
– You select a date and time at your convenience.
– Online tickets also help you avoid last-minute disappointments when tickets get sold out.
How online ticket works
You can reserve your entry to Flamingo Gardens by booking online tickets.
On the booking page, select your preferred date, time slots, and the number of tickets and buy them right away.
Tickets will be immediately emailed to your registered email address following payment, so there is no need to print them.
On the day of your visit, swap your smartphone voucher for a paper ticket at the admission counter.
Cost of Flamingo Gardens in Miami tickets
The Flamingo Gardens tickets cost US $21.95 for all visitors aged 12 years and above.
Children aged up to 11 years get a US $6 discount and pay only US $15.95 for entry.
---
---
Flamingo Gardens entry tickets
On the purchase of this ticket, you can take a narrated tram tour and experience 3 different ecosystems and the largest cycad collection in the United States.
Tickets to Flamingo Gardens Florida allow you to take in a Wildlife Encounter Show, explore the Wray Botanical Collection, and stroll through Everglades Wildlife Sanctuary.
You can also enter the past in the historic Wray Home Museum, built in 1933, and stop in the gallery for different shows and exhibits.
Ticket price
Adult Ticket (12+ years): US $21.95
Child Ticket (up to 11 years): US $15.95
Flamingo Gardens + Jungle Queen Cruise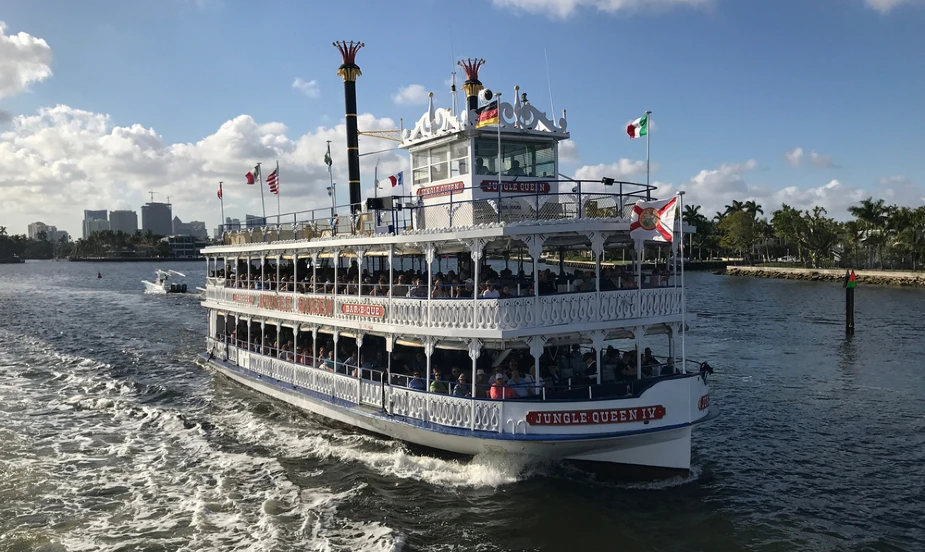 Jungle Queen Cruise and Flamingo Gardens are approximately 18 miles (29 km) away and can be reached in 25 minutes.
So why not buy a combo ticket for Flamingo Gardens and Jungle Queen Cruise, which will show you Millionaire's homes and abode of exotic wildlife species?
Travel down the 'Venice of America' with your guide and see the Millionaire's houses, such as Shaquille O'Neal, Will Smith, and Oprah Winfrey, and their mega-yachts.
You get a 10% discount on this combo ticket adding more savings into your pocket.
Ticket Price: US $49.50
Buy Miami Go City Pass and discover over 25 top Miami-area activities, attractions, and tours. With this all-inclusive pass, you can explore Zoo Miami, Seaquarium, Big Bus Miami Hop-On Hop-Off, and many more!
How to reach Flamingo Gardens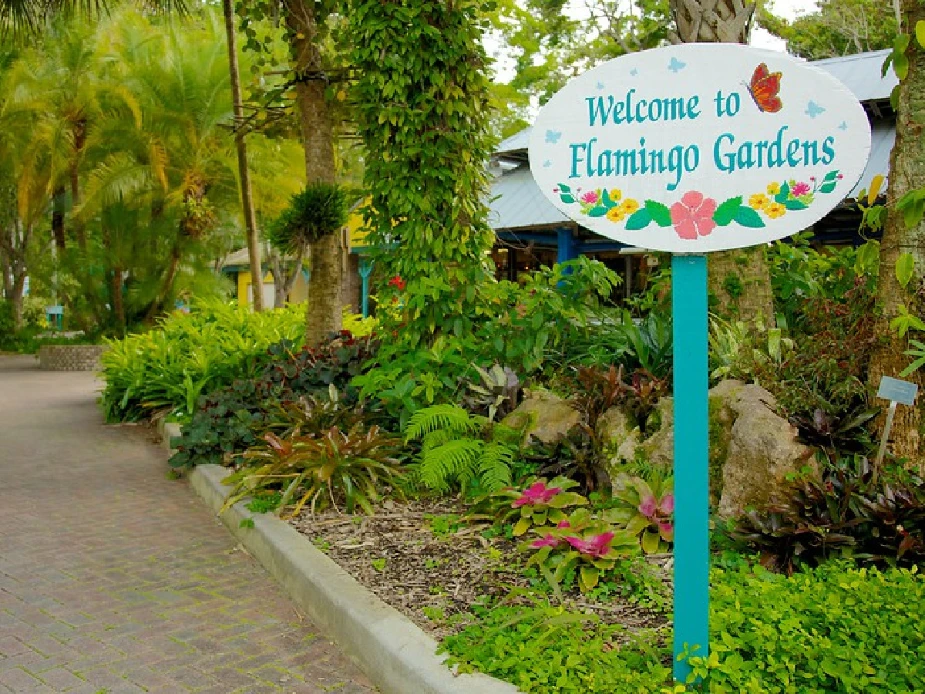 Flamingo Gardens is in Florida, north of Miami and west of Fort Lauderdale.
Address: 3750 S Flamingo Rd, Davie, FL 33330, United States. Get Directions
You can arrive at the Flamingo Gardens via bus or car.
But we highly suggest you drive to the location or rent a cab as the nearest bus stop is approximately 4 km away.
By Bus
The nearest bus stop to the garden is Stirling Rd & Flamingo Rd (Bus no. 16), which is 4 km away by drive.
By Car
If you're visiting Flamingo Gardens by car, turn on your Google Maps and head towards the tourist attraction.
Car Parking
You can access on-site parking, which is free of cost.
If there is a lot of traffic and the on-site parking spaces are full, you can still find several spaces within 10 to 15 minutes.
Flamingo Gardens timings
Miami's Flamingo Gardens opens daily from 9.30 am to 5 pm.
The last entry to the garden is 4 pm.
How long does Flamingo Gardens take
You can stroll the Flamingo Gardens in 1 hour, but you will miss out on many wonderful sights.
If you want to enjoy watching animals and other activities at Flamingo Gardens, it is better to spend half a day.
The tram ride provides important information and takes you to places inaccessible without a tram.
---
---
Best time to visit Flamingo Gardens
Flamingo Gardens is best visited just when it is open at 9.30 am.
Weekdays are the best times to visit because fewer people are there, and you can walk comfortably.
The best time to visit Flamingo Gardens of Miami also depends on the weather since it is an outdoor garden.
Miami is a wonderful place to visit in the winter and spring, and summers may be hot.
If you decide to visit in the summer, go early in the day to avoid the city being overwhelmed by the sun.
Flamingo Gardens is open rain or shine, except in the event of a hurricane.
So, it is better to check with Flamingo Gardens about when they will reopen after a storm.
Map of Flamingo Gardens
Flamingo Gardens features a lot of sections and, due to its size, can be difficult to explore.
Taking the time and carefully planning your trip using the map is best.
If you are with children, it is even more important to carry a map of the Flamingo Gardens, Florida.
A map will also assist you in finding guest amenities like restaurants, restrooms, ATMs, pavilions, etc., besides the floral botanical garden and Wildlife Sanctuary.
Garden of Lights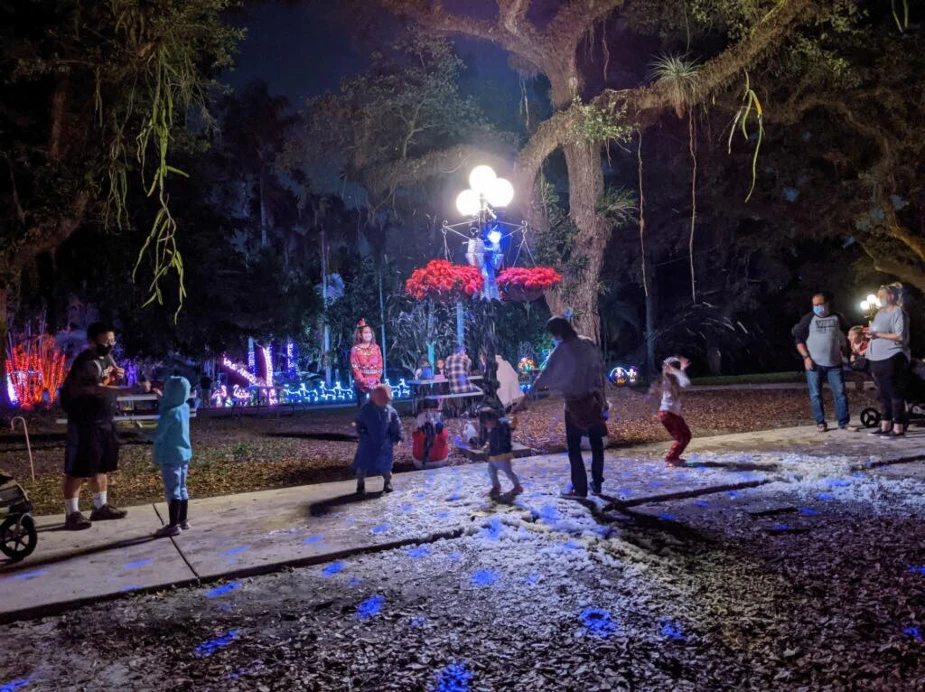 Flamingo Gardens Florida hosts the Garden of Lights event annually in December.
The event includes a self-guided after-hours walk around the botanical gardens decked in thousands of lights and decorations.
Live performances enhance the ambiance.
The event starts at 5 pm daily.
The Garden of Lights event ends at 10 pm from Sunday to Thursday, while it gets over by 11 pm from Friday to Saturday.
Animals in Flamingo Gardens
We list some popular animals preserved at the attraction.
American Crocodilian Habitat: Florida's native alligators
Aviary: American wading birds such as Flamingos, Ibises, Night-herons, Spoonbill and Storks
Bird of Prey Center: Owls, Vultures, Hawks, Falcons, Golden and Bald eagles
Black Bear Habitat: Black Bear
Flamingo Pond: Caribbean flamingos
River Otter Habitat: Otter
Panther and Bobcat Habitat: Big cats
Parrot Aviary: Quaker parrots, Sun conures, Cockatoos, Macaws, and a Toucan
Rookery: Storks, Cranes, Swans, Geese, Waterfowl, Ibis, and other free-flighted birds
Turtle Walk: African spur tortoises, Alligator snapping turtles, Box turtles, Freshwater, and softshell turtle
---
---
Attractions at Flamingo Gardens
Botanical Gardens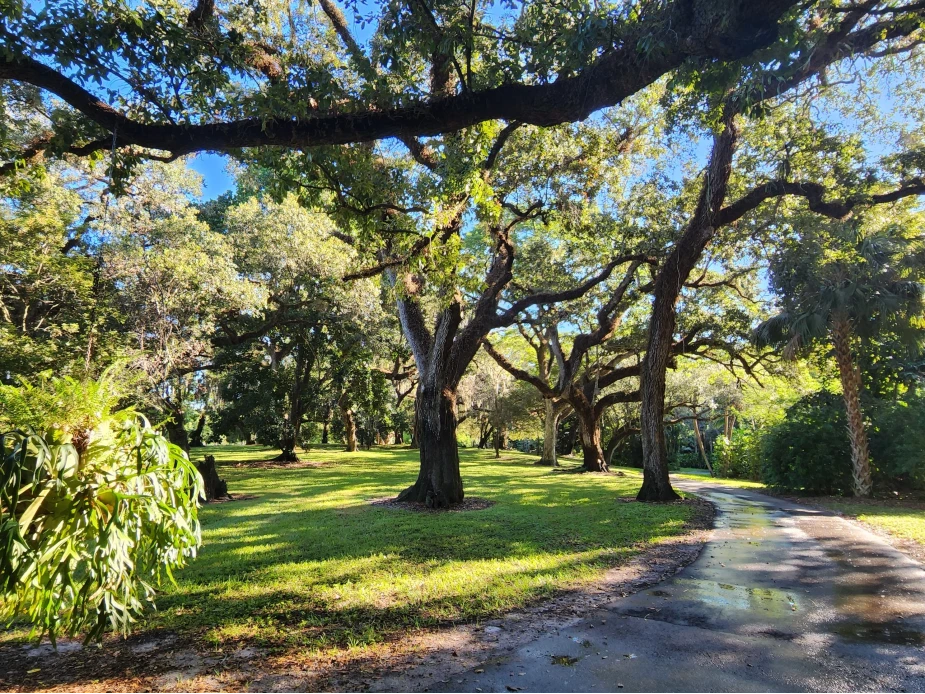 Botanical gardens at Flamingo Gardens span 60 acres of lush tropical beauty.
The garden contains more than 3,000 different species of rare and exotic tropical, subtropical, and native plants.
This garden has so many unique features, from the 18 "Champion" orange trees to the 200-year-old Live Oaks that form its focal point.
You can also find Cycad (the most threatened plant species) at Botanical Garden.
Wray Home Museum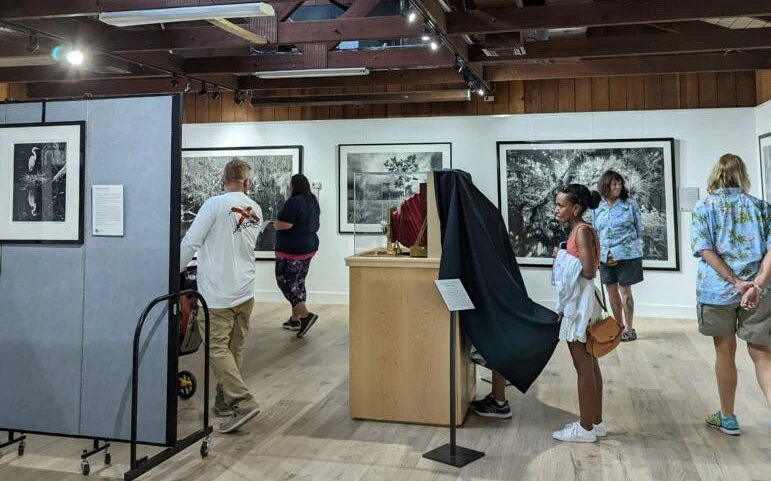 Built in 1933, the renovated Wray Home Museum is a historic site that showcases artifacts from the 1930s.
Family pictures, thank-you notes from President, and some noteworthy objects are on display at Wray Home today.
Wildlife Sanctuary
The Everglades Wildlife Sanctuary opened its doors in 1990 with the Bird of Prey Center, followed by Aviary.
The sanctuary houses injured or non-releasable native species of Florida.
Is Flamingo Gardens worth it?
Flamingo Gardens in Miami is a must-visit attraction.
Florida's Flamingo Gardens is a sanctuary with magnificent plants and cares for vulnerable animals.
Flamingo Gardens Fort Lauderdale provides a wonderful outing because you may spend much time there with the guided tram tours, animals, botanical garden, and museum.
Sources
# Flamingogardens.org
# Visitlauderdale.com
# Wikipedia.org

The travel specialists at TheBetterVacation.com use only high-quality sources while researching & writing their articles. We make every attempt to keep our content current, reliable and trustworthy.
Popular attractions in Maimi
# Miami Seaquarium
# Miami Zoo
# Jungle Island
# Everglades National Park
# Millionaire's Row Cruise
# Graffiti Museum
# Thriller Miami
# Museum of Illusions
# Miami Duck Tour
# Sawgrass Recreation Park
# Flamingo Gardens
# Skyviews Miami
# Superblue Miami
# Jungle Queen
# Lion Country Safari
# Wynwood Walls