Jungle Island is a Zoological Park with many animal interactions, bird shows, a waterpark, Ziplines, Nerf Battle zones, a swimmable beach, etc.
This South Florida attraction, popular with locals and tourists, is a perfect day outing for the whole family, especially if you have kids.
The park is home to various animals, including primates, big cats, birds, reptiles, and more.
Some of the park's most popular attractions include the Lion's Den, the Orangutan School, and the Serpentarium.
Jungle Island Zoological Park participates in various conservation programs and works to educate visitors about the importance of protecting wildlife and their natural habitats.
This article explains everything you need to know before buying Jungle Island Miami tickets.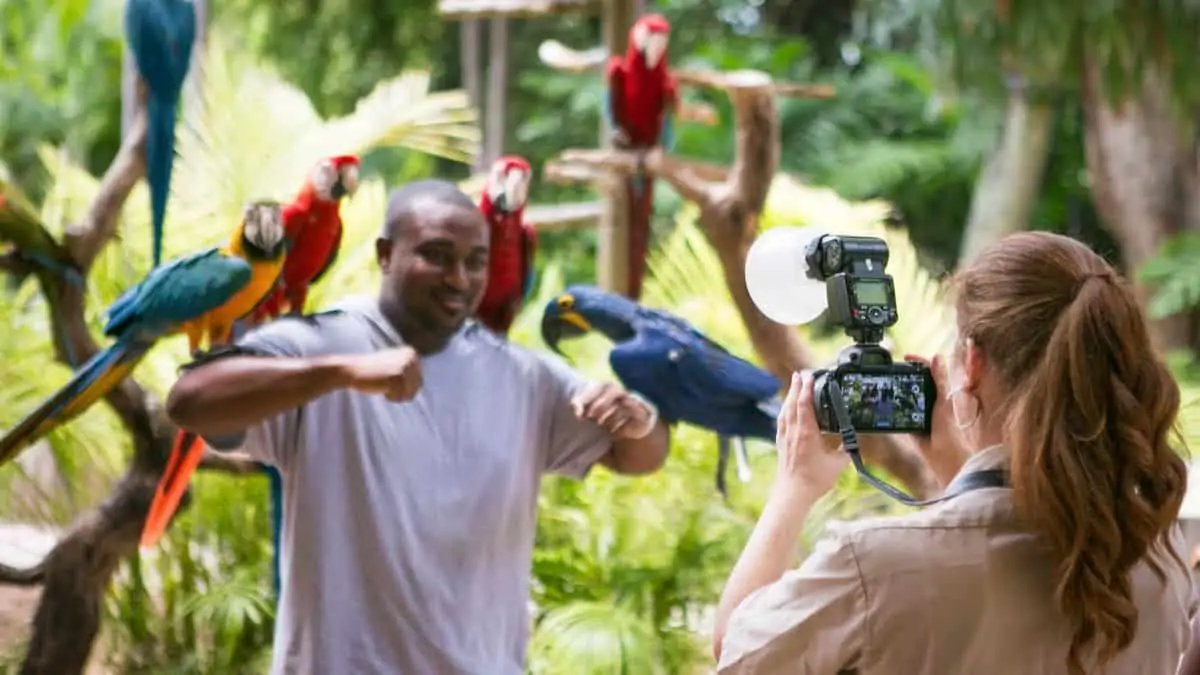 Jungle Island Miami tickets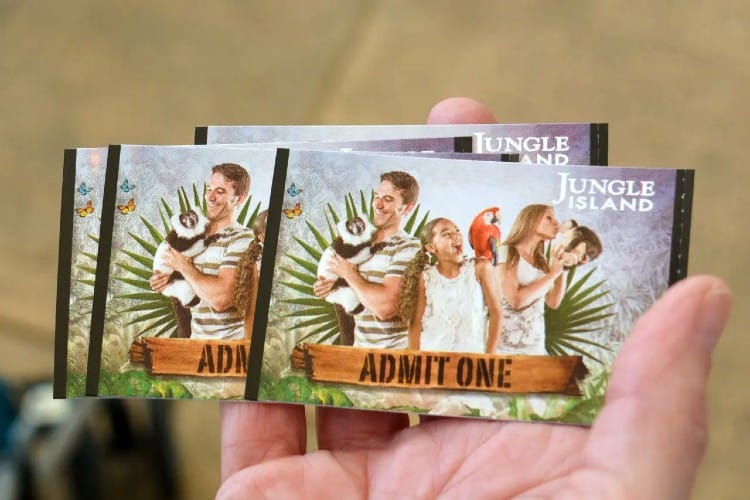 All three tickets we have detailed below are smartphone tickets.
That is, you don't need to take printouts.
On the day of your visit, show the Jungle Island tickets in your email at the gates and enter.
General admission ticket
Jungle Island's General admission ticket gets you access to all animal exhibits and shows (including the most popular bird show).
This ticket also gets you access to the Parrot Cove beach, the Zipline, the Water park, etc.
If you are traveling with kids, this is the best value-for-money ticket you can buy.
Jungle Island prices
Adult ticket (11+ years): $53
Child ticket (3 to 10 years): $40
Superflight ticket
SuperFlight is one of the latest attractions at Jungle Island.
If you buy this ticket, an experienced instructor first takes you through the nuances of skydiving at the Superflight School.
You then gear up with all the flight equipment, after which you get onto Miami's first permanent vertical wind tunnel for the simulated skydiving experience.
The wind tunnel generates winds over 120 miles (193 km) per hour, which keep you afloat in the air.
SuperFlight is in demand, and it is better to book your session online and in advance.
SuperFlight ticket price
| | | |
| --- | --- | --- |
| Distance | Cost | Best for |
| 3 x 12,000 feet skydives | $71 | 1 person |
| 6 x 12,000 feet skydives | $118 | 2 people |
| 9 x 12,000 skydives | $235 | 3 people |
*For the best SuperFlight experience, one person must experience at least 2 to 3 flights. If more than one person plans to go on the SuperFlight, it is best to book accordingly.
Luminosa tickets
Luminosa is a one-of-a-kind Chinese lantern festival installed at Jungle Island Miami from October to January.
The festival starts at 5 pm every day, and the star attractions are handcrafted Chinese lanterns shaped like Jungle Island's animals and Miami landmarks.
During the Luminosa festival, Chinese acrobats and other artists perform every day.
Luminosa ticket price
Adult ticket (10+ years): $31
Child ticket (3 to 9 years): $26
Tip: If you want to explore Jungle Island by day and enjoy Luminosa at night, you must buy both the general admission ticket and the Luminosa ticket.
---
---
How to get to Jungle Island
Jungle Island is in the heart of Miami, between Downtown Miami and South Beach.
Jungle Island's address: 1111 Parrot Jungle Trail, Miami, FL 33132. Get Directions.
By Car
If you drive to Jungle Island, you can approach the tourist attraction either from the North or the East.
From North
Get onto Interstate 95 Express and then take Interstate 295 (MacArthur Causeway) exit 2D.
Cross the bridge and then take the first right after the bridge onto Parrot Jungle Trail.
Continue following the road till you spot Jungle Island's parking on the left-hand side.
From East
Take Interstate 395 West (MacArthur Causeway), and make the first right turn after Palm Island.
It will be right next to the Miami Yacht Club.
Then take the first left turn onto Parrot Jungle Trail and continue till you spot the Jungle Island's car parking.
If in doubt, fire up Google Maps on your mobile.
Public Transportation
If you prefer to take public transport to Jungle Island, visit Miami-Dade's website or call 305-770-3131 for details.
Bus routes C, M, S, and 120 can take you to Jungle Island. The nearest bus stop is Mac Arthur CY & Japanese Gardens.
---
---
Jungle Island's hours
Jungle Island in Miami opens at 10 am and closes at 4 pm throughout the year.
It is open on weekends as well as on public holidays.
The last admission to the park is at 3 pm.
SuperFlight timings
SuperFlight at Jungle Island opens at 11 am. From Monday to Thursday, it closes at 6 pm, Friday and Saturday at 8 pm, and Sunday at 7 pm.
| Day | Timing |
| --- | --- |
| Monday | 11 am to 6 pm |
| Tuesday | 11 am to 6 pm |
| Wednesday | 11 am to 6 pm |
| Thursday | 11 am to 6 pm |
| Friday | 11 am to 8 pm |
| Saturday | 11 am to 8 pm |
| Sunday | 11 am to 7 pm |
Luminosa timings
Luminosa is a time-bound exhibition organized at Jungle Island every year from November to February.
The Chinese Lantern Festival starts at 5 pm and ends at 10 pm daily.
---
---
Things to do in Jungle Island
If you have the time and the interest, Jungle Island can entertain you all day.
We list the top nine activities below –
Animal Encounters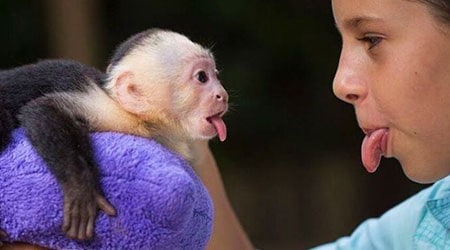 There are three amazing animal encounters at Jungle Island Miami – Sloth encounters, Lemur encounters, and Flamingo encounters. Image: Jungleisland.com
Reservations for these encounters can be made through the website or in person during your visit.
Sloth Encounter
Sloths are slow-moving, nocturnal mammals who love all the attention they can get.
If you book a Sloth Encounter, it lasts for 10 minutes.
Only kids 12 years of age or older can participate.
A paying adult must accompany visitors under 18 years of age.
Ticket price: $65 per person for ages 12 and above.
Lemur Encounter
Jungle Island in Miami is one of the few places to interact with Lemurs in person.
During the 30-minute Lemur encounter, guests get to feed the scarce and endangered mammals.
Kids must be six years or older to meet the Lemurs in person.
A paying adult must accompany children 15 years and younger.
Ticket price: $65 per person for ages 6 and above.
Flamingo Encounter
You will be able to see lots of American flamingos at Jungle Island.
Opt for the Meet the Flamingos activity if you want an even closer interaction.
Besides interacting with the Flamingos, you also learn many fun facts about the birds from the keepers.
Ticket price: $65 per person for ages 6 and above.
NeoSplash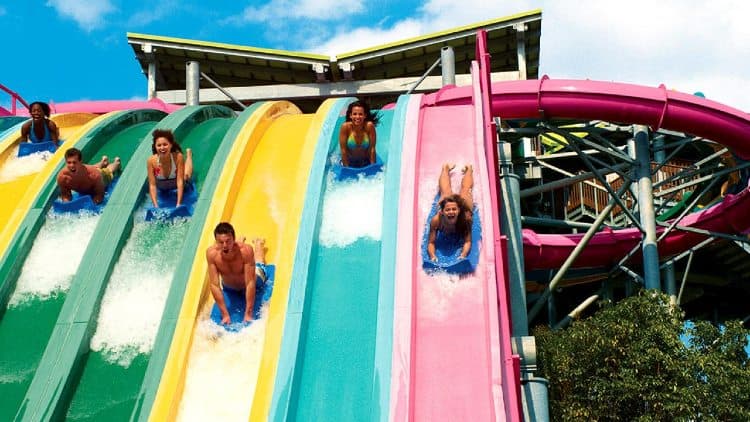 NEOSplash is Jungle Island's water park with fun rides and slides, a lazy river, and a Kid's Play Pool for the young guests.
One of the four mega slides is 65 feet (20 meters) high with a 300 feet long (91 meters) splash.
The Super Bowl, The Whizzard, The Boomerango, and Family Raft Ride are the other must-try attractions at this waterpark.
Access to this waterpark is part of the general admission ticket.
Skywire Zip Lines
SkyWire zipline is Miami's first immersive zip line course and is part of Adventure Bay, Jungle Island's latest attraction.
Jungle Island's Zipline is 250 feet (76 meters) long and is the only outdoor zip line in South Florida.
The Jungle Island ticket includes access to Adventure Bay, including the zip line.
SuperFlight
SuperFlight in Jungle Island is Miami's first permanent vertical wind tunnel.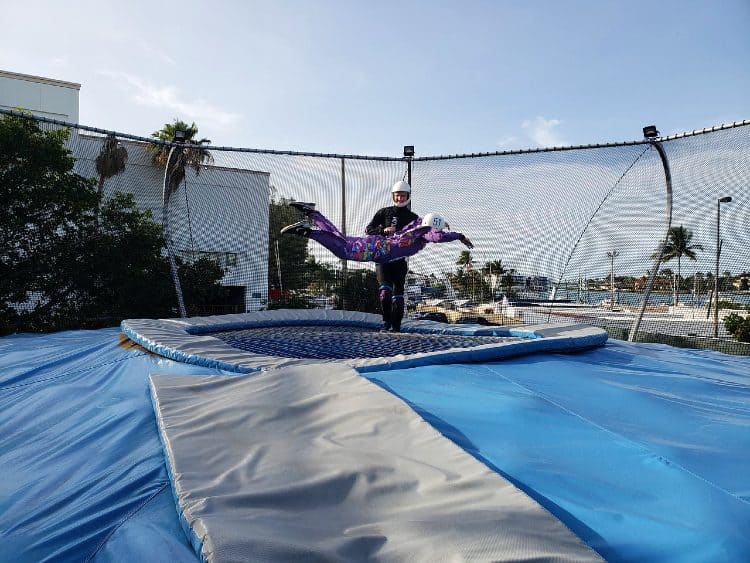 During Jungle Island's simulated skydiving experience, the wind tunnel generates winds over 120 miles (193 km) per hour, which in turn helps you float in the air up to 10 feet (3 meters) high.
During this 45-minute Jungle Island activity, an experienced instructor is always at hand to guide you.
You can opt from three packages, translating into the time you spend skydiving.
Coca-Cola Parrot Bowl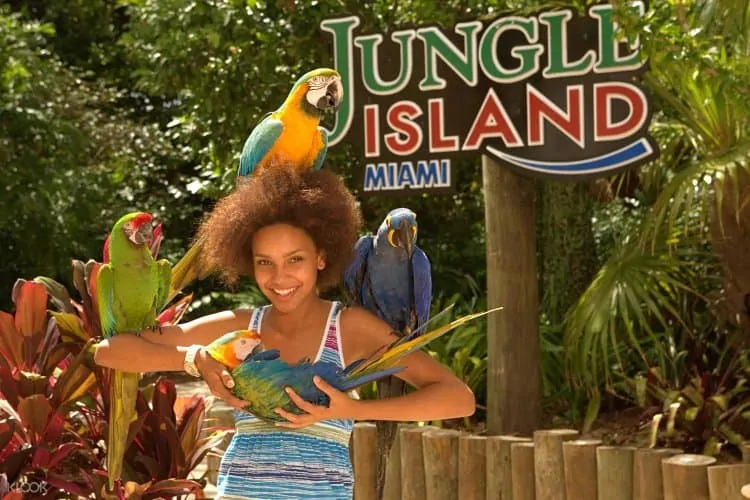 Coca-Cola Parrot Bowl is a massive theater with the capacity to seat around 1,200 visitors.
Ensure you attend the birds' show (get the timings from the information desk), which is highly recommended for kids and adults alike.
During this show, you meet talking birds like the free-flying condor and chatty Mama Cass, Earth's only domesticated Cassowary.
The basic Jungle Island ticket includes access to the Coca-Cola Parrot Bowl.
Parrot Cove
The name doesn't suggest it, but Parrot Cove is Miami's only private, swimmable beach.
It offers incredible views of Biscayne Bay and Downtown Miami and is a fantastic family-friendly stop on a sunny Florida day.
Escape Rooms
There are two Escape rooms on Jungle Island, and you can try one or both during your visit.
Kids below 18 years must be accompanied by an adult while trying out the Escape Rooms.
Especially since one of the rooms – The Asylum – has a scarier theme.
If you can't figure out the clue and escape in 30 minutes, you must exit the Escape Room through the door you entered.
Cabin Escape
In this game, you pit your wits against mastermind criminal The Joker.
As a detective tasked with capturing Joker, you chase and find him in a jungle cabin.
However, he turns out to be more competent – he locks you in his cabin with a time bomb scheduled to go after 30 minutes.
The trick is to leave the room within 30 minutes and stay alive.
Ticket price: $16.50/person
The Asylum
This Escape room game revolves around an insane asylum, and the trick is to get out within 30 minutes or become insane.
To escape, you must crack riddles and figure out your challenges.
The Asylum has a scarier theme and may not be appropriate for younger kids.
Ticket price: $16.50/person
Our recommendation: There is no need to book the Escape Rooms in advance. You can decide on the day of your visit.
Nerf Battle Zone
Nerf Battle Zone is an enclosed foam-dart battleground.
Numerous exciting obstacles crowd the Battle Zone, providing cover for the participants.
The regular Jungle Island Park admission includes a 30-minute game of Nerf Battle, and new games cost $10 each.
If you want, you can bring your own Nerf guns too.
The Nerf battle happens within a glass enclosure, so observers remain safe.
Luminosa
Luminosa is a Chinese lantern festival, which will be available at Jungle Island for three months – from October to January.
The festival celebrates light and comprises handcrafted Chinese lanterns shaped to the Park's animals and Miami landmarks.
During these three months, when the Jungle island closes at 5 pm, these Chinese lanterns will light up the entertainment hub.
The other two exciting Jungle Island things to do are the Flow Rider wave machine and the Flying Squirrel, an indoor trampoline park.
---
---
Jungle Island animals
Jungle Island Miami used to have many more animals than they have now.
Not long ago, many guests even called it Jungle Island zoo.
After Hurricane Irma (2017) damaged large sections of Jungle Island, its management decided to relocate some animals for their safety.
Jungle Island's Liger, four white tigers, a white lion, and two leopards were given a new 87-acre enclosure in South Carolina.
However, your Jungle Island animal experience in no way comes down.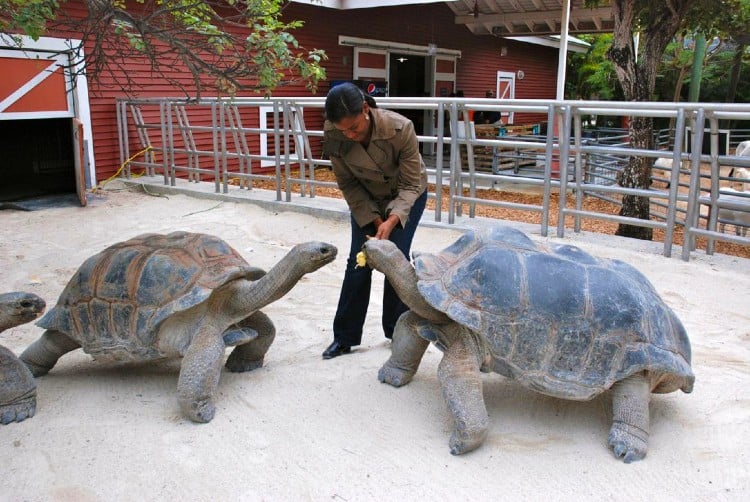 You still get to interact with many animals and birds at Jungle Island Miami, and if you can afford the USD 300/person price tag, even book the VIP tour.
Here are some of the stars of the Jungle Island's animals section:
Birds: American Flamingo, African Penguin, Andean Condor, Black Palm Cockatoo, Ground Hornbill, Blue & Gold Macaw, Eclectus Parrot, Great-horned Owl, etc.
Mammals: Red Kangaroo, Striped Skunk, Warthog, etc.
Primates: Gibbons, Lemurs, Marmosets, Orangutans, Squirrel Monkeys, White-faced Capuchins, etc.
Reptiles: American Alligator, Burmese Python, Leucistic Alligator, etc.
---
---
Jungle Island map
Jungle Island Miami is 9 hectares (22 acres) in area, with more than 25 enclosures and activities spread all around.
As someone rightly put it, Jungle Island is big enough to impress visitors but not big for kids to get exhausted.
However, with so many things to do at Jungle Island, knowing where you are going makes sense.
Bookmark this page or download this Jungle Island map for use later, especially if you visit with kids.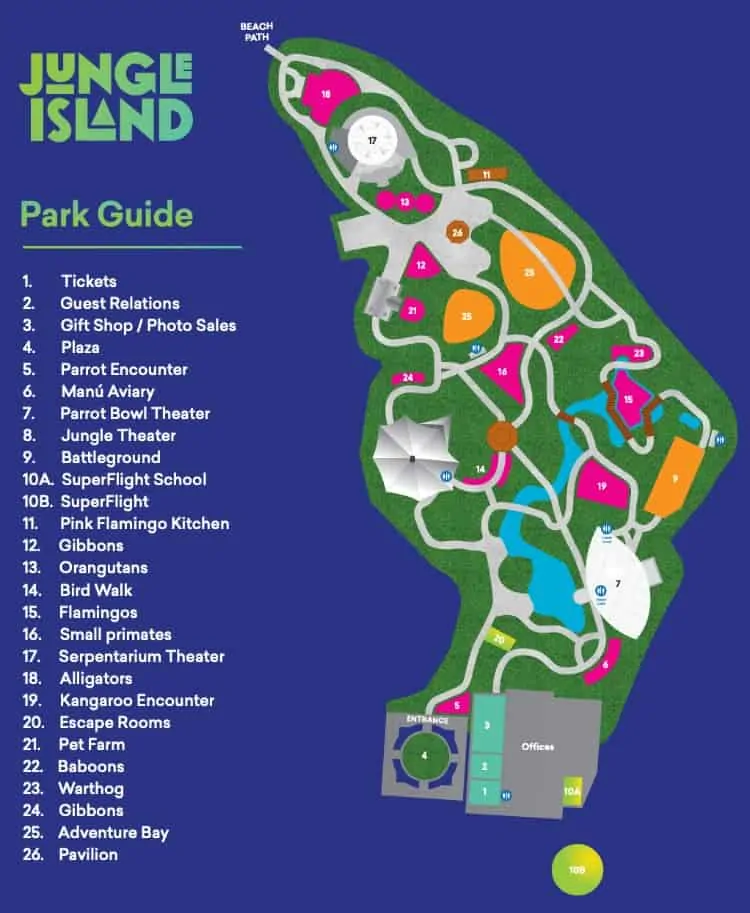 ---
---
Jungle Island reviews
Jungle Island is a highly-rated tourist attraction in Miami.
Check out two Jungle Island reviews we have picked from Tripadvisor, which give you an idea of what to expect.
Great family time
My friend and I went with her three boys, and we stay the entire day! The Lemur experience was the best part. But the boys loved all the Bouncy House's and the zip line and the animals all walking around. The second best part was the bird show. You have to do that if you go! – Kzhblh, Florida
Great place for a family of locals or tourists
Amazing Park made even better by the recent renovations. Easy to reach location and much more manageable and fun than the Miami Zoo. – Jason H
Sources
# Jungleisland.com
# Miamiandbeaches.com
# Tripadvisor.com
# Wikipedia.org

The travel specialists at TheBetterVacation.com use only high-quality sources while researching & writing their articles. We make every attempt to keep our content current, reliable and trustworthy.
Popular attractions in Maimi
# Miami Seaquarium
# Miami Zoo
# Jungle Island
# Everglades National Park
# Millionaire's Row Cruise
# Graffiti Museum
# Thriller Miami
# Museum of Illusions
# Miami Duck Tour
# Sawgrass Recreation Park
# Flamingo Gardens
# Skyviews Miami
# Superblue Miami
# Jungle Queen
# Lion Country Safari
# Wynwood Walls