The Jungle Queen Riverboats have been sailing the waters of Fort Lauderdale since 1935, giving it nearly 80 years of experience!
The Jungle Queen ft Lauderdale is the best way to explore Miami.
This cruise takes you around the city's most notable landmarks while providing all entertainment options in one location.
This article shares everything you should know before booking Jungle Queen Riverboat tickets.
What to expect on Jungle Queen Cruise
You can travel down the 'Venice of America' and catch sights of the lavish residences of Shaquille O'Neal, Oprah Winfrey, and others with the Jungle Queen 90-minute sightseeing cruise.
Get interesting insights into the important landmarks you pass through from the guide.
Refreshing drinks and snacks are available onboard for purchase.
You can enjoy bottled water, soda, energy drinks, beer, wine, or perhaps a mixed cocktail from the boat's comfort while enjoying some breathtaking scenery.
---
---
Where to buy Jungle Queen tickets
You can buy Jungle Queen Fort Lauderdale tickets at the attraction or online.
However, we suggest you book your tickets online as it offers a few benefits.
– You get a discount on booking tickets online, which means you can save money.
– You don't have to travel to the attraction to buy tickets and sweat yourself standing in long queues.
– You can book your tickets in advance and plan your tour accordingly.
– Sometimes, the tickets get sold out quickly. However, if you purchase tickets online, you can avoid last-minute disappointments.
– You can pick a time slot for the tour that works best for you.
How online ticket works
On the Jungle Queen booking page, select your preferred date, time slot, and the number of tickets and buy them right away.
When you buy tickets online, you will receive an email with a confirmation number and barcode.
You may proceed to the boat to check in by showing the barcode on your mobile device.
If your mobile device cannot display the barcode, print the email confirmation with the barcode and head towards the boat upon arrival.
If you cannot print your email confirmation, save it or write it down and provide it to the Box Office Concierge when picking up your boarding passes at the ticket counter.
---
---
Cost of Jungle Queen tickets
Tickets for Jungle Queen cost US $33 for all visitors aged 13 to 64 years.
Children aged 2 to 12 years get a US $10 discount and pay only US $23.
Tickets for seniors over 65 years are priced at US $31.
Infants up to 2 years can cruise for free!
Jungle Queen tickets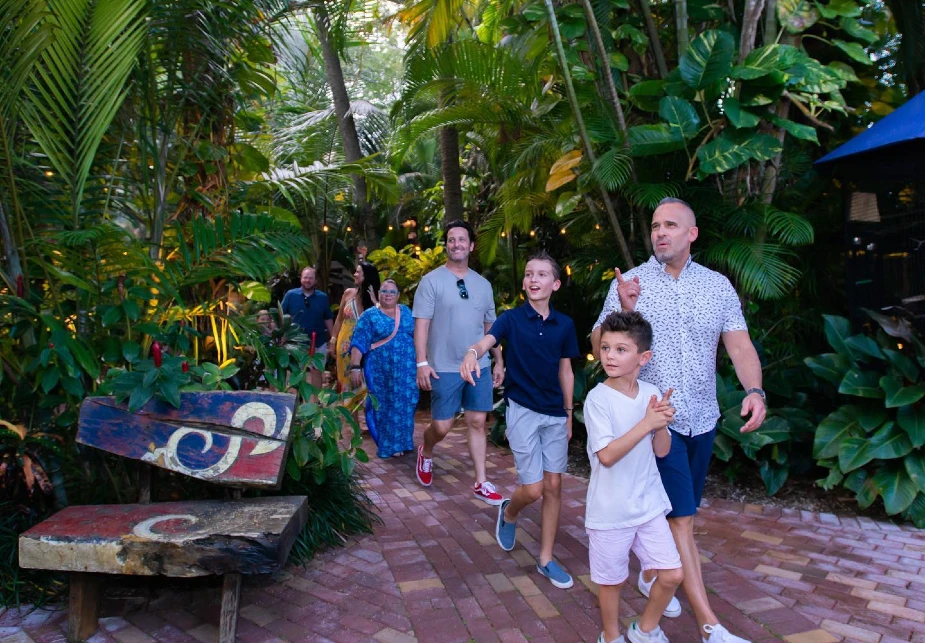 Upon purchasing this ticket, guests can go on a 90-minute Jungle Queen sightseeing cruise and enjoy the city's riverfront views.
The cruise offers narrated tours along the shimmering waters of Fort Lauderdale's historic and shimmering New River.
With this ticket, you can watch Millionaire's Row and the houses priced at US $30 million or more.
On the cruise, an adult must accompany visitors below 16 years.
Ticket Price
Adult Ticket (13 to 64 years): US $33
Child Ticket (2 to 17 years): US $23
Infant Ticket (up to 2 years): Free
Senior Ticket (65+ years): US $31
Flamingo Gardens + Jungle Queen Cruise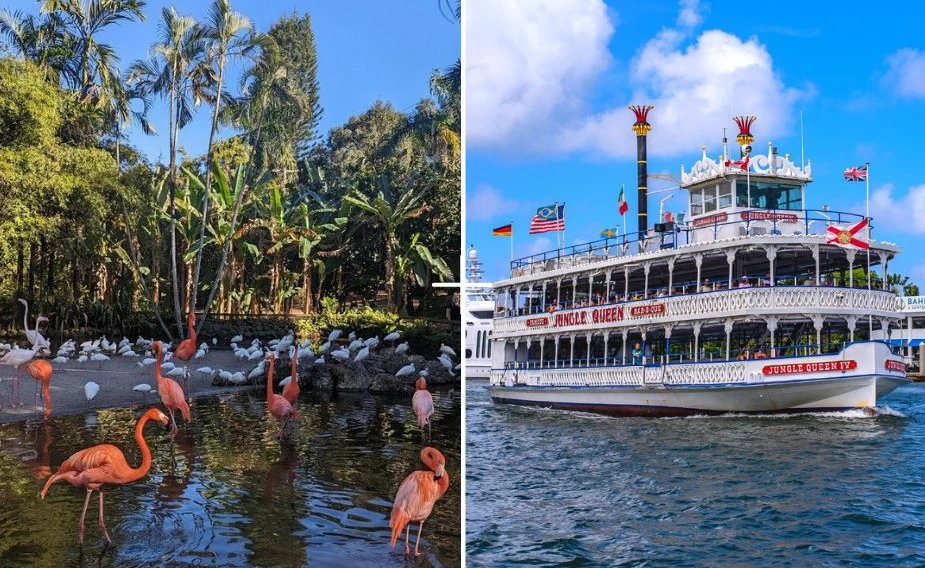 After Jungle Queen Cruise, why not take a closer look at wildlife and nature at Flamingo Gardens?
The Flamingo Gardens is approximately 20 miles (32 km) away and can be reached in 30 minutes by drive.
So book a combo ticket to Flamingo Gardens and Jungle Queen Cruise and enhance your experience!
Get up to 10% discount on the purchase of combo tickets online.
At Flamingo Gardens, you can witness Florida's tropical paradise.
Flamingo Gardens includes botanical gardens, a wildlife sanctuary, an aviary, and a museum, but it's best known as a family-friendly attraction in Miami.
Ticket Price: US $50
Buy Miami Go City Pass and discover over 25 top Miami-area activities, attractions, and tours. With this all-inclusive pass, you can explore Zoo Miami, Seaquarium, Big Bus Miami Hop-On Hop-Off, and many more!
---
---
How to reach Jungle Queen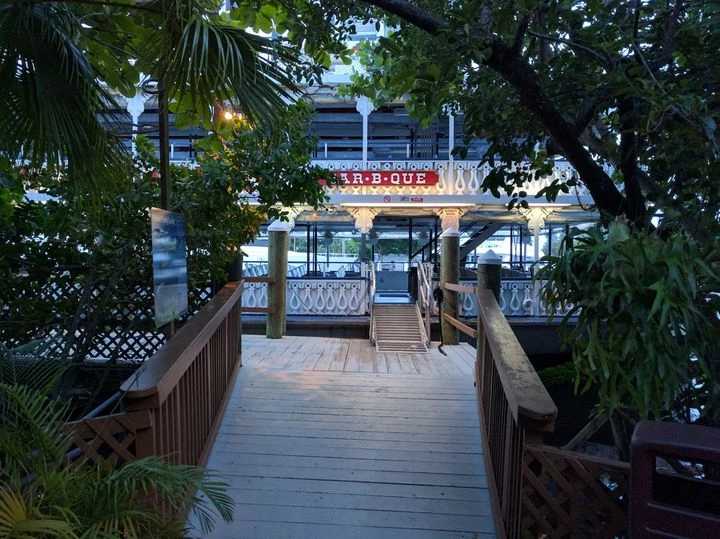 Jungle Queen Riverboat is located in Bahia Mar Fort Lauderdale Beach.
Address: 801 Seabreeze Blvd, Fort Lauderdale, FL 33316, United States. Get Directions
The most convenient way to reach Jungle Queen Riverboat is via bus or car.
By Bus
Bus 40 stops at the A1A & Bahia Mar (300 meters from Jungle Queen Cruise), A1A & Harbor Dr, A1A & #801 (400 meters), and A1A & #545 – (Fort Lauderdale) (600 meters) bus stops.
You can get down at any bus stop mentioned above.
By Car
If you're traveling by car, turn on Google Maps and get started!
Car Parking
On-site parking is available next to the Box Office at the Bahia Mar Hotel or Fort Lauderdale Beach Park for a fee/metered parking.
Limited handicap decal parking is available at the dock.
Where does Jungle Queen Cruise depart from
Jungle Queen cruise departs from Bahia Mar Yachting Center.
Boarding commences approximately 45 minutes before departure.
Where do the Jungle Queen boats return
Jungle Queen Riverboat Cruises in Fort Lauderdale return to the original departure point, Bahia Mar Yachting Center.
Jungle Queen timings
Jungle Queen Riverboats operate all days of the week, and you can select either a morning or afternoon cruise.
The morning cruise departs at 12 pm while the afternoon cruise at 2.30 pm.
How long does Jungle Queen take
The Jungle Queen cruise lasts approximately 90 minutes.
The tour length may vary from time to time due to weather or traffic on the waterways.
Best time to go for Jungle Queen Cruise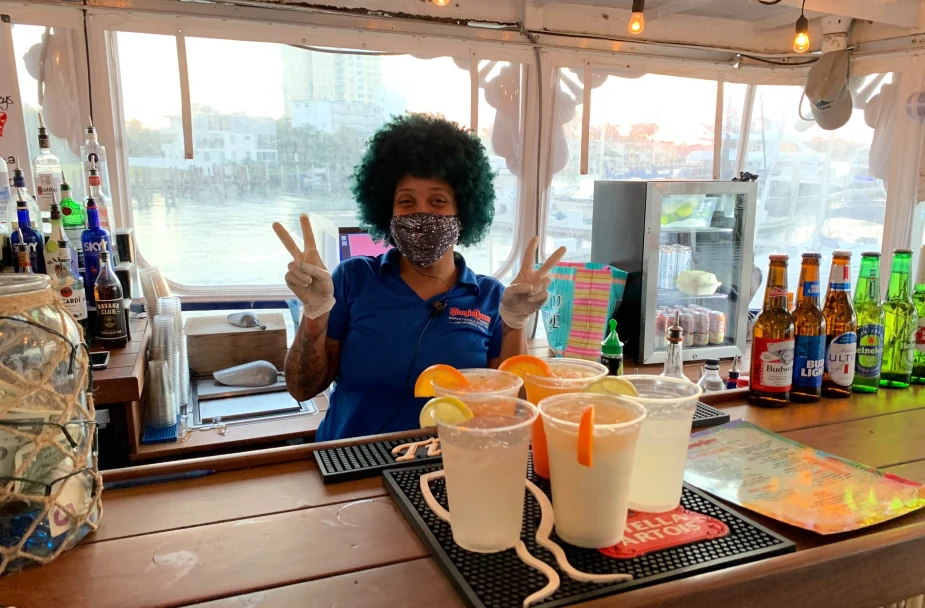 If you're planning to go on the Jungle Queen Cruise, reach at least 45 minutes before the morning and afternoon cruise departures.
Arriving early lets you settle down quickly on the boat, giving you enough time to prepare for the cruise ahead.
On weekends the boat is packed with passengers, so we suggest cruising on weekdays to avoid the rush!
The weather also plays a key role in determining the best time to go on Jungle Queen Cruise.
Usually, the spring (mid-February through May) season is the apt time to go on a cruise due to the pleasant weather and the least possibility of hurricanes.
What should I wear to the Jungle Queen Riverboat?
On Jungle Queen Cruise, wear comfortable shoes and clothes like t-shirts, tops, cargo, pants, and shorts.
Sunglasses and sunhats are a must.
Remember to wear sunscreen to protect yourself from sunburns and tans.
---
---
Route of Jungle Queen Cruise
The Jungle Queen Cruise starts from Bahia Mar Yachting Center, and as you sail ahead, you'll be exposed to sights of renowned sites.
Catch glimpses of Colee Hammock Park, RiverWalk Fort Lauderdale, Abreu Park, NSU Art Museum Fort Lauderdale, Broward County Convention Center, and many more!
Keep an eye out for the Millionaires Row; you never know, you may say spot P.Diddy sipping a cup of coffee in his garden!
FAQs about Jungle Queen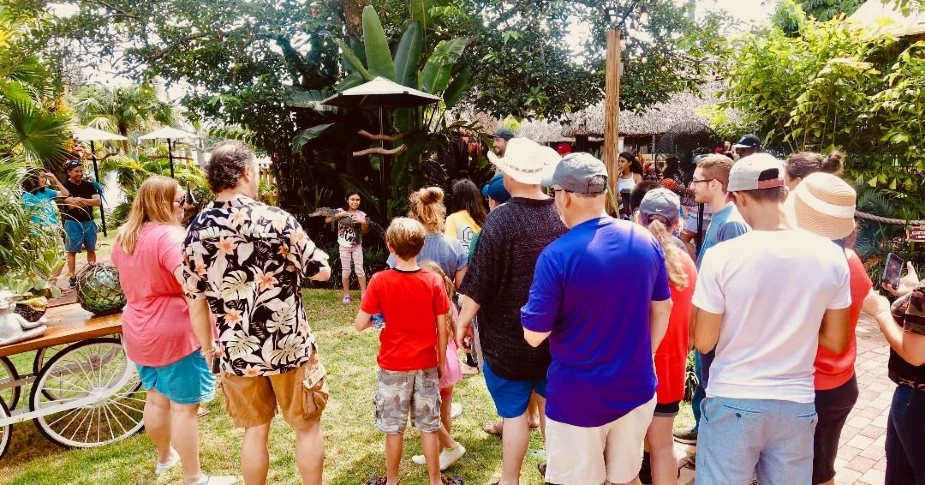 Here are some frequently asked questions by visitors to Jungle Queen.
When do I have to reach Jungle Queen?
Boarding starts about 45 minutes before the cruise departs. Please allow enough time for traffic, parking, and boarding because the cruise leaves on time. 
Can I reschedule my reservation for a different time or day? 
Guests can reschedule their Jungle Queen cruise at least 72 hours before it is scheduled, subject to availability.
Are life jackets available on the cruise?
Yes. Enough adult and kid life jackets are available on the Jungle Queen cruise to accommodate all passengers.  
How many passengers can the Jungle Queen Riverboat carry?
The upper and lower decks of the Riverboat can accommodate up to 385 passengers.
Can we go on the cruise during the rainy season?
Yes, the cruise is well-protected from the rainy season. 
Is there any seat facing the sun?
The Jungle Queen riverboats are enclosed on top but have open sides that let some sunlight in.
Is there a restroom on the Jungle Queen cruise?
Yes, there are restrooms on the lower decks of the cruise.
Can we go on the top decks on the Jungle Queen cruise?
You are welcome to sit on the upper deck. However, only crew members can access the top pilothouse deck.
Can we store our luggage on the Jungle Queen cruise?
Please contact the Box Office before your cruise to arrange luggage storage. According to Coast Guard regulations, all bags are subject to inspection by the Captain. The cruise authority will not be held liable for any loss or damage.
Does the Jungle Queen cruise offer electrical connections to plug in oxygen tanks or charge cell phones?
Yes, limited power outlets are accessible for customer use on cruises. Please check with a crew member regarding availability.
Can we use high chairs and/or changing tables? 
Jungle Queen restrooms include Koala baby changing stations. For dinner, cruises have a limited number of high chairs available.
What is the dress code of Jungle Queen Cruises?
Most guests wear casual attire. 
Are the Jungle Queen riverboats handicap-accessible?
Yes, the boats are handicap-accessible. If there is a need for special assistance, please notify the Box Office when making a reservation.
Is there space on the boat for overweight passengers?
An armless chair is available upon request on the Jungle Queen cruise.
Does the Jungle Queen Cruise provide headphones to listen to the commentary in a different language?
No. The cruise does not provide headphones.
Does Jungle Queen serve alcoholic beverages?
Yes. The cruise has full-service bars. There's beer, wine, rum punch, pia coladas, and other specialty cocktails. Please remember that all persons consuming alcohol in Florida must be over 21 years. 
Does Jungle Queen cruise offer parking?
Yes, there is parking near the Box Office at the Bahia Mar Hotel. Metered parking is available for a cost. There is limited handicapped parking at the dock.