You will like celebrating Valentine's Day 2024 in Miami if you prefer a calm, beautiful, and friendly destination. 
You will find some of the most romantic places in the United States in this sunny Florida getaway.
Young and old couples, visitors, and locals enjoy Valentine's Day in Miami.
This city is so captivating that it appears and feels like you've wandered into a fantasy world.
If you adore your sweetheart (and we don't doubt it!), you'll want to spoil them with all the romantic surprises Miami offers.
Plan ahead of time, for many lovers will be flocking to this city to celebrate the most romantic day of the year – 14 February 2024.
Check out our pick for Miami's most romantic Valentine's Day itinerary.
Things to do on Valentine's Day in Miami
Here are our recommended 13 romantic things to do during your Valentine's week in Miami.
You only need to bring your partner along.
Visit the Everglades National Park
This is an ideal Valentine's Day outing if your partner loves wildlife.
This is South Florida's premier Everglades and alligator adventure – you take an educational and exciting 40-minute narrated airboat tour of the Everglades National Park.
And then see a 30-minute-long wildlife show with the opportunity to hold a baby gator.
---
---
Take a sunset cruise through Biscayne Bay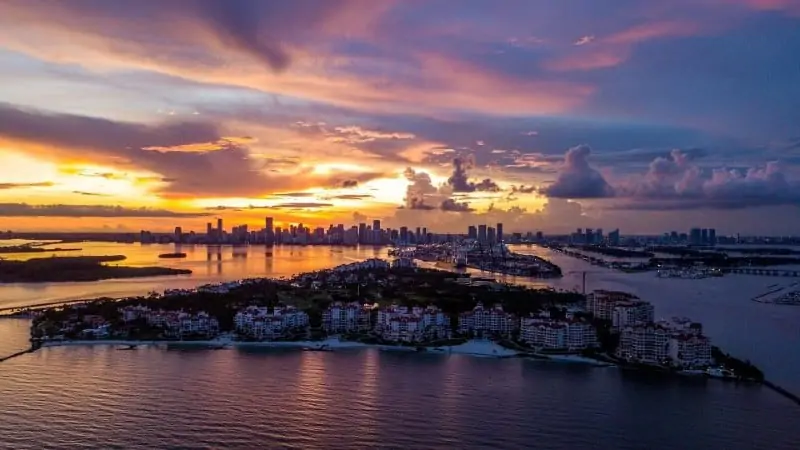 On a 90-minute sail around Biscayne Bay, you can marvel at the Miami skyline even as the sun goes down.
As you sail around Biscayne Bay to the Venetian Islands, South Beach, and other destinations, you will see the iconic Star Island, famed for Al Capone's Mansion.
You can have snacks and beverages from the onboard bar while taking in the spectacular sunset views of the Miami skyline.
Relax aboard a luxury yacht with open windows and a shaded deck while listening to your guide's commentary.
If you and your partner love to laze around, this is an ideal way to spend Valentine's Day together.
If you prefer to be on the water after dark, check out this 90-minute cruise during which you see unobstructed views of Miami's glistening skyline by night. Imagine looking at all those lights, even as you hold your partner's hands, and feel content!
---
---
Get rich in love during Millionaire's Row Cruise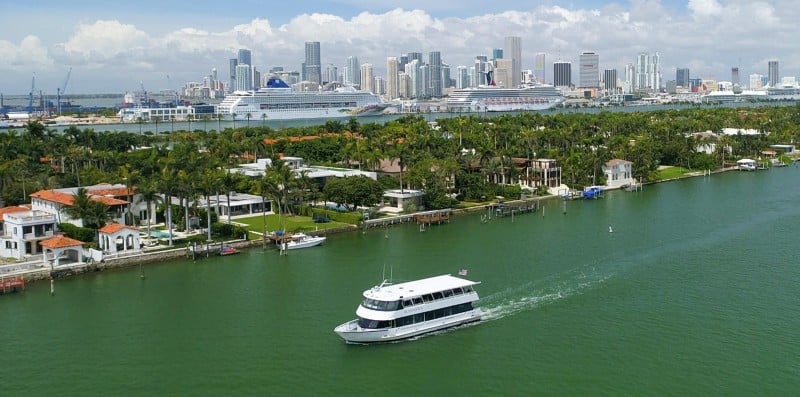 Since Miami is a waterfront city, many of its finest sights face the bay rather than the street – and that's why it is essential to get into the water on 14 February 2024.
Enjoy a 90-minute sightseeing cruise across Biscayne Bay, with the best views of the Downtown Miami skyline, the Port of Miami, Fisher Island, Miami Beach, and Millionaire's Row – the rich and famous's playground.
You'll see the houses of Shaquille O'Neal, Gloria Estefan, P.Diddy, Thalia, and others on this cruise.
With an upper deck and an air-conditioned lower salon with picture windows, these sophisticated yachts make you feel wealthy.
Nothing compares to spending time with someone you love and feeling like a millionaire.
---
---
Hold hands during the Speedboat Tour
We recommend the Speedboat tour if you want to add a dose of adrenalin to your Valentine's Day 2024 celebration. 
Embark on a 45-minute off-shore trip on a power catamaran for the ultimate sightseeing experience in true 'Miami Vice' style.
From the plush seating of a deluxe yacht, capture views of Miami and its breathtaking skyline in comfort and safety.
You get some bragging points because it is Miami's only boat that ventures into the ocean.
Opt for the Jet Boat experience that offers mind-bending speeds, twists, and spins during this high-speed cruise if you want to up the adrenalin rush. If you are an adrenaline junkie couple, look no further than this!
---
---
Enjoy the Duck Tour of Miami together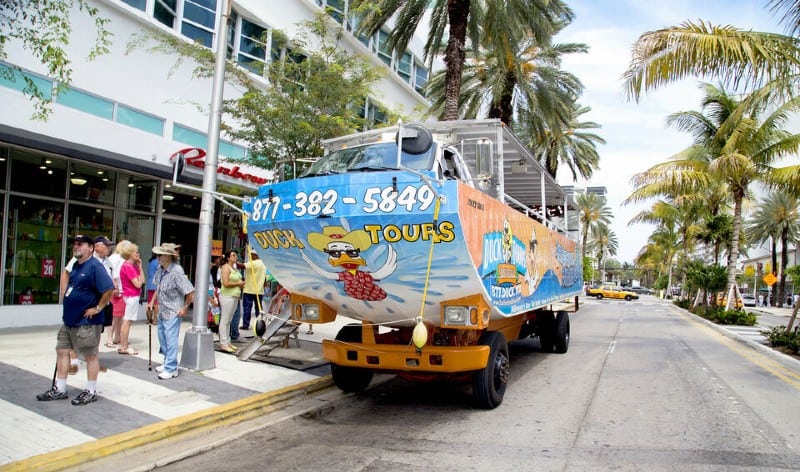 The amphibious vehicle that will take you on the world-famous Duck Tour is a bus and a boat.
This 90-minute Duck Tour takes you on a fun-filled land and water tour of Miami Beach.
Enjoy numerous jokes and stories as you cruise across South Beach in a unique amphibious vehicle.
Since all tour guides have comedic backgrounds, visitors get information about the city and many funny jokes.
The Duck tour is an ideal way to get cozy with your boyfriend or girlfriend even as you learn about the fascinating city of Miami.
---
---
Parasail hand-in-hand in Biscayne Bay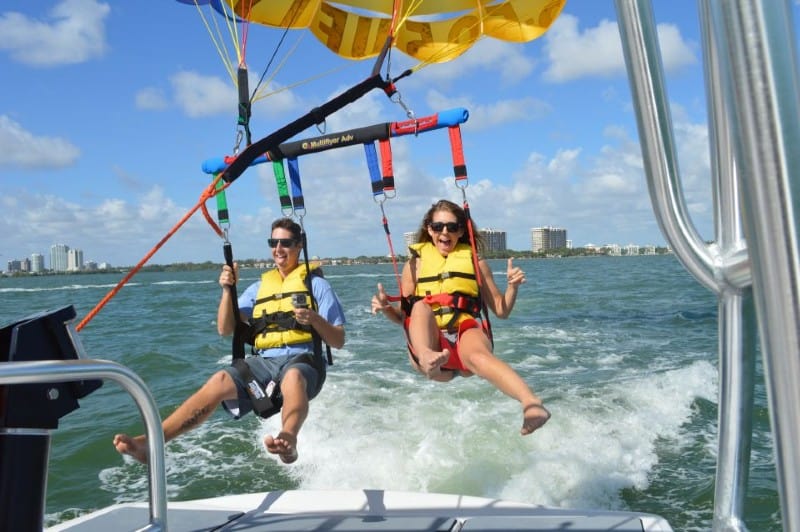 Parasailing is one of the most thrilling and exciting activities everyone should try at least once.
It's even nicer if you can be up in the air with your loved one and hold hands.
The parasail boat takes you and your spouse away from the dock, and once on the water, you wear your gear and listen to safety instructions.
Once the boat is 10 minutes in the bay, your parachute will open, and you will go up in the air.
The pair enjoys a smooth trip above the lake at 125 meters (about 400 feet), from where they can view most, if not all, of Miami.
Just before landing, both lovers quickly plunge into the ocean, which causes many laughs.
---
---
Marvel at Key West on a day-tour from Miami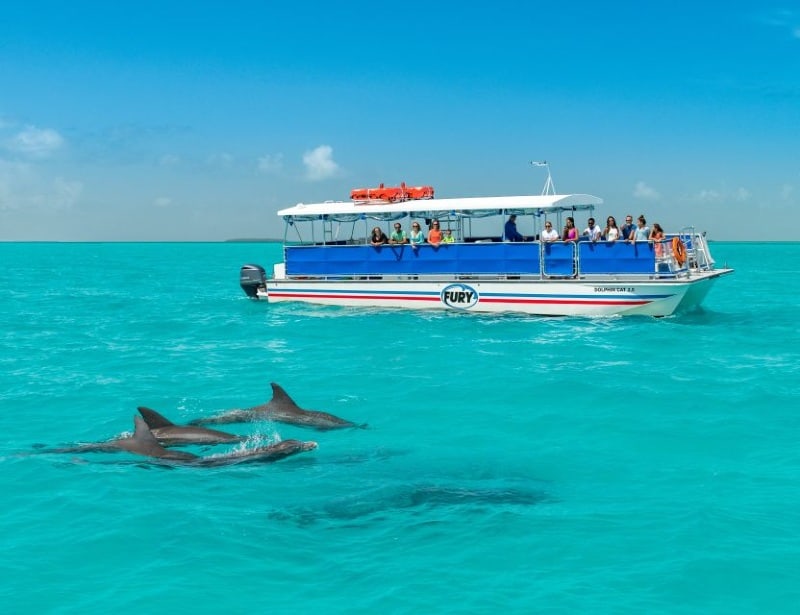 This full-day tour from Miami Beach takes you to Florida's southernmost tip.
This is the way to go if you want to arrange a single day-long activity for your Valentine's Day celebration on 14 February 2024.
You are picked up from your Miami hotel and arrive in Key West before midday. After that, you get at least five hours of free time to explore the city yourself.
You can also go on a glass-bottom boat tour. Alternatively, go snorkeling (and hold hands!) and observe dolphins on a 2.5-hour boat tour.
When you return from the trip, you will surely be tired, but you will have a romantic and memorable Valentine's Day together. 
---
---
Get closer – Sip, Savor, Salsa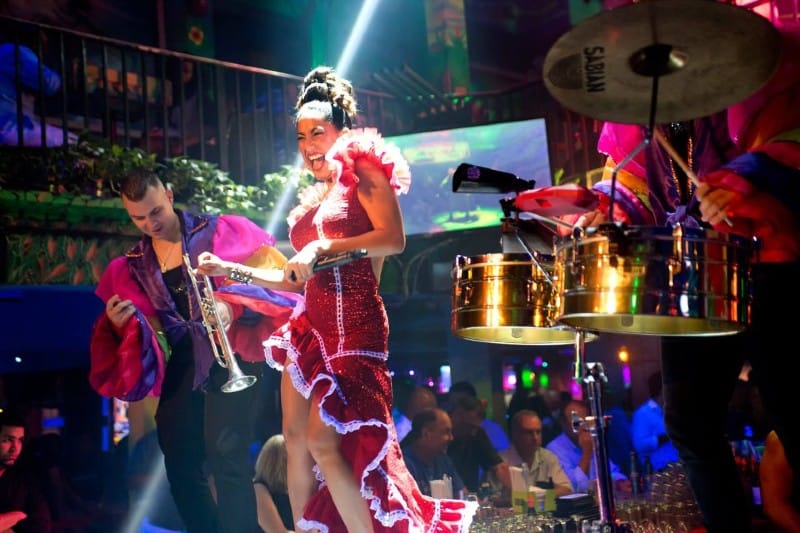 This Nightlife Experience takes place at the most lively and eclectic location on South Beach's famed Ocean Drive, so get ready to laugh and have a good time.
It's the only place with live singers, musicians, entertainers, and a burning dance floor till 5 am.
If you are the kind of couple who love the crowd, noise, and fun, you will remember this passionate night for a long time.
So, are you ready to dine, drink, dance, and explore South Beach's Latin side?
---
---
Enjoy art as a couple at Wynwood Walls
If your Valentine is creative and loves art, Wynwood Walls is the ideal spot to take them.
Climb aboard a golf buggy and get up and personal with murals in Miami's Wynwood Art District.
The driver doubles up as a guide so can focus on taking photographs, etching 14 February 2024 in your memories forever. 
Discover magnificent works by artists such as Shepard Fairey, Retna, DFace, and Interesni Kaski, who are masters of the genre.
Explore local artists' underground graffiti world and get insider tips on hidden restaurants, craft beers, and galleries to make the day even more romantic.
---
---
Feel loved at Flamingo Gardens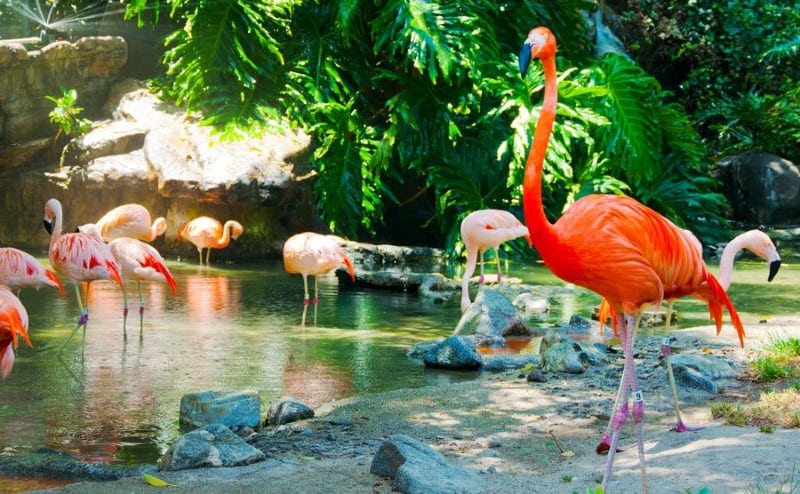 Experience a taste of tropical Florida as soon as you enter Flamingo Gardens, with a jungle of tropical trees, plants, and over 1,000 orchids. 
The 60-acre not-for-profit botanical garden with a collection of over 3,000 species doubles as an Everglades wildlife sanctuary for injured and endangered animals.
During the visit, don't miss the dreamy 30-minute ride on a tram – a perfect way to relax with your loved one.
---
---
Get closer to nature at Miami Seaquarium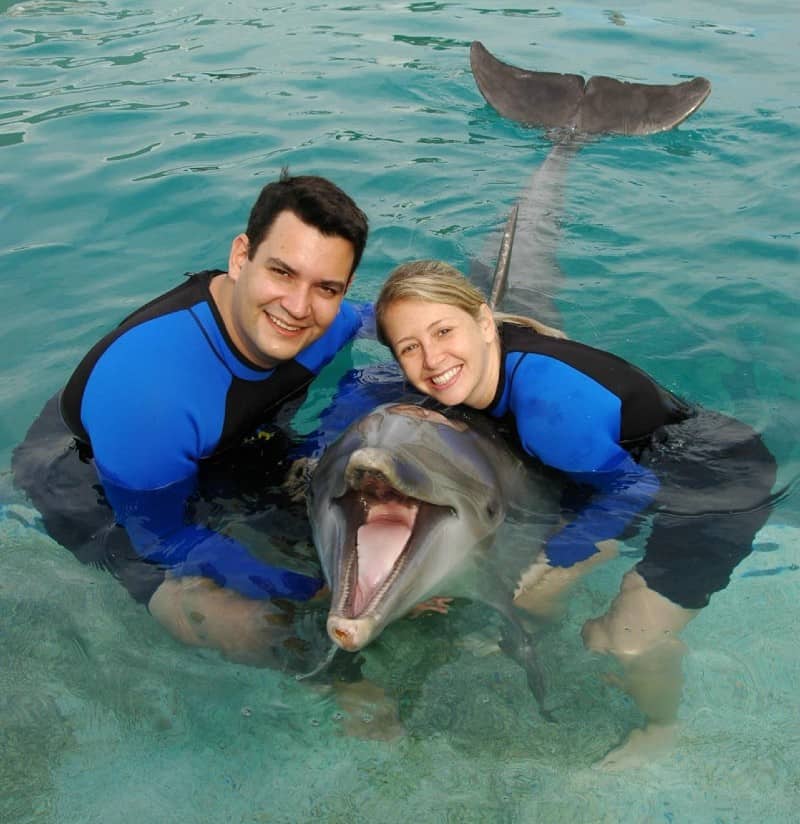 Miami Seaquarium is a marine-life entertainment park with 38 acres to explore and hundreds of animals to see.
It hosts marine life, such as Killer whales, Dolphins, Sea Lions, Sting Rays, Sea Turtles, Manatees, etc., in both an entertaining and educational setup.
At this aquarium, you both can snap photos with a Dolphin and keep the memory forever!
---
---
Go on a romantic private airplane tour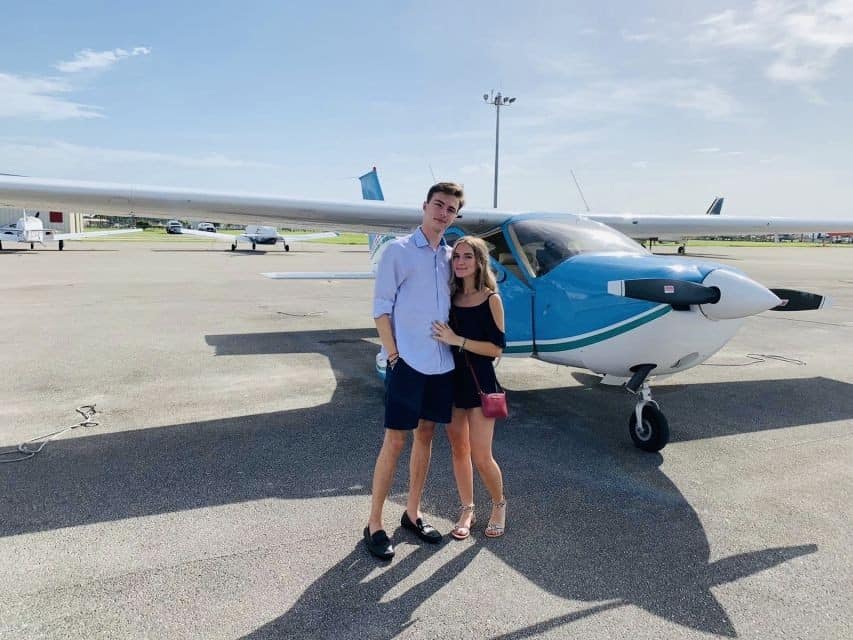 Enjoy a bottle of champagne while admiring Miami's beautiful splendor from above.
Fly over Pinecrest and Coconut Grove mansions and take a bird's-eye view of Fisher Island and Key Biscayne.
This 45-minute tour is ideal for spending your special Valentine's Day 2024 with your loved one while adding something more to your Miami vacation.
Or, if you prefer, you can enjoy 360-degree views of the Miami Skyline from a helicopter.
---
---
Explore Miami Zoo with partner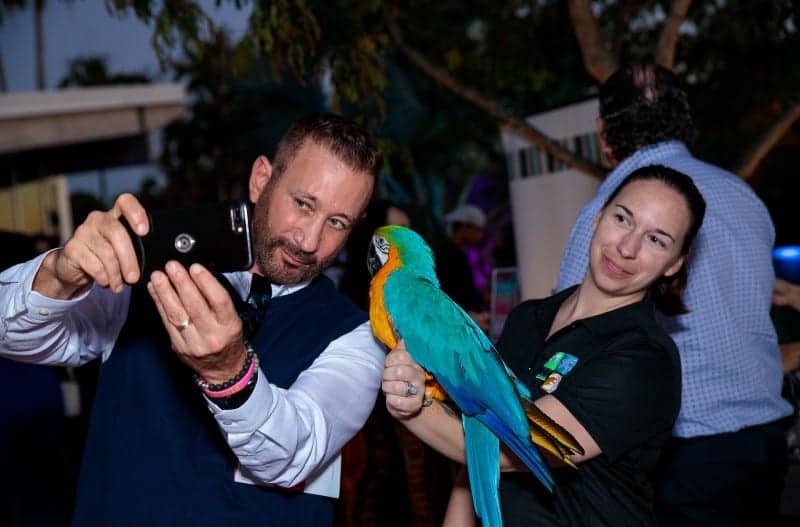 Miami Zoo consists of 340 acres of developed land with over 3,000 animals and over 1,200 plants and trees planted to resemble the animals' natural habitats.
Zoo Miami is ideal for a couple that prefers a quiet celebration. You will love to feed a giraffe or rent a cycle.
The zoo is also a great place to meet some of the fantastic animals that live in Florida.
---
---
Go City Miami: Explorer Pass
What can be more romantic than not worrying about the cost and roaming around Miami freely?
The smarter romantic couples are known to go for the Go City Miami: Explorer Pass, making your Valentine's Day week much more special.
With this Pass, you choose 3, 4, or 5 experiences from 25+ of Miami's best attractions and tours and save as much as 53% on ticket costs. 
Some of the top attractions are – The Hop-On Hop-Off Big Bus tour, Miami Seaquarium, Millionaire's Row Sightseeing Cruise, Duck Tours South Beach, Jungle Island, Jet Boat Miami, Zoo Miami, Gray Line's Key West Day Trip, Everglades Alligator Farm & Airboat, Gator Park Airboat Tour, Kennedy Space Center Visitor Complex, Ft. Lauderdale Glass Bottom Boat & Snorkeling Trip, etc. 
So how do you and your love plan to celebrate Valentine's Day 2024 in Miami? 
Plan ahead before your options run out – after all, it is yet another way of showing that you care.
Additional Reading
Valentine's Day in Paris
Valentine's Day in Venice
Best honeymoon places in the World
Romantic places to take your girlfriend or wife