Miami Seaquarium is a marine-life entertainment park with 38-acres to explore and hundreds of animals to see.
It hosts marine life, such as Killer whales, Dolphins, Sea Lions, Sting Rays, Sea Turtles, Manatees, etc., in both an entertaining and educational setup.
It is one of the most popular things to do in Miami.
In this article, we explain everything you need to know before purchasing Miami Seaquarium tickets.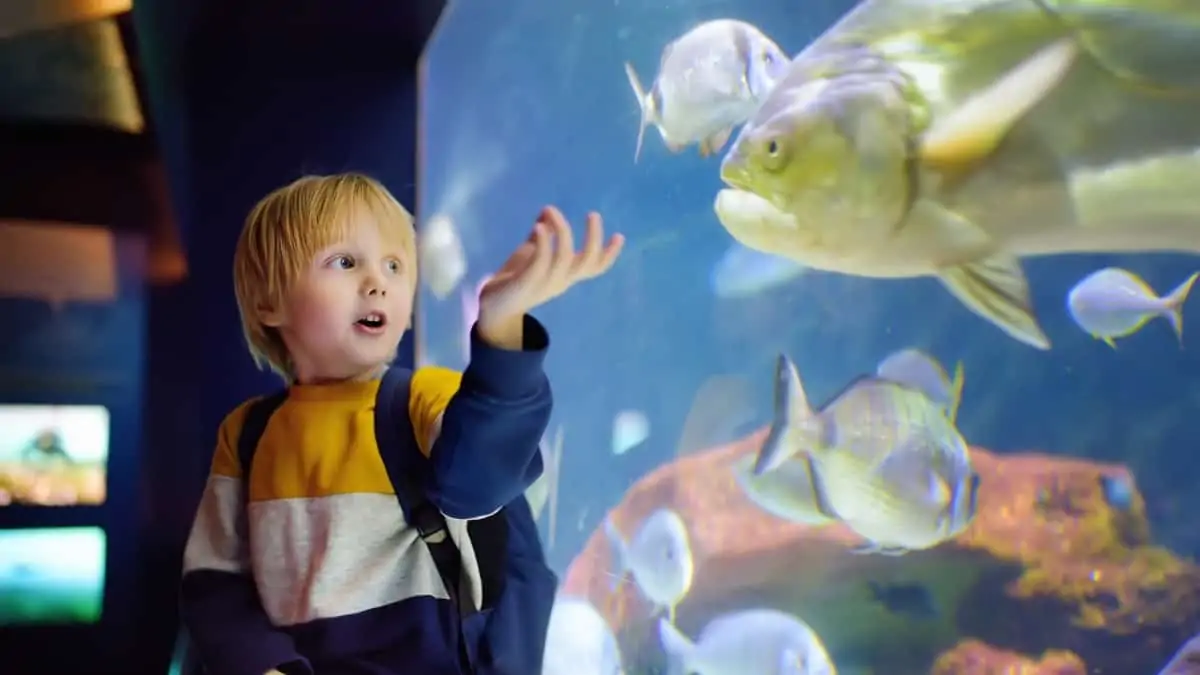 How to reach Miami Seaquarium
Miami Seaquarium is on the Rickenbacker Causeway between Downtown Miami and Key Biscayne.
It is a few minutes away from the downtown, the Port of Miami, and Miami International Airport.
The location of this popular tourist attraction offers stunning views of Biscayne Bay and the city of Miami.
Miami Seaquarium address: 4400 Rickenbacker Causeway, Miami, FL 33149. Get Directions
We recommend you use public transport to get to the Sea Aquarium.
From wherever in Miami you are, get to Brickell station (West side).
From outside the station, take Bus Number 102 (Route B), which will be on its way to Key Biscayne via Crandon.
After 12 minutes and 13 stops, you will get down at the bus stop designated for Miami Seaquarium.
The entrance of the aquarium is a minute's walk from the bus stop.
Miami Seaquarium parking
There is lots of parking available at the Miami Seaquarium. However, it isn't free.
Irrespective of the type and size of the vehicle, you must pay USD 10/day.
---
---
Miami Seaquarium tickets
Miami Seaquarium has only one entry ticket, which gets you access to everything in the aquarium, including the eight amazing animal shows.
As soon as you purchase the Seaquarium tickets, they get emailed to you.
And on the day of your visit, you can show them on your mobile and enter the aquarium right away.
You don't need to take printouts.
Ticket prices
Visitors want to know the exact ticket prices before they plan their visit because they are a bit pricy.
Miami Seaquarium tickets for all visitors ten years and above costs $53.50.
Tickets for kids between three to nine years are priced at $42.80.
Ticket discount
Kids below three years of age get the best Miami Seaquarium discount – they enter for free.
Children three to nine years of age get more than a $10 discount on the full ticket and pay only $42.80.
At the venue, seniors older than 55 years, active members of the US military, and AAA members can claim discounts.
Since the seniors only get a $3 reduction on their tickets, we don't think it is worth standing in the long ticket counter lines.
Discount Alert: When you book skip-the-line entry to Miami Zoo and Miami Seaquarium together, you get an additional 10% off. You can visit the attractions on different dates. Find Out More
---
---
Swim with Dolphins
If you live in Miami or Florida and are looking for an opportunity to swim with Dolphins, Miami Seaquarium is the best place.
The Dolphin Encounter is the most popular animal encounter activity at this aquarium.
This Dolphin encounter is the perfect way to interact with the adorable dolphins even as you stay in shallow waters. It is ideal for kids and adults alike.
It is a 30-minute program where the Dolphins will swim around you while you stand or swim in a few feet of water.
Here is what you can expect –
Swimming with Dolphins at this Aquarium is quite popular because the participants can also kiss them, rub their smooth bellies, and try a few training techniques.
You must choose between two time slots – 12 noon and 2.30 pm.
Tip: Swim with the Dolphins at Miami Aquarium activity is booked well in advance, so hurry.
Ticket prices
Encounter Participant (10+ years): $235
Encounter Child Participant (5 to 9 years): $128
---
---
Miami Seaquarium hours
The Miami Seaquarium opens daily at 10 am and closes at 6 pm.
This timing holds good even on weekends.
The Ticket Counter closes at 4.30 pm.
---
---
Miami Seaquarium showtimes
The Miami Seaquarium in Key Biscayne organizes daily shows for its visitors.
However, the show schedule of the Sea Aquarium changes every day.
The changing program makes it very difficult to post a regular schedule in advance.
If you reach the Miami Seaquarium by 11 am, you will watch all the shows by 2.30 pm.
If you can only plan your trip in the afternoon, reach the aquarium around 12.30 pm to watch all the shows by 4.30 pm.
If you are keen on watching all the shows but can only reach post-lunch, be at the Miami Aquarium by 2 pm. By 5.30 pm, you will be able to view all the shows.
The Miami Seaquarium is the best Aquarium in Florida because of the daily shows and activities it organizes.
You can pick up the showtime schedule at the entrance of the Aquarium.
If you want to know the Miami Seaquarium showtimes before visiting, call (305)361-5705 ext 0 on the day of your visit.
---
---
How long does Miami Seaquarium take
If you visit with kids and want to see all the exhibits and the shows, you need at least four hours to explore Miami Seaquarium.
If you are in a hurry, you can finish your Seaquarium tour in two and half hours.
---
---
Best time to visit Miami Seaquarium
The best time to visit Miami Sea Aquarium is as soon as they open at 10 am.
An early visit helps you avoid the long lines that start in the middle of the day, especially if you visit in summer, during school holidays, or the weekends.
With fewer people, you get enough time to explore the exhibits on your own and take photographs without others in the frame.
Animals in the touch pools are also most active in the early part of the day.
Buy your tickets online to avoid wasting your time in long queues.
The Miami Pass includes tickets to Miami Seaquarium, Thriller Miami Speedboat ride, and ARTECHOUSE Miami. You also get a 10% discount code, which you can use (five times!) to get discounts on future purchases.
---
---
Sea Trek Reef encounter
Sea Trek Reef Encounter is one of the most surreal experiences at the Aquarium.
You get to walk underwater through the Aquarium's 300,000-gallon tropical reef and encounter a variety of sea creatures, including Stingrays, etc.
The dive lasts for 20 minutes, but the whole activity takes one and half hours (including the prep time).
Here is what you can expect during this encounter –
While booking the Sea Trek Reef encounter at Miami Aquarium, you must choose between three time slots – 10.45 am, 12 noon, and 2 pm.
This encounter costs approximately $100 for every 10+ years old participant.
---
---
Things to do at Miami Seaquarium
The Miami Seaquarium offers different kinds of experiences, starting from animal encounters to shows and fantastic exhibits.
Animal Encounters
If you love Dolphins, Penguins, Seals, etc., you will enjoy the animal encounters at this Maimi aquarium.
Besides the Dolphin Experience and the Sea Trek Reef Encounter, the other animal encounters are –
Dolphin Odyssey
Dolphin Odyssey is a 30-minute deep-water experience with enigmatic dolphins.
You get the experience of a lifetime with the incredible dorsal pull – yes, you will be swimming with the Dolphins.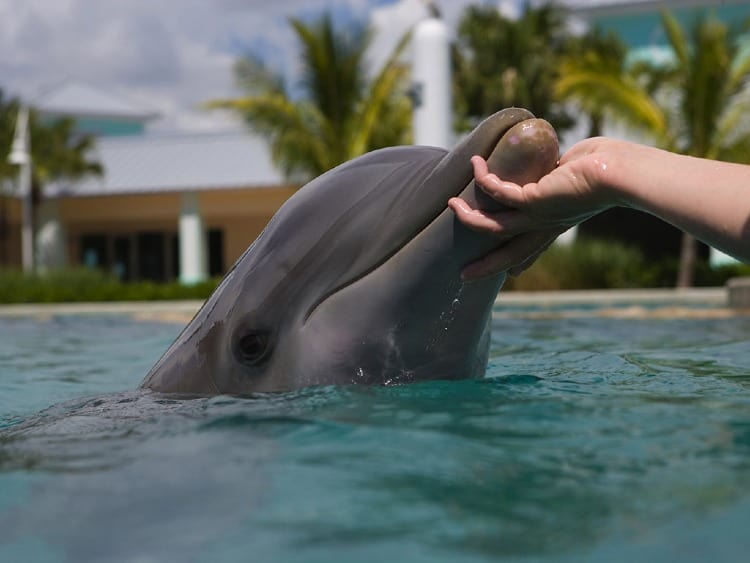 You will also be able to shake the dolphins' hands, kiss them, and feed them.
The minimum height requirement to participate in Dolphin Odyssey is 52 inches (4 feet 4 inches or 132 cm).
This animal encounter costs $220 for an adult participant and approximately $60 for children (10 to 17 years).
Seal Swim
This unique 15-20 minute interaction will let you swim with your special Seal friend as well as train them.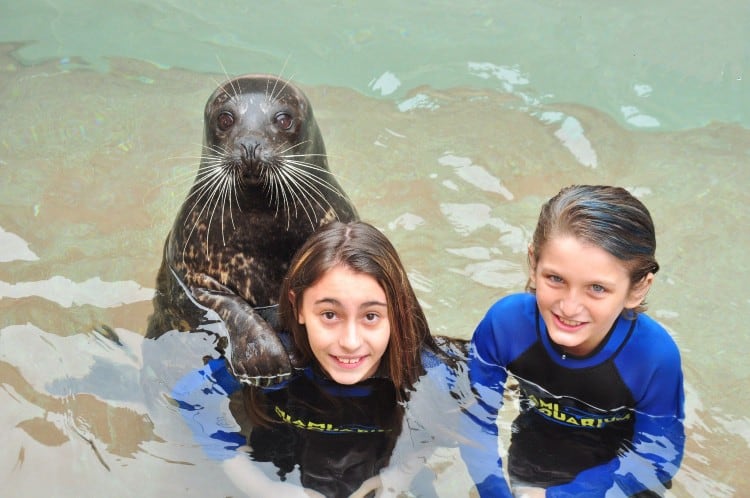 During this surreal experience, you will swim with harbor seals in both deep and shallow water.
Seal Swim at Miami Seaquarium costs approximately $180 for every 10-years plus participant.
Meet the Penguin
Where else will you get an opportunity to meet African Penguins?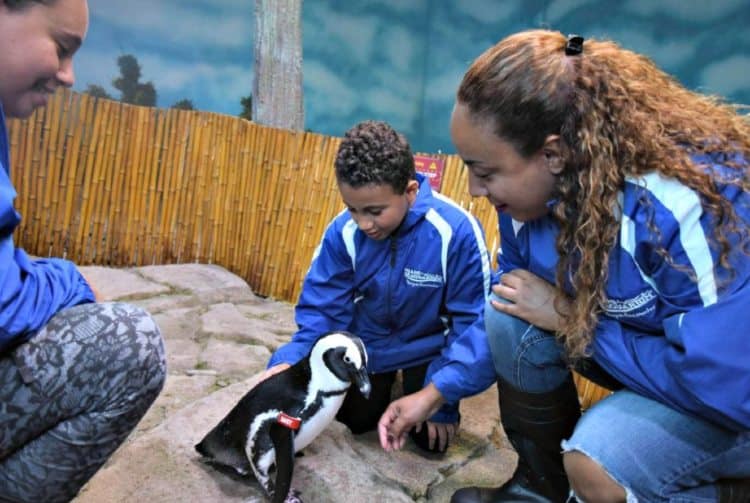 You can pet the Penguins and interact with them one-on-one in their settings.
Since this animal encounter is in high demand, it is recommended you book in advance.
It costs $120 per adult to book this experience.
Shows at Miami Sea Aquarium
There are four amazing shows at this Miami attraction, and all of them are free to watch.
Top Deck Dolphin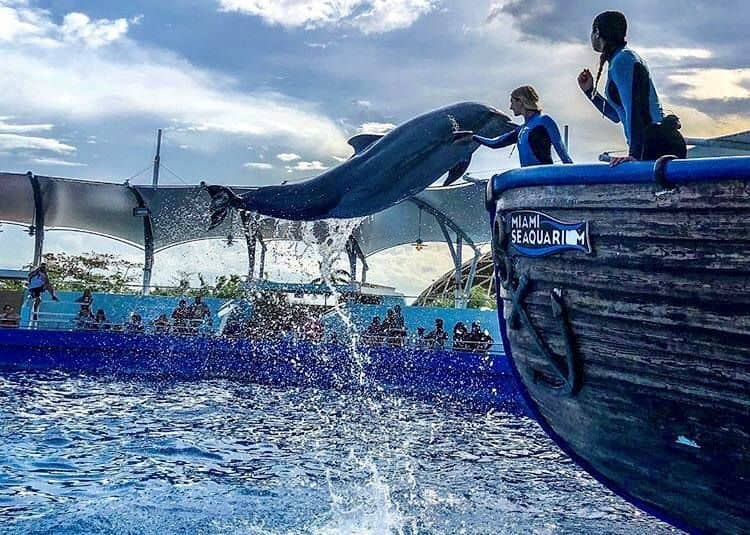 Witness the top deck Bottlenose Dolphins doing breathtaking flips and rolls.
The daring acrobatics of these enigmatic creatures will be one of the most amazing experiences of your life.
You can view the top deck Dolphins from above or below the water anytime throughout the day.
Golden Dome Sea Lion
The show features the comedic adventures of Salty, the Sea Lion, and his Reef Rangers searching the reef for a littering diver.
It is a fun experience for the kids as well as the adults.
Flipper Dolphin Show
Flipper, the Dolphin, stars in an all-new Caribbean-themed show which showcases the surroundings of Flipper and how it has changed in recent years.
Killer Whale and Dolphin
There is no other Aquarium where you will find a Killer Whale performing alongside Pacific white-sided Dolphins.
It is once in a lifetime opportunity to witness Lolita, the Killer Whale, with her Dolphin friends in an interactive showcase.
Miami Seaquarium exhibits
From the numerous exhibits to see at Miami Seaquarium, here are our favorites –
Touch Pools
Enjoy the new thrilling interactive Touch Pools of the Aquarium.
Submerge your hands and touch different varieties of fish.
Caribbean Flamingos
You can't miss the 30 beautiful flamingos at the renovated entrance when you enter this tourist attraction.
Penguin Isle
Penguin Isle is an excellent opportunity to meet and greet the most impressive African Penguins.
It is one of the newest exhibits in the aquarium.
You will get to know more about their struggles in the wild through big, colorful educational displays.
Tortuga Flats
Explore the Tortuga Flats – an awareness exhibit about Sea Turtles where you learn about the endangered species in Florida waters.
Miami Seaquarium has a rescue and rehabilitation program, and the Sea Turtles in the Aquarium are part of the project.
Tropical Reef
The Tropical Reef exhibit showcases a reef presentation with reef fish of every size and color in a 750,000- gallon saltwater reef aquarium.
You get to see a group of divers hand-feed tropical fish, Stingrays, and many other varieties of fish.
Manatees
The Manatee Exhibit focuses on how one can protect and save these gentle creatures.
The Manatees in the presentation are also a part of Miami Seaquarium's rescue and rehabilitation program.
Seal and Sea Lion feeder Pool
This exhibit features Seals and Sea Lions, which you can visit and explore throughout the day.
Do drop in for the feeding sessions, which happen a couple of times during the day.
Tropical Wings
The Tropical Wings exhibit is dedicated to all kinds of tropical birds ranging from Macaws to Flamingos.
The animal keepers are ever ready to answer any curious questions you might have about the birds.
Tropical Fish aquariums
The Tropical Fish aquariums let you witness and explore an astounding variety of tropical marine life.
You cannot miss the invasive Red Lion Fish or the Florida Lobsters, and many more once you enter this exhibit.
Stingrays
The interactive Stingray exhibit allows you to feed these amazing creatures during the daily feeding sessions.
The Stingray Exhibit is inside the Tropical Wings Exhibit.
---
---
Miami Seaquarium map
Miami Seaquarium is enormous, and it makes sense to be aware of the location of all the exhibits.
If you are visiting with kids, it is essential to be aware of the Seaquarium's layout so that you can plan and allocate time to the most preferred exhibits.
A map of the Miami Seaquarium can also help you find visitor services like restrooms, restaurants, gift shops, etc.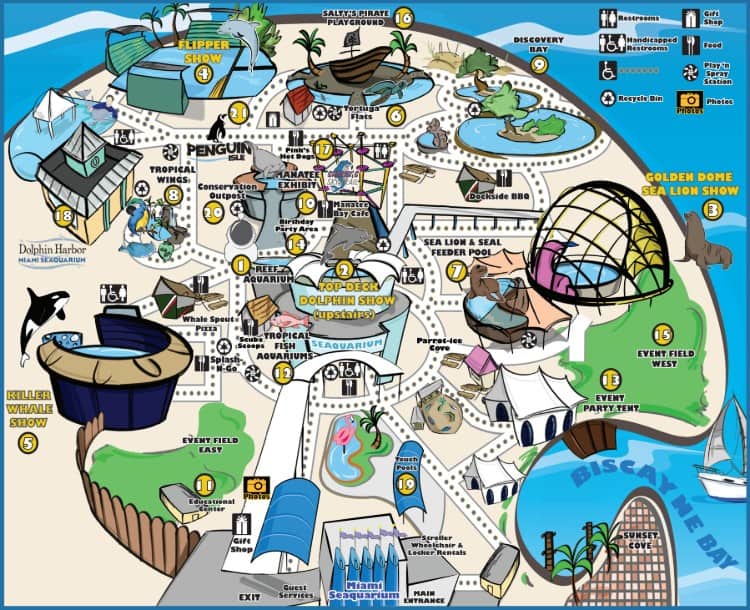 You can bookmark this page or take a printout of the map for later use.
---
---
Restaurants
Walking around and exploring Miami Aquarium can leave you feeling hungry.
That's why there are family-friendly places all around this tourist attraction to eat, drink, and relax.
1. Manatee Bay Cafe
This place to eat is an air-conditioned cafeteria that serves quick service meals, including burgers, chicken fingers, wraps, salads, etc.
Beverages served here include a large selection of sodas, coffees, teas, and beer.
2. Pink's Hollywood Hot Dogs
This eating joint is the latest addition to Miami Seaquarium and serves fantastic hot dogs.
It is a hit among kids.
3. Dockside BBQ
When open, it serves excellent BBQ favorites such as pulled pork sandwiches, chicken, baked beans, corn on the cob, etc.
Dockside BBQ is a seasonal restaurant.
4. Whale Spout Pizza
Do you have to get something to eat quickly before rushing to the next show?
Check out the Pizza spot, which serves hot fresh n' cheesy pizzas to cater to all taste buds.
Dolphin Lobby Snack Bar serves pretzels, popcorn, ice cream, cotton candy, smoothies, juices, etc., and is perfect for a quick snack break.
Sources

# Miamiseaquarium.com
# Tripadvisor.com
# Wikipedia.org
# Holidify.com

The travel specialists at TheBetterVacation.com use only high-quality sources while researching & writing their articles. We make every attempt to keep our content current, reliable and trustworthy.
Popular attractions in Maimi
# Miami Seaquarium
# Miami Zoo
# Jungle Island
# Everglades National Park
# Millionaire's Row Cruise
# Graffiti Museum
# Thriller Miami
# Museum of Illusions
# Miami Duck Tour
# Sawgrass Recreation Park
# Flamingo Gardens
# Skyviews Miami
# Superblue Miami
# Jungle Queen
# Lion Country Safari
# Wynwood Walls