Get ready to have the most thrilling immersive experience at Superblue in Miami, where you'll be taken to breathtaking new worlds created by top artists.
Superblue in Miami is an immersive art museum comprising uncanny exhibitions one walks through in a pattern.
It is an apt destination for families and friends, so dive into a colorful world of endless possibilities.
This article shares everything you should know before buying Superblue Miami tickets.
What to expect at Superblue Miami
At Superblue Miami, wind through a mirrored labyrinth created by Es Devlin, discover a transcendent digital environment by teamLab, and enter James's enveloping light-based Ganzfeld work.
Walk through a world of experiential art that uniquely engages you with the world's most pressing issues.
Understand new perspectives on the world in this immersive space.
Get a chance to explore some masterpieces by some of the greatest artists like Daniel Boyd, Nick Cave, Mary Corse, Es Devlin, Drift, Simon Heijdens, Yinka Ilori, and many more!
Have the chance to participate in the adaptable programming and events space, which offers a rich calendar of talks, performances, workshops, and family activities all year round.
Browse an art-inspired boutique or get coffee at the outside cafe.
---
---
Where to buy Superblue Miami tickets
There are two modes of tickets for the Miami Superblue – online or offline at the attraction.
If you land up at the venue to buy tickets, you'll have to line up at the ticket counter. During peak times, these lines can get long, and you will end up wasting your time.
Online tickets for Superblue Miami can be cheaper than the tickets sold at the venue.
When you book online and in advance, you also get your preferred date of visit.
Online tickets also help you avoid last-minute disappointments when tickets get sold out.
How online ticket works
On the booking page of Superblue Miami, select your preferred date and the number of tickets, and buy the tickets right away.
After the purchase, you will receive the tickets in your email.
You don't need to take any printouts.
All you have to do is show the ticket on your smartphone on the day of your visit and walk into Superblue Miami.
Cost of Superblue Miami tickets
The Superblue Miami ticket is priced at US $36 for all visitors aged 13 years and above.
Kids aged up to 12 years get a US $4 discount and pay only US $32 for entry.
Superblue Miami tickets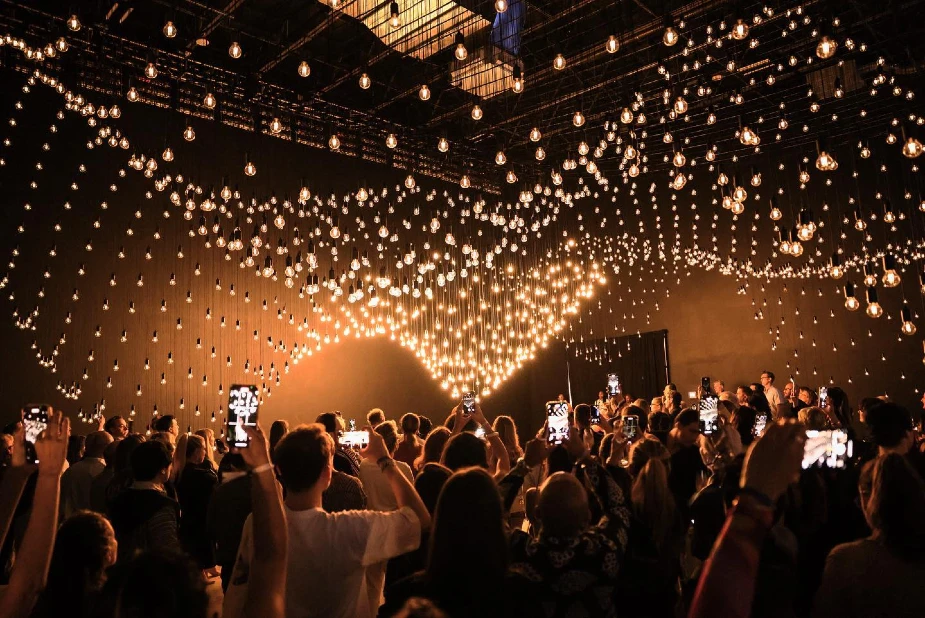 This ticket gives you entry to Superblue Miami, where you can get closer to 50,000 square feet of immersive, interactive, and intriguing art environments.
Walk past exhibits like Meadow, Every Wall is a Door, AKHU, Forest of Us, Cloud Room, and many more!
Create fresh viewpoints on the world in this immersive environment and see the magic when you touch the walls of the exhibits.
This tour is not suitable for people with epilepsy.
Ticket price
Adult Ticket (13+ years): US $36
Child Ticket (up to 12 years): US $32
Buy Miami Go City Pass and discover over 25 top Miami-area activities, attractions, and tours. With this all-inclusive pass, you can explore Zoo Miami, Seaquarium, Big Bus Miami Hop-On Hop-Off, and many more!
---
---
How to reach Superblue Miami
Superblue is located in Allapattah, right across from Rubell Museum.
Address: Superblue Miami 1101 NW 23 StreetMiami, FL 33127. Get Directions
Buses and personal vehicles are the most convenient way to reach Superblue Miami.
By Bus
NW 12 Av & NW 24 St is the nearest bus stop to the Superblue, only 2 minute walk away.
By Car
If you are traveling by car, turn on your google maps and get started!
Car Parking
Blue Garage is the nearest parking lot to Superblue, only 9 minute walk.
Superblue Miami timings
Miami Superblue is open every day of the week.
From Monday to Thursday, it is open from 11 am to 7 pm.
On Fridays and Saturdays, it runs from 10 am to 8 pm, while on Sundays from 10 am to 7 pm.
Visitors must arrive 15 minutes prior to their scheduled time.
How long does Superblue Miami take
Visitors usually spend one hour to one and a half hours taking in Superblue Miami immersive art experience.
However, there is no strict time limit, and you can stay as long as you want.
You can expect your stay to extend if you spend time taking pictures with the exhibits or if you visit the gift shop or cafe.
Best time to visit Superblue Miami
The best time to visit Superblue Miami is as soon as it opens at 10 am.
If you visit the attraction early in the morning, it won't be much crowded, and you will be able to explore peacefully.
Also, you wouldn't have to wait for your turn to click pictures with the exhibits.
---
---
What to see at Superblue Miami
Superblue Miami has many exciting exhibits that will surely trigger an adrenaline rush in your body.
Meadow
At Meadow, get enveloped in a sensory and poetic composition of mechanical flowers which react to their viewer as blossoms to the sun, enacting an organic, ever-changing choreography.
Integrated sensors below the work will translate the viewer's presence into different moods to create a truly interactive experience.
Meadow engages the viewer in symbiosis, evoking the impermanence of nature and the sense of wonder from being immersed in it.
Forest of Us
The striking visual symmetry between the structures that allow us to breathe and those that enable us to live takes center stage in Forest of Us.
These structures include the bronchial trees that exchange oxygen for carbon dioxide in our lungs and the trees that exchange carbon dioxide for oxygen in our environment.
The work begins as a film – the screen surface is periodically perforated, allowing viewers to walk through the movie in a mirror maze.
Massless Clouds between Sculpture and Life
Become part of the art in teamLab's Massless Clouds Between Sculpture and Life.
The debut of this new sculpture work at Superblue Miami invites visitors to interact with clouds made of soap bubbles in an ever-changing installation.
Proliferating Immense Life – A Whole Year per Year
Throughout the year, with the passing of time, flowers bloom and change.
They bud, grow, and blossom before their petals begin to wither and eventually fade away.
The cycle of growth and decay repeats itself in perpetuity.
When people touch them, the flowers scatter, wither, and die.
The artwork is not a pre-recorded image that is played back: it is created by a computer program that continuously renders the work in real-time.
The interaction between people and the installation causes continuous change in the artwork: previous visual states can never be replicated and will never reoccur.
The picture at this moment can never be seen again.
Roden Crater — AKA the James Turrell installation
Residing in Flagstaff, James Turrell is working on Roden Crater, an artwork of unprecedented scale within a volcanic cinder cone in the Painted Desert region of Northern Arizona.
Representing the culmination of the artist's lifelong research in the field of human visual and psychological perception, Roden Crater is Turrell's magnum opus.
It is a work that, in addition to being a monument to land art, functions as a naked-eye observatory of celestial and planetary events.
Where to eat at Superblue Miami
There is only one cafe named "Blue Rider Cafe" located at Superblue Miami.
The cafe is accessible from the outside.
It has been transformed into a kaleidoscopic wonderland by London-based multidisciplinary artist Yinka Ilori.
It's a pet-friendly cafe with outdoor and rooftop seating.
It also has a dedicated event space, a lobby, and a private viewing room.
Sources
# Superblue.com
# Tripadvisor.com
# Zubatkin.com

The travel specialists at TheBetterVacation.com use only high-quality sources while researching & writing their articles. We make every attempt to keep our content current, reliable and trustworthy.
Popular attractions in Maimi
# Miami Seaquarium
# Miami Zoo
# Jungle Island
# Everglades National Park
# Millionaire's Row Cruise
# Graffiti Museum
# Thriller Miami
# Museum of Illusions
# Miami Duck Tour
# Sawgrass Recreation Park
# Flamingo Gardens
# Skyviews Miami
# Superblue Miami
# Jungle Queen
# Lion Country Safari
# Wynwood Walls