Universal Studios Singapore is a world-class theme park offering a wide range of exciting shows and attractions for all ages.
From family-friendly shows to intense attractions, you will surely find something that suits your interests and preferences.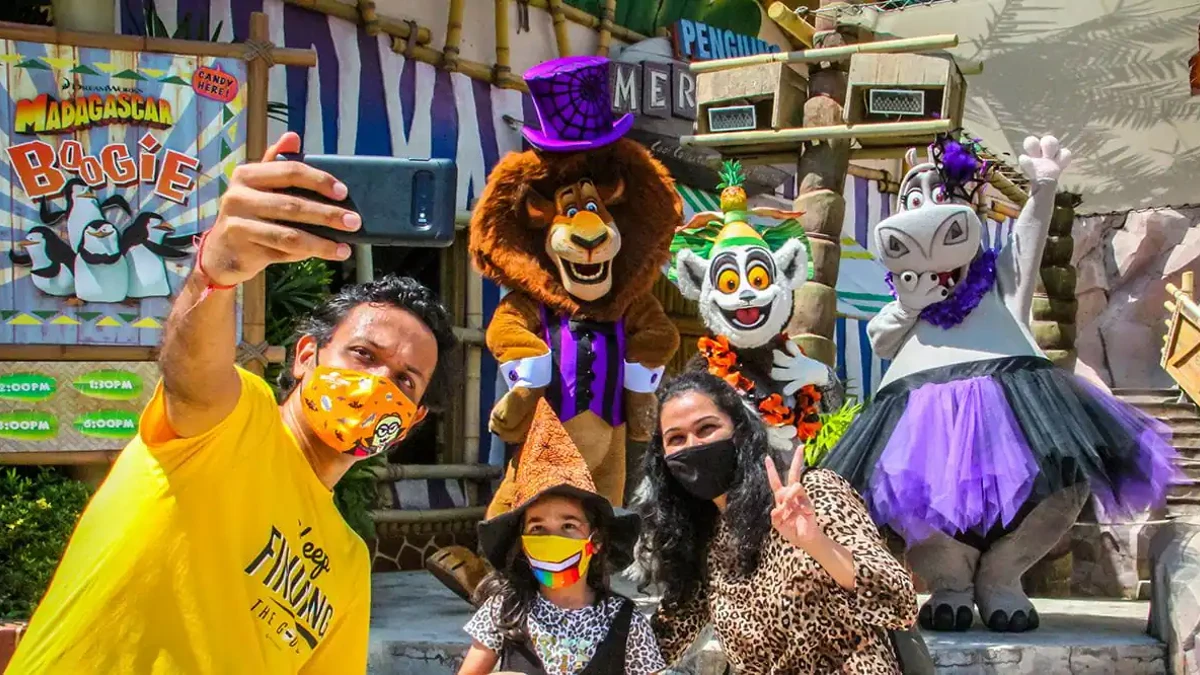 Universal Studios Singapore's best shows
One of the main attractions at Universal Studios Singapore is the incredible array of live shows.
These shows are designed to appeal to a wide range of audiences, from young children to adults.
They are typically performed multiple times daily, so you can easily fit them into your schedule.
WaterWorld
WaterWorld: A Live Sea War Spectacular at Universal Studios Singapore is a 20-minute-long show based on the 1995 film WaterWorld.
The show is filled with stunts on water, land, and overhead, supported by many pyrotechnic, flame, water, and other special effects, including the explosive crash landing of a seaplane.
The seating is divided into three sections, and the first five rows, known as the "Soak Zones", are the target of splashes from the Jet Skis and various wet special effects.
Recommended Reading: Universal Studios Singapore height requirements
---
---
Lights, Camera, Action!
Lights, Camera, Action! is a movie special effects show in the New York zone of Universal Studios Singapore.
Hosted by Steven Spielberg, the show features the transformation of a calm day into a hurricane that blows into New York City right before the audience's eyes.
The magic of special effects brings the soundstage to life, immersing the audience in the scene with wind, rain, and even flying debris.
The show utilizes special fog and strobe effects which could aggravate certain medical conditions.
It also employs intense fire effects.
Children under 122 cm must be accompanied by a supervising companion to attend this show​.
Shrek 4-D Adventure
Shrek 4-D Adventure is a 4-D film experience in the Far Far Away zone at Universal Studios Singapore.
This attraction allows visitors to go beyond the regular 3D movie experience and immerse themselves in a 4D fairytale honeymoon adventure with Shrek and his friends.
On this show, guests can feel the action from their seats – every jump, bump, bounce, air blast, and water spray is brought to life, providing a fully immersive experience as if visitors were part of the story.
A supervising companion must accompany children under 122 cm​.
The Dance For The Magic Beans
The Dance for the Magic Beans is a live show in the Far, Far Away section at Universal Studios Singapore.
The show first debuted in September 2014. It features the popular characters Puss in Boots and Kitty Soft Paws in a thrilling "dance-off."
After the performance, there's a meet-and-greet where you can interact with the characters.
It's worth seeing if you have extra time during your visit​.
Rhythm Truck
The Rhythm Truck 2.0 at Universal Studios Singapore is a street entertainment show located in the New York zone.
It features professional drummers, and the performance includes b-boys breaking down moves to the infectious beats produced by the drummers.
As an audience member, you can vibe along and cheer the dancers as they showcase their skills with energetic dance sets​.
Recommended Reading: Rides at Universal Studios Singapore
Save time & money! Buy Singapore Pass and dive deep into the city's top 35 attractions. Visit Universal Studios Singapore, Madame Tussauds, and Singapore Zoo, or go on a Tiger Brewery tour, Bike Tour at Marina Bay at night, or a romantic cruise. Grab this pass now and get up to a 40% discount!
Street performances
In addition to these shows, Universal Studios Singapore also offers a variety of street performances that take place throughout the day.
These performances are typically shorter and are designed to be more interactive, with performers often inviting audience members to participate in the show.
You might see stilt walkers, acrobats, or even a group of synchronized dancers performing in the streets.
Hollywood Dreams Parade
Another must-see show at Universal Studios Singapore is the Hollywood Dreams Parade.
This colorful parade features a procession of floats inspired by popular movies and TV shows.
You will see familiar characters such as the Minions, Shrek, and Kung Fu Panda, as well as dancers and acrobats who perform impressive routines.
This high-energy performance features talented singers and dancers performing classic hits from the 1950s and 60s.
You will be tapping your feet and singing along to the catchy tunes in no time!
Donkey Live
Donkey Live is an interactive Universal Studios Singapore show featuring Shrek's sidekick, Donkey.
The show is in an intimate theater setting and allows guests to sing along to the songs performed and converse with Donkey.
The show begins with Donkey introducing himself to the audience and telling them about his life.
He then invites them to sing along to some of his favorite songs from the Shrek movies. After the sing-along, Donkey takes questions from the audience and interacts with them in a fun and engaging way.
It is a good idea to arrive early to get a good seat. The theater is small, and seating is limited.
This Universal show is now temporarily unavailable.
---
---
Why does Universal Studios Singapore have shows?
Universal Studios theme parks, including Universal Studios Singapore, offer shows for several reasons.
Not all guests are thrill-seekers looking for high-speed roller coasters.
Shows provide a different form of entertainment that can appeal to a wider audience, including young children, older adults, and those who prefer not to or cannot ride the more intense attractions.
Shows often feature beloved characters from popular films and television series, providing guests the opportunity to see these characters "in person."
Walking around a theme park all day can be tiring. Shows give guests a chance to sit down and rest while still being entertained.
Recommended Reading: 8 tips to know before visiting Universal Studios Singapore