Empire State Building in New York usually lights up to honor different occasions, events and people.
For instance, the building
Lit up green for the festival of Eid
Lit up pink to show solidarity with women's causes
Lit up in blue for Autism awareness
However, the best use of the Empire State Building's facade was during the light show, titled "Projecting Change: The Empire State Building."
It was the first time moving images got projected on the southern face of the Empire State Building – into a space 114 meters (375 feet) tall and 57 meters (186 feet) wide covering 33 floors.
As part of this light show, 40 projectors were shining striking images of 160 different endangered species on the building. Jump to the wildlife photos
'Projecting Change' got put together by the Discovery Channel to promote their documentary, Racing Extinction.
The whole light show on the Empire State Building lasted three hours and cost around $1 million.
The residents of New York who were lucky stood on the streets and watched the show, while many others watched it live on Youtube.
Star of the 'Projecting Change' show
Among the 160 different endangered species projected on the building was Cecil, the lion.
Cecil is the 13-year-old male African lion who lived in the Hwange National Park in Matabeleland North, Zimbabwe, and was hunted down by a big-game hunter called Walter Palmer.
This "Projecting Change: The Empire State Building" light show resulted in some of the most beautiful wildlife photographs, and we share them below.
Visual Story: 15 must-know tips before visiting Empire State Building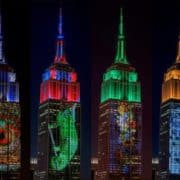 Wildlife photos projected on Empire State Building
The wildlife projection show ended with the image of Kali, the Goddess of darkness, imploring people to fight the darkness and to take up conservation.
New Yorkers and tourists visiting the city enjoyed the show from wherever they were – streets, terraces, or other buildings.
Planning a visit to the Empire State Building? Follow the link to find out everything about the tourist attraction before purchasing your Empire State Building tickets
Video of 'Projecting Change'
To get to the endangered wildlife projection on Empire State, jump straight to 32 minutes and 40 seconds of the video.
Popular attractions in New York
# Empire State Building
# One World Observatory
# Top of the Rock
# Statue of Liberty
# Metropolitan Museum of Art
# 9/11 Memorial and Museum
# Museum of Modern Art
# Intrepid Museum
# Guggenheim Museum
# BlueMan Group NYC
# Spirit of New York Dinner Cruise
# New York Helicopter tour