Also known as the 'windy city,' Chicago attracts romantic couples from across the world every year.
This city on Lake Michigan's shores is known for its World-class Museums, sky-high observatories, cultural attractions, and excellent architecture tours.
Chicago attracts both American tourists and those from abroad and has over the years grown as a tourist destination purely by word of mouth.
Discover the top couple attractions in this marvelous city with our list of the things to do in Chicago.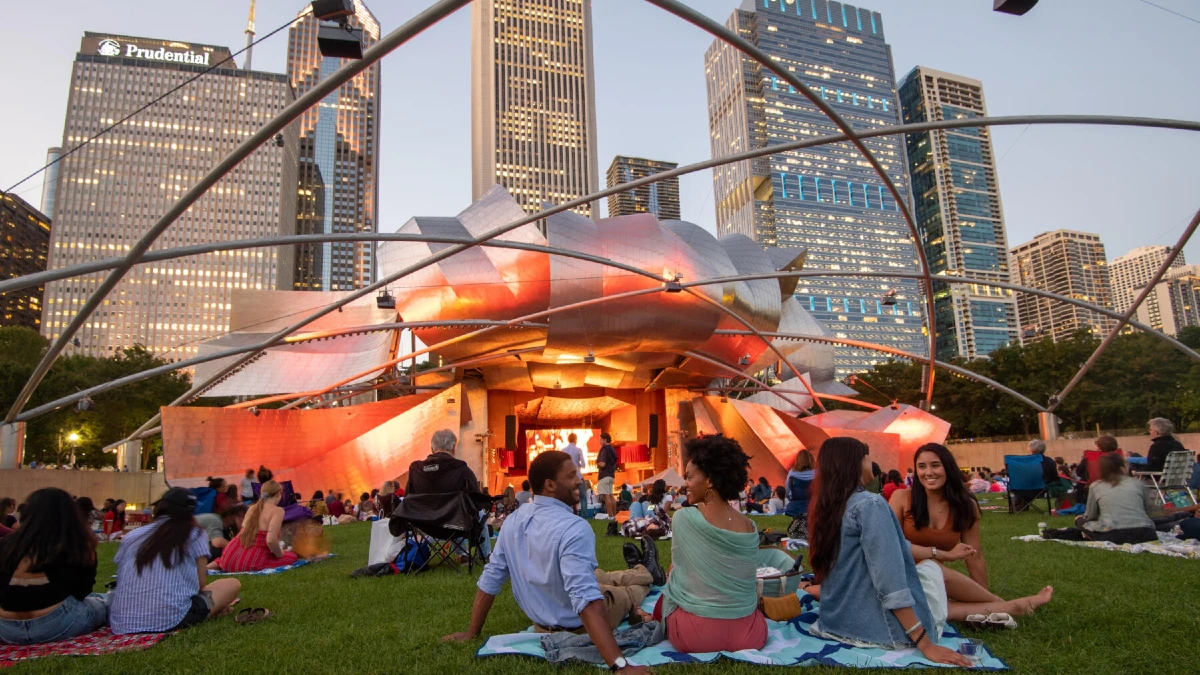 Go for a Chicago architecture tour
The skyscrapers and buildings of Chicago have helped shape American architecture.
Legendary architects from different periods have contributed to building the iconic skyline of the Windy City.
Being romantic couples, there are many ways to explore and learn about the architecture of Chicago.
Depending on your tastes and preferences, you have the option of booking a Chicago architecture tour on a boat, bus, speedboat, Segway, etc.
Or if you love walking, you can explore the city on foot as well.
Tourists can choose from two types of Chicago Architecture boat tours.
You can book a scenic boat trip along the Chicago River or book a Lake Michigan tour.
---
---
Explore artifacts at the Art Institute of Chicago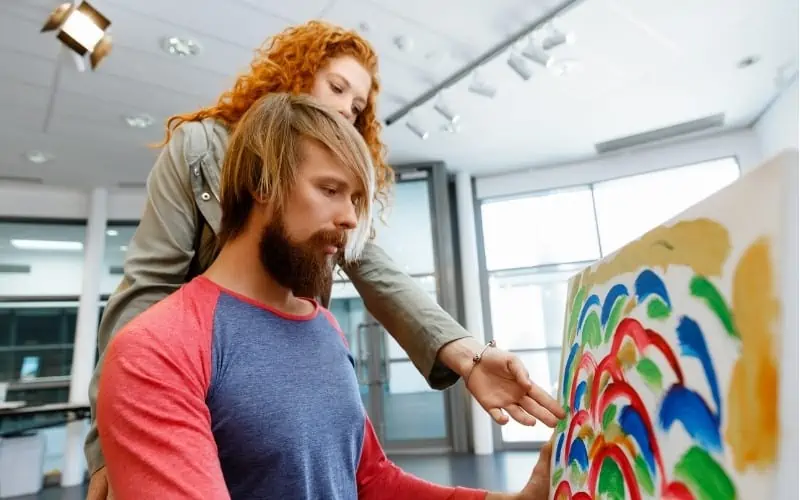 Art Institute of Chicago has the most extraordinary Impressionist collection outside of Paris. Romantic couples can have their time out here exploring the various artifacts.
It is the only museum in the world to be top-ranked by TripAdvisor for four years continuously and is the Number 1 thing to do in Chicago.
Art Institute of Chicago is made up of two buildings – the Michigan Avenue Building and the Modern Wing, and a bridge connects both.
Michigan Avenue Building was built in 1893, while the Modern Wing got added in 2009.
You can choose to enter the Museum from either of the entrances.
---
---
Enjoy the iconic ride on Navy Pier Ferris Wheel
Navy Pier's Ferris Wheel is an iconic part of the Chicago skyline, which is why it is a must-visit attraction for romantic couples.
The Ferris Wheel goes up to 61 meters (200 feet) and offers the guests unparalleled 360-degree views of Chicago and Lake Michigan.
It is also known as Navy Pier's Centennial Wheel.
Whichever season you visit, the Wheel's gondolas provide a comfortable experience and fascinating views of the city.
Besides the massive Ferris Wheel, you will also enjoy numerous other attractions lining Lake Michigan's waterfront during your visit to the Navy Pier.
---
---
Experience the thrill of sky-diving
If you want to indulge in indoor skydiving in Chicago, you have two options – iFLY Chicago (Lincoln Park) and iFLY Chicago (Rosemont).
During this adventure in Chicago, you and your life partner will experience the adrenaline of skydiving without ever having to get near a plane.
Begin with rigorous training to ensure that you are confident and aware of expectations.
Then, in a highly designed vertical wind tunnel, experience two 60-second 'free fall' adventures that feel like actual skydiving.
No prior experience is required, and your instructor will provide you with hands-on assistance all through.
After your indoor skydiving session is over, you will get a personalized flying certificate.
---
---
Capture excellent views from Skydeck Chicago
Skydeck Chicago is the highest observation platform in the USA and offers excellent views of the city and Michigan lake.
Lured by the need to step on 'The Ledge,' romantic couples worldwide visit this observatory every year.
Most couples buy the regular SkyDeck tickets online and buy Fast Pass from many of the Fast Pass counters at the attraction if they see a crowd.
This approach is the best way to avoid waiting in the queue and save money.
During the peak tourist months of March to September, Skydeck Chicago opens at 9 am and closes at 10 pm.
Rest of the year, Skydeck Chicago opens later, at 10 am, and closes early, at 8 pm.
---
---
Become a gangster on Chicago's Crime and Mob Bus Tour
One can't be visiting Chicago and not be lured by its history of crime and mobs.
That's why thousands of romantic couples go on the Chicago Crime and Mob Bus Tour every year.
Of all the crime tours, the best is offered by Chicago Crime Tours and Experiences LLC.
On this 90 minutes to two-hour mafia tour, which happens on an air-conditioned coach, you learn about Chicago's gangster background.
Drive around Chicago to see where thugs like Al Capone, The Untouchables, Hymie Weiss, and John Dillinger hung out.
A knowledgeable tour guide takes you through some of Chicago's most infamous criminal haunts, including Holy Name Cathedral, Biography Theatre, and the site of the brutal St. Valentine's Day Massacre.
---
---
Experience beauty of Chicago from 360 Chicago
360 Chicago is an observatory in the iconic John Hancock Building, offering fantastic 360 degrees views of the city.
This observation deck at 305 meters (1000 feet) is also known as John Hancock Observatory.
The best part of 360 Chicago is 'The Tilt,' where romantic couples get the adrenalin rush of downward-facing views over The Magnificent Mile and Chicago's famous skyline.
360 Chicago's observation deck opens at 9 am and closes at 11 pm every day of the year.
Since everybody wants to see the sunset from 360 Chicago's observatory, it gets crowded around this time.
But it is the best possible experience at 360 Chicago because you get to see Chicago's skyline in three different forms – during daylight, twilight and nighttime.
---
---
Book a Chicago Gangsters and Ghosts Tour
This Gangsters and Ghosts Tour in Chicago is a two-in-one tour where you and your sweetheart will learn about the city's history and also about its underbelly.
It is a history-based guided tour of Chicago's gangsters and ghost stories, right in the famous Chicago Loop Vice District.
A historian takes you around the city's important landmarks and helps you travel back in time to the Roaring Twenties when the Chicago Loop was a hotbed for bootleggers, speakeasies, and gangsters like Al Capone.
As part of the Ghosts and Gangsters tour of Chicago, you will also visit the Palmer House, Congress Hotel, and Death Alley, which were all once gangster hangouts.
---
---
Explore the Field Museum
The Field Museum in Chicago is an excellent natural history museum with various exhibits such as dinosaurs, mummies, meteorites, ancient Egyptian artifacts, etc.
Field Museum of Natural History is a perfect outing for romantic couples who are looking to travel back in time.
It is best to visit Field Museum in Chicago as soon as they open at 9 am.
When you start early, you avoid the crowd and catch the museum staff conducting free guided tours when they are most energetic.
Since the 'Ancient Egypt' exhibit gets the maximum crowd, it is better to explore it as soon as you enter the Museum.
---
---
Pay a visit to Chicago's Architecture Center
The Chicago Architecture Center (CAC) began as the Chicago Architecture Foundation in 1966 to preserve the historic Glessner House.
Since then, the CAC has become one of Chicago's most important cultural institutions. Visiting CAC is one of the top couple things to do in Chicago.
CAC's new riverfront location is in the heart of the city, where Michigan Avenue meets the Chicago River, featuring nearly 10,000 square feet of exhibition space filled with super-sized models.
Chicago Architecture Center's exhibits focus on the city's diverse neighborhoods, housing types, leading architects, and future projects and include the largest scale model of Chicago.
---
---
View exhibits at International Museum of Surgical Science
The International Museum of Surgical Science maintains over 10,000 square feet of public galleries dedicated to the history of surgery and a permanent collection of art and artifacts from the history of Medicine.
Couples can have a fun time together learning about the history of medicines and surgeries.
The International Museum of Surgical Science houses nearly 7,000 medical objects spanning decades of medical history, from acupuncture to X-ray therapy.
You'll find a collection of exquisite paintings in addition to stuff like iron lungs.
Famous faces from medical history and a cast of Napoleon's 1821 death mask are among the more than 600 paintings, prints, and sculptures on display.
---
---
Admire the beauty of Garfield Park Conservatory
The Garfield Park Conservatory is a sought-after destination for romantic couples who would simply like to enjoy the beauty of nature and its wonderful landscapes.
The Conservatory has many different venues and you can visit your favorite ones. The Palm House is one such room in the Conservatory that features more than 70 graceful palms.
The fern room is where you get to see lush ferns that are planted in accordance with the founder of this Botanical Garden.
The Desert House features amazing collections of cacti and succulents. These plants are known for their ability to withstand extreme climatic conditions, especially during the summer season.
---
---
Fall in love with Blue Man Group Chicago
At the Briar Street Theatre, enjoy an outstanding Blue Man Group performance, one of Chicago's longest-running performances.
The Blue Man Group Chicago is a popular multi-sensory experience romantic couples must see at least once in their lifetime.
It is a dynamic combination of art, music, comedy, and technology, which appeals to a broad range of age groups and cultural backgrounds.
In all Blue Man Group shows, three bald blue men perform with the help of music, explicit comical actions, and great miming techniques.
You will enjoy the ever-changing, family-friendly entertainment's laugh-inducing antics, striking visuals, and high-tech stage show while experiencing the group's colossal tablet, the "GiPad."
This musical-comedy show has a circus-like appeal and is sure to leave you spellbound.
---
---
Go veggie shopping at the Chicago French Market
The Chicago French Market is a highlight of Chicago's tastiest culinary delights. Here, you will feel the hustle-bustle culture in Chicago while munching on some tasty burgers.
The place is full of the natural aroma of the foods that many excellent chiefs make here. There are more than 30 vendors in this market who offer a variety of cuisines and indigenous flavors.
You can visit the Chicago French Market whenever you want. The market remains open throughout the day. Try out some of the indegenous foods such as Meatball subs, Belgian fries, lobster rolls, ceviche, and much more.
The music that's played in the background offers a romantic vibe for couples who are looking for a good time spent.
---
---
Visit the Museum of Contemporary Art Chicago
The Museum of Contemporary Art Chicago is one of the world's largest museums dedicated to contemporary art.
With over 2,500 works in its permanent collection and dozens of exciting exhibitions each year, romantic couples enjoy the thrilling world of modern art and design.
It is your one-stop shop for all things arty in Illinois, with painting, sculpture, graphic design, and photography, as well as film, theatre, music, and performance art.
This Museum Of Contemporary Art ticket gives you complete access to all permanent and temporary exhibitions.
When you book these Skip The Line tickets online, they get emailed to you.
---
---
Set sail on Lake Michigan
Ship cruises make the moments you spend with your loved one truly romantic. But setting out on a yacht with your sweetheart is a whole new experience.
You can explore the lovely beaches that lie on the western side of the State's coastline. There are about 35 miles of shoreline in the Sleeping Bear Dunes National Lakeshore.
Also, dwell on some of Lake Michigan's daunting history as you sail across it. Once you're done with the history, you can spend some time at several parks that lie along the stretch of the lake.
If you want to go hiking, Ludington State Park is one of the best options.
There are two prominent ships, the 114-foot Manitou and the 148-foot tall ship Windy of Chicago from which you can choose to sail.
---
---
Pay a visit to the Medieval Torture Museum Chicago
The Medieval Torture Museum in Chicago is the largest interactive historical museum in the US and showcases torture chambers of the darkest periods of history.
At the 5,000-square-foot museum, you will find the world's most detailed collection of confinement and torture devices, instruments of slow death and execution.
All torture devices are also accompanied by wax sculptures of victims and executioners so that romantic couples can better understand how the instruments worked.
The Medieval Torture Museum is unsuitable for kids below 18 years, but they can visit if accompanied by parents.
As you enter the museum lobby, you are greeted with a wall of skulls—just a taste of what awaits you in the eight rooms of torture displays.
---
---
Go biking at the Chicago Lakefront Trail
Get on a bike with your loved one and explore Lake Michigan's amazing shoreline. The trail is 19-miles of paved pathways where you can breeze through with your bikes.
The path runs along downtown Chicago and offers stunning views of the surrounding scenery and landmarks.
There are 4 main lakefront parks that are all connected on the Lakefront Trail. You can have a fun time with your life partner exploring these parks.
Jackson Park is a 500-acre park that is full of amazing flora and fauna. One can also visit the Japanese garden that is within the limits of this Park.
---
---
Embrace the serenity of Chicago Botanical Garden
Strolling through the Chicago Botanical Garden is one of the top couple things to do in Chicago. The gardens are maintained so lively that you instantly fall in love with them.
The Spring season is the best time to visit the Chicago Botanic garden, as major flowers such as the Snowdrops and Magnolia come to life at this time.
There are multiple gardens in the Chicago Botanic Garden that are distinguished by the arrangement of the flowers.
In Sensory Garden, you will find plants in raised beds so that romantic couples can easily smell and touch the flowers.
One of the trending moments occurs between late April and early May when 300 crabapple trees encircle the Great Basin.
---
---
Go down the lane at Chicago History Museum
Chicago History Museum showcases Chicago's and America's history by selecting permanent and temporary exhibits drawn from the Museum's nearly 22 million items.
The Museum was founded in 1856 to study and interpret Windy City's history. Visiting the museum is one of the top couple things to do in Chicago.
You will see numerous historical treasures, including a piece of the old Fort Dearborn, a restored original L train car, a re-created jazz club, and the first locomotive to operate in Chicago.
Learn about Chicago's history with the "Sensing Chicago" exhibit, riding a high-wheel bike, hearing the Great Chicago Fire, and even eating a famous Chicago-style hot dog.
Best romantic destinations for couples