Cancun in Mexico is a perfect place for a holiday with kids.
Whatever your child's age, there is always something you can do together in this beach destination.
Even if you don't go anywhere else, the numerous beaches in Cancun can keep your kids busy.
You can build sandcastles together, take a dip or go a bit further for snorkeling.
While Cancun's aquamarine water and white sands can keep your kids busy, you don't need to restrict yourself to just beaches.
There are many more exciting things to do in Cancun with kids.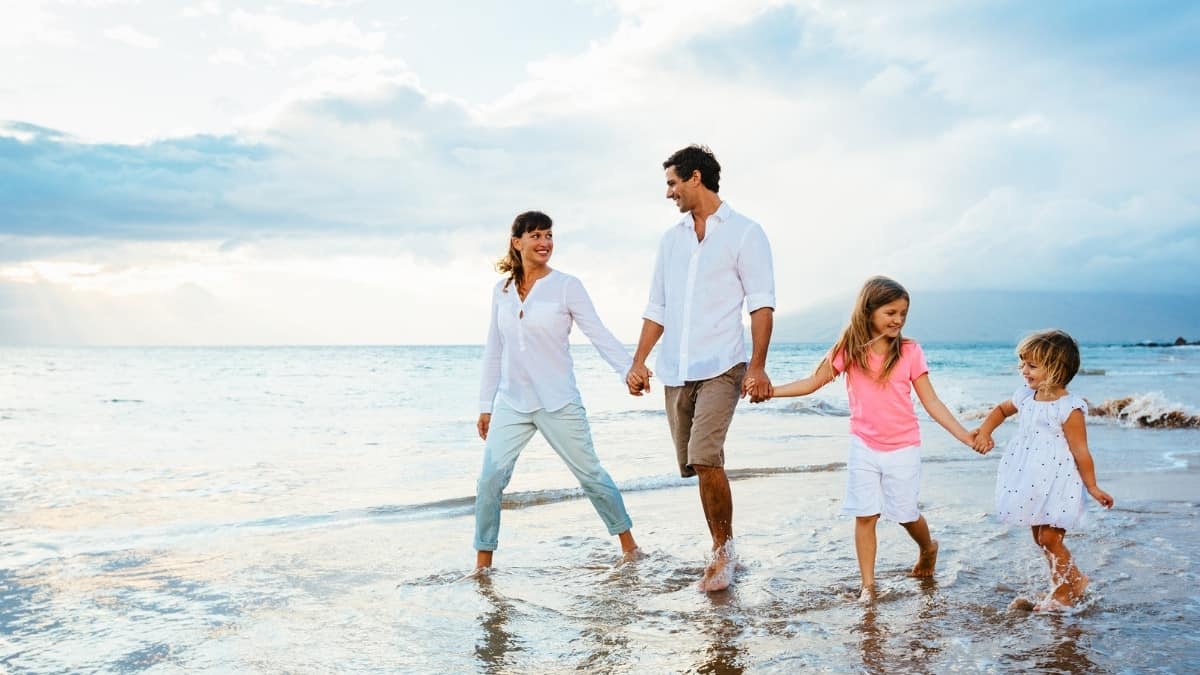 Challenge your senses at Xenses Park
If you are traveling to Cancun with a kid that loves science, don't miss the Xenses Park.
Your child needs to be at least five years old to enjoy Xenses Park.
Once in the park, you go through two circuits of unique activities and fantastic scenarios.
This park has water sports, nature activities, special activities for kids, cultural events, etc., which will keep the whole family entertained.
The highlight of this park is the Mexican town which ignores the laws of physics.
You can't tell if you're climbing up or down the street in the town, if the water is flowing forward or backward or if the gravity has been reversed.
You won't be able to tell if the doors are small or you have become a giant!
Xenses Park is 72 Kms (45 Miles) from Cancun Hotel Zone.
Most packages include transportation from your hotel to the Park and back.
---
---
Get into a pirate fight with Captain Hook
However old your kids are, they will love the Captain Hook experience.
Here is how it transpires:
At 7 pm, you get on an 18th-century Spanish Galleon replica, which takes off from a bridge near the Oasis Palm Hotel in Cancun Hotel Zone (at 4.5 kms).
Your hosts are pirates who entertain you with their tales as you drink, dine and play games.
Once the dinner is over, you head back to the deck only to find that an enemy ship has gained on you.
The pirate ship is about to attack you, using darkness as cover.
Your captain asks all his men to battle positions.
Soon enough, enemy pirates land on your ship, and a fierce sword battle starts.
You witness this fight, or you take part. Whatever you decide, it is a fantastic experience for the whole family.
The ship returns to the dock at 10:30 pm.
---
---
Get adventurous in Garrafon Natural Reef Park
Garrafon Natural Reef Park is on Isla Mujeres island.
A 20 minutes' ferry ride from Cancun gets you to this beautiful island.
While this Park is perfect for kids of all age groups, teenagers are likely to have more fun.
They will love the date with nature as well as snorkeling, kayaking, ziplines, etc.
Once you are done with the natural park, check out the Parque de Tortuga playground on the island (this is for smaller kids).
The turtle farm on Sac Bajo is fun for both kids and adults alike.
---
---
Get wowed by corals on Atlantis Submarine Tour
The Barrier Reef off the shores of Cozumel is the second largest in the world – after the Great Barrier reef in Australia.
How about riding a submarine and diving to see the colorful corals lit by the sun?
The Atlantis Submarine tour happens on a 48-passenger submarine that dives up to 100 feet underwater so that you can explore marine life.
The submarine has large portholes for you to enjoy the view.
The underwater tour lasts 2 hours, and your kids will be thrilled to bits.
If you don't want to travel 110 Kms to Cozumel for this underwater experience, you can try out Subsee Paradise Tour.
The boarding for this tour happens at km 15 of the Cancun Hotel Zone, and the tour lasts 35 minutes.
---
---
Take a dip in a Cenote
In the ancient Mayan language, 'Cenotes' means 'secret well.'
There is no Cenote anywhere else in the world, which is why it is a shame to be holidaying in Cancun and not visit these underwater caves and caverns.
You can swim, scuba dive, or snorkel in Cenotes and see stunning formations of stalagmites and stalactites.
Do take your swimming attire along. Cenotes are very tourist friendly and usually have locker rentals, washroom facilities, and jumping platforms.
Your child is sure to enjoy this unique experience.
---
---
Zip past Nichupté Lagoon in a Jungle Speed Boat
Every kid in the World loves speed, and the jungle speedboat in Cancun provides just that.
Nichupté Lagoon is 7000 acres big water body just behind the Cancun Hotel Zone and is the spot for the speedboat adventure.
Its proximity to Hotel Zone makes it a popular kid activity, so please book ahead of time.
You get your two-person jungle speedboat which you can drive for 45 minutes to reach the reef.
That's when you get off, wear your snorkeling gear and dive in to explore the colorful marine life.
Once done, jump back to your Jungle speedboat and drive. The whole excursion takes 2 hours and 15 minutes and is just perfect for kids.
Only kids six years and above are allowed. One must be 18 and above to drive the speedboats.
---
---
Swim with the Dolphins at Delphinus Dreams
Delphinus Dreams is one of the best things to do in Cancun with kids.
Your kids (and you!) can interact in the water with real live dolphins, which is also a great photo opportunity.
One of the most popular activities with dolphins is getting foot-pushed by them at high speed, lifting the kid right out of the water.
Delphinus Dreams is close to the Hotel Zone, so your children won't get bored by all the traveling.
The Interactive Aquarium is open on all seven days from 10:30 am to 7:30 pm.
---
---
Try to escape the crocodiles at Crococun
Crococun is an interactive conservation zoo situated 40 Kms from the Cancun Hotel Zone.
It started as a crocodile breeding farm but has changed its plan to protecting and promoting crocodiles over the years.
This is a short one-hour tour, but your children will enjoy it.
Don't miss the chance to hold a baby crocodile and take a photograph, and if you are up to it, walk through 50 crocodiles roaming free.
---
---
Get entertained at Xel-Ha Park
Xel-Ha calls itself the world's most beautiful natural aquariums.
It is an aquatic theme park located on the Caribbean coast of the state of Quintana Roo in Mexico.
If you are holidaying with kids, teenagers, etc., this is one of the best things to do in Cancun.
Since exploring this park involves a lot of walking, make sure your kids can handle it.
A safer bet will be to try Xel-Ha Park only if your kids are ten years and older.
It is an all-inclusive park, which means your snorkeling gear, lockers, food, towels, etc., are part of your ticket price.
However, there are certain add-ons you can opt for once you are in the park.
Xel-Ha Park is 97 km (60 miles) from Cancun's Hotel Zone, and the journey time is two hours.
That's why all packages to Hel-Ha Park include hotel pickup and drop.
Even though there is a bit of traveling, we suggest you don't miss this tropical island paradise.
---
---
Try Playa Delfines, a beach with a difference
Your kids will love Playa Delfines beach.
If they are not teenagers yet, they will love to play with the fantastic white sand and the nice playground nearby.
If your kids are now teenagers, they will love the selfie spot with massive letters CANCUN.
If you are lucky, you can also spot Dolphins on the Playa Delfines beach.
If you want to go for a swim, be wary of heavy currents and riptides since the beach is notorious for its rough waters.
---
---
Check out El Rey Ruins
El Rey Ruins is an archeological site conveniently located within Cancun's Hotel Zone.
These ruins were inhabited by the Mayans as early as 900 AD.
You can walk in anytime between 8 am to 5 pm for a fee of roughly 50 pesos.
They are not as spectacular as Chichén Itzá, but they are within Cancun, and hence you don't spend hours in the cab.
Something your children will also appreciate.
Thousands of iguanas have invaded these ruins, and they act as a distraction for kids who may get bored of the archeological site.
---
---
Get dazzled by Río Secreto
Río Secreto means the secret river.
It has got its name because it is an underwater river that runs between the most spectacular cave systems in the world.
Some even call it the 'crystal museum' because this underground river is adorned with stunning stalactites and glittering minerals.
A visit to this underground river will make you feel like you have stepped into an Indiana Jones movie.
When you enter the dark, underground river, the only light you use is the torch on your helmet.
And wherever you look, the brightly colored minerals sparkle in the glow of the head torch.
You and your kids will spend a significant part of your day hiking and swimming through a kilometer of this natural phenomenon.
Don't worry. You will be given wetsuits.
Río Secreto is 85 Kms (53 Miles) from Cancun and the travel time is usually one hour 15 minutes.
Most packages offer return transport from your hotel to the tourist attraction.
---
---
Become a true Mexican at Xoximilco Cancun
If you want to provide an authentic Mexican experience to your kids, we recommend Xoximilco Cancun.
Xoximilco is located on the Cancun-Chetumal highway – 5 minutes from the Cancun international airport.
Once you land there, you join a traditional Mexican carnival with many games: foosball, marble game, dart throwing and pin the tail on the donkey etc.
Once the mood is set, you board a colorful Mexican Gondola for a night of music, dance, games, and food.
The idea is to learn about Mexican culture, customs, and traditions in a fun way.
---
---
Explore Cancun's Underwater Museum
Cancun underwater museum is a noble effort to draw attention away from the natural reefs and thus preserving them.
This underwater museum has more than 450 statues that have now grown their own corals and other marine life.
The tour is 3 hours long and includes 45 minutes of snorkeling at the underwater museum and 20 minutes of snorkeling at El Farito.
---
---
Visit Selvatica for the adrenalin rush
According to Tripadvisor.com, Selvatica is one of the top 5 adventure spots in the World and the ultimate adventure activity in Cancun.
There are various adventure activities such as ATV drives, insane bungee jumps from trees, dipping in a cenote, aerial skywalk bridges, and ten different ziplines.
The most popular activity here is zip lining over the jungle, which your children will love for sure.
If your child is nine and above, they can zip line on their own. Kids aged three to nine can zip line tethered to a guide.
>> Selvatica Jungle Adventure Park Trip
---
---
Check out Xcaret, an Eco-Archeological Park
This entertainment park has something for everybody.
Cultural activities, nature activities, water sports, entertainment for kids – you name it, and Xcaret has it.
Located on the seashore near Cancun in the Riviera Maya, this Park is an all-action, all thrill experience which you shouldn't miss.
If possible, don't miss out on the "Xcaret Mexico Espectacular."
It is a celebration of light and color with 300 artists, which details out the history of Mexico as nobody has ever done before.
A unique part of the park called "Children's World" is designated for kids up to 12 years old.
It has water slides, hanging bridges, cenotes, a parakeet habitat, and a playground.
The parents can relax and yet continue to keep an eye on their kids from specialized spots.
Xcaret Park is 75 km (47 miles) from Cancun, and that's why all packages also include hotel pickup and drop-off.
---
---
Indulge in water activities at All Ritmo Water Park
This family-friendly water park is part of All Ritmo Resort but is also open to the public.
Located in Cancun Downtown, it is not far from the Hotel Zone.
Once you buy your entry ticket to All Ritmo Water Park, you get unlimited food and drinks (including alcohol).
However, don't expect a lavish buffet. As part of the all-inclusive ticket, you get 'snack' foods such as burgers, hot dogs, nachos, etc.
The water slides are fun, and there is something for every member of the family.
---
---
Get wet and wild at Ventura park
Ventura Park is conveniently located at Km 25 of Cancun Hotel Zone.
It was earlier known as the Wet 'n Wild and is the only adventure park in the Hotel Zone.
Kids of all age groups love Ventura park because there is something for everyone: Dolphinaris, Underworld, Fun World, Grand Prix, Aaaahventura and Wet n' Wild.
You can choose from numerous packages which cater to different needs. All of these packages include complimentary food and drinks.
Don't worry if you have a kid below five years, for there is a designated area for smaller kids.
---
---
Get your kids excited at Xplor Adventure Park
Xplor is an all-inclusive park that is bound to get your adrenaline pumping.
Tourists are known to come back again and again; such is the lure of Xplor.
If your kid is six years and older, they qualify to enter this park.
The highlight of this adventure park is the 14 zip line circuits above the tree-tops so that you can fly over the jungle.
Once the zip-lining is done, you can ride an amphibious vehicle, go river rafting, swim below stalactites, hike through underground caves, and find out what is a hammock splash.
Once all the hard work (and fun!) is done, you can tuck into the fantastic buffet included in the ticket.
If you have teenagers in the family, this is a must-visit attraction.
When it comes to Xplor, you have two options – you can explore it during the day (pick up will be at 6.30 am from your hotel) or explore it at night (pick up will be at 2.30 pm from your hotel).
Those who love living life on the edge should try the night tour, for fires are lit above and below the zip lines to provide you an adrenaline-charged experience.
---
---
Swim with Whales on the Holbox Whale Shark Tour
If you are in Cancun from late May to October, your family is in for a treat.
Head out to Isla Holbox, an island north of Mexico's Yucatán Peninsula, to watch scores of whale sharks feed and mate in the waters.
Holbox Whale Shark tours are pretty popular with families with teenagers.
Your kids will love watching the huge sharks (anywhere from 15 to 50 feet long). If you are adventurous enough, you can swim with them as well.
---
---
Visit Chichen Itza for a dose of history
If your child is ten and below, a visit to Chichen Itza may be a bit boring for them (unless they are inclined towards historical travel).
However, since this is one of the world's seven new wonders, it is worthwhile to take your kid and show them Chichen Itza.
Chichen Itza is the site of an ancient city that thrived from 600 A.D. to the 1200s. El Castillo or Temple of Kukulcan (a massive step pyramid) is the central attraction.
This site is 200 Kms from Cancun and takes around two and a half hours of travel time. This journey could also get boring for your child.
Because of this distance, all tour packages come with pick-up and drop facilities.
More about Cancun
# Packing for Cancun
# Cancun for Couples
# Cancun Hotel Zone
# Cancun Nightlife
# Resorts in Cancun
# Mexican Menu
# Cheap Cancun holidays
# Cancun Airport Transfers
# Cancun Weather
# Cancun Airport