Cancun Hotel Zone is also known as 'Zona Hotelera' or 'Tourist Zone.'
It is a narrow 22.5 Kms (14 Miles) long island where tourists spend most of their time during their Cancun holiday.
Hotels, resorts, and villas line the beaches of the Hotel Zone in Cancun, thus providing unlimited access to white sand and turquoise water beaches to all staying in this zone.
While on the outside this long stretch, you will find hotels and beaches, on the inside is Laguna Nichupté, a vast lagoon.
Facing this massive water body are numerous attractions, water sports venues, waterfront restaurants, a few Golf courses, shopping malls, etc.
Cancun's hotel zone also has a few minor archeological sites ideal for those lazy days when you don't want to do much.
Ruins of El Rey located on Kukulacán Blvd at Km 17 (near Mile 10.5), is a quick getaway.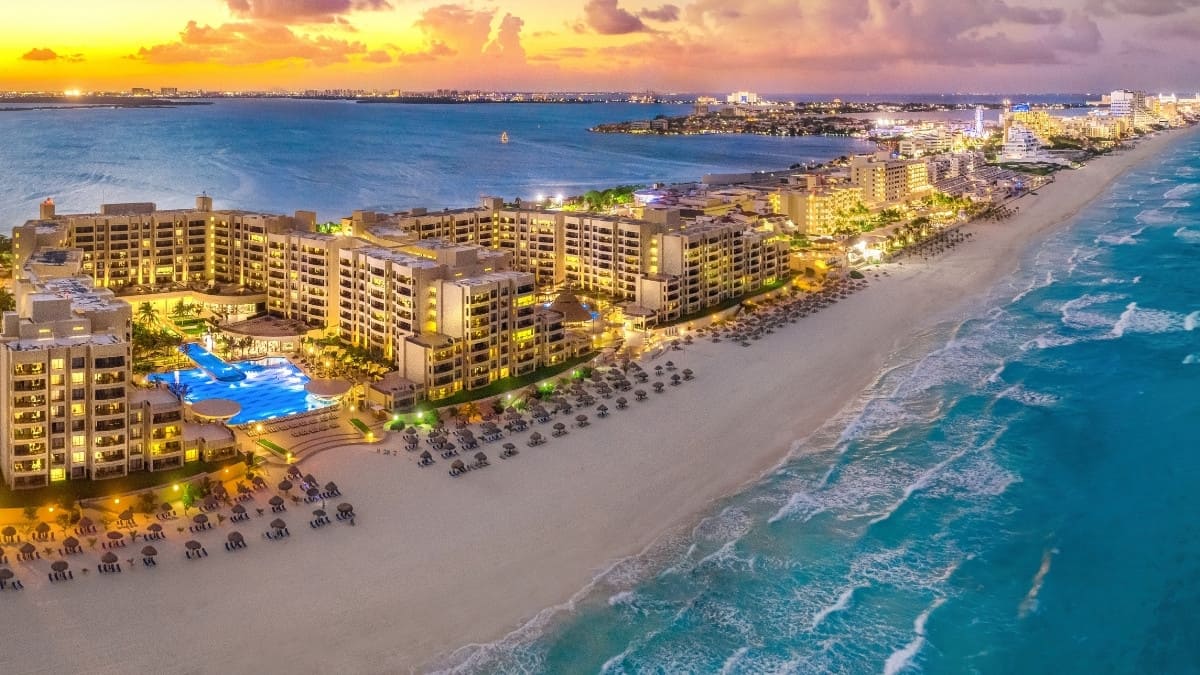 Distance from Airport
The closest part of the Hotel Zone is 10 Kms (6.2 Miles), and the furthest part is 25 Kms (15.5 Miles) away from the Cancun International airport.
The time it will take you to reach your Cancun Hotel will depend on where in the Zone your hotel is.
A taxi can take you to the closest part of the Cancun Hotel Zone in 12 minutes, and to go to the furthest part of the Zone, you need around 25 minutes.
Within the Cancun region, it usually takes one minute by road to travel 1 km (0.62 miles).
To know how you can get to the Hotel Zone, read up on Cancun Airport transfers.
---
---
Cancun Hotel Zone Map
Before we share the Cancun Hotel Zone map, let us show you where Cancun is in Mexico.
If you look at the top right corner of the Cancun area map below, you will spot Cancun and the nearby island Isla Mujeres.
Now try and spot the number '7' on the map.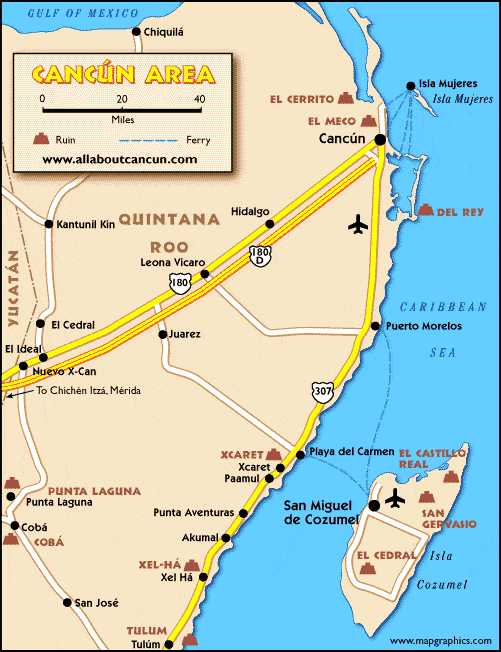 Found it? Let us help you.
The area marked by the red circle is called the Cancun Hotel Zone.
Now, let us understand the Cancun Hotel Zone layout in a little more detail by zooming in.
There are more than 70 hotels in this Hotel Zone.
The red umbrellas you see on the map are the beaches along the zone.
The region where the upper half and lower half of the number '7' meet is also known as the Party Zone.
This area is home to many of the area's nightclubs and discos.
---
---
Downtown Cancun vs Hotel Zone
The part of Cancun that doesn't fall under the Hotel Zone is known as Downtown Cancun or "El Centro."
Seasoned tourists and budget travelers opt for hotels in Downtown Cancun.
Both the Cancun Hotel Zone and Downtown Cancun have their own advantages.
While the Hotel Zone has beautiful beaches close by, massive nightclubs, fine dining restaurants, etc., the Downtown area provides a holiday that's closer to Cancun and Mexicans.
The only disadvantage of Downtown Cancun is the distance you must travel to reach the numerous attractions, beaches, nightclubs, etc.
However, this distance isn't much for a bus can take you to the Hotel Zone in 20 minutes.
If you are looking for the finest hotel in Downtown Cancun look no further than Krystal Urban Cancun Centro.
Other popular hotels are Xbalamque, Hotel Ibis Cancun Centro, City Express Cancun, La Quinta Inn & Suites Cancun, and City Express Junior Cancun.
---
---
Best location in Cancun Hotel Zone
The best location in Cancun Hotel Zone depends on what you want from your Cancun holiday.
Best location for Hotels in Hotel Zone
As for the best hotel location, we think that doesn't matter.
Every few minutes you can find public transport buses just outside your hotel to go wherever you want.
They are convenient and, at just USD 0.70 per trip, inexpensive too.
While choosing your hotel, let its location not be a factor.
Let your decision be based on the accommodation costs, the facilities, the package inclusions, etc.
Best location for beaches in Hotel Zone
Every hotel or resort in the Hotel Zone has its private beach.
If you want lovely beaches to be within walking distance from where you are staying, we suggest taking a hotel at the lower part of the Cancun' 7' – the one that runs North to South.
If you prefer calmer waters on your beach, book a hotel on the side which runs east to west – that is the upper side of the number' 7.'
Best location for nightlife in Hotel Zone
If access to nightclubs is crucial for you, the best location in the Cancun Hotel zone will be the party zone – where the two sides of Cancun's '7' meet.
To fulfill this requirement, you must opt for a hotel or resort within a kilometer (0.65 miles) on both sides of hotel Riu Cancun.
This spot is also known as Punta Cancun.
Nightlife in Cancun is to die for, so don't miss it.
To enjoy Cancun's nightlife, you need more than just the location – lots and lots of energy.
Tip: Use this interactive map to find the location of Cancun Hotels
---
---
Safety in Cancun Hotel Zone
Cancun and neighboring tourist spots attract millions of tourists.
With half a million residents and millions visiting it every year, it is naïve to think that Cancun won't have any crime.
The same rules apply to the Cancun Hotel Zone.
However, the Cancun Hotel Zone is the safest part of Cancun, and violent crimes are few and far between.
Street crimes, however, can be commonplace.
The trick is to be alert all the time and be aware of your surroundings.
For instance, it is wiser not to flaunt a lot of wealth and not walk home alone at night.
The Mexican police also report many rapes in Cancun's resort area, mostly at night and in the early morning.
The accused have mostly been an acquaintance of the victim or a local – in equal measure.
Common sense is key to having a lovely holiday in Cancun.
Sources

# Destinationlesstravel.com
# Excellenceresorts.com
# Theplanetd.com
# Tripadvisor.in

The travel specialists at TheBetterVacation.com use only high-quality sources while researching & writing their articles. We make every attempt to keep our content current, reliable and trustworthy.
More about Cancun
# Packing for Cancun
# Cancun for Couples
# Cancun Nightlife
# Cancun for kids
# Resorts in Cancun
# Mexican Menu
# Cheap Cancun holidays
# Cancun Airport Transfers
# Cancun Weather
# Cancun Airport