We all love hassle-free vacations, and that's why you are perhaps wondering what happens when you land at the Cancun International Airport.
For someone who has already been to Cancun, the answer is simple – use one of the Cancun airport transfer options and reach your hotel.
However, if you are coming to Cancun for the first time, you may have many doubts.
1. How far is my hotel from Cancun airport?
2. How will I reach my hotel?
3. Which airport transfer will be the best?
4. If I opt for a Taxi, how much will I have to pay?
5. Can I negotiate, or is the taxi fare fixed?
6. If I don't want to take a taxi, is there a cheaper airport transfer option?
Rest easy, for, in this article, we will try to address all possible queries related to Cancun airport transfers.
Be aware that Uber doesn't work in Cancun, which means you can't make a last-minute booking.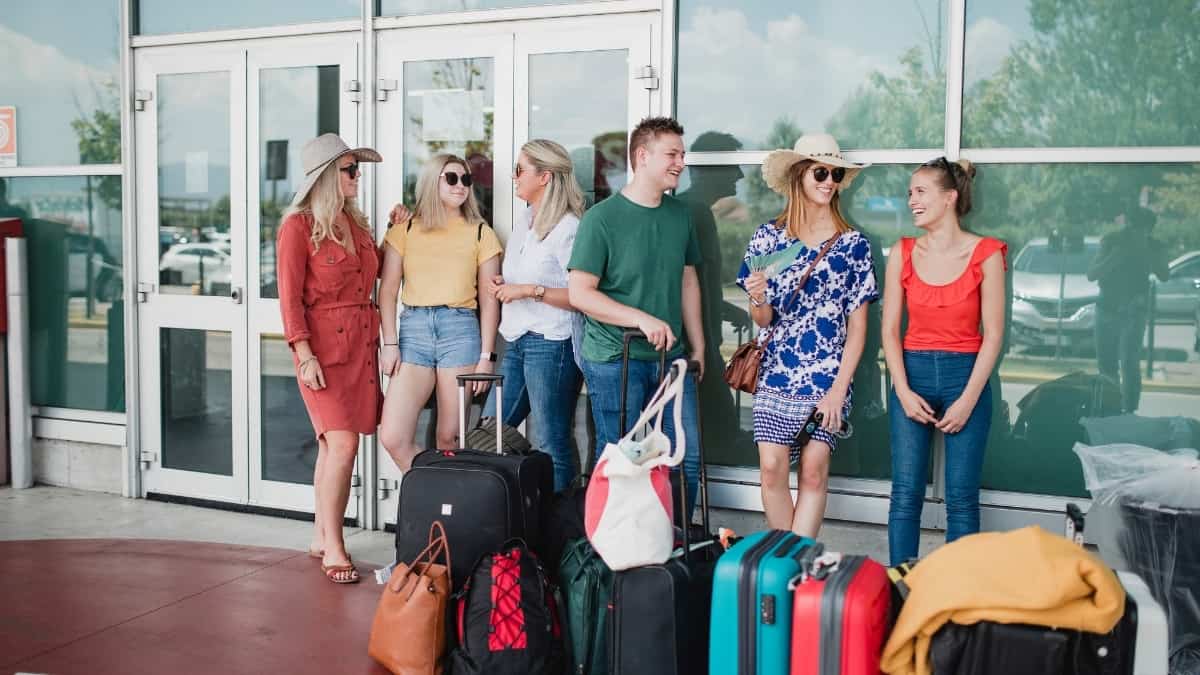 Distance between Cancun Airport and your hotel
If you stay in Cancun, your hotel can either be in Downtown Cancun or the Cancun Hotel Zone.
The former is approximately 12 Kms (or 7.5 Miles) from the Cancun International Airport.
Whatever airport transfer you take, they will head south of Cancun on 307 Highway to reach Downtown Cancun.
If the hotel you have booked for your Cancun holiday is in the Hotel Zone, then the distance is difficult to predict without knowing your hotel's name.
Cancun's Hotel Zone is 25 Kms (or 15.5 Miles) long, and your hotel can be anywhere on this stretch.
However, one thing is certain – it will take you NOT more than 25 minutes to reach your hotel in the Hotel Zone.
Transfers from Cancun airport
When it comes to transfers from Cancun airport, you have four options.
– Hire a shared Shuttle
– Hire a taxi
– Hire a private van
– Take a public bus
Let us look at these four airport transfer options in detail.
Shared Shuttle transfer from Cancun Airport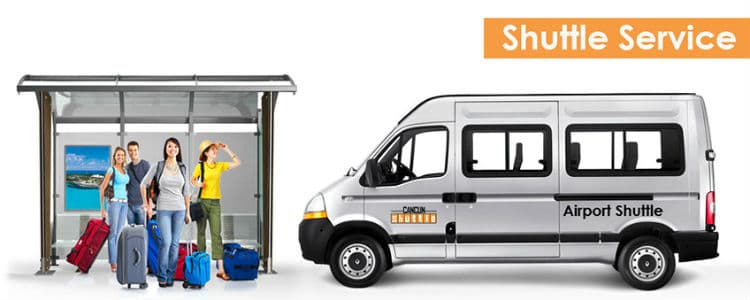 At the Cancun Airport, numerous companies are authorized to provide you shared shuttle service.
These vans come with air conditioning, luggage compartment and are affordable too.
However, one disadvantage is that you will be pooled with other people, which means a longer travel time to reach your hotel.
The good thing is, these shuttles have limits – they can make a maximum of five stops.
The shared shuttle service is available between 8 am to 8 pm.
If your flight arrives outside these hours, you shouldn't book the shared shuttle service at Cancun airport.
If you are on a budget, we recommend you take a shared shuttle.
However, we suggest you book directly with the shared shuttle company and not an intermediary such as Tripadvisor or Expedia.
Transfers from Cancun airport by Bus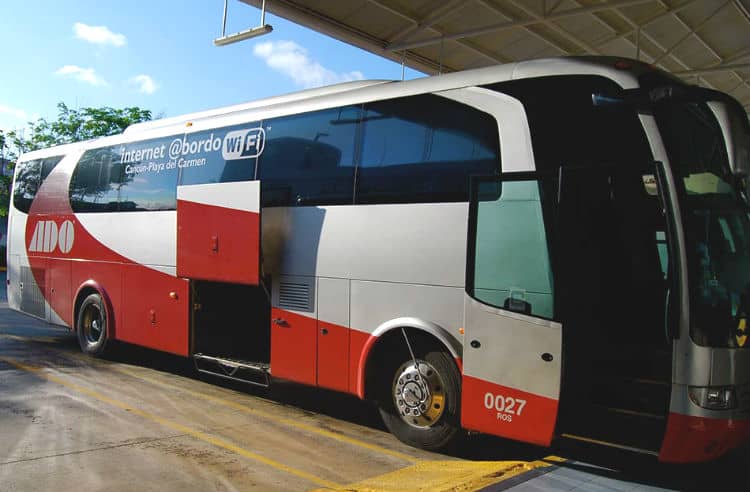 If you have time on your hands and prefer not to spend much on your Cancun airport transfers, you can opt for the bus.
While it is the cheapest way to reach your hotel from Cancun Airport, it is also the least convenient.
If you opt for the bus, you will take a long time to reach your hotel.
Once you get out of the airport, you must look for the 'ADO' stand.
ADO is the bus company's name, and it has its stand in all the three terminals of the Cancun airport.
These buses are scheduled every 30 to 45 minutes, which means if you miss one bus because of the crowd, you must wait another 30-45 minutes for the next one.
These buses take you to the bus terminals in major cities such as Cancun, Tulum, or Playa del Carmen.
From there, you must take another bus or taxi to reach your hotel.
Since the bus delays your vacation, we recommend them only when you are on a budget vacation in Cancun.
Recommended Reading
1. Cancun Mexico weather – best time to visit Cancun
2. Best all inclusive resorts and hotels in Cancun
Transfers from Cancun airport by Taxi
We won't recommend Taxis. They are just too costly (we have provided the approximate taxi fares below).
We recommend that you use Taxis for Cancun airport transfers only in extreme conditions.
To use the taxis standing outside the gates of Terminal 2 and 3, you need to buy tickets inside the terminal itself.
If you book a taxi from the airport, their cost is bound to be 4 or 5 times more than the pre-arranged ground transportation services.
Most taxis have a capacity of only four passengers (some only three), so if you are a bigger group, don't book a taxi for your transfer from the Cancun airport.
If you aren't carrying cash, withdraw money at the airport because taxis in Cancun accept only cash.
Cancun Taxi Rates
Unlike many other countries, you can't negotiate your taxi rates in Cancun.
The city is split into several zones, and the taxi fare is pre-determined depending on the zone where you are going.
The taxi union establishes these taxi fares, and hence are universal.
It may hurt you to know that the locals are charged less for using the taxis.
A taxi ride starting from a luxury resort tends to be costlier than a taxi ride starting from an affordable resort.
Cancun Taxi fares from Cancun airport
Here are approximate fares from Cancun International Airport to major destinations>
To Puerto Morelos: $ 40 to $ 46
To Riviera Cancun: $ 35 to $ 40
To Playa Del Carmen: $ 59 to $ 67
To Akumal: $ 80 to $ 92
To Cancun Hotel Zone: $ 35 to $ 42
To Tulum: $ 85 to $ 98
To Playa Mujeres: $ 45 to $ 52
Transfers from Cancun airport by private transportation
Tourists who have been to Cancun before highly recommend private transfers from the Cancun airport.
Companies such as USA Transfers, Happy Shuttle Cancun, Cancun Transfers, Canada Transfers, etc., provide private transfers from the airport.
The most significant advantage of private transfers is that you don't have to wait for anyone.
The moment you are in the car, it can start towards the destination.
If you want, you can stop by any of the Mexican restaurants in Cancun on the way.
The private transfers from Cancun airport are billed in ranges from 1 to 2 passengers, from 3 to 7 passengers, and 8 to 10 passengers.
Since this service is available 24 hours, you don't have to worry about your flight getting delayed and crossing the time limit.
Best transfers from Cancun airport
With taxis being costly and buses being inconvenient, the private transfer service ends up being just the right mode of transport. All you must do is book ahead.
However, if you prefer a private transfer, we suggest you only use the official transport out to your hotel.
Feraltar and Lumaale are the only two official shuttle companies that operate out of the airport – choose anyone.
Representatives of both companies can be found 24 hours a day at the exit of the Cancun airport building.
If your flight lands in Cancun and you don't find anyone around to transport you and your bags to your hotel, please call 886-8295 for assistance.
Find out the best things to do in Cancun

Sources

# Airportcancun.com
# Etransfers.com
# Cancun-shuttle-transportation.com
# Hellotickets.co.uk

The travel specialists at TheBetterVacation.com use only high-quality sources while researching & writing their articles. We make every attempt to keep our content current, reliable and trustworthy.
Recommended Reading
1. Best things to do in Cancun for couples
2. What to pack for Cancun, Mexico
3. Best nightlife in Cancun, Mexico
4. Things to do in Cancun with kids