Cancun in Mexico is a major beach holiday destination with pristine beaches which last for 22 km and play host to millions of tourists every year.
Ardent beach fans name Cancun as one of the best beach holiday destinations in the world. The city is divided into two parts – the downtown area and the Cancun Hotel Zone.
If you are planning a holiday in Cancun, the best way to reach the city is by booking flight tickets to the Cancun International Airport.
Cancun International Airport is one of the busiest airports in the region and is in the NorthEast of the Yucatan Peninsula, at the Cancun-Chetumal highway.
The airport is 20 Kms (12 Miles) from the hotel zone, and cars can travel this distance in 20 minutes.
The Cancun International airport is just 40 minutes away from Playa del Carmen and 120 minutes from Tulum – the other two most popular tourist spots.
Most of the international flights to and from Mexico are handled by Cancun international airport. After all, it is the second-largest in the country.
It has three terminals and two simultaneous tracks to manage the onslaught of tourists from all over the world.
If you are traveling to Cancun by flight, you should know a few essential things about Cancun airport.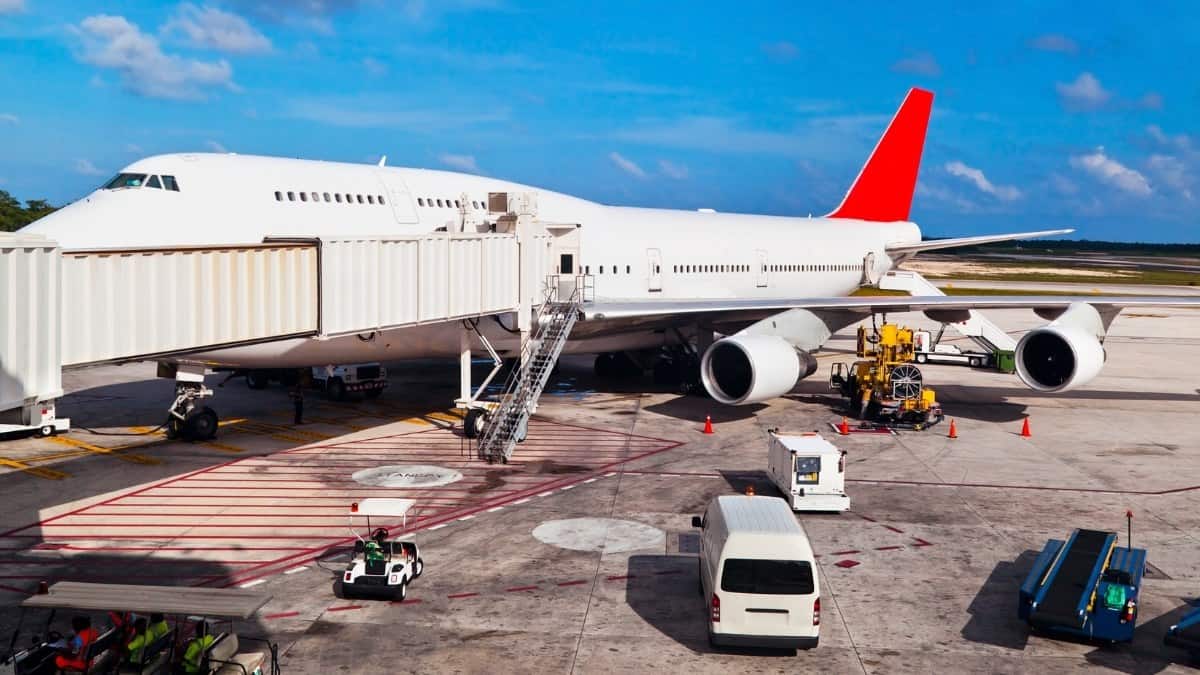 About Cancun Airport
1. Cancun airport is 14 Kms from the Cancun city center
2. Around 60 airlines operate out of Cancun airport
3. Daily nonstop flights to 115 cities fly out of Cancun
4. Weekly, around 1000 domestic flights and about 3000 international flights take off from Cancun airport
Popular airlines flying to Cancun
1. AeroMexico
2. American Airlines
3. Air Transat
4. United Airlines
5. Viva Aerobus
6. Volaris
Recommended Reading
1. What to pack for Cancun, Mexico
2. Cancun Mexico weather – best time to visit Cancun
3. Best all inclusive resorts and hotels in Cancun
Terminals in Cancun Airport
The Cancun airport has three terminals.
Terminal 1 is not relevant to most tourists coming to Cancun for a holiday since they operate only charter flights and private flights.
Terminal 2 (Domestic Commercial flights)
This terminal caters to all the domestic traffic to Cancun and some international traffic.
The airlines which operate from this terminal are Aeromexico, Aviacsa, Belair, Condor, Air Canada, Airlines Click de Mexicana, Champion air, Air Transat, Air Tran Airways, Copa Airlines, Cubana de Aviación,Jetblue, Airways, Jetair, Mexicana, Sky ServiceAirlines, SunWing Airlines, Varig, LanChile, Magnicharters, Martin Air, Viva Aerobus, First Choice Airways, Interjet, Volaris, etc.
Terminal 3 (International commercial flights)

This terminal caters to all the international traffic to Cancun, especially from North America and Europe.
Some of the popular airlines which operate out of Terminal 3 of Cancun airport are: American Airline, ATA Airlines, Continental Airlines, Delta Airlines, T Air Europa, Alaska Airlines, Frontier Airlines, My Travel, Northwest Airlines, United Airlines, US Airways, Iberworld, LTU, Thomas Cook, Thomson Fly, USA 3000, Sun Country Airlines, etc.
Transfer between terminals is easy.
Every ten minutes, there is a free airport shuttle service that runs between the terminals.
Recommended Reading: Best couple things to do in Cancun
Facilities at all terminals of Cancun airport
1. Locker facilities
The locker facilities at the Cancun airport will be helpful only when you are going back from Cancun after your holiday, or you are in transit.
If you must wait at the airport for some time and don't want to carry your baggage around, opt for the locker services the Cancun airport offers.
You will be charged $100 pesos for every 24 hrs.
2. Free Wifi
Prodigy Mobile offers free Wireless Internet Access (WiFi) to all travelers at all the terminals of Cancun airport.
You can connect to the internet from a laptop or mobile and enjoy high-speed connections for free.
3. VIP Lounge
Cancun airport has a fully functional VIP Lounge accessible from 6 am to 9 pm.
The VIP lounge exists in Terminal 2 and Terminal 3 and is only for passengers with scheduled flight departures.
The waiting time at Cancun Airport VIP Lounge is limited to a maximum of 3 hours for international flights and two hours for domestic flights.
Airports near Cancun, Mexico
If you cannot find good and cheap tickets to the Cancun main airport, you can explore alternative ways through the below-mentioned airports near Cancun.
International airports
Cozumel International Airport, Cozumel, Mexico (CZM / MMCZ): 101 kms from Cancun
Manuel Crescencio Rejón International Airport, Merida, Mexico (MID / MMMD): 325 kms from Cancun
Corozal Airport, Corozal, Belize (CZH): 393 kms from Cancun
Caye Caulker Airport, Caye Caulker, Belize (CUK): 401 kms from Cancun
Orange Walk Airport, Orange Walk, Belize (ORZ): 435 kms from Cancun
Domestic airports
Cozumel International Airport, Cozumel, Mexico (CZM / MMCZ): 101 kms from Cancun
Manuel Crescencio Rejón International Airport, Merida, Mexico (MID / MMMD): 325 kms from Cancun
You may also want to read up everything about Cancun Airport Transfers.
Sources

# Cancuniairport.com
# Airportcancun.com
# Tripadvisor.com
# Wikipedia.org

The travel specialists at TheBetterVacation.com use only high-quality sources while researching & writing their articles. We make every attempt to keep our content current, reliable and trustworthy.
Recommended Reading
1. Best nightlife in Cancun
3. Best things to do in Cancun with kids
4. Cheap holidays in Cancun