Cancun is beautiful. Cancun is hectic. If you are planning a holiday in Cancun, you are in for a lot of fun.
There are breathtaking white-sand beaches, overwhelming Mayan ruins, great bars and clubs for high-energy nights, and huge shopping malls to spend all the money you can.
After all, the 5 million tourists holidaying in Cancun every year can't be wrong.
If you are looking for all inclusive hotels and resorts in Cancan, continue reading our suggestions below. But before that…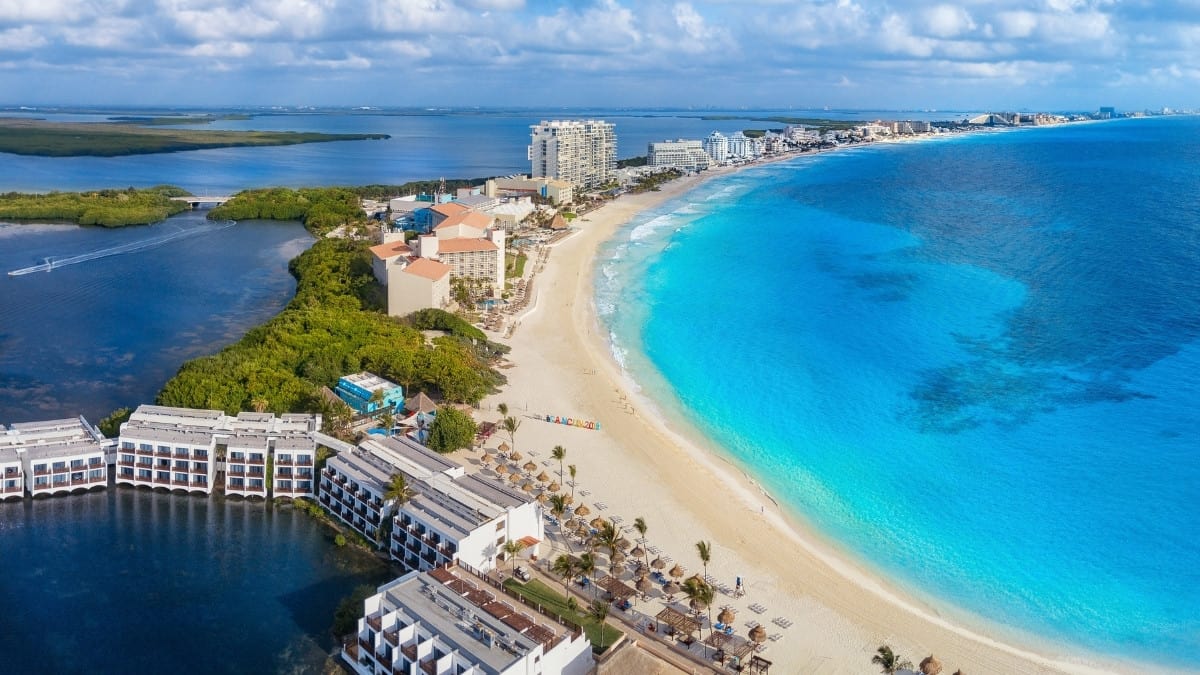 Why negotiate all inclusive holidays in Cancun, Mexico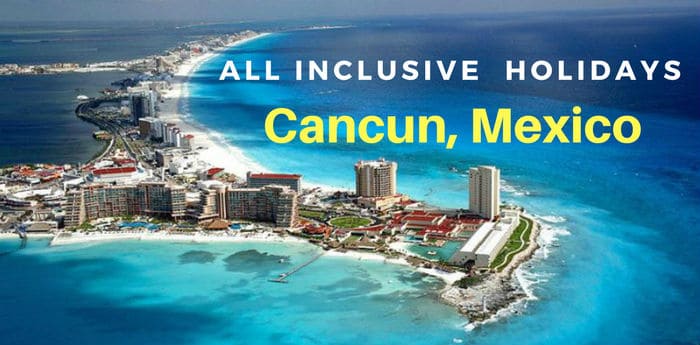 A luxury holiday is that break you take from your everyday life to enjoy plush accommodations of a luxury resort or the grandeur of a luxury cruise ship without having to worry about the amount of money you will be spending.
In short, a good deal on an all inclusive holiday package means less financial stress in Cancun.
Since everything has been paid for, there are no logistical headaches to handle.
Travelers who book all-inclusive holiday packages are royalty and hence get pampered.
In turn, you enjoy all this pampering because you know that it is not coming at an extra cost – you have already paid for everything and your budget is fixed.
All the best food and drinks available at your hotel or resort is available for you because that's also included in the package deal you have negotiated.
This is why it is important to include as much as possible in your all inclusive package deal with the hotel.
For instance, such resorts and hotels have a lot of activities which they can throw in for free if you bargain a hard deal.
Tip: Cancun is a year-long holiday destination. When you look for your all inclusive package, opt for off-seasons for a cheaper rate.
Recommended Reading
1. Cancun Mexico weather – best time to visit Cancun
2. What to pack for Cancun, Mexico
---
---
Best all inclusive resorts and hotels in Cancun, Mexico
We all love luxury all-inclusive vacations, don't we? Cancun in Mexico offers a lot of choices when it comes to all inclusive luxury options.
You may be a family with kids, a family with kids and elders or just a couple on honeymoon, rest assured that an all inclusive holiday package is recommended for everybody.
Wherever you decide to stay on this vacation – a five-star luxury resort or a hotel or some shack if you pack the right things for Cancun, you should be fine.
The best all inclusive resorts and five-star luxury hotels are in Cancun Hotel Zone.
---
---
Best all inclusive resorts in Cancun
Resort 1. Paradisus Cancun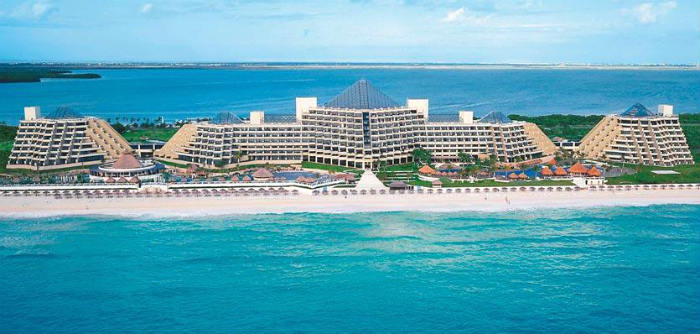 Paradisus is an all-inclusive megaresort with more than 650 clean and modern rooms.
They have a huge pool area, which can handle massive crowd so your holiday continues to be a holiday.
Besides the massive pool, there is a large fitness center and a well-maintained spa.
They also have a 9-hole golf course and plenty of water sports. The beach attached to the resort is a huge plus.
Resort 2. Le Blanc Spa Resort
Le Blanc Spa is a luxurious adult-only all-inclusive resort with 260-rooms.
Situated in the heart of the Hotel Zone, this resort has a gorgeous white-sand beach in the front.
They have a beautiful spa where all guests get free access to the hydrotherapy area and two amazing pools.
The rooms are bright and service at this resort is par excellence.
Resort 3. Sandos Cancun Lifestyle Resort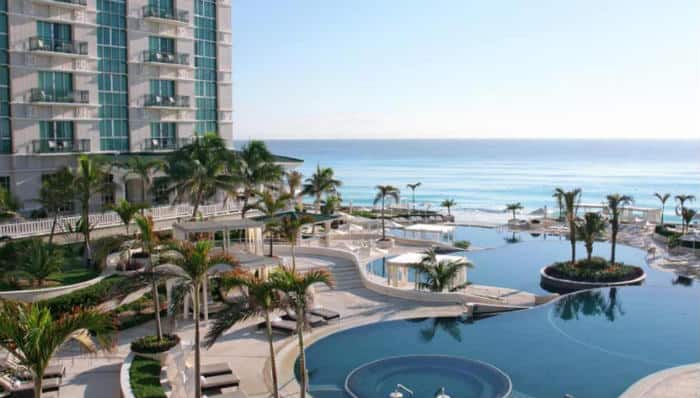 This lifestyle all inclusive resort has 187 rooms and 26 suites.
To add to the splendor, they have a world-class spa with fitness center, two fine-dining restaurants, three beautiful swimming pools, and the Caribbean beach with private cabanas and beachside attendants.
Resort 4. NIZUC Resort and Spa
Mexico's stunning Caribbean coast is a treat to watch from the balcony of NIZUC Resort & Spa.
Located at the gateway of the Riviera Maya in beautiful Punta Nizuc, this all inclusive resort offers extravagance like none before.
NIZUC has two exclusive beaches, a massive spa, and six gourmet restaurants to cater to its guests who stay in 274 private suites and villas.
Resort 5. Hard Rock Hotel
Hard Rock Hotel is one of the biggest all inclusive megaresorts in Cancun.
It has a scenic infinity pool featuring ocean views, five restaurants serving different international cuisine, four bars for those who love their drinks, and live music.
If you have kids accompanying, we highly recommend Hard Rock Hotel because of its kids' club and kids swimming pool.
This resort claims to change the typical all Inclusive vacation into a rock star paradise for the guest.
Their clientele includes a lot of celebrities and don't be surprised if you bump into someone as you relax in the resort's lobby.
This top Cancun resort boasts of unmatched, all-inclusive luxury accommodations including an in-room hydro spa tub, fine dining within the room, and top-shelf drinks.
Recommended Reading
1. Cancun International Airport – find out everything
2. Cheap Cancun Airport transfers
---
---
Best hotels in Cancun – five star luxury
Hotel 1. The Ritz-Carlton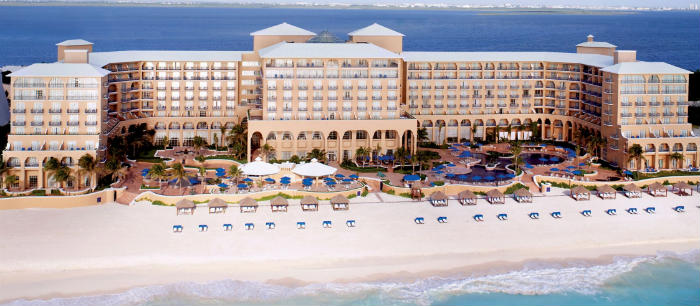 This luxury hotel has 360+ rooms overlooking the sea and its 1,200-foot long beach.
It also boasts of massive sculpted outdoor swimming pools, a full-service spa, and award-winning restaurants to impress the holidaying guests.
Many consider The Ritz-Carlton as a landmark of Cancun.
Hotel 2. Secrets The Vine
This all-inclusive, luxury hotel has an adult-only policy.
The 497-rooms in the hotel are tastefully done and offer exciting sea views from the balconies.
Six a la carte restaurants serve global cuisines such as Asian, Argentinian, Italian, Mexican etc 24 hours a day.
There are four scenic pools to choose from and when you get bored of the pool and the beach you can always head into to the in-house spa.
Hotel 3. Grand Fiesta Americana Coral Beach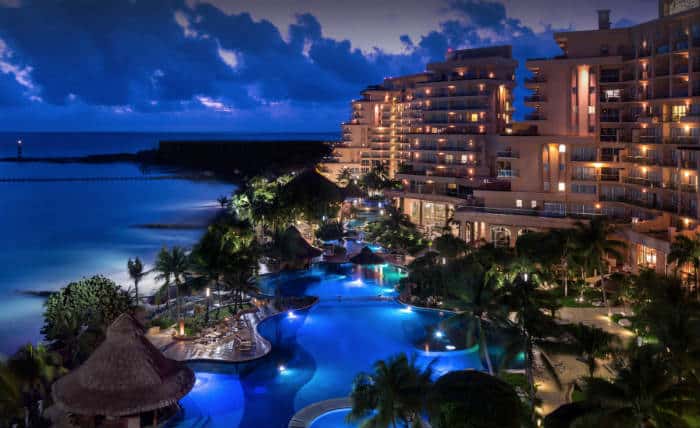 Known for its quality of service this five-star hotel also has a children's club.
Location-wise this may perhaps be the best for those who want to avoid long drives to tourist attractions.
The hotel has more than 600 rooms and yet is almost always full, so negotiate your holiday package deal in advance.
For wining and dining there are nine restaurants and bars to choose from.
Hotel 4. Live Aqua Beach Resort
The 371-room Live Aqua all-inclusive luxury hotel is exclusively for adults.
This hotel is the heights of sophistication and luxury and offers great service as well.
If you want to get treated like a King and Queen, then this is where your Cancun holiday should be booked.
Traveler websites such as Booking.com and Tripadvisor.com have called this one of the best luxury options in Cancun.
Hotel 5. Hyatt Zilara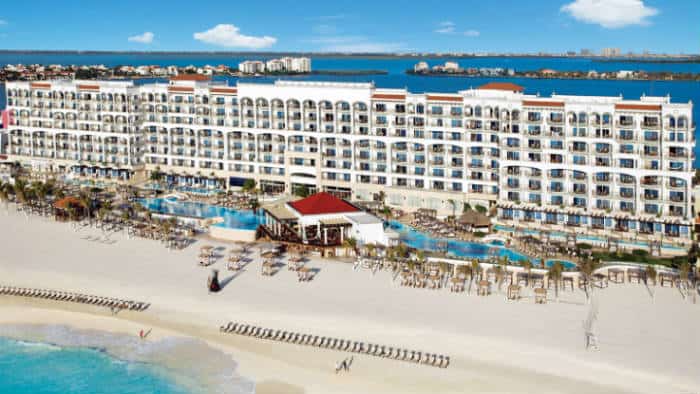 This is a 288-room adult-only Hyatt property in Cancun.
The rooms are amazing with spacious balconies, and great views.
The rooms also have huge walk-in showers and Jacuzzi tubs, again with the sea view.
The food is also a huge plus at this vacation destination.
Sources

# Travelandleisure.com
# Islandlifemexico.com
# Tripadvisor.com
# Travellersworldwide.com

The travel specialists at TheBetterVacation.com use only high-quality sources while researching & writing their articles. We make every attempt to keep our content current, reliable and trustworthy.
Recommended Reading
1. Best nightlife in Cancun
2. Cheap holidays in Cancun – budget vacations
3. Best things to do in Cancun for couples
4. Best things to do in Cancun with kids