With its swaying palm trees, white-sand beaches, turquoise blue waters, and so many couple activities, Cancun in Mexico is one of the most romantic holiday spots in the World.
No other romantic travel destination can match Cancun for the varied experience it can offer.
Starting from pampering honeymoon resorts, white beaches, unlimited water sports, stunning marine life, breathtaking ruins, and nightlife that extends till 4 am.
For an excellent romantic getaway in Cancun, you need to do three things – book your flights, book your hotel and plan your Cancun itinerary.
We will help you with planning your romantic itinerary in Cancun.
Go ahead, get inspired by our list of the best things to do in Cancun for couples.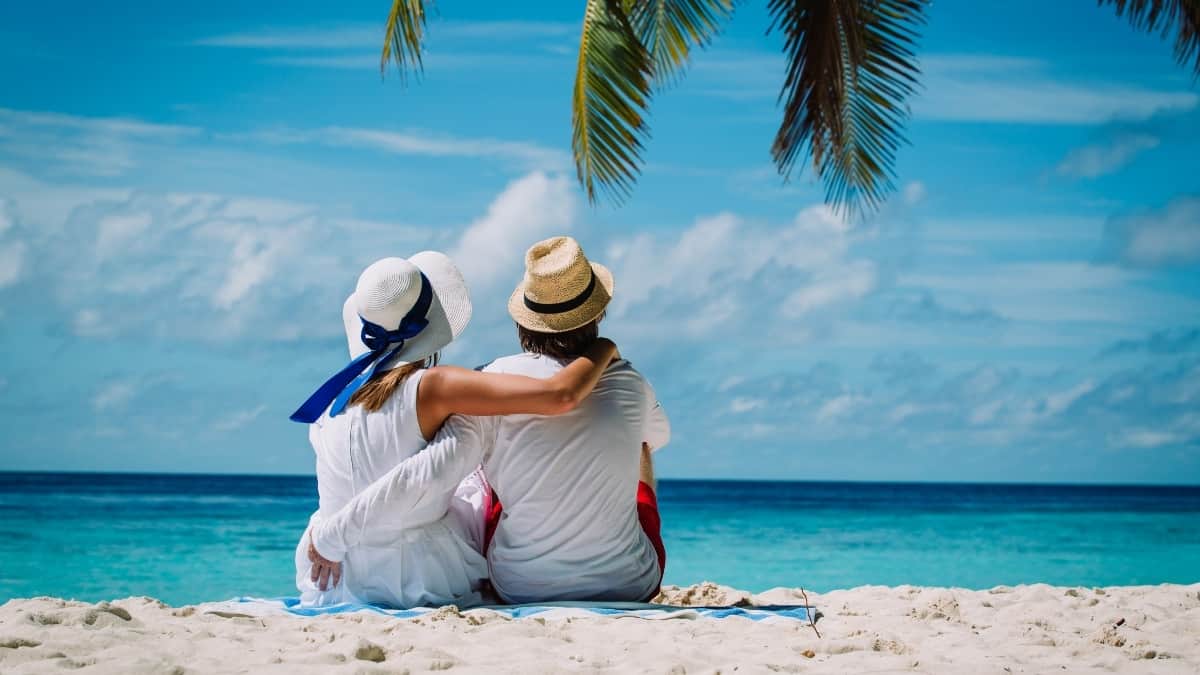 Visit the best selfie spot in Cancun
What is the point in kick-starting a romantic holiday in Cancun and not letting your friends and relatives know?
As the first step, you and your partner should head out to Kilometer 18 to find El Mirador, Cancun's best lookout point.
This spot overlooks the much-photographed and much Instagrammed Dolphin beach.
Once you are done staring into the vastness that is the Dolphin beach, stand next to the city's sign CANCUN and snap as many couple photographs as you want.
Once the 'CANCUN' selfie is out of the way, pick and choose from our recommended things to do in Cancun and make your holiday memorable.
---
---
Take a trip to Sian Kaan
If you love nature, you and your partner should plan a trip to the pristine Sian Kaan Biosphere Reserve.
The tours take you through the coastal wetlands and shimmering lagoons and provide rare access to the region's spectacular wildlife and stunning Mayan ruins.
On tour, you can indulge in bird watching, sports fishing, kayaking, snorkeling, hiking, etc.
Don't miss out on the boat ride on mangrove-surrounded rivers.
Sian Kaan is 193 KMs (120 Miles) from Cancun.
We recommend it for couples despite the distance because it can be a good break from the maddening Cancun crowd.
*Not Available because it is a new tour
---
---
Get adventurous at Xel-Ha Park
Xel-Ha is an Eco-Adventure park and boasts of the 'largest, most beautiful natural aquarium in the world'.
There are more than 50+ activities and events you and your boyfriend or girlfriend can try out.
The Xel-Ha park can easily consume 10-hours of your day.
In between, you can enjoy a delicious buffet which comes free with your ticket purchase.
Xel-Ha Park is 97 km (60 miles) from Cancun's Hotel Zone, and the journey time is two hours.
Even though there is a bit of traveling, we suggest you don't miss this tropical island paradise.
Most tour packages also include transport from your hotel to the attraction and back.
---
---
Check out Mesoamerican Barrier Reef, second largest coral reef
Everybody knows the largest coral reef in the World, the Great Barrier Reef, is in Australia.
Did you know that you can witness the second-largest coral reef in the world during your Cancun holiday?
The Mesoamerican Barrier Reef, also known as the Great Mayan Reef, runs parallel to the Yucatan Peninsula.
Along the way, it runs closest to the shore at Puerto Morelos, which is around 40 KMs (25 Miles) from Cancun.
Once you reach Puerto Morelos, you can book snorkeling tours and scuba diving trips from the numerous dive shops in the seaside town.
Watching the beautiful corals even as you hold hands underwater can be quite a memorable experience.
Other activities in Puerto Morelos
---
---
Take a dip in a Cenote
In the ancient Mayan language, 'Cenotes' means 'secret well.'
A cenote is a natural pit or a sinkhole created when the ground sinks, bringing the water above it.
The region around Cancun (Yucatan Peninsula, to be more precise) is the only region in the world where you can experience this stunning underground river.
This exclusivity is why you must visit at least one Cenote on your couple's holiday to Cancun.
You can swim, scuba dive, or snorkel in Cenotes and see stunning formations of stalagmites and stalactites.
Usually, the cenotes have locker rentals, washroom facilities, and jumping platforms, adding to the experience.
---
---
Visit Isla Contoy, an uninhabited island
Isla Contoy is an uninhabited island and a nature preserve.
It is a small island – just 3.17 Square Kilometers (1.22 Square Miles), and you can cover it in a day.
The island is approximately 40 km (25 miles) from Cancun.
The experts who take you around on your tour are actual biologists who live on the island to study flora and fauna.
Once the tour is over, you can enjoy a session of snorkeling and a beach barbecue of freshly caught fish.
Every day only 200 tourists are allowed entry into this restricted island. We suggest you plan your trip to Isla Contoy and book early.
---
---
Romance at the Lobster Dinner Cruise
If you want to sweep your partner off their feet, this 2.5 hours' Lobster Dinner Cruise is the best thing to do in Cancun.
The fine dining, the moonlit sky, the ship's saxophonist, and the magnificent Spanish galleon on which you will be cruising make it an incredibly romantic evening.
You have two options – go for the sunset tour, which starts at 5.30 pm, and the moonlight tour, which begins at 8.30 pm.
The cruise takes off from the Cancun Marina Pier.
The Spanish Galleon's kitchen also serves steak and vegetarian food. As for the wine, that is on the house.
Tip: As an alternative, you can also take the full-day catamaran tour from Isla Mujeres. Or, if budget isn't the issue, check out this private sunset boat tour.
---
---
Get high in Cancun – go parasailing with your partner
Wouldn't it be awesome if you and your partner could go up in the air together, hold hands and look down at the world?
You go some distance into the water and are made to sit on a two-seater platform on the back of a boat.
This platform slowly lifts, and in no time, you are parasailing above the Caribbean waters.
The view from the top is to die for – you can see the whole Caribbean, Nichupte Lagoon, and Cancun Hotel Zone.
If you are feeling adventurous, you can request to be dunked on your way down.
You may get wet, but hey, wouldn't that be fun with the one you love?
---
---
Get dazzled together by Río Secreto
Río Secreto is also known as the 'crystal museum' because this underground river is adorned with stunning stalactites and glittering minerals.
If you are an adventure-loving couple, you can't afford to miss Rio Secreto.
You must get into your wetsuit, wear your helmet, strap on your life vest, and then spend a significant part of your day hiking and swimming through a kilometer of this natural phenomenon.
Yes, Rio Secreto is a cenote (a freshwater underground sinkhole with water), but it is different from the others.
If you have already visited a Cenote, please don't brush this suggestion aside.
Rio Secreto is the Mayan Riviera's newest Cenote (discovered in 2004), and is very popular amongst Cancun visitors.
Río Secreto is 85 km (53 miles) from Cancun, and the road trip takes one hour 15 minutes.
---
---
Take it easy at Isla Mujeres
Isla Mujeres can be an action-filled day trip from Cancun for couples who want some fun.
It is located just 13 km (8.1 miles) from Cancun, the only way to reach it by a short, 20-minute ferry ride.
If you want to take it easy at Isla Mujeres, head to Playa Norte beach and chill the whole day.
If you want to indulge in some couple activities together, we suggest the following:
– Rent a Golf cart and go around the whole island
– Indulge in adventure activities such as zip-lining, kayaking, swimming etc
– Swim with the Dolphins at Dolphins Discovery
---
---
Bob Adventure – go underwater holding hands
Bob Adventure is one of the best things to do in Cancun for couples that don't mind a bit of adrenalin rush.
BOB stands for Breathing Observation Bubble. Some also call it the personal submarine.
You and your partner can book yourself this underwater experience for half an hour and observe the marine life that populates the Cancun reef site Chitales.
---
---
Explore Nichupté Lagoon in a Jungle Speed Boat
Nichupté Lagoon is 7000 acres of lagoons in the heart of Cancun, Mexico.
If you love to watch greenery and wildlife, this is a perfect getaway for you and your girlfriend (or boyfriend).
This lagoon hosts a wide range of exotic wild animals like crocodiles, white turtles, iguanas, birds, etc.
The best way to experience this lagoon is by hiring a two-person jungle speedboat for two hours and 15 minutes.
The lagoon becomes your kingdom as you zip over the crystalline water, past the vibrant wildlife and greenery.
Nichupté Lagoon also offers many other exciting activities for couples.
---
---
Explore the ruins at Chichen Itza
Chichen Itza is the site of an ancient city that thrived from 600 A.D. to the 1200s.
El Castillo or Temple of Kukulcan (a massive step pyramid) is the central attraction at Chichen Itza.
If you are visiting Cancun, this must be on your itinerary.
It is Mexico's most visited tourist destination.
No wonder then that recently it was selected as one of the New Seven Wonders of the World.
Chichen Itza is 200 Kms from Cancun and takes around two hours of travel.
---
---
Experience Cancun nightlife at Coco Bongo
If you love partying, visiting Coco Bongo is one of the best things to do in Cancun as a couple.
Coco Bongo is not your usual nightclub and is the highlight of Cancun nightlife.
Be ready to witness world-class, Las Vegas-style performances on the stage and spectacular aerial acrobatics.
Each of these performances lasts anywhere from 10 to 15 minutes.
All you must do is grab a drink from the open bar and get a seat.
When you can sit still no more, grab your partner's hand and hit the dance floor.
There is a cover charge to enter that includes unlimited domestic drinks from 10:30 pm to 3:30 am. What more does a couple want from Cancun?
Tip: If you are a young couple, who love exotic parties, check out this Rockstar Boat Party.
---
---
Behave like a local couple
The best moment during a holiday is when you forget that you are on holiday.
Try and do just that by leaving aside a day to do things like a local Cancun couple.
Start the day by having breakfast at Cafe Nader, one of the first coffee shops in Cancun. Today it is a full-time restaurant.
We suggest you try the typical Mexican breakfast, which usually consists of eggs, meat, beans, and tortillas.
If you prefer to start your day with just a cup of coffee, try Tradiciones Art Cafe.
For lunch or dinner, try out Los Aguachiles, a seafood restaurant, or Julia Mia, a gourmet Mexican restaurant. The latter is a little upscale.
The Cancanese prefer entertaining themselves at Plaza de Toros, the bullfight ring, or Estadio Beto Avila, the soccer stadium. Something or the other is always on. Just give it a shot.
As the night falls, don't head to Coco Bongo as every tourist does.
The people of Cancun prefer to visit Plaza Infinity.
It is in the middle of Cancun and is packed with bars and live music, open until 4 am.
Sources

# In.hotels.com
# Gowanderly.com
# Tripadvisor.com
# 10best.com

The travel specialists at TheBetterVacation.com use only high-quality sources while researching & writing their articles. We make every attempt to keep our content current, reliable and trustworthy.
More about Cancun
# Packing for Cancun
# Cancun Hotel Zone
# Cancun Nightlife
# Cancun for kids
# Resorts in Cancun
# Mexican Menu
# Cheap Cancun holidays
# Cancun Airport Transfers
# Cancun Weather
# Cancun Airport