Reeperbahn in St. Pauli district is the city's most famous street, offering the best nightclubs, restaurants, theatres, cabarets, galleries, etc.
This legendary nightlife mile is also home to one of Europe's most prominent red-light districts.
The Germans call Reeperbahn die sündigste Meile, meaning the 'most sinful mile'.
In this article, we share everything you must know before visiting Reeperbahn in Hamburg.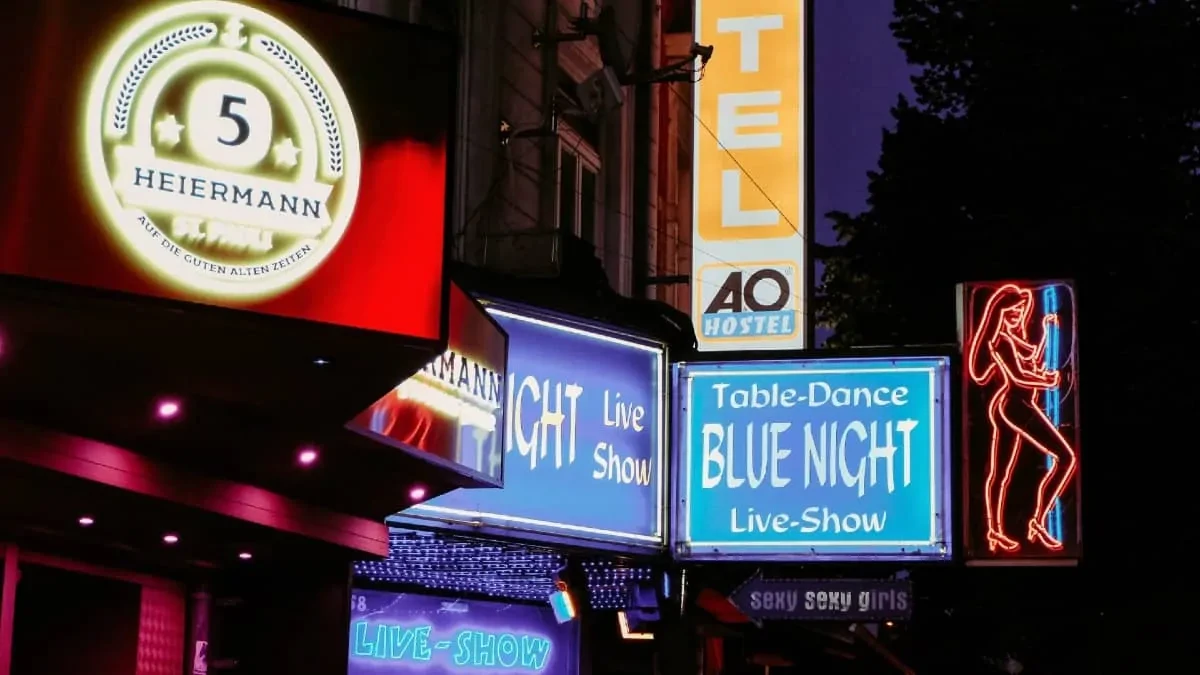 How to reach Reeperbahn, St. Pauli
Reeperbahn is a small area comprising of one kilometer (0.6 miles) long Reeperbahn road and the surrounding streets and squares.
Public transport is the best way to get to this famous red-light and party district of St Pauli.
Reeperbahn S Bahn
Reeperbahn Station serves Hamburg S-Bahn trains in St. Pauli and is at the eastern end of Reeperbahn.
Lines S1, S2 and S3 stop at Reeperbahn Station.
Hamburg U Bahn
St. Pauli metro station is in St. Pauli, Hamburg, and only 500 meters (one-third of a mile) from Reeperbahn.
St. Pauli is served by the Hamburg U-Bahn line U3, also known as the Ring line.
To Reeperbahn by bus
Many buses go to Reeperbahn, and the best way to find out the bus numbers from your location is to fire up Google map and check for options.
However, if you are at Hamburg Central Bus Station, you must board the bus departing from Hauptbahnhof/ZOB and arriving at Davidstraße.
Buses depart every 20 minutes and operate every day.
The bus covers the 4 km (2.5 miles) between the Hamburg Bus Station and Reeperbahn in 18 minutes.
From Davidstraße, the Reeperbahn road is just a two-minute walk.
Reeperbahn parking
In Hamburg, metered parking is available in many streets on a pay-and-display basis.
However, it is better to park your car at one of the paid parking recommended below.
All of them are open 24 hours.
---
---
Best time to visit Reeperbahn
The best time to visit Reeperbahn is after 11 pm when the nightlife is about to peak.
However, if you only want to take a walking tour of Hamburg's party zone, you can start as early as 8 pm.
It is better to visit Reeperbahn Hamburg on a weekday evening because weekends are overwhelmingly crowded.
---
---
Why Reeperbahn guided tours are better
Reeperbahn's main strip is generally safe during day time, and visitors only need to be alert.
However, Hamburg's Red Light District is home to many prostitutes, and usually, such areas are also breeding grounds for drug dealers, thieves, and muggers.
These unsavory characters get active at night, which is why it is better to visit Reeperbahn in groups of two or more.
Since it is even safer to travel with a local who knows the place inside out, we recommend guided Reeperbahn tours.
---
---
Best Reeperbahn tours
Here are our favorite guided tours to Reeperbahn and St Pauli.
Sex and Crime in St. Pauli
Rating: 4.8/5
This sex and crime tour of the St. Pauli district is an excellent opportunity to discover Hamburg's wild side.
This trip is also known as Hamburg Crime Tour and is suitable only for 18+ visitors.
During the two-hour tour, you will also visit the boxing club in the basement of the 'Zur Ritze' bar, where Mike Tyson and Klitschko brothers have trained.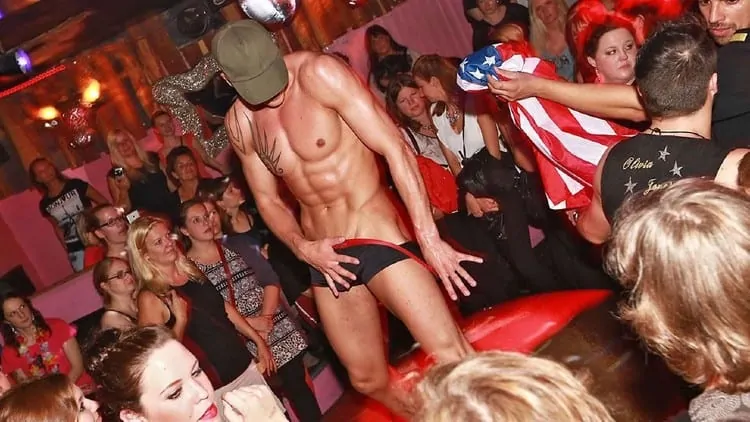 Women love this tour because they get to enter 'Olivias Wilde Jungs,' a club with male strippers. Men in the tour group are only allowed in if they dance.
Here is yet another Pauli highlights tour you may want to check out.
Adults-only Reeperbahn Guided Tour
Rating: 4.8/5
This tour focuses entirely on Reeperbahn, and you get to know why it is known as the most sinful mile in the world.
Some of the highlights of the tour include –
Places where some of the celebrities lived
Two ATM's with the highest turnover in Germany (and you will find out why)
Davidwache, the smallest police station in Europe
The most expensive (and worst-equipped) room of Reeperbahn
Herbertstrasse, where sex workers stand in 'windows'
Beatles-Platz, a tribute to the Beatles
This Reeperbahn tour lasts two and a half hours.
If you want to explore Reeperbahn and also, in the end, have a drink at Olivia Jones Bar, check out this Reeperbahn tour. Olivia Jones is Germany's most popular Drag Queen.
Reeperbahn Tour + business of prostitution
Rating: 4.8/5
This is yet another highly rated Reeperbahn tour, where besides exploring the street, you also learn about the business of prostitution.
Even as you walk through Hamburg's sinful mile, you understand how the red-light district operates, the structures that hold it together and the unwritten laws followed by everyone.
You also understand the delicate relationship between the prostitutes and the Police.
The knowledgable tour guide is funny and narrates Reeperbahn's history and the development of its clubs, bars, and restaurants.
Historical Sex Worker Tour
Rating: 4.4/5
This trip is a two-hour adults-only tour that starts at 8 pm.
An actress dressed as a 16th-century sex worker narrates the history of sex work – from the temple in ancient Babylon to the life and work of the sex workers right in the heart of St. Pauli.
Your lady guide will wear a striking red and yellow dress with a winged hat, a mandatory dress code for sex workers in Hamburg, in the past.
You will learn about the taboos in sexual practices, clothing, and articles, and at the end of the tour, enjoy a shot of Hurenschnaps, or 'whores' schnapps.
Private guided tour of Reeperbahn
Rating: 4.9/5
Hamburg is a great place for bachelor parties or groups of friends to hangout.
And if you can get a local guide to take you around and show the places, it works out even better.
This 3-hour private tour of Reeperbahn Hamburg is designed for groups that, besides discovering exciting facts about the red light district, also want to visit some local bars.
Bonus tours: If you prefer guided tours of Reeperbahn in German, check out the Crime, Sex workers & St Pauli Tour or the Olivia Reeperbahn Tour.
---
---
Reeperbahn nightlife
According to seasoned travelers, Germany's Hamburg has the best nightlife globally – ranking higher than Amsterdam, Berlin, Barcelona, etc.
With regular clubs co-existing with erotic bars, sex shops, and modern discos, Reeperbahn is the ideal spot for an unforgettable night.
Over the years, the music scene at this party hub has gained a reputation of its own.
Of course, it helps that in the 1960s, Reeperbahn St Pauli had turned into a musical pop-culture legend with The Beatles, The Jets, and Rory Storm and the Hurricanes playing in many of its bars.
Offering the right tunes for everybody, night clubs such as Mojo Club, Große Freiheit 36, Molotow, Docks, Halo, Olivia Jones bar have gained legendary status.
---
---
Best Reeperbahn bars
Love to visit night clubs, pubs, and discos?
There is no better place in Hamburg than St. Pauli and Reeperbahn to let your hair down.
The clubs and bars we have listed below are our favourites because they offer vibrant music, excellent food and drinks, and the perfect ambiance.
Docks
Docks was formerly known as Knopf's Music Hall and is located at Spielbudenplatz.
It can host crowds of up to 1500 people, which is why Bob Dylan, David Bowie, Metallica, Red Hot Chili Peppers, Def Leppard, Iron Maiden, etc. have performed at this Club often.
They are also the principal host of the Reeperbahn Festival.
Große Freiheit 36
Große Freiheit 36 is a music club on Große Freiheit street in Hamburg's St. Pauli district.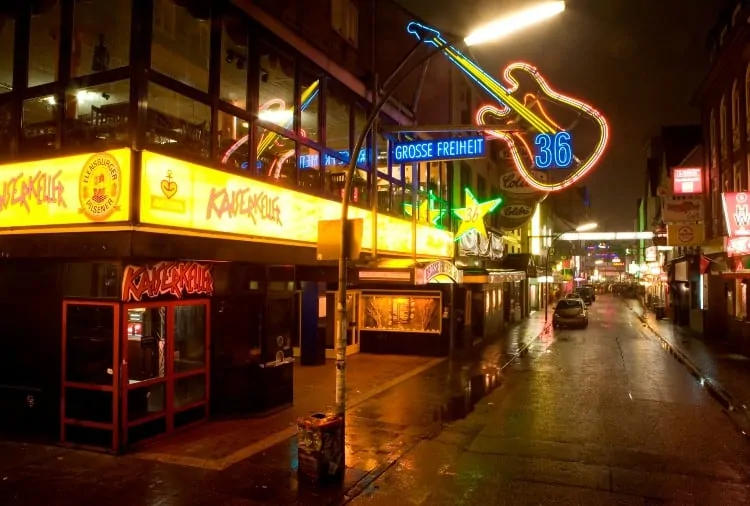 Its name means Great Freedom 36 and is one of the neighborhood's most legendary live music clubs.
Kaiserkeller, the pub where the Beatles performed before anybody knew them, is in its basement.
Mojo Club
The first Mojo Club opened on Reeperbahn St Pauli in 1989 but closed in 2003.
After a decade, the Club re-opened in a spacious basement location of Reeperbahn No. 1, a high-rise building, also known as the 'Dancing Towers.'
Mojo Club is one of the leading lights of Reeperbahn nightlife, with an international appeal.
Halo
Over the years, Halo has built a reputation for its international DJ bookings, new sounds, and authentic atmosphere.
If you love House, Electronica, RnB, and Hip Hop, Rap, OldSchool etc., don't look further than Halo.
They have the main floor and a Hip-Hop section so that the patrons can mix it around a bit.
Molotow
Molotow is perfect for visitors who love Indie and Punk Rock.
They throw some of the best concerts and Indie parties in St Pauli, Hamburg, not to mention the poetry slams and other artistic events.
Their act is spread over four floors and an inner courtyard.
Reeperbahn Olivia Jones bar
Olivia Jones is a drag queen and a prominent local celebrity who is synonymous with Reeperbahn's nightlife.
She has quite a few night clubs in the area, but the most famous of them all is the Olivia Jones Bar.
It is a cozy pub where every day is rush, which is managed well by Olivia and her 'shrill' family members.
Olivia Jones also offers an exciting tour of Hamburg's port, where you also get to sing along, drink liquor, and wrap it up with a visit to a night club.
---
---
What to see at Reeperbahn, St Pauli
Reeperbahn in St Pauli maybe just a street, but it is the heart of Hamburg's nightlife.
We list some of the Reeperbahn landmarks you must not miss during your visit.
Große Freiheit
Große Freiheit is a street to the north of Reeperbahn and is home to several bars, pubs, and dance clubs.
It is a must-visit for Beatles fans because it was here that the legendary band honed their skills in the 1960s.
It was on Große Freiheit that the unknown musicians from Liverpool became the magical four.
No wonder John Lennon once said, "I might have been born in Liverpool – but I grew up in Hamburg."
Spielbudenplatz
This active hot spot is beside Reeperbahn towards the south of St. Pauli and has been the center of entertainment for at least 200 years.
In the late 18th century, jugglers and magicians settled down at Spielbudenplatz and set up their wooden booths.
Now visitors get to see live musicians, food trucks, flea markets, night markets, etc.
Davidstraße
Davidwache (David's Watch in English), on Davidstraße, is the most popular police station in Hamburg.
To be precise, the station is at the corner of Spielbudenplatz square and Davidstraße.
Davidwache is responsible for one square kilometre and around 14,000 residents, making it the smallest police precinct in Europe.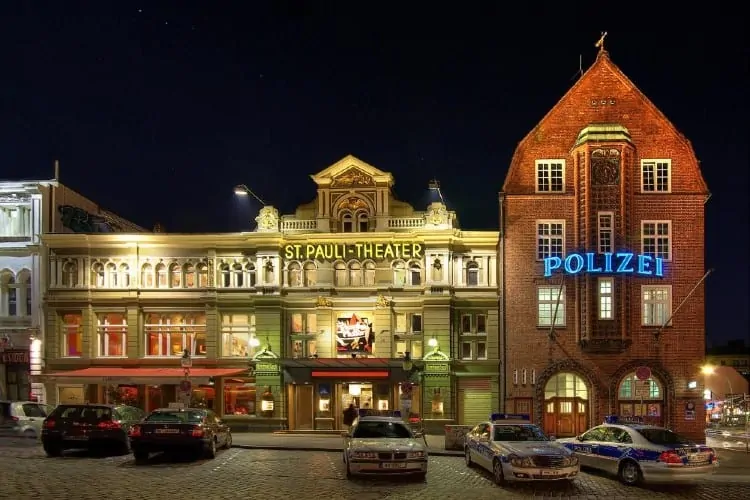 Paul McCartney and The Beatles' first drummer Pete Best had to spend a night at the Davidwache.
On Davidstraße, street prostitution is legal during certain times of the day.
Reeperbahn Herbertstraße
Tucked away beyond Davidstraße lies Herbertstraße.
This street is Germany's answer to De Wallen, the Red Light District of Amsterdam.
It is the only street in the city where one can find sex workers waiting for the patrons, in the 'windows.'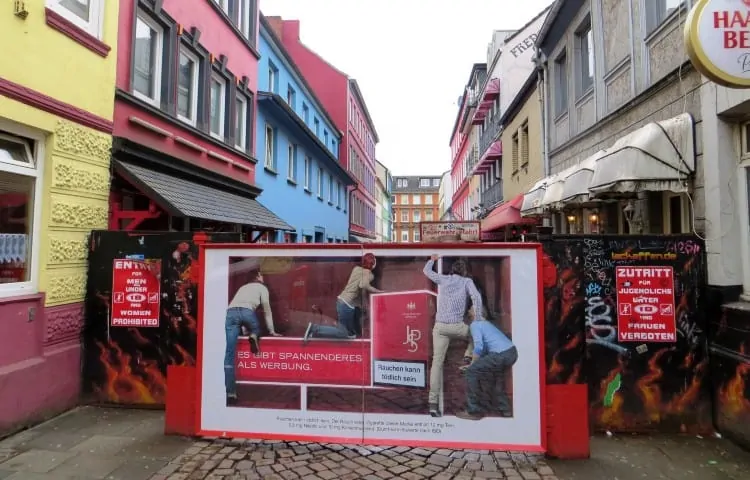 A metal gate at the entrance of the Reeperbahn's Herbertstraße prohibits men under 18 years and women from entering the street.
Operettenhaus
Operettenhaus is a musical theatre located at Reeperbahn St Pauli.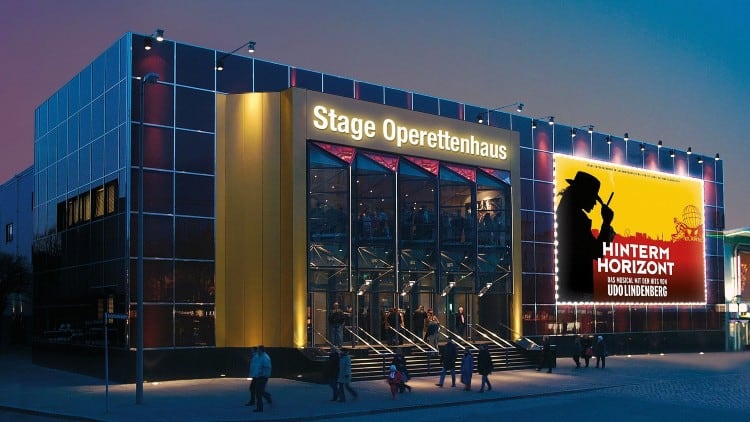 The theatre offers a touch of class to an otherwise gaudy tourist attraction.
Some of the popular shows the theatre has played over the years are Andrew Lloyd Webber's Cats, Mamma Mia!, Ich war noch niemals in New York (I have never been to New York), Sister Act, Rocky, etc.
Hans-Albers-Platz
Hans-Albers-Platz is a square named after Hans Albers, the most prominent movie star in Germany between 1930 and 1960.
The square lies to the south of Reeperbahn and attracts many visitors because of the number of bars, clubs, and restaurants.
A statue of the actor sculpted by Jörg Immendorff, a famous German sculptor, stands in the square.
Tanzende Türme
Tanzende Türme is a building in Reeperbahn, and its name translates in English to 'Dancing Towers.'
The building looks as if its towers are actually dancing.
Beatlesplatz square
Before getting famous, the Beatles spent two years playing gigs in Reeperbahn's small clubs such as Kaiserkeller, Indra, Star-Club and Top Ten.
It is believed that the Beatles rocked 1500 hours in these Hamburg clubs.
As a tribute to the legendary band, the band members' five life-sized silhouettes pose proudly in front of the Große Freiheit street.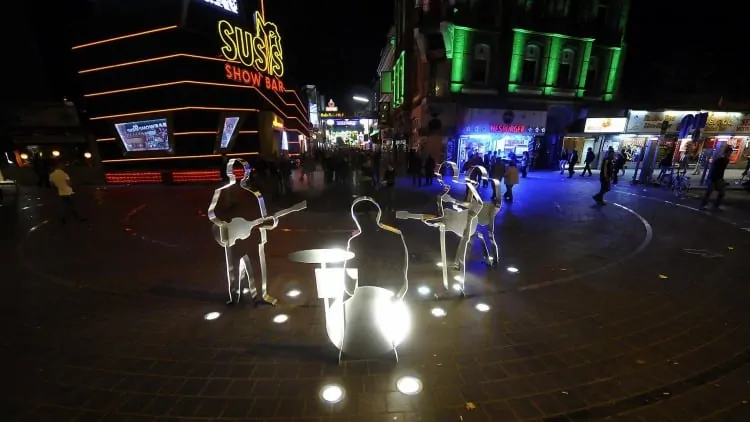 Members of the public and the City of Hamburg pooled in money to build Beatles-Platz Square in 2008.
Sources
# Tripadvisor.com
# Tourscanner.com
# Hamburg.com

The travel specialists at TheBetterVacation.com use only high-quality sources while researching & writing their articles. We make every attempt to keep our content current, reliable and trustworthy.
Popular attractions in Hamburg
# Elbphilharmonie
# Miniatur Wunderland
# Hamburg Harbor
# Hamburger Kunsthalle