Miniatur Wunderland, which is German for 'Miniature Wonderland', is a tiny world with trains, busses, airports, offices, and of course, miniature people from all cultures.
In 2020, this Hamburg attraction was voted the most popular travel destination in Germany by the German National Tourist Board.
Miniatur Wunderland is popular with both kids and adults alike and attracts more than 1 million tourists annually.
In this article, we share everything you must know before booking your Miniatur Wunderland tickets.
Top Miniatur Wunderland Tickets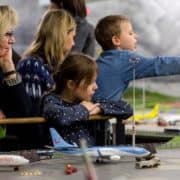 What to expect at Miniatur Wunderland
Miniatur Wunderland's official video gives an idea of what visitors can expect at the attraction.
Since there is so much to see, this video can help you figure out which parts of this miniature city you would like to visit first.
Important: It is not possible to book Winiatur Wunderland in advance using the links provided in this article. However, if you buy the Hamburg Card at just €11.88, you can enter Winiatur Wunderland at a 25% discount.
---
---
Miniatur Wunderland hours
During weekdays Miniatur Wunderland is open from 9.30 am to 6 pm, all through the year.
During weekends and public holidays, they open at 8 am and close later (at midnight!) to cater to the crowd.
---
---
Best time to visit Miniatur Wunderland
The best time to visit Miniatur Wunderland in Hamburg is as soon as they open at 8 am.
The attraction is almost empty, and you can spend as much time as you want with your favorite exhibits.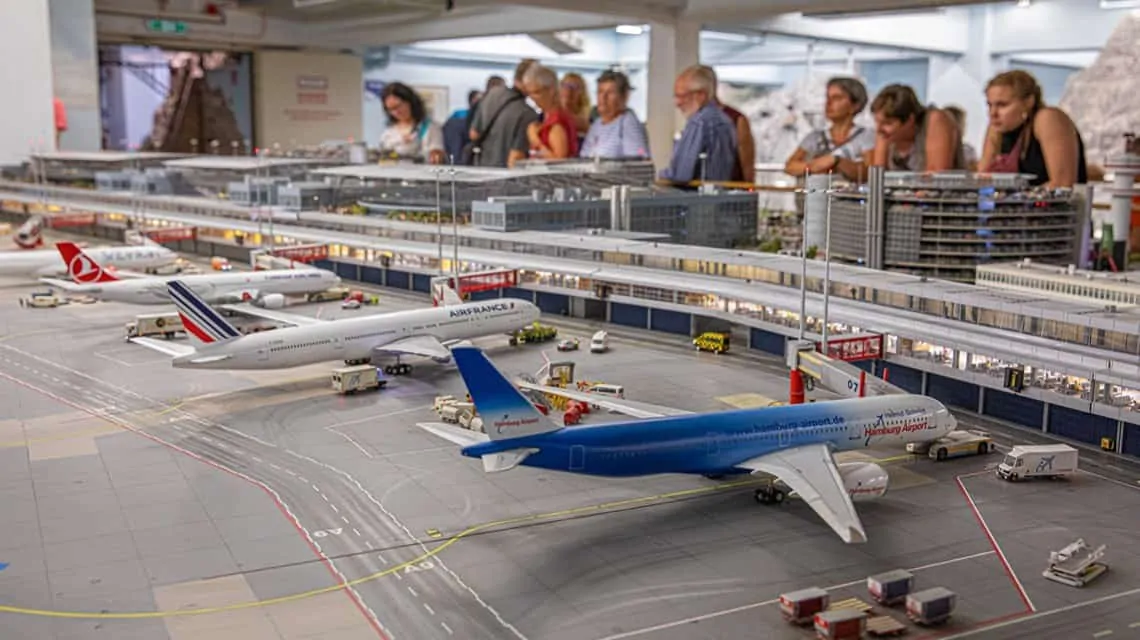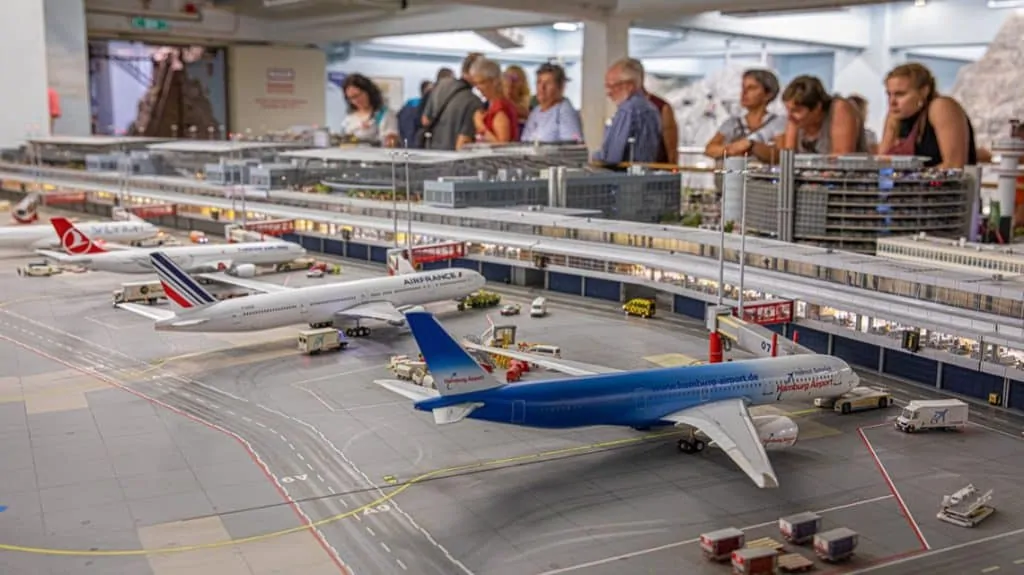 By 10 am, long queues start forming.
If you can't make it in the morning, the next best time is to visit at 10 pm – the crowd has left, and you have the whole exhibition to yourself.
You should always plan your trip to the Miniatur Wunderland with ample time to visit all the different sections of this fascinating world of miniatures.
---
---
Waiting time at Miniatur Wunderland
Depending on the time and day, the Miniatur Wunderland's waiting time ranges from 60 to 90 minutes.
You may experience longer waiting times during weekends and local holidays.
10 am to 6 pm are the busiest hours, with extremely long queues.
To avoid these long waits, you can book an online ticket with an appointed time.
On the day of your visit, you can show your timed ticket and enter the attraction without having to wait for your turn.
Visitors are allowed inside the attraction for up to 15 minutes after the appointed time.
---
---
How long does Miniatur Wunderland take?
Most visitors need at least three hours to explore Miniatur Wunderland.
If you are traveling with kids and or elders, you will be pacing yourself slowly, and the duration of your Miniatur Wunderland visit can easily stretch to four hours and beyond.
If you are in a hurry, you can walk across exploring all parts of the attraction in ten minutes.
---
---
Miniatur Wunderland prices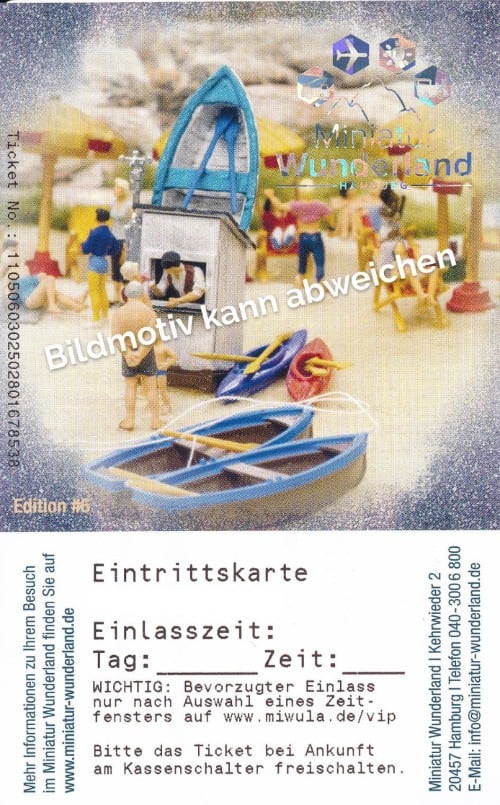 Miniatur Wunderland Hamburg tickets can be bought online or at the venue.
Miniatur Wunderland's online tickets cost €24 for adults, €22 for seniors, €19.50 for students with ID, €16 for children (ages 5-17), and entry is free for infants up to 4 years.
When bought online, these are timed tickets help avoid massive rush hour queues.
Besides being cheaper than the tickets at the venue, these tickets can also be cancelled 24 hours before your visit for a full refund.
---
---
Miniatur Wunderland discount
Miniatur Wunderland Hamburg offers several concessions on the standard adult ticket which costs €24.
Children 17 years and younger get a discount of 30%, students with valid IDs get a reduction of 20% and senior citizens get 5% off.
During festivals and special occasions, you might get further discounts on the ticket.
Online tickets are at least 10% cheaper than the ticket prices available at the attraction.
Discount with Hamburg Card
A valid Hamburg Card gets you a discount on the regular entrance fee at Miniature Wonderland.
With the card, your entrance fee gets reduced to only €19 for adults and €12 for kids under 16 years of age.
However, you can't book this entry online.
Besides Miniatur Wunderland, the discount card also gets you free entry to 130+ tourist attractions and activities such as the scenic tour of Lake Alster, City Hall, musicals, and other theaters.
If you are keen on visiting one or more attractions in and around the city, then the Hamburg discount card can help you save money. Find Out More
---
---
Miniatur Wunderland tickets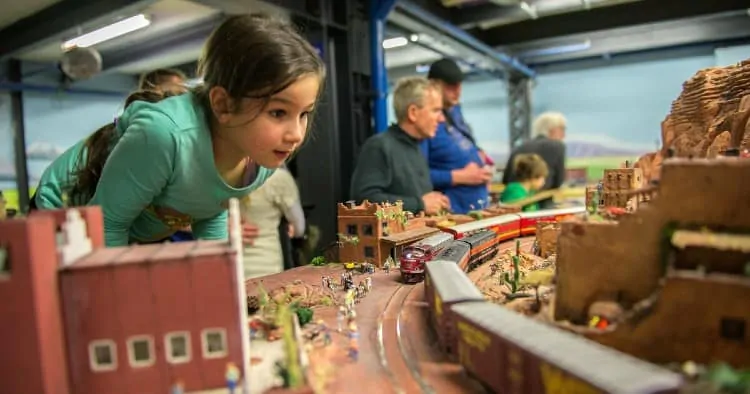 These Miniatur Wunderland Hamburg tickets get you complete access to the miniature exhibition.
Since they are timed tickets, they also allow you to skip the long waiting lines.
You can cancel these tickets up to 24 hours before your visit.
Ticket prices
Adult ticket (18 to 59 years): €25
Seniors ticket (60+ years): €23
Student ticket (with valid ID): €20
Child ticket (5 to 17 years): €17
Infant ticket (up to 4 years): Free
---
---
Miniatur Wunderland guided tour
Miniature Wonderland offers special guided tours, which offer a peek into behind the scenes activities.
These guided tours have a maximum of six people and reveal details of the development, buildings, and technology used at Miniatur Wunderland.
The English guided tours last 60 minutes and cost €15 for adults, €5 for children aged six and below, and €12 for kids aged 7 to 15.
Guided tour tickets must be bought over and above the regular admission tickets.
---
---
What to see at Miniatur Wunderland
Miniatur Wunderland Germany is a massive attraction spread over 1,499 square meters, with lots of things to see and enjoy.
The whole attraction is divided into different themes, and frequently new themes get added.
The most recent theme to be added is the Miniature Funfair, which got added in 2020.
The Knuffingen airport and the suspension bridge in the Scandinavia section are two of their most popular attractions.
Miniatur Wunderland Bridge
The Storebælt Bridge is the largest structure in Miniatur Wunderland.
This extensive suspension bridge is in the Scandinavia section and connects the Denmark and Norway themes.
The bridge has motorway and railway tracks, and cars and trains keep crossing the strait.
The Miniatur Wunderland Bridge is a work of architecture that fascinates both adults and children alike.
The bridge's inspiration comes from the Storebaelt bridge, which connects the two biggest Danish islands Seeland and Fünen.
Miniatur Wunderland Airport
The Airport at Miniatur Wunderland is full of curious simulations with stunning detailing.
Around 250 flights take off and land daily in this model of the Knuffingen Airport.
More than 50,000 lines of code ensure vehicles and people interact intelligently and avoid collisions as they move about throughout the day.
You will love how more than 40,000 LEDs create beautiful graphics that bring the Miniatur Airport alive.
Miniature Funfair
Wunderland finally unveiled the Miniature Funfair in 2020, after working on it for more than a year.
It is a replica of a typical fair in Central Germany with around 9,000 people, many rides, shops, etc.
The eight square meters of amusement in the heart of Wunderland cost 750,000 Euros and took approximately 25K hours to build.
---
---
Miniatur Wunderland map
Since there is so much to see at the Miniature Wonderland at Hamburg, it makes better sense to be aware of the attraction's layout.
If you know the Miniatur Wunderland's floor plan, you won't miss out on any exhibits.
And the best way to understand this Hamburg attraction and prepare for your visit by checking out Miniatur Wunderland's Street View.
Yes, that's right. In 2016, Google built a tiny Street View car to map out one of the world's largest model cities and created this magic.
Here is a video of how Google created the Street View for Wunderland Miniatur.
---
---
How to reach Miniatur Wunderland
Miniatur Wunderland is centrally located in Speicherstadt.
Several transport options such as busses, trains, hired cars, or your trusty bikes are available.
Address: Miniatur Wunderland, Kehrwieder 2/Block D, 20457 Hamburg, Germany.
By U-Bahn
Baumwall station is only 6 minutes walk from Miniatur Wunderland Hamburg, and you can board the U3 Line to get there.
The next best option is Messberg station, which is serviced by U1 Line. It is approximately 10 mins from the attraction.
Uberseequartier station can be reached via U4 trains and is 12 mins walking distance from Miniatur Wunderland.
You can book a U-Bahn train tickets online or at any of the stations from where you are boarding.
By S-Bahn
Stadthausbrucke station, served by S-Bahn trains, is just 10 minutes from the attraction.
You can reach this station via S1 or S3 trains.
By Bus
Many busses can take you to Speicherstadt – Auf dem Sande bus stop, which is only 2 minutes walk from Miniatur Wunderland.
Tourists holidaying in the city prefer buses because it doubles up as a city tour.
Parking at Miniatur Wunderland
The Miniatur Wunderland has forty-four parking spots in front of their building to accommodate tourist cars.
You can avail of a spot for a fee of €1 per hour.
However, the parking spots filled up soon during rush hours.
In case you don't find a free spot at Miniatur Wunderland's parking, you can try the parking garages nearby:
Sources

# Miniatur-wunderland.com
# Hamburg.com
# Tripadvisor.com
# Wikipedia.org

The travel specialists at TheBetterVacation.com use only high-quality sources while researching & writing their articles. We make every attempt to keep our content current, reliable and trustworthy.
Popular attractions in Hamburg
# Elbphilharmonie
# Hamburg Harbor
# Reeperbahn Tours
# Hamburger Kunsthalle