Hamburg Art Gallery, locally known as Hamburger Kunsthalle, is one of the largest art museums in Germany.
The Museum hosts seven centuries of European Art, from the Middle Ages to the present day.
Started in 1849, this art gallery receives almost a million visitors annually.
In this article, we explain everything you need to know before buying your Hamburger Kunsthalle tickets.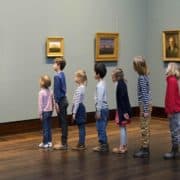 How to reach Hamburg Art Gallery
The Hamburger Kunsthalle is on GlockengieBerwall road, and various public transport options are available for visitors.
Hamburg's main railway station, also known as Hauptbahnhof, is the closest transit point.
By U-Bahn
You can take the U1, U2, or U3 to Hauptbahnhof Station, which is only five minutes' walk from Hamburger Kunsthalle.
By S-Bahn
If you prefer the S-Bahn trains, opt for S1, S2, S3, S11, S21, or S31, all of which stop at Hauptbahnhof Station.
By Bus
You can take the 112 number bus and get down in front of Hamburger Kunsthalle.
Or board any bus heading to the Hauptbahnhof bus stop, and walk the last 800 meters (half a mile).
Car parking at Hamburger Kunsthalle
With its entrance on Ferdinandstor road, the underground car park at Hamburger Kunsthalle offers paid parking for both cars and motorcycles.
From Monday to Saturday, the Hamburger Kunsthalle car park opens at 7 am, and on Sundays, it starts operations at 9.30 am.
On weekdays, the car park closes at 9 pm, and on Sunday at 6.30 pm.
The parking fee is €3 per hour, up to a maximum of €20 per day.
There are a few more nearby parking spaces as well.
---
---
Layout of Hamburg Art Gallery
The Kunsthalle Hamburg art museum is spread over three buildings – ornamental brick structure built in 1869, the neo-classical annex in light-colored limestone built in 1919, and the white cube which hosts 'Galerie der Gegenwart' (gallery of the present), inaugurated in 1997.
The art museum is located between the Central Hamburg station and the Alster river, making for a very convenient location.
---
---
Hamburger Kunsthalle opening hours
From Tuesday to Sunday, Hamburger Kunsthalle opens at 10 am and closes at 6 pm.
On Thursdays, to encourage the crowd, the art museum stays open till 9 pm.
It remains closed on Monday.
Special days
| Date | Hours | Occasion |
| --- | --- | --- |
| 31 Oct 2020 | 10 am to 6 pm | Reformation Day |
| 24 Dec 2020 | closed | Chrismas Eve |
| 25 Dec 2020 | closed | 1. Chrismas Holiday |
| 26 Dec 2020 | 10 am to 6 pm | 2. Chrismas Holiday |
| 31 Dec 2020 | 10 am to 3 pm | New Year`s Eve |
| 01 Jan 2021 | 12 am to 6 pm | New Year |
Exhibitions
Galerie der Gegenwart, which includes the BECKMANN exhibition, is open from 10 am to 8 pm on Friday and Saturday.
The Exhibition follows this timing until 24 Jan 2021.
---
---
Hamburger Kunsthalle tickets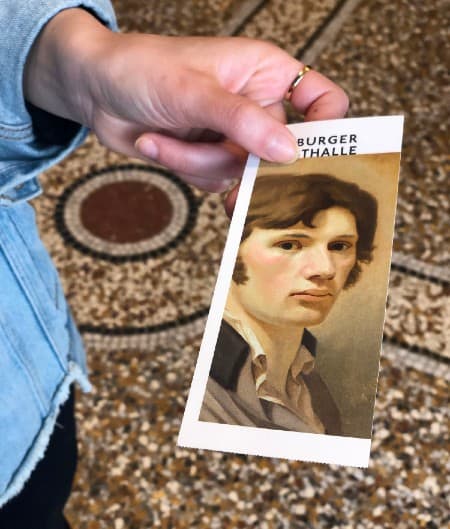 This Skip the Line ticket gives you complete access to Hamburger Kunsthalle, the massive art museum specializing in European painting.

Since this is a smartphone ticket, it will get emailed to your phone.

Image: Hamburger-kunsthalle.de
On the day of your visit, go directly to the entrance and have your Hamburger Kunsthalle ticket in your email scanned.
Entrance fees
Adult ticket (18+ years): €14
Student ticket (18+, with IDs): €8
*Disabled ticket: €8
Child ticket (up to 17 years): Free entry
*Carers of disabled visitors get in for free.
---
---
Guided tours at Hamburger Kunsthalle
At Hamburger Kunsthalle Hamburg, you can get a public tour of the permanent collections and special exhibitions. We list a few of them here –
Wednesday, noon: Tour focusing on a single artwork
Thursday, evenings: In-depth tours
Friday, whole day: THEMA DER WOCHE
Weekends, whole day: Tour of exhibitions
All through the week, children and families can participate in a family-friendly tour called FAMILIENZEIT. Unfortunately, it is only available in German.
The Guided tours cost €4 over and above the museum admission tickets and are limited to a group of 11, including the tour guide.
At the Museum reception, you can enquire about these tours and book on the day of your visit.
---
---
Art Gallery's mobile apps
If you have already booked Hamburger Kunsthalle tickets but need help to explore the art Museum, you can opt for the audio guides.
Download the app "Hamburger Kunsthalle" from the app stores for free on your mobile.
Or, if you prefer, you can rent an audio guide device for only €4 in the foyer.
Hamburger Kunsthalle's audio guide offers tours for the Permanent Collection and prominent exhibitions such as "Goya, Fragonard, Tiepolo."
---
---
Hamburger Kunsthalle map
It is always advisable to be aware of the layout of the art museum you are visiting.
When you know the floor plan, you don't get lost and don't miss out on the masterpieces.
Besides helping you with the location of the artworks, Hamburger Kunsthalle's map will also help you spot visitor services such as restrooms, cafes, shops, visitor assistance booths, etc.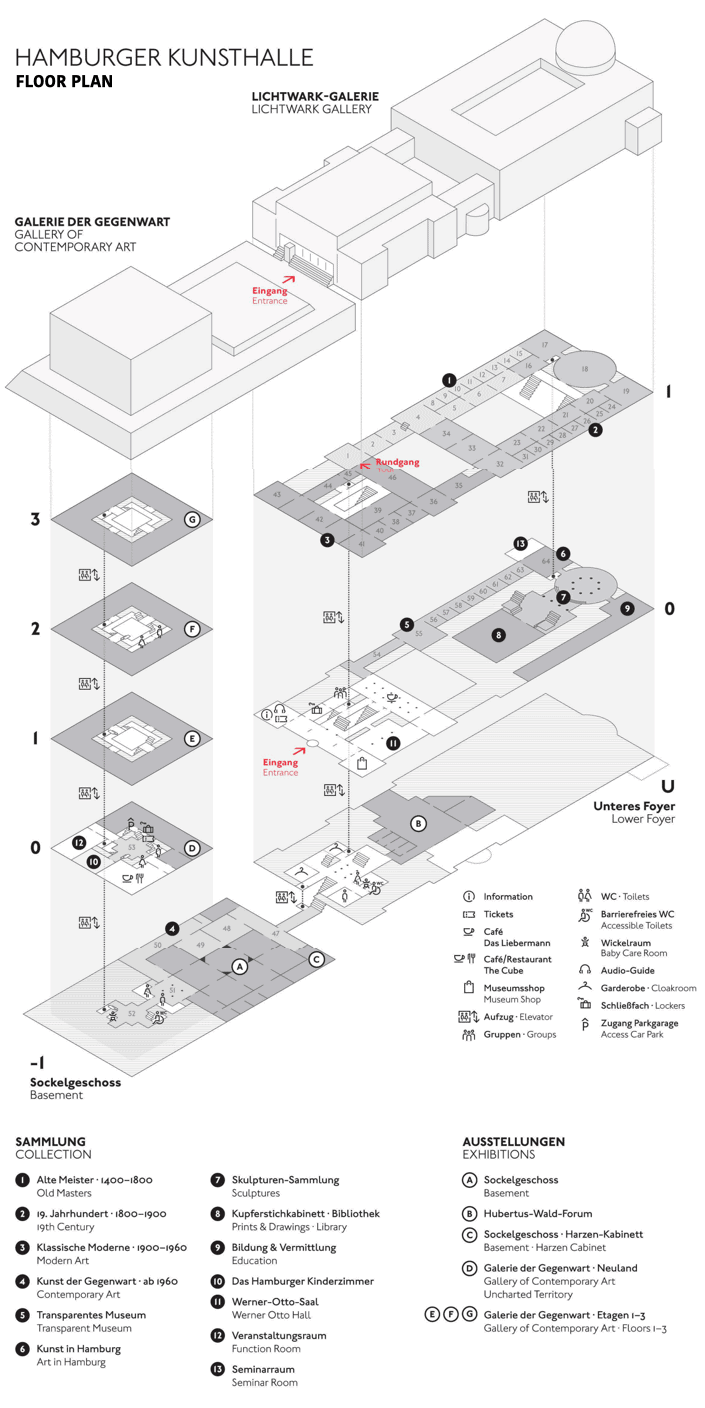 ---
---
Discount pass for Hamburg's Art Mile
It is a special ticket that allows entry into five of Hamburg's top museums, over three consecutive days.
The five museums are:
Hamburger Kunsthalle
Bucerius Kunst Forum
Deichtorhallen Hamburg
Kunstverein in Hamburg
Museum für Kunst & Gewerbe Hamburg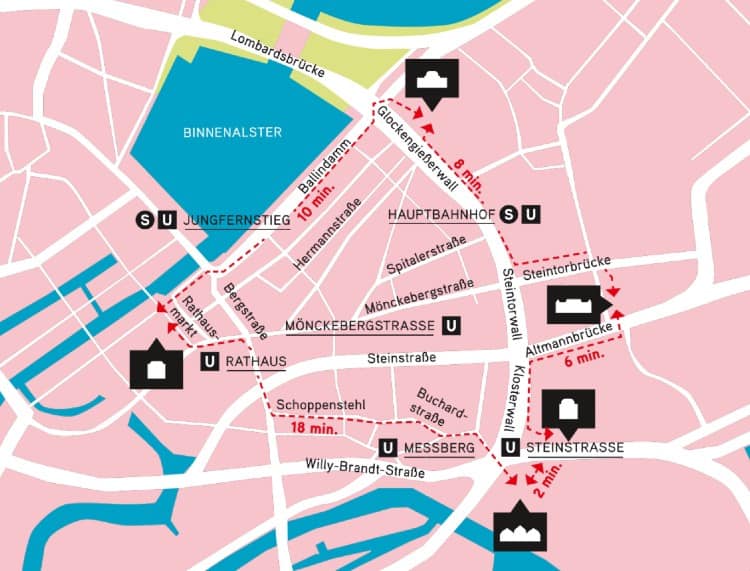 The Art Mile's discount costs €25 only, and you can cancel it for free till midnight of the day before your planned visit.
---
---
Hamburger Kunsthalle's collection
The Permanent Collection has art from the eighth century and is one of Germany's best public art collections.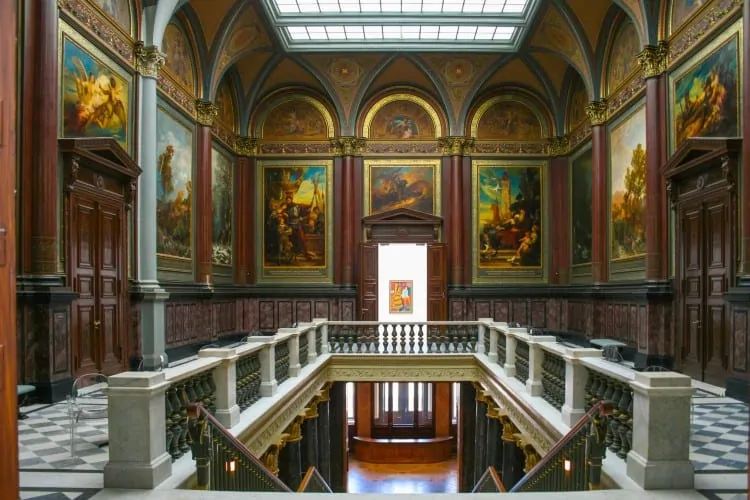 The Museum provides a rich tour through European art, right from the Middle Ages.
The five subsections are –
Old Masters
This section ranges from the 15th to the 18th century with famous artists like Bertram Von, Minden, Master Franck, Lucas Cranach, Hans Holbein the Elder, and their rich facets of the European Renaissance.
The area also focuses on the golden age of Dutch painting in the 17th century with outstanding works by Rembrandt, Abraham Bloemaert, Anthony van Dyck and Gerrit van Honthorst.
Hamburg's private collectors such as Georg Ernst Harzen and Johannes Amsinck provided the core of the Old Masters collection.
Nineteenth Century
This section contains one of the best collections of 19th-century art in Germany.
The arc spans from Classicism, Romanticism, Realism, Naturalism, up to Symbolism.
The section has excellent paintings by Caspar David Friedrich, Philipp Otto Runge, Adolph Menzel, Wilhelm Leibl, and Max Lieberman, and their focus on French painting is fantastic.
Some of the other painters include by Jean-Baptiste Camille Corot, Gustave Courbet, Édouard Manet, Edgar Degas, Claude Monet, Pierre-Auguste Renoir, Paul Cézanne and Paul Gauguin.
Modern Art
This department holds all the sculptures and paintings produced from 1900 to 1960.
At this section in Kunsthalle, you will notice numerous facets of German and international modernism in painting and sculpture unfold with ease.
Watchout for for paintings by Die Brücke (The Bridge) artists and the École de Paris (School of Paris) as well as groups of works by Edvard Munch, Wilhelm Lehmbruck, Paula Modersohn-Becker, Lovis Corinth, and Max Beckmann.
Contemporary Art
Established in 1997, the Gallery of Contemporary Art is a relatively new section.
This space tries to explore the connections between the essential international developments in art since 1960.
Some of the artists whose work gets displayed here are Sigmar Polke, Gerhard Richter, Georg Baselitz, Andy Warhol, David Hockney, R. B. Kitaj, K. P. Brehmer, etc.
Minimalist Art and Conceptual Art by artists like Robert Morris, Sol LeWitt, Dan Graham, Donald Judd, Robert Mangold, and Hanne Darboven also find special places in this section.
Prints and Drawing
This section is at the center of the neoclassical limestone building planned by Alfred Lichtwark, Kunsthalle's first director.
With over 130,000 drawings, photographs, and prints, it is one of the outstanding collections of works on paper in all of Europe.
It holds a detailed history of art and drawings on paper from the 15th century to the present and its evolution.
Don't miss out on contributions by Leonardo da Vinci, Raphael, Michelangelo, Canaletto, Giovanni Battista Piranesi, Rembrandt, Albrecht Dürer, and Albrecht Altdorfer along with other Spanish Old Masters.
---
---
Hamburger Kunsthalle's exhibitions
At Hamburger Kunsthalle Hamburg, an exhibition is always on, with some of the century's most significant artworks on display, which is why every visit feels like the first time.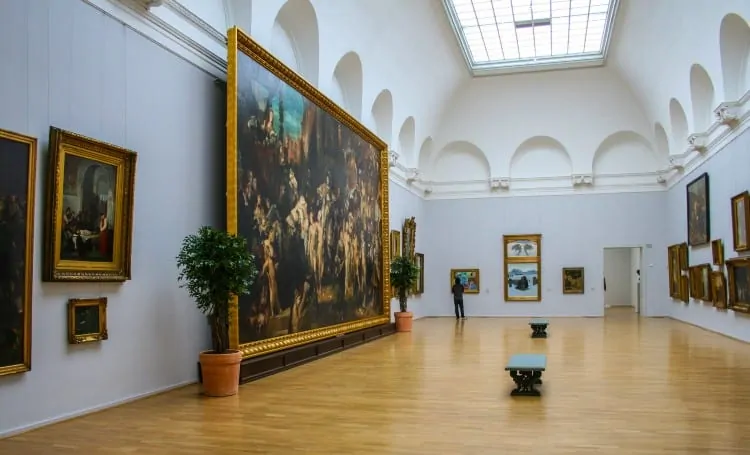 Here are three exhibitions currently going on –
Max Beckmann
This Exhibition focuses on the contradictory roles played by men and women in our society and is one of the greatest works of Max Beckmann.
The Absurd Beauty of Space
This Exhibition portrays seven different artists in the contemporary field inspired by Oswald Mathias Ungers and references the interior and exterior effects of spatial art.
Unfinished Stories
On its 150th Anniversary, Hamburger Kunsthalle hosts this Exhibition showcasing its significant parts and its collection of international contemporary art.
Some of the exhibitions coming up at Hamburger Kunsthalle are DE CHIRICO – Magical Reality (Jan 2021 to Apr 2021), SERIES – Prints from Warhol to Wool (Feb 2021 to Jun 2021), and RAPHAEL from the Collection (Jun 2021 to Sep 2021).
---
---
Restaurant in Hamburger Kunsthalle
Hamburger Kunsthalle has a cafe called Café Liebermann and a restaurant named 'The Cube.'
Visitors need museum entry tickets to get into Café Liebermann and is open during the art museum's hours.
The Cube restaurant is in the Galerie der Gegenwart and is free for all visitors.
Besides local crossover cuisine, the restaurant also offers stunning views of the inland Alster lake.
From Tuesday to Sunday, The Cube opens at noon and closes at 6 pm.
On Thursday alone to cater to the crowd, the restaurant remains open till 9 pm.
On Monday, the restaurant remains close.
Sources

# Hamburger-kunsthalle.de
# Hamburg.com
# Whichmuseum.com
# Wikipedia.org

The travel specialists at TheBetterVacation.com use only high-quality sources while researching & writing their articles. We make every attempt to keep our content current, reliable and trustworthy.
Popular attractions in Hamburg
# Elbphilharmonie
# Miniatur Wunderland
# Hamburg Harbor
# Reeperbahn tours