Museum of Illusions in Milan encapsulates various illusions which will keep you and your family entertained and busy the entire day.
It is a hybrid of an interactive museum with numerous holograms, optical tricks, and installations that will make your eyes wander.
The museum has various deceptive exhibits that give the brain a run for its power.
This article shares everything you should know before booking tickets for the Museum of Illusion in Milan.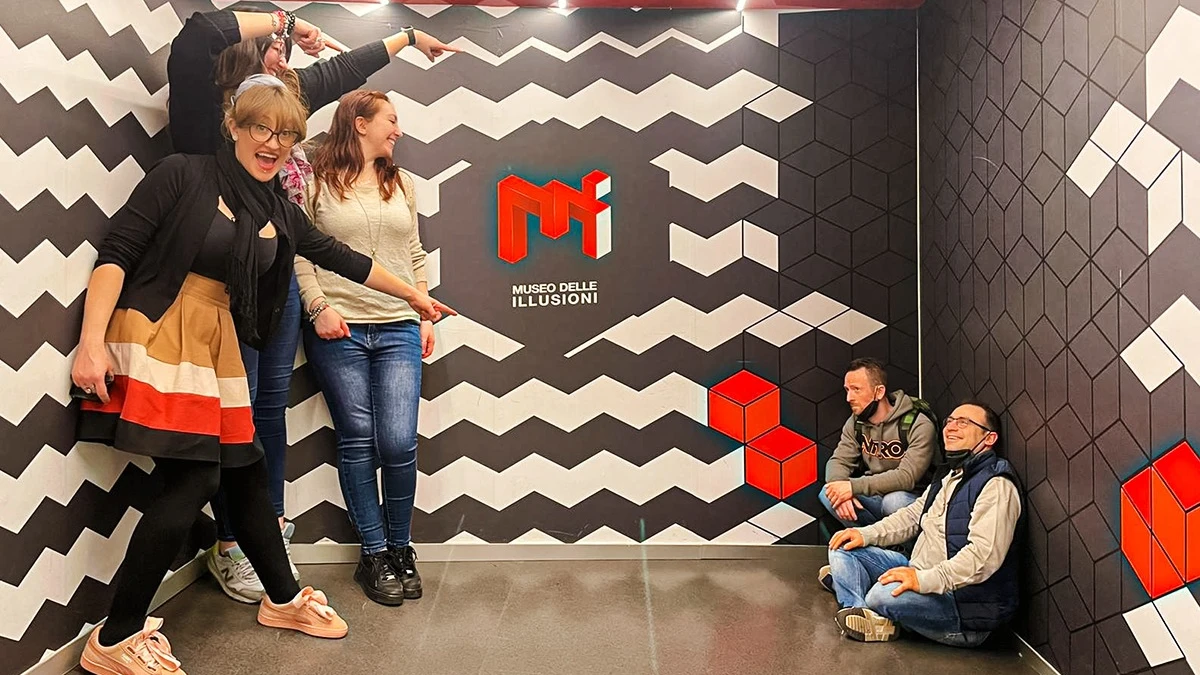 What to expect at Milan's Museum of Illusions
With over 70 illusions in Milan's Museum of Illusions, this place has everything to blow your mind.
Major highlights of the Museum of Illusions Milan are-
Anti-Gravity Room
At Anti Gravity Room, you question the laws of physics and test how well you know them.
You will be confused if you're standing straight or tilted when you enter the room.
Infinity Room
The infinity room is filled with full-length mirrors, creating an illusion of infinite space.
The Vortex Tunnel
The vortex tunnel will spin your head.
It's impossible to keep yourself grounded when the ground below you is spinning.
True Mirror
Want to see how other people perceive you?
Get ready to see your true self in the True Mirror that does not lie.
Smart Shop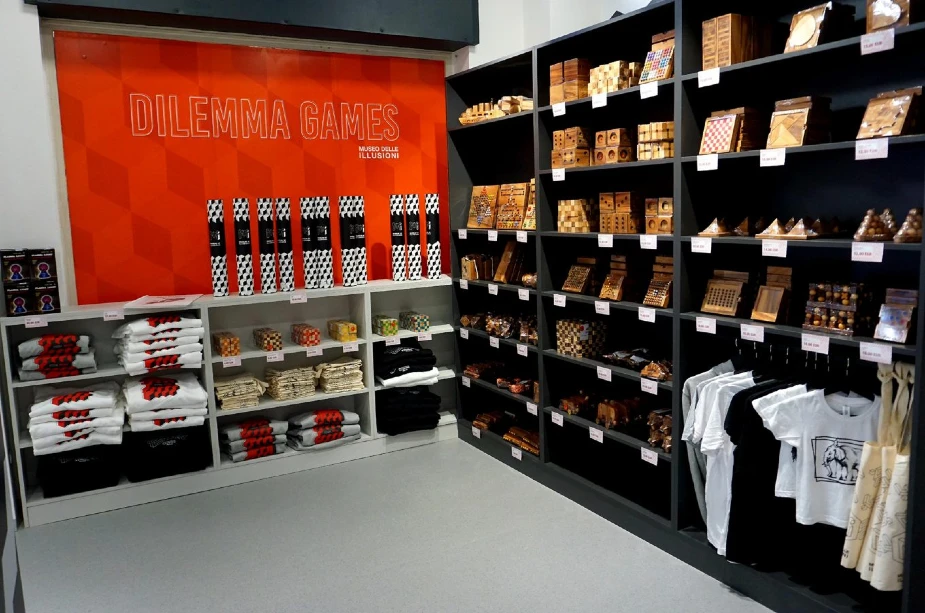 The smart shop offers over 80 games, puzzles, building blocks, brain teasers, educational toys, and various other souvenirs.
This is the perfect place for you if you want gifts that will keep you entertained and teach you something.
---
---
Where to buy tickets for Museum of Illusions
You can book tickets to the Museum of Illusions Milan online or offline.
But we suggest you book a ticket online as it offers many perks.
– You get a discount on booking tickets online, which saves money.
– On weekends and holidays, booking tickets online is COMPULSORY.
– You don't have to stand in long queues at the ticket desk.
– You can select a date and time for the tour beforehand that works best for you.
– Online tickets also help you avoid last-minute disappointments when tickets get sold out.
How online ticket works
To book tickets to the Museum of Illusions Milan, go to the booking page, choose your preferred date, timeslot, and the number of participants, and then hit the Book Now button.
You will get an email with your ticket as soon as you book your tickets.
On the day of your visit, scan this email directly at the entrance of the museum, and you can enter the world of illusion.
The museum accepts smartphone tickets, so go paperless!
Cost of Museum of Illusions tickets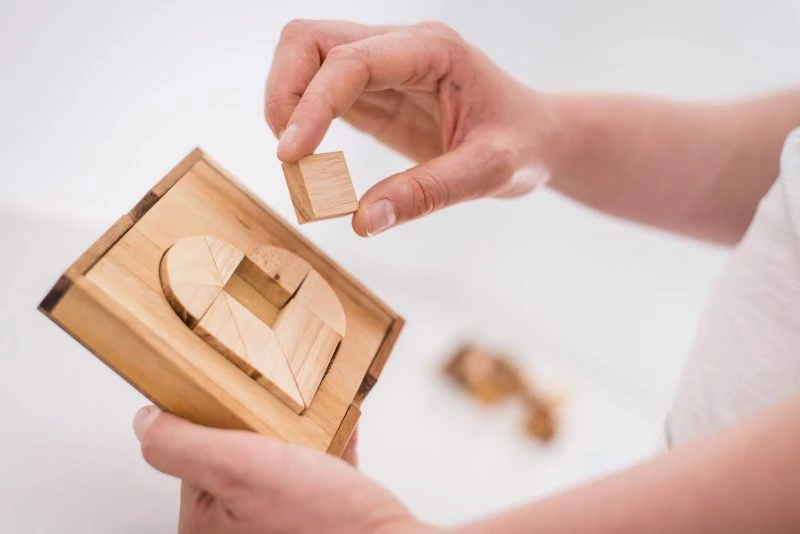 The Museum of Illusions Milan tickets cost €26 for all visitors aged 16 to 59 years.
Children aged 6 to 15 years get a €10 discount and pay only €16 for entry.
Tickets for kids over 16 years, seniors over 60 years, university students, and visitors with disability are priced at €15.
Kids below the age of five can enter the museum for free.
A family ticket for 2 adults and 2 children (6 to 15 years), or 2 adults and 1 child (6 to 15 years), costs about €45.
Tickets for Museum of Illusions Milan
Get ready for a day filled with illusions in the Museum of Illusions Milan.
Learn tricks with a number of displays that, for a moment, confuses which way is up or down.
Here at the museum, your own reflection will deceive you.
Take your time discovering the joy in various disciplines, such as biology, science, mathematics, and psychology.
Bring a camera to capture each and every illusion and trick.
This ticket does not allow you to skip the line at any rooms, it only allows you to skip the entrance line at the main gate.
You can also get a live guide in Italian and English to help you throughout the tour.
Children below the age of 15 should be accompanied by an adult.
Ticket Price
Adult Ticket (16 to 59 years): €26
Youth Ticket (6 to 15 years): €16
Senior Ticket (60+ years): €15
Infant Ticket (up to 5 years): Free entry
*Family Ticket: €45
Student Ticket (16+ years or university student): €15
**Disabled Ticket: €15
*2 adults+2 children (6 to 15 years) / 2 adults+1 child (6 to 15 years)
**Free admission for 1 person accompanying a disabled visitor.
Combo tickets
Combo tickets are the perfect option to explore attractions located close to each other.
If you plan to visit the Museum of Illusion in Milan, then you can buy its tickets in combination with Casa Milan, QC Terme Milano Spa, or Bagatti Valsecchi Museum.
On these combo tickets, you get up to a 5% discount!
Casa Milan Museum + Museum of Illusions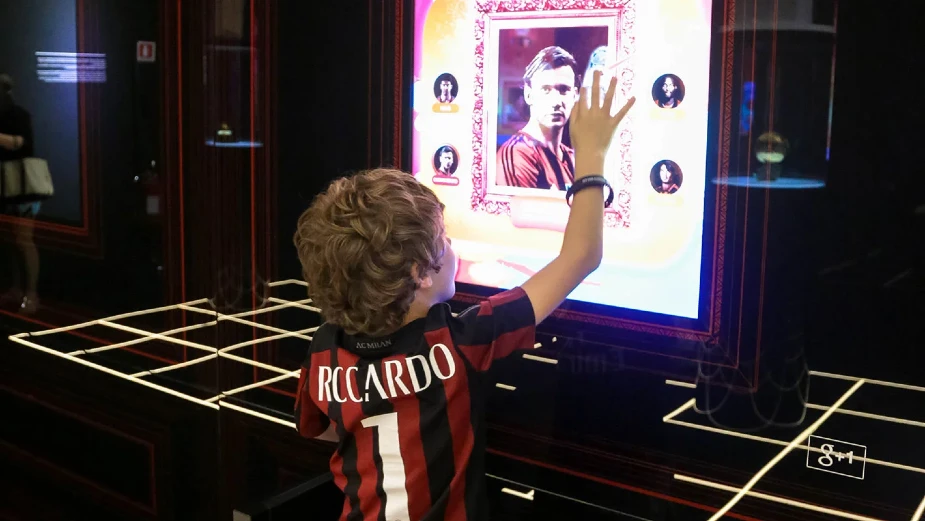 Casa Milan is approximately half an hour away from the Museum of Illusion by drive.
Explore a day in the headquarters for AC Milan, looking at the interactive displays for adults and kids.
Cost of ticket: €31 per person
Museum of Illusions + QC Terme Milano Spa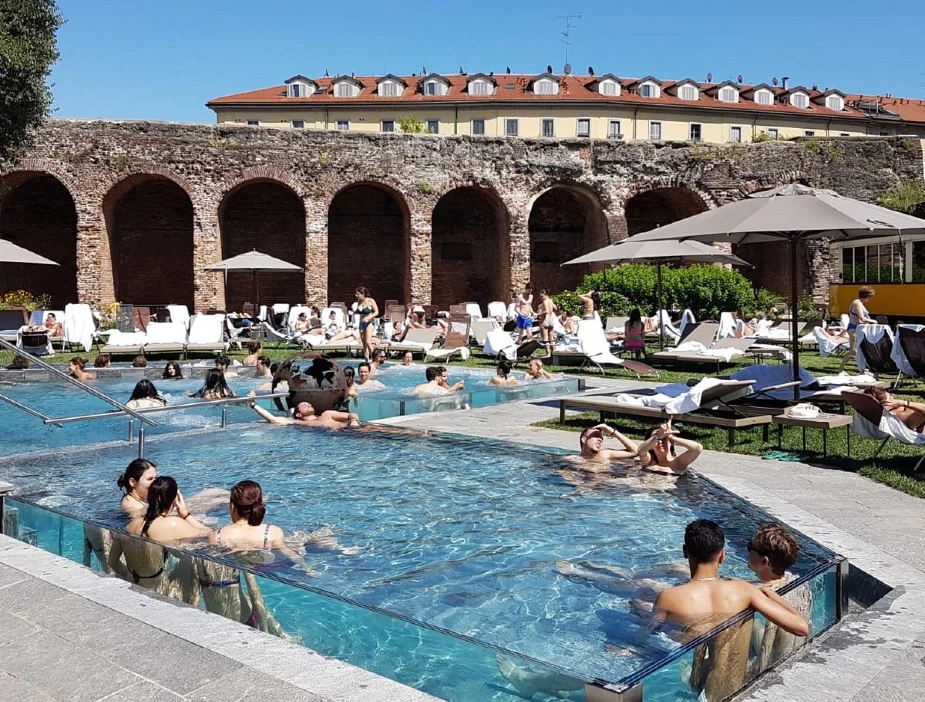 Relax in the therapeutic waters of QC Terme Milano after a trip to the Museum of Illusion.
Get a voucher for QC Terme Milano Spa, which is 15 minutes away from the museum.
Cost of ticket: €83 per person
Museum of Illusions + Bagatti Valsecchi Museum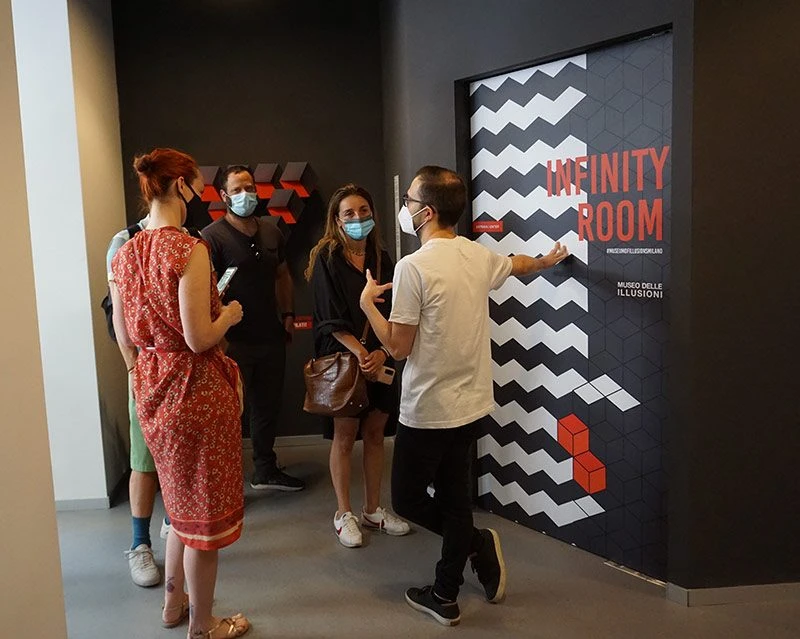 You can visit the Bagatti Valsecchi Museum and time travel to the Renaissance period.
Bagatti Valsecchi Museum is 15 minutes away from the museum of Illusion and is an exciting place for history and culture lovers.
Cost of ticket: €28 per person
---
---
Museum of Illusions Milan timings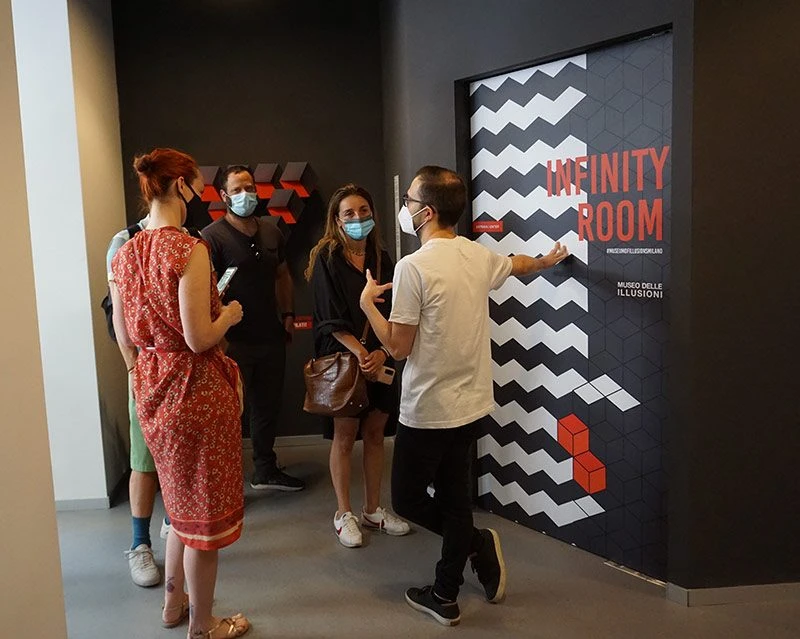 The Museum of Illusions is open all days of the week.
From Monday through Thursday, the museum operates from 10 am to 8.30 pm, with the last admission at 7.30 pm.
However, from Friday to Sunday, the museum is open from 10 am to 9 pm, with the last admission at 8 pm.
You must reach the museum 10 minutes before the scheduled time of the tour.
How long does it take
The Museum of Illusions in Milan has over 70 illusions that will take you at least an hour to explore.
The museum also imposes a time limit of one hour, so make sure you utilize it wisely!
Best time to visit
The best time to visit Milan's Illusions Museum is as soon as it opens at 10 am.
When you arrive early, you get ample space and time to discover every exhibit.
On weekends the museum is usually crowded and hence weekdays are a better option.
Weekdays make your tour comfortable as you don't have to squeeze through the crowd to get photos clicked.
---
---
How to reach the Museum of Illusions
The Museum of Illusions is located in Via L Settembrini 11, just a few steps away from the Milan Central Station area.
Address: Via L. Settembrini 11 20124 Milan, MI. Get directions
The most convenient way to reach the attraction is by public transport.
However, you can also drive to the Museum of Illusions Milan in your personal vehicle.
By Metro
You can get on the metro and either get off at the Central Station area or the Lima Milano station.
From there, it is a 6-minute walk to the Museum of Illusions in Milan.
By Tram
The nearest tram stops to the museum are P.za Cincinnato and Via Vitruvio, just 2 minutes walk away.
Tram no. 1 and 5 will drop you right at these stops.
By Bus
Take bus no. 60, 81, or N25, and get down at Via Vitruvio bus stop, which is just 2 minutes walking distance from the Illusions Museum Milan.
By Car
If you're traveling by car, then turn on your google maps and get started.
You can park your car or bike at Parking Settembrini, which is hardly a minute walk away from the attraction.
Sources
# Moimilano.it
# Tripadvisor.com
# Italybyevents.com

The travel specialists at TheBetterVacation.com use only high-quality sources while researching & writing their articles. We make every attempt to keep our content current, reliable and trustworthy.
Popular attractions in Milan
# Milan Cathedral
# Sforza Castle
# Leolandia
# Gardaland Park
# AC Milan Museum
# Leonardo3
# La Scala Theatre & Museum
# Peppa Ping Land
# Legoland at Gardaland
# Leonardo's Last Supper
# Gardaland SEA LIFE Aquarium
# Museum of Illusions
# Leonardo's Vineyard
# Leonardo da Vinci Science Museum
# Villa Necchi Campiglio
# Pinacoteca Ambrosiana