Legoland at Gardaland refers to the Legoland Water Park, a water-themed park located within the Gardaland Resort.
This water park can only be accessed via the main theme park.
Are you a fan of Legos? If yes, then you'll love the amazing Legoland Water Park.
Both locals and tourists love this place filled with giant legos, and if you want to spend an entire day with your family, this is the spot for you.
This article shares everything you should know before buying Legoland Park tickets.
Top Legoland Water Park tickets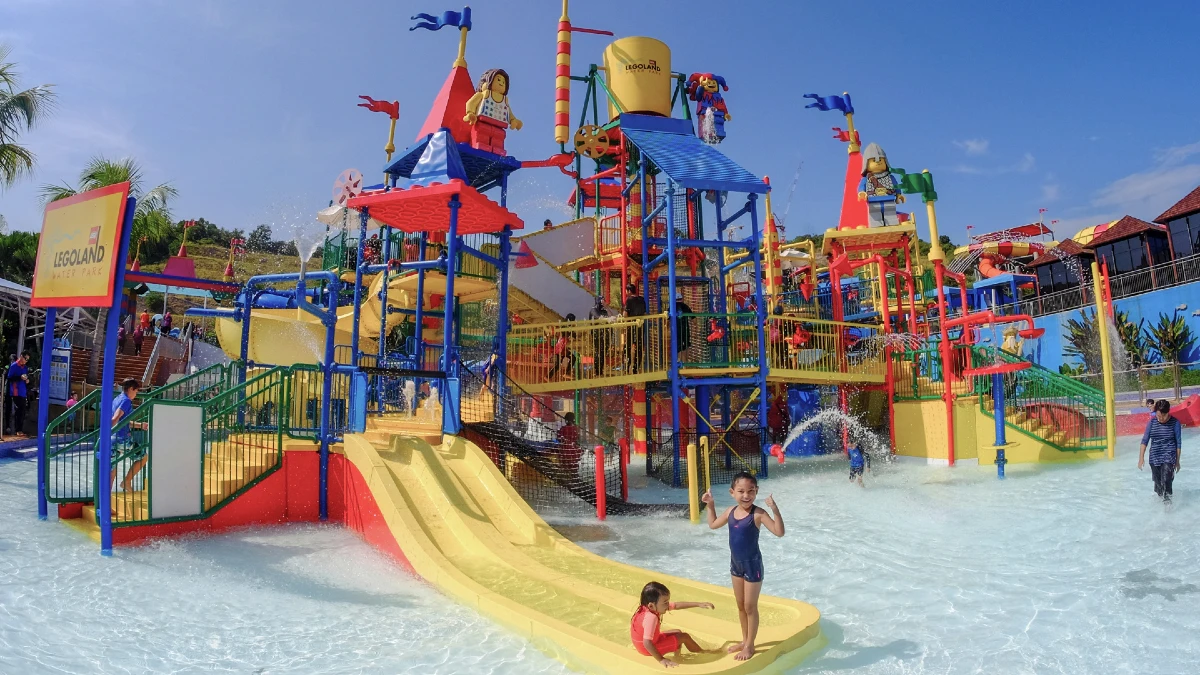 What to expect at Legoland Water Park
Legoland has eight themed areas inside the waterpark designed for guests aged between 2 and 12 years.
These water park themes include-
Miniland
Miniland is a true-to-scale replica of Italy's famous monuments built with over 4 million Lego bricks.
Marvel at the 4-meter-wide (13 feet) Colosseum, the 2-meter (6 feet) Tower of Pisa, the Basilica and Bell Tower of St. Mark's Square, and many other well-known Italian landmarks.
LEGO River Adventure
Personalise your raft with Lego blocks and sail around the Miniland monuments.
Beach Party
The Beach Party is a fun area with slides, a large tipping bucket, and many swings you cannot miss.
Keep a watch out for the water-shooting cannons around every corner, and pay attention to the huge towers because water is raining down from the top.
DUPLO Splash
DUPLO Splash is the fun penguin-themed splash area perfect for your little one.
They can find out about all the aquatic creatures even as they splash around.
Jungle Adventures
At the Jungle Adventures your elder kids and tweens will love the fun tube slides, including Jumbo rapids, crocodile creek, and flamingo halls.
Jungle Oasis
Meet all the (LEGO-built) jungle creatures and play in the crocodile pond, and don't forget to get your picture taken for keepsake.
Pirate Bay
The Pirate Bay is a great place for the family to swim, cool down or relax. Even as you relax in the swimming pool you can marvel at the giant legos around you.
LEGO Creation Island
Relax, unwind and interact while indulging in different activities with your child. At the Creation island, you can build different things using legos.
Fight off the imaginary pirates as you build and customize your ship.
Restaurants and Bars
In between all the activity, you can visit the Harbour restaurant to get pizza, cutlets, salad, cold pasta, and a kid's menu for your little one. Or head to the Beach Party Kiosk for some ice cream or fresh fruits.
Does you child love sea creatures? Don't miss Gardaland Park's Sea Life Aquarium.
---
---
Where to buy tickets
You can buy Gardaland Water park tickets online or at the attraction on the day of your visit.
However, we suggest booking tickets online as it offers you many benefits.
– online tickets are cheaper than the price you pay at the gates
– you can avoid waiting in the long ticket counter lines
– Since the tickets get sold out, especially during peak season, buying in advance helps avoid last-minute disappointment
How online ticket works
Go to the Gardaland booking page, select your preferred date and the number of tickets, and get them right away.
Immediately after purchase, the tickets will be emailed to you.
On the day of your visit, go directly to the entrance and show the ticket on your mobile and enter.
No need to take printouts.
Cost of Legoland Water Park tickets
The 1-Day Gardaland Park ticket, which includes access to the Legoland Water Park as well costs €44, for all visitors aged ten years and above.
The 2-Day Gardaland Park ticket is priced at € 53 for visitors ten years and above.
Kids up to 9 years enjoy a discount of €4 and €6 on one-day and two-day tickets, respectively.
Their ticket is priced at €40 for a 1-day ticket and €47 for a 2-day ticket. 
Visiting Gardaland with younger kids? Check out the Gardaland's Peppa Pig Land
One-day Legoland Water Park tickets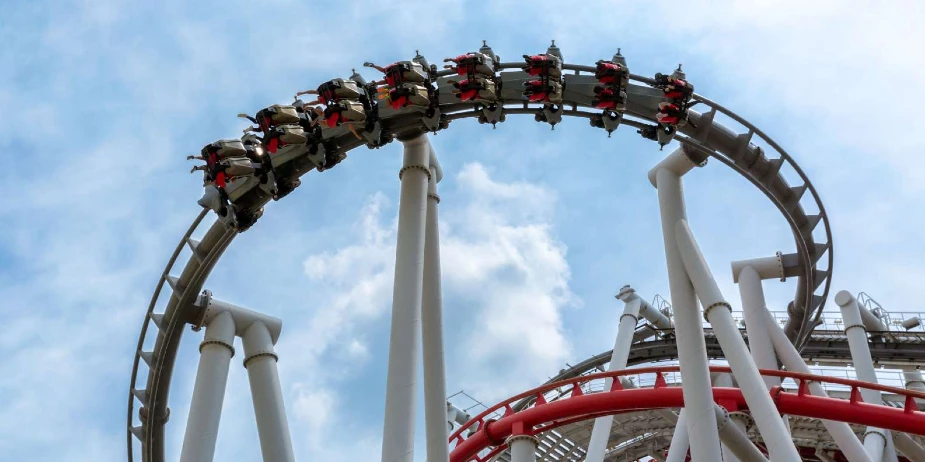 Legoland access can be gained only if you buy Gardaland Park tickets, as the water park is a part of the amusement park.
With this ticket, you can access all the Gardaland rides, theme parks, Peppa Pig Land, and LegoLand Water Park.
Admire the true-to-scale replica of Italy's famous monuments, or sail around in the LEGO River Adventure.
Remember to carry your Passport or ID card for admission to Gardaland resort.
Children under the height of 100 cm and people who require assistance due to disabilities are allowed on the premises without a ticket.
Ticket Price
Adult Ticket (10+ years): €44
Child Ticket (up to 9 years): €40
Two-day Legoland Water Park tickets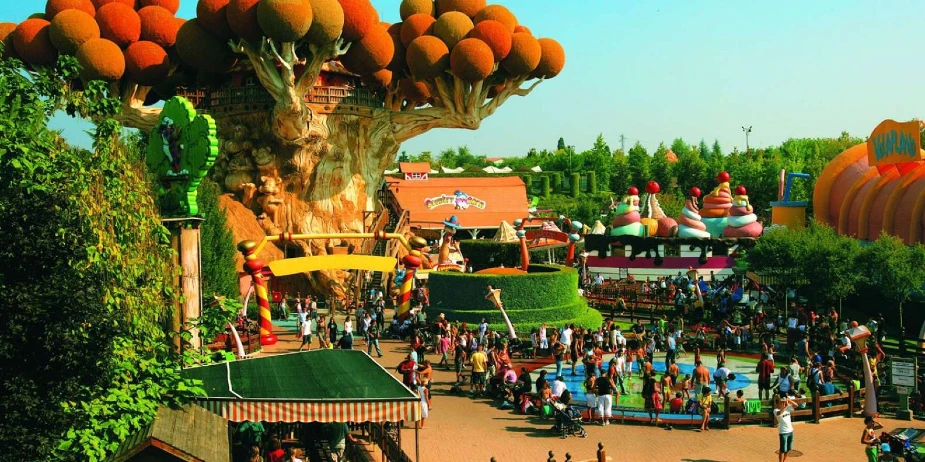 We recommend getting the 2-Day Gardaland park ticket because you'll need at least two days to get through Legoland Water Park and the rest of Gardaland.
Get ready to explore one of the most fun places in Gardaland and explore other parts of the park at your own pace.
If you get this ticket, you must print a voucher so that they can keep track of the days.
Ticket Price
Gardaland Park: 2-Day open date entry ticket
Adult Ticket (10+ years): €53
Child Ticket (up to 9 years): €47
---
---
Legoland Water Park timings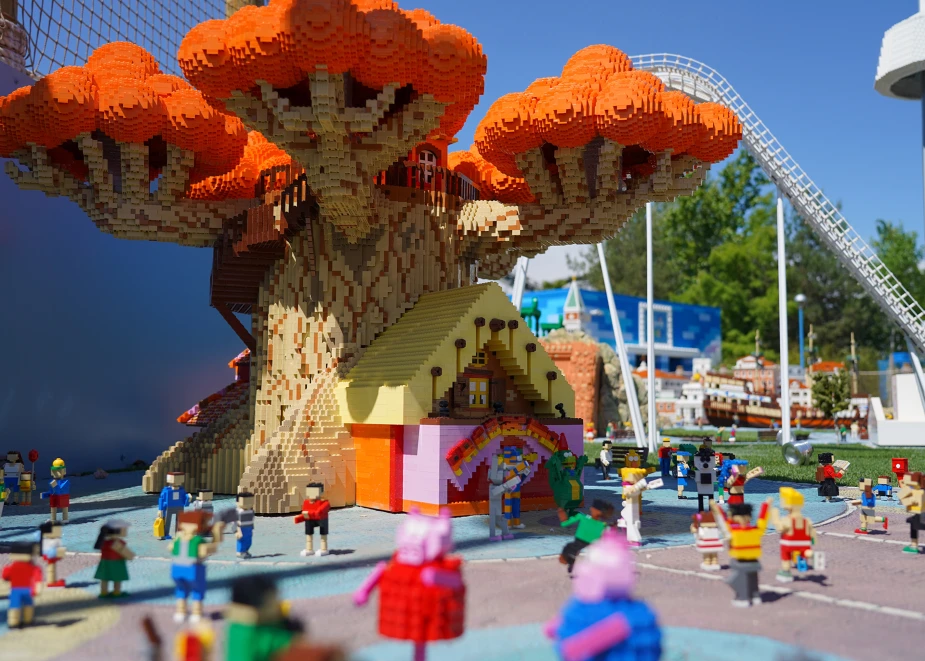 During the peak season of July to September, Legoland Water Park at Gardaland is open daily from 10 am to 11 pm.
From April to June it is open from 10 am to 6 pm.
The park is closed from October to March, except on weekends and the Christmas break.
We recommend you check the official calendar for the latest timings.
Recommended Reading
# Everything about Gardaland Park tickets
# Gardaland Park rides & height restrictions
Best time to visit the water park
To make the most of your visit to Legoland Gardaland, consider arriving as soon as the park opens at 10 am.
When you reach early, you have more time to explore the water rides and chill out in the pools. And the place is also not crowded.
Plan your visit to Legoland during the summer, as Italy's summer is one season that you should take advantage of.
How long does it take
You can easily spend an entire day in Legoland Water Park, as the eight themed areas will keep you and your kids occupied.
Consider getting a 2-day ticket to Gardaland so you can spend enough time at the Legoland water park.
How to reach Legoland Park
The Legoland Park is inside the Gardaland Park which is located in Castelnuovo del Garda.
Address: 37014 Castelnuovo del Garda, Province of Verona, Italy. Get Directions
You can reach the location by car, train, or bus.
By Bus
The bus is one of the easiest ways to get to Gardaland Amusement park.
You can take the 164, 483, or SC420 and get off at Gardaland B.
From there, it is a 2-minute walk to Gardaland Park.
By Train
The Peschiera del Garda train station is only 2 kms (little more than a mile) from the park.
A free shuttle bus service is available every half hour, from the station to take you to Gardaland.
The first departure from the station is at 9.30 am and the last departure from Gardaland is at 6.30 pm.
By Car
If you're traveling by car, turn on your Google Maps and get started.
Click here, to find the perfect car parking spot for you.
---
---
Know before you go
Here are some things you need to keep in mind before visiting Legoland Water Park.
– Legoland is designed for children between the age of 2 and 12 years, and an adult should always be with them.
– Children between 12 and 17 can enter without a companion.
– Children below the height of 1 meter (3.2 feet) can enter free of cost.
– A maximum of 2 kids are allowed per adult in Legoland.
– It is advised to wear a swimming cap, but it is not mandatory. It is important to keep long hair tied up before entering the slides and pool.
– You can access the baby changing rooms in all bathrooms.
– Pets are not allowed in Legoland water park.
– Free wifi is available inside the water park, so you can upload the fun as it happens.
Popular attractions in Milan
# Milan Cathedral
# Sforza Castle
# Leolandia
# Gardaland Park
# AC Milan Museum
# Leonardo3
# La Scala Theatre & Museum
# Peppa Ping Land
# Legoland at Gardaland
# Leonardo's Last Supper
# Gardaland SEA LIFE Aquarium
# Museum of Illusions
# Leonardo's Vineyard
# Leonardo da Vinci Science Museum
# Villa Necchi Campiglio
# Pinacoteca Ambrosiana