Gardaland is a popular amusement park located in North-Eastern Italy, and is one of the finest in Europe.
The theme park includes four areas – Gardaland Park, Gardaland Sea Life Aquarium, Legoland Water Park and Peppa Pig Land.
Gardaland is known for its wide variety of rides, attractions, and shows.
The rides range from thrilling roller coasters and water rides to more gentle rides for younger children.
It has a mix of themed areas, inspired by different regions of the world, history, or fantasy elements.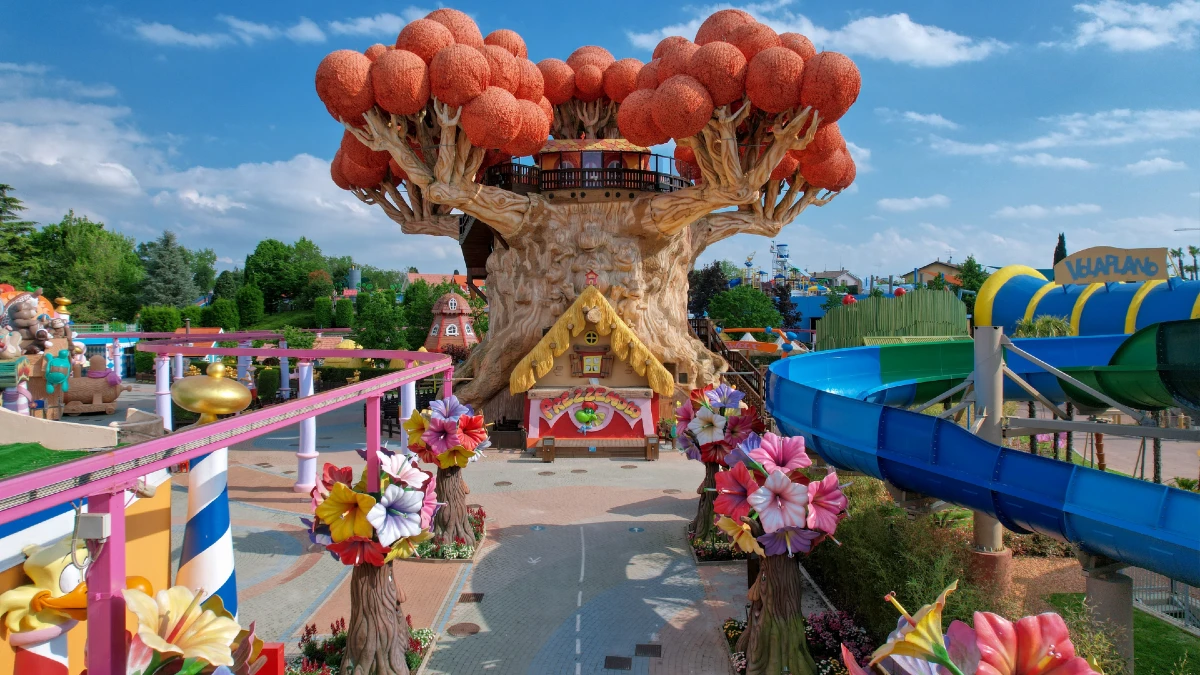 What to expect at Gardaland Park
Gardaland boasts 32 rides, including four major rollercoasters, three water rides, and numerous rides for children.
Notable thrill rides include the Blue Tornado and Raptor rollercoasters and the Flying Island ride, which offers excellent views of Gardaland and Lake Garda.
The park also features different themed areas, such as Peppa Pig Land, which has five rides for young children, and opportunities to meet Peppa Pig.
Don't miss out on the Legoland Water Park and the Sea Life Aquarium, which require a separate entry ticket.
---
---
Where to buy Gardaland tickets
You can buy Gardaland tickets online or at the attraction on the day of your visit.
However, we suggest booking tickets online as it offers you many benefits.
– online tickets are cheaper than the price you pay at the gates
– you can avoid waiting in the long ticket counter lines
– You can schedule your tour and purchase your tickets in advance.
– Since the tickets get sold out, especially during peak season, buying in advance helps avoid last-minute disappointment
How online ticket works
Go to the Gardaland booking page, select your preferred date and the number of tickets, and get them right away.
Immediately after purchase, the tickets will be emailed to you.
On the day of your visit, go directly to the entrance and show the ticket on your mobile and enter.
No need to take printouts.
Cost of Gardaland tickets
The 1-Day Gardaland Park ticket costs €44, while the 2-Day Gardaland Park ticket costs € 53 for all visitors aged ten years and above.
Kids up to nine years enjoy a discount of €4 on the 1-day ticket and pay only €40, while on the 2-day ticket, they enjoy a reduction of €6 and pay only €47.
The Gardaland Park and SEA LIFE Aquarium ticket is priced at €42 per person.
1-day Gardaland Park tickets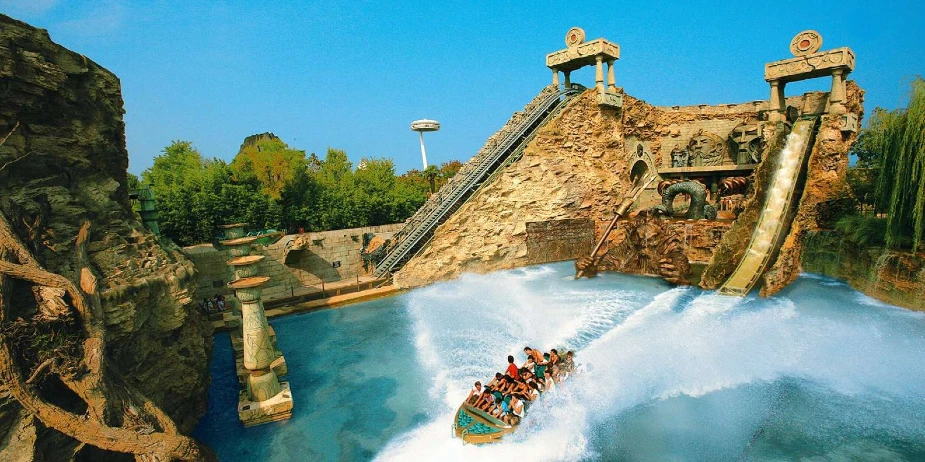 Get ready for a day filled with fun and get access to all the rides and theme parks with the help of this one-day ticket.
Explore attractions like Oblivion, The Black Hole dive coaster, and the enigmatic Jungle Rapids all day.
In the 4D Ice Age journey, you can go back in time while floating on a log in the Colorado Boat.
You must bring your Passport or ID card for admission to Gardaland resort.
Free admission is granted to children under 100 cm and people who require assistance due to disabilities.
Ticket Price
Adult Ticket (10+ years): €44
Child Ticket (up to 9 years): €40
2-Day Gardaland Park tickets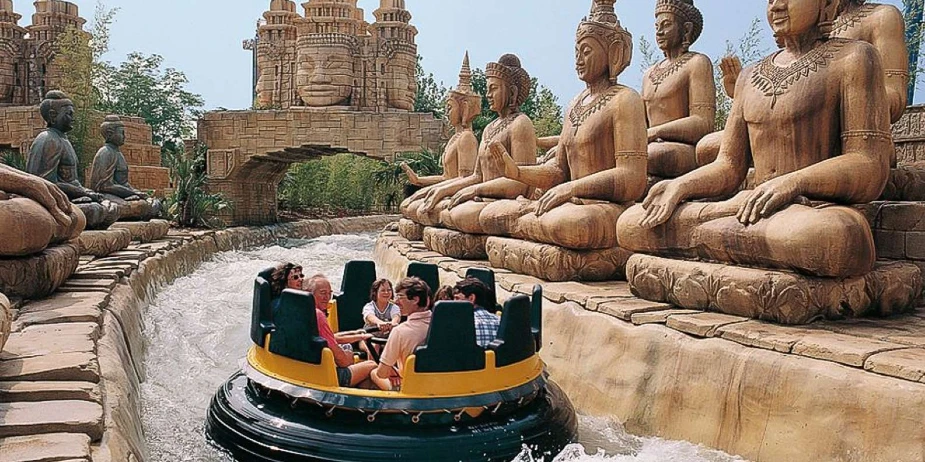 This ticket allows you to enter Gardaland Park for two days.
The 2-Day Gardaland Park ticket is a great option as you can skip the entrance line, save time, and get full access to all the rides and theme parks.
For this ticket, you are required to print a voucher so that they can keep track of the days.
It would be best if your carry the Super Green pass when you want to enter the Park.
Ticket Price
Gardaland Park: 2-Day open date entry ticket (until June 16)
Adult Ticket (10+ years): €53
Child Ticket (up to 9 years): €47
Gardaland Park: 2-Day open date entry ticket (until Oct 22)
Adult Ticket (10+ years): €61
Child Ticket (up to 9 years): €55

Recommended Reading: Rides at Gardaland Park
Gardaland Park and SEA LIFE Aquarium
Explore the SEA LIFE Aquarium and Gardaland Park with a single ticket.
Get full access to all the rides, attractions, activities, and themed areas for two consecutive days.
With the help of this ticket, you can skip the entrance line and move straight to the park and the aquarium.
In the SEA LIFE Aquarium, you can see some of the most beautiful creatures on the planet, with 5,000 specimens in 37 tanks.
Ticket Cost: €42 per person
Gardaland SEA LIFE Aquarium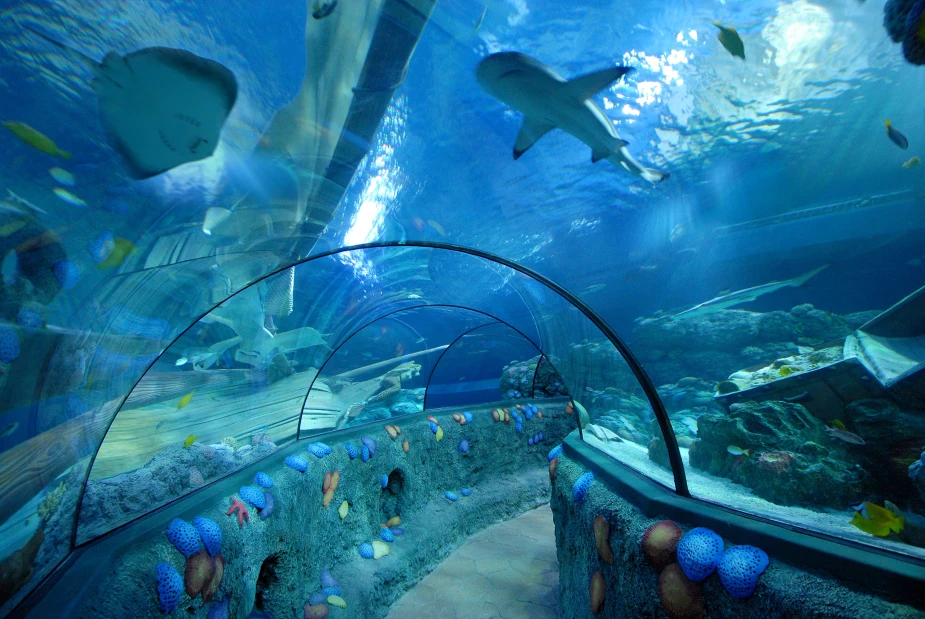 The Gardaland SEA LIFE Aquarium is the perfect place for your kids.
You can look at the sea world with the help of 40 themed fish tanks and learn about 100 different species of sea creatures, see sea lions, and learn more about the sea world.
Remember to visit the interactive rock pools and the shark feeding time.
With the help of this ticket, you get viewing access to all tanks and interactive experiences, and you can skip the entrance line to Gardaland SEA LIFE Aquarium.
Pets are not allowed in the aquarium.
Ticket Cost: €9 per person
---
---
Gardaland Park timings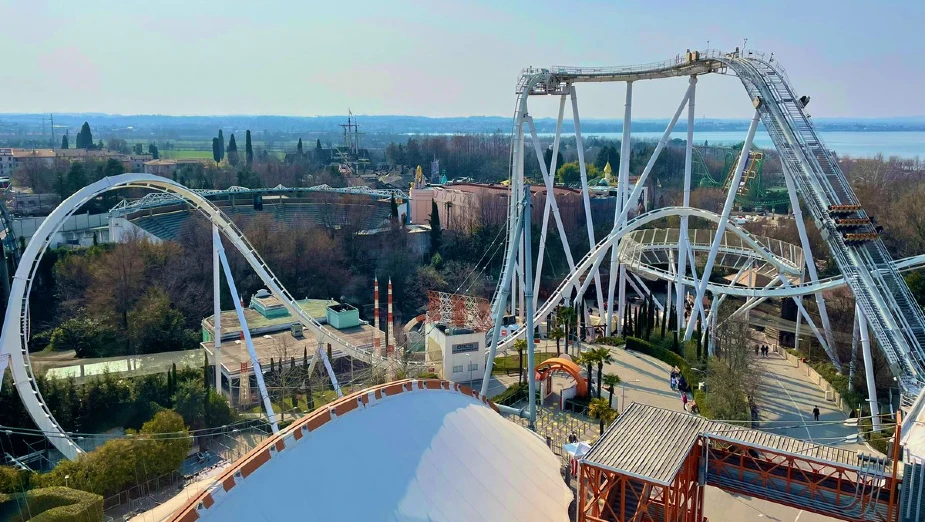 The Gardaland theme park is open from March to September, and for the rest of the months, it is open only on weekends.
Its opening hours vary based on peak and non-peak seasons.
During non-peak seasons (April to May), when the crowd is at its low, the Gardaland Park operates from 10 am to 5 pm, while during peak season (June to September), the park runs from 10 am to 11 pm.
For the latest timings, check the Gardaland Park calendar.
How long does Gardaland take
Exploring Gardaland Amusement Park can take one to two days, depending on your plans.
If time is limited, you can book a one-day ticket and enjoy a selection of rides, but you may not be able to experience all the attractions.
If you wish to explore the park completely, including the rides and the SEA-LIFE Aquarium, you should set aside two days​.
Best time to visit Gardaland Park
To make the most of your visit to Gardaland, consider arriving as soon as the park opens at 10 am.
This early start allows you to explore the park at a leisurely pace before the crowds arrive.
Summertime, particularly in July, is a great season to visit.
During this time, evening tickets are available, offering a more affordable option and providing a cooler and more comfortable environment for exploration.
However, it's advisable to avoid visiting in August. This period coincides with the holiday season in Italy, leading to larger crowds and potentially longer waits for attractions.
How to reach Gardaland
Gardaland Park is located by Lake Garda, which some say is the inspiration behind the Park's name.
Address: 37014 Castelnuovo del Garda, Province of Verona, Italy. Get Directions
You can reach the location by car, train, or bus.
By Bus
The bus is one of the easiest ways to get to Gardaland Amusement park.
If you're coming from Italy, you can get on FlixBus or Busforfun.
You can take the 164, 483, or SC420 and get off at Gardaland B.
From there, it is a 2-minute walk to Gardaland Park.
By Train
The Peschiera del Garda train station is only 2 kilometers (approx 1 mile) from the park.
A free shuttle bus service (round-trip) every 30 minutes will take you to your location.
You can get on the shuttle 30 minutes before the opening, and the last bus leaves 30 minutes after closing.
By Car
If you're traveling by car, turn on your Google Maps and get started.
Click here, to find the perfect car parking spot for you!
---
---
Map of Gardaland Park
Gardaland is a huge park, and you'd need a map for easy navigation.
With a map downloaded on your phone, you can prioritize rides and attractions and avoid wasting time.
A map also helps you locate washrooms, drinking facilities, and restaurants.
Know before you go
– You can bring your furry companion to Gardaland Amusement park. Ensure that they are on a leash and that large animals need a muzzle for safety.
– You can get a discounted price for expectant mothers with a baby bump.
– Ask for a pass stamp if you plan to enter and leave the Park many times in one day.
Popular attractions in Milan
# Milan Cathedral
# Sforza Castle
# Leolandia
# Gardaland Park
# AC Milan Museum
# Leonardo3
# La Scala Theatre & Museum
# Peppa Ping Land
# Legoland at Gardaland
# Leonardo's Last Supper
# Gardaland SEA LIFE Aquarium
# Museum of Illusions
# Leonardo's Vineyard
# Leonardo da Vinci Science Museum
# Villa Necchi Campiglio
# Pinacoteca Ambrosiana