Leolandia is an amusement park in Milan, packed with over 50 attractions, rides, and activities.
This amusement park offers eight themed areas with attractions for guests of all ages.
You can enjoy the Minitalia, a collection of over 160 miniatures of monuments, while your little one enjoys other wonders at Leolandia, like mine train or Thomas The Track Engine.
This article shares everything you need to know before buying Leolandia tickets.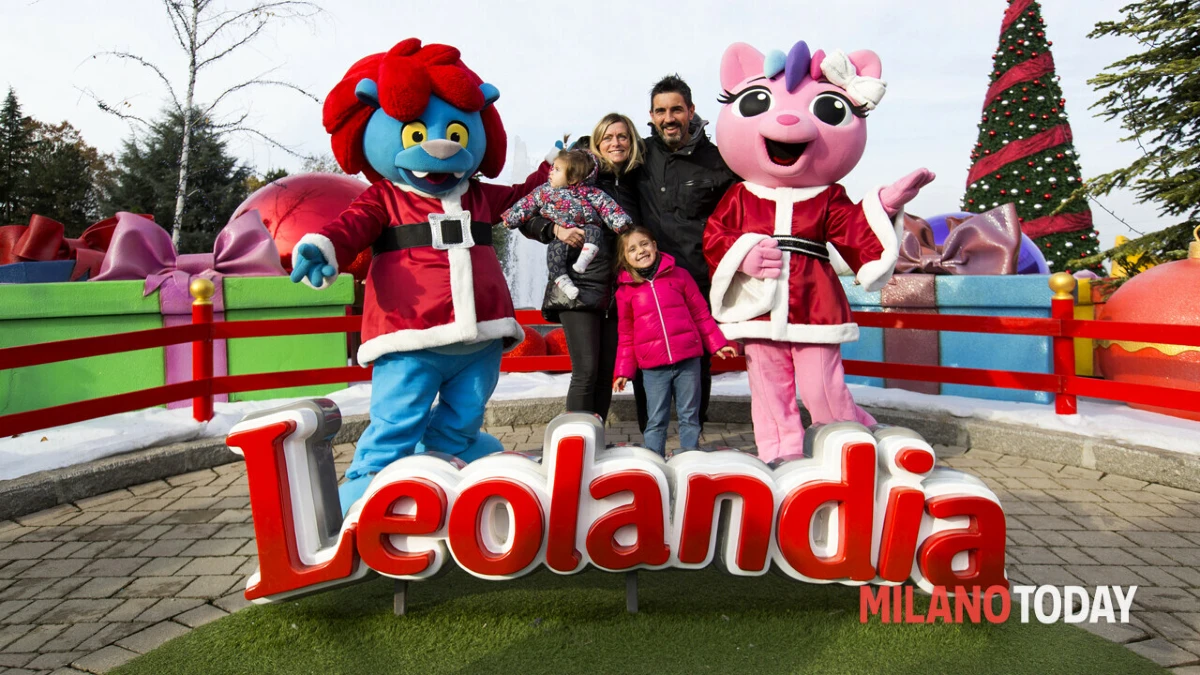 What to expect at Leolandia
Leolandia is one such amusement park that fulfills your fantasies transporting you to a world where you experience magic, love, thrill, and adventure.
You can splash into the water, be suspended or cannonballed in the air, ride the rollercoaster or go aboard the pirate ship. You can even meet your favorite characters, fairies, elves, and witches.
Leolandia is a theme park for children, which besides rides and shows, also serves traditional Italian cuisines in its cafes and restaurants.
---
---
Where to book tickets for Leolandia
Guests can book Milan's Leolandia tickets online or from the ticket office at the venue.
We suggest you book a ticket online as it comes with many perks.
– You save money because online tickets are cheaper
– You don't have to stand in long queues at the ticket desk.
– You can select a date and time for the tour beforehand that works best for you.
– Online tickets also help you avoid last-minute disappointment because sometimes the tickets get sold out.
How online tickets work
On the ticket booking page, select the preferred date and number of participants, and hit the Book Now button.
Immediately after purchase, an e-ticket will be sent to your email address.
On the day of your visit, scan this e-ticket from your mobile at the turnstile, and you can enter paradise.
You can get a full refund if you cancel 24 hours before the day of your visit.
Leolandia tickets
You can book the tickets for Leolandia online and skip the ticket counter lines at the theme park entrance.
With this ticket, you can access eight themed areas and over 50 attractions for all age groups.
You can also access daily shows and meets with your child's favorite cartoon characters.
This ticket does not allow you to skip the line at any attractions, and it only allows you to skip the entrance line at the main gate.
Leolandia ticket prices
Leolandia ticket prices are based on the height of the guests.
Guests 90cm+ (35.5 inches): €31.50
Children below 90cm: Free entry
---
---
Leolandia opening hours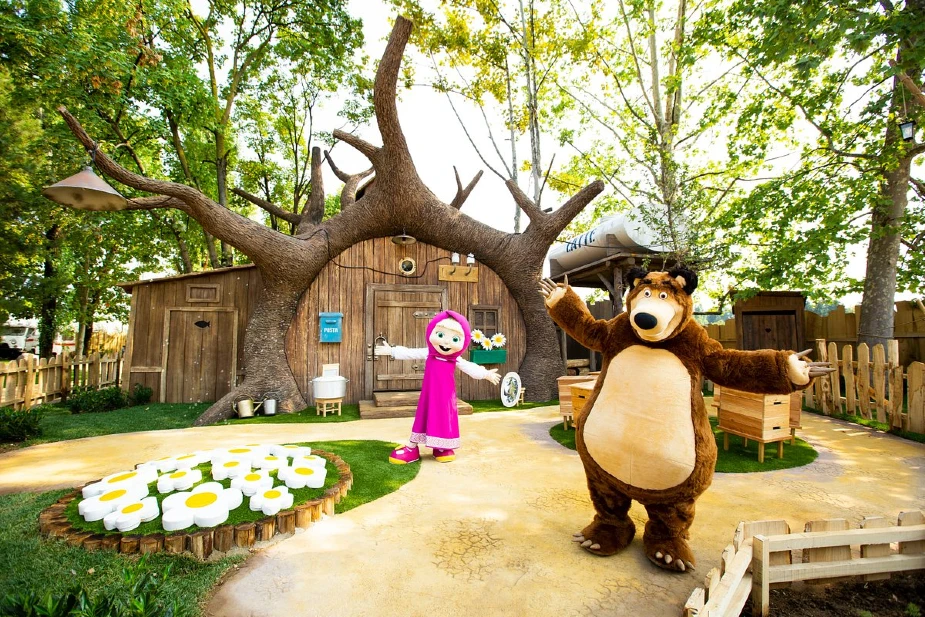 Leolandia opens at 10 am and closes at 6 pm throughout the week. However, the opening hours are subject to change.
There are different shows and characters on different days, so check for the day's schedule on the official website of Leolandia theme park before going to the park.
This way, you can plan your day better and make a small itinerary of rides, attractions, and shows you'd want to see first and last.
From June to September, the attraction is open every day. However, during the non-peak season (October to May), the theme Park opens only on certain days.
This is why it is better to book your Leolandia tickets online, to avoid last-minute disappointment.
Remember, if the attraction is closed for the day, you won't be able to book your tickets.
Best time to visit Leolandia
The best time to visit Leolandia is as soon as they open at 10 am.
The crowd is yet to come in in the morning, so there are no queues for the rides, attractions, and shows.
The park is highly crowded on weekends and from June to September (peak season).
In the spring and winter seasons and on weekdays, the crowd is small, making your tour at the park a little more comfortable.
How long does Leolandia take
If you wish to see all the tourist attractions and get on all the rides at Leolandia, you will need at four to five hours.
And if you want to see all the shows, you'll need an extra hour.
So, it is advised that you arrive before 12 pm, get yourself some food, and start exploring.
---
---
How to reach Leolandia
Leolandia is located in Capriate, province of Bergamo, which is 35 km (22 miles) from Milan.
Address: Via Vittorio Veneto, 52, 24042 Capriate S. Gervasio (BG). Get Directions
Drive to the location
The location is 300 meters from the tollgate of Capriate on the A4 Milano Venezia motorway.
You can get there easily by leaving the roundabout at the 3rd exit, after the tollgate.
Public Transport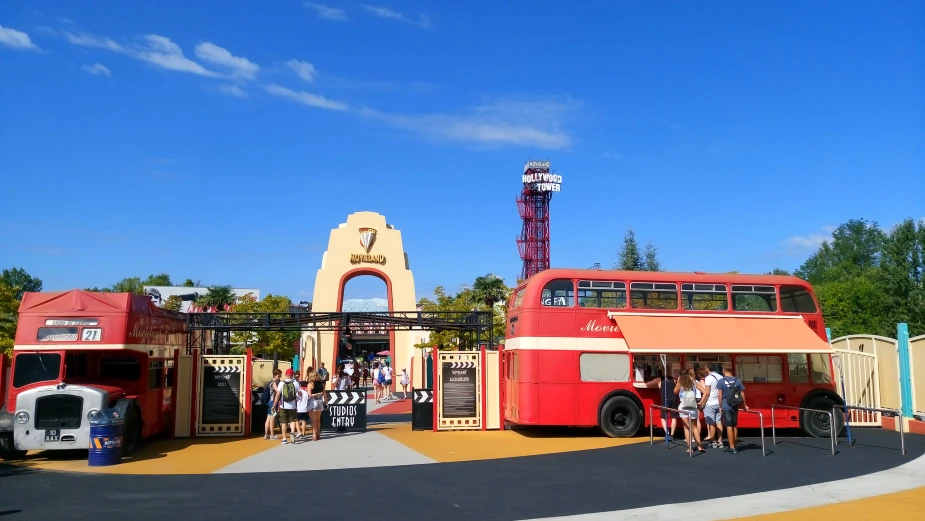 If you wish to travel by train, Bergamo, and Milan are the nearest railway stations to Leolandia theme park.
Bergamo train station is 17 km (10 miles), while Milan train station is 34 km (21 miles) from Leolandia.
You can take the Z301 bus run by Nord Est Trasporti from these stations to the Theme Park.
Buses depart from Sesto San Giovanni or Lampugnano bus stations in Milan and from Bergamo's primary bus terminal.
You must get down at Capriate San Gervasio, located 500 meters from Leolandia Park's entrance.
It is better to book roundtrip tickets.
---
---
Map of Leolandia
Leolandia is a huge park with every corner has a unique theme attracting you and your kids
If you are traveling with kids, it is highly advised to bring a map of Leolandia so you won't miss the popular rides and shows.
---
---
What to see at Leolandia
At Lolandia park, there are rides, shows, and playgrounds where you and your family can have a gala time.
Leolandia rides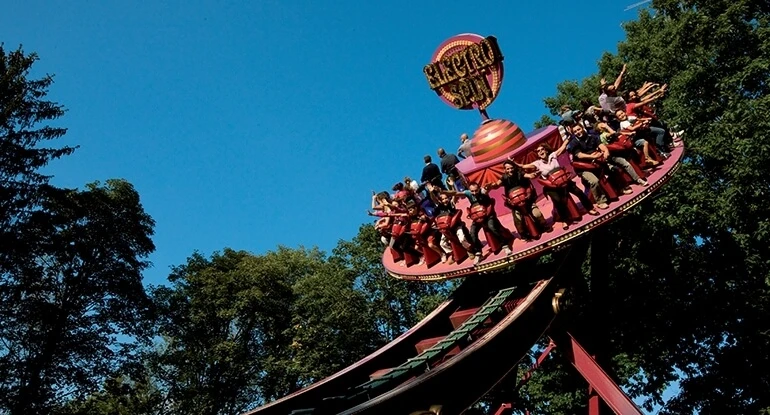 There are over 40+ rides and attractions at Leolandia to enjoy for guests of all ages and heights.
However, some rides and attractions have height restrictions.
Also, some rides are scary, requiring adults to accompany kids; some are less scary but require attention, and some are easy-to-go rides that children can enjoy alone.
Using the table below, you must measure your children's height (shoes included) and find out which rides are the most suitable for them.
*NR = No Restrictions
| Ride/ attraction | Minimum height (alone) | When accompanied | Level |
| --- | --- | --- | --- |
| Mediterranea | *NR | 120 cms | No Fear |
| Rapide di Leonardo | 140 cms | 120 cms | Scary |
| Electro Spin | 120 cms | 120 cms | Scary |
| Gold River | 120 cms | 105 cms | Scary |
| Donna Cannone | 120 cms | 120 cms | Scary |
| Twister Mountain | 120 cms | 105 cms | Scary |
| Botti Boom | 105 cms | 90 cms | Less scary |
| Tren8West | 90 cms | *NR | No Fear |
| Galeone | 120 cms | 105 cms | Scary |
| Trinchetto | 105 cms | 105 cms | Less scary |
| Wild Avvoltoi | 105 cms | 105 cms | Less scary |
| Scilla e Cariddi | 105 cms | 105 cms | Less scary |
| Bici da Vinci | 105 cms | 90 cms | No Fear |
| Mine Train | 105 cms | 90 cms | Less scary |
| Pirati Alla Deriva | 120 cms | 90 cms | Less scary |
| Spegnilfuoco | 105 cms | 90 cms | No Fear |
| Strabilia Kong | 120 cms | 105 cms | Less scary |
| Sgulavia | 120 cms | *NR | Less scary |
| Raganelle Sentinelle | 90 cms | *NR | No Fear |
| Torcibudella | 90 cms | – | No Fear |
| Giostra Cavalli | 120 cms | *NR | No Fear |
| Ruota Dei Pionieri | 120 cms | *NR | No Fear |
| Bucanieri All'arembaggio | 105 cms | *NR | No Fear |
| Sedie Ballerine | 105 cms | 105 cms | Less scary |
| Piratingioco | 90 cms | – | No Fear |
| Carovana Western | 120 cms | *NR | Less scary |
| Zattere | 120 cms | *NR | No Fear |
*NR = No Restrictions
Minitalia Leolandia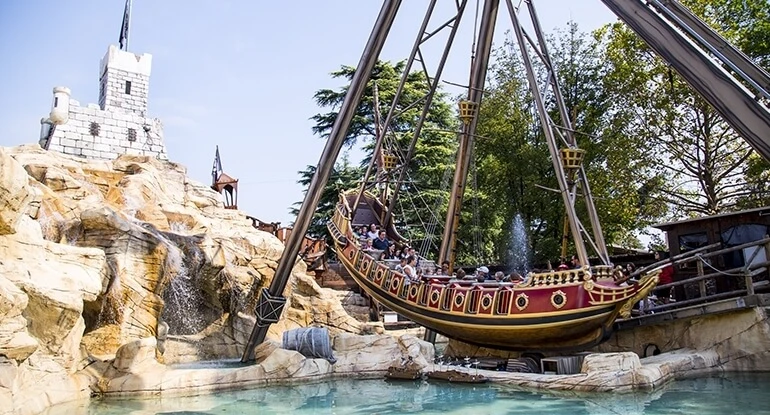 Minitalia is also referred to as Mini Italy.
This spot holds over 160 miniature monuments of Italy and is popular among both children and adults.
Here, you'll find replicas of Milan's Duomo, Saint Peter's Basilica, and Venice's St. Mark's Square, including talking statues of famous historical Italian figures like Giulio Cesare, Mia Martini, etc.
Leolandia Shows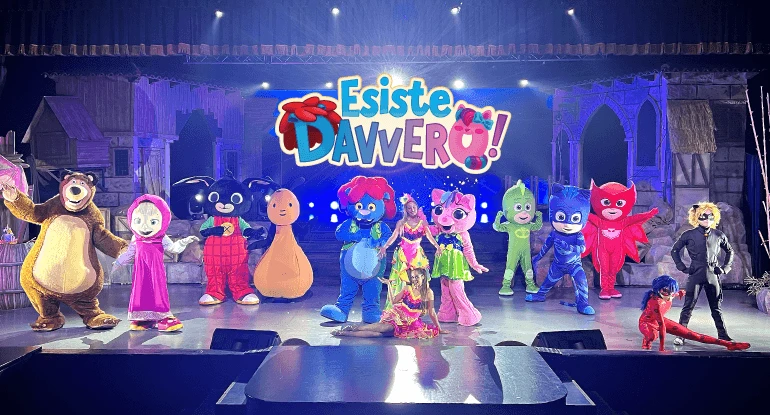 Get ready to cut a rug and sing along with the Leolandia family, who never leaves any room for entertainment.
Here are some shows you can enjoy at the park.
– Benvenuti a Leolandia- Welcome show
– Il Talento di Masha (Masha's Talent)- Circus show
– Premiazione di Ladybug e Chat Noir – Superhero stunt show
– Favola: Viaggio Nelle Terre Lontane- Dance show
– La Spada di Admir- Pirate musical show
– Gioco con Binge e Flop (Play with Bing and Flop)- Musical show
– Esiste Davvero- Cartoon show
– Cerimonia d'Accensione dell'Albero (Tree lighting ceremony)- Chritsnams tree lighting
– La Parata del Natale Incantato (Natale Incantato parade)- Parade show
Cartoon Characters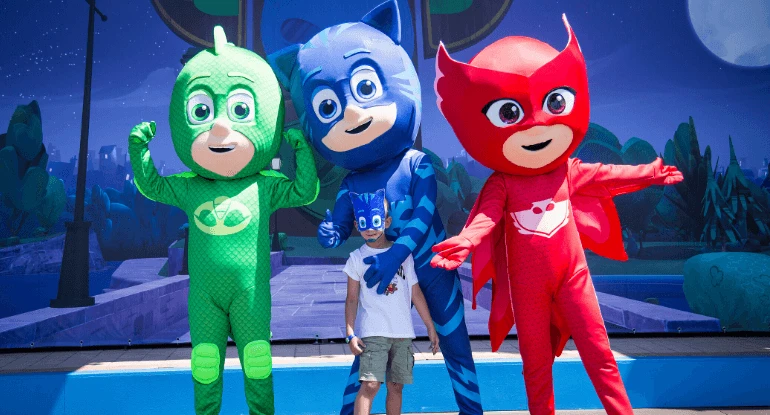 Meet your favorite cartoon characters including PJ Masks, Baby Shark, JJ, Masha and Orso, Leo and Mia, Ladybug and Cat Noir, Bing and Flop, and more.
Animal World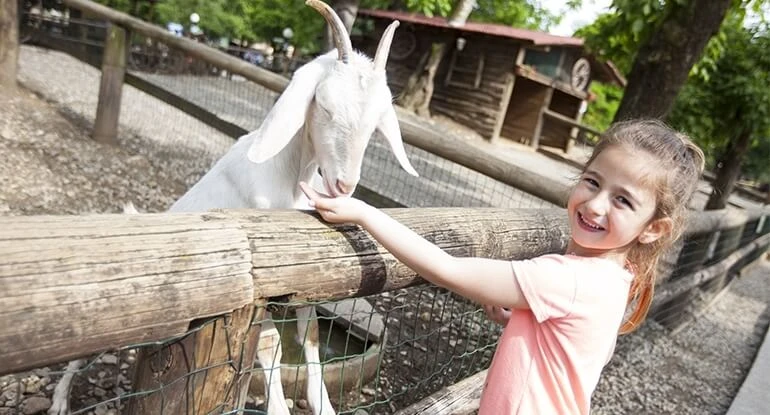 After swinging on rides and watching dance and musical shows, you may want to relax.
At Leolandia Animal World, you can sneak peek into the life of spiders, snakes and fishes, horses, etc., and enjoy the company of animals.
You'll find a sense of peace in the farm, aquarium, and reptile house.
---
---
Leolandia Food
You'll obviously feel hungry and thirsty as you hop from one attraction to another, run after your favorite cartoon character, and attend back-to-back shows on your Leolandia visit.
But worry not! Leolandia has some amazing restaurants and cafes offering authentic Italian cuisine made with fresh ingredients and traditional recipes. Hence, you don't have to burden yourself with getting food from home.
You can enjoy freshly baked croissants, pizzas, pastas, sandwiches, piadinas (Italian flatbread), burgers, fries, ice creams, and hot and cold drinks.
Restaurants & Cafes at Leolandia
– Pizzeria da Pinuccia
– Caffè Minitalia
– La Tana Dei Trappers
– Serra Italia Piadina and Ice Cream
– Gli Sfizi
– Vagone Ristorante
– La Bettola di Capitan Polpetta
The different menus offer gluten-free dishes that are prepared in collaboration with the Italian Association of Celiac disease.
Sources
# Leolandia.it
# Tripadvisor.com
# Tickets-milan.com
# Travalour.com

The travel specialists at TheBetterVacation.com use only high-quality sources while researching & writing their articles. We make every attempt to keep our content current, reliable and trustworthy.
Popular attractions in Milan
# Milan Cathedral
# Sforza Castle
# Leolandia
# Gardaland Park
# AC Milan Museum
# Leonardo3
# La Scala Theatre & Museum
# Peppa Ping Land
# Legoland at Gardaland
# Leonardo's Last Supper
# Gardaland SEA LIFE Aquarium
# Museum of Illusions
# Leonardo's Vineyard
# Leonardo da Vinci Science Museum
# Villa Necchi Campiglio
# Pinacoteca Ambrosiana