Peppa Pig Land is a new addition to Gardaland Amusement Park.
It is designed as a wonderland for children and offers a chance for them to meet their favorite characters, Peppa and George.
The area features three Peppa Pig-themed rides – Grandpa Pig's Train Ride, Peppa Pig's Balloon Ride, and the Pirate Island Boat Ride.
In addition to these rides, there's a replica of the famous yellow house of Peppa where you can meet Peppa and George and get photos clicked with them​.
This article shares everything you should know before buying your tickets for Peppa Pig Land at Gardaland.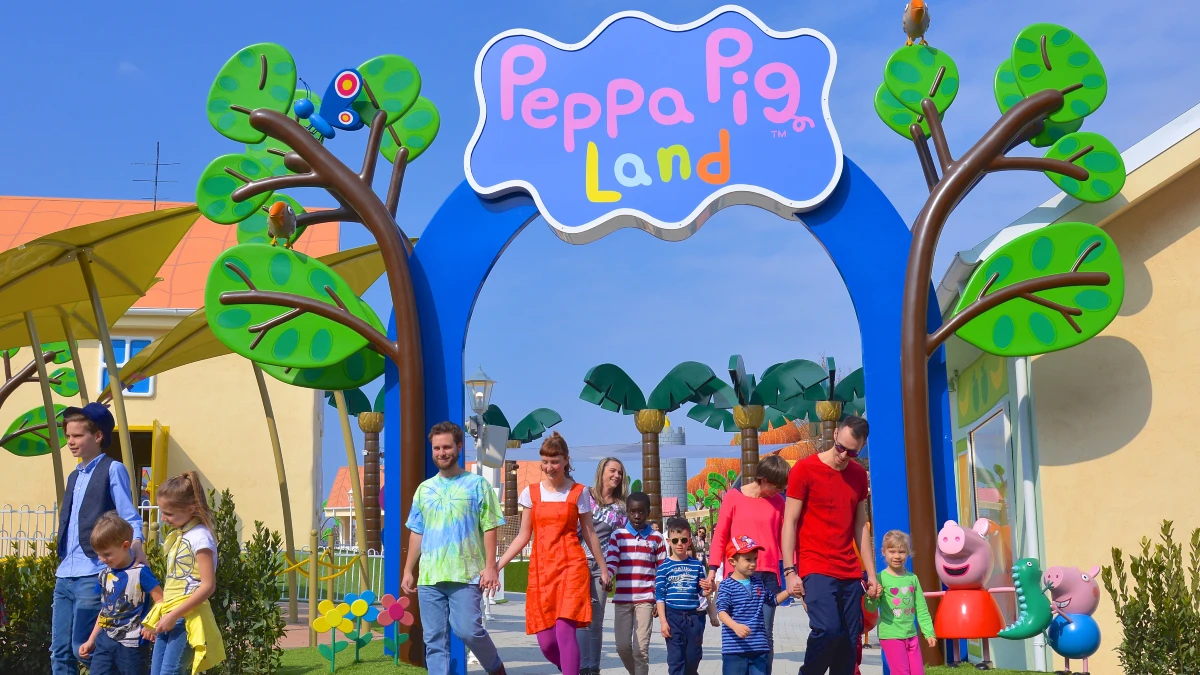 What to expect at Peppa Pig Land
Peppa Pig land offers three rides for your little ones apart from the meet and greet with Peppa and George.
It also offers other activities, including a few interactive areas and water activities.
Grandpa Pig's Train Ride
It is a locomotive inspired by Grandpa Pig's Train Ride that can accommodate two passengers, an adult, and a child, with five carriages.
This ride will take you through Peppa Pig Land, with your last location at the Windy Castle.
Peppa Pig's Balloon Ride
Get on the robotic hot air balloon and get the bird's view of Peppa Pig Land.
The balloon ride is a 4-seater gondola ride with eight balloons ascending at a 12-meter (40 feet) height.
Pirate Island Boat Ride
You can ride the Pirate Boat Ride with your little ones.
It is a colorful ride with eight boats, and each boat has a capacity of 4 passengers, two adults and two children.
Mr. Fox's Supermarket
It is the gift shop for all of your shopping needs. You get an array of plush toys, cups, magnets, and other souvenirs to remind you of your time at Peppa Pig Land.
---
---
Where to buy tickets
You can buy tickets for Peppa Pig Land at Gardaland online or at the attraction on the day of your visit.
However, we suggest booking tickets online as it offers you many benefits.
– online tickets are cheaper than the price you pay at the gates
– you can avoid waiting in the long ticket counter lines
– Since the tickets get sold out, especially during peak season, buying in advance helps avoid last-minute disappointment
How online ticket works
It is easy to get your tickets online – visit booking page, select your preferred date and the number of tickets, and book them right away.
Immediately after purchase your tickets will get sent to your email.
On the day of your visit, go directly to the entrance, show the ticket on your mobile, and enter the fun-filled land.
You don't need to take printout of the tickets.
Cost of Peppa Pig Land tickets
The regular Gardaland tickets gets you access to the Peppa Pig Land as well.
For all visitors aged 10 years and above, the 1-Day Gardaland Park ticket cost €44, while the 2-Day Gardaland Park ticket is priced at €53.
Kids up to 9 years get a small discount and pay only €40 for a 1-day ticket and €47 for a 2-day ticket.
The Gardaland Park and SEA LIFE Aquarium ticket, which besides the Peppa Pig Land also gets you access to the aquarium costs €42 per person.
1-day Peppa Pig Land + Gardaland Park tickets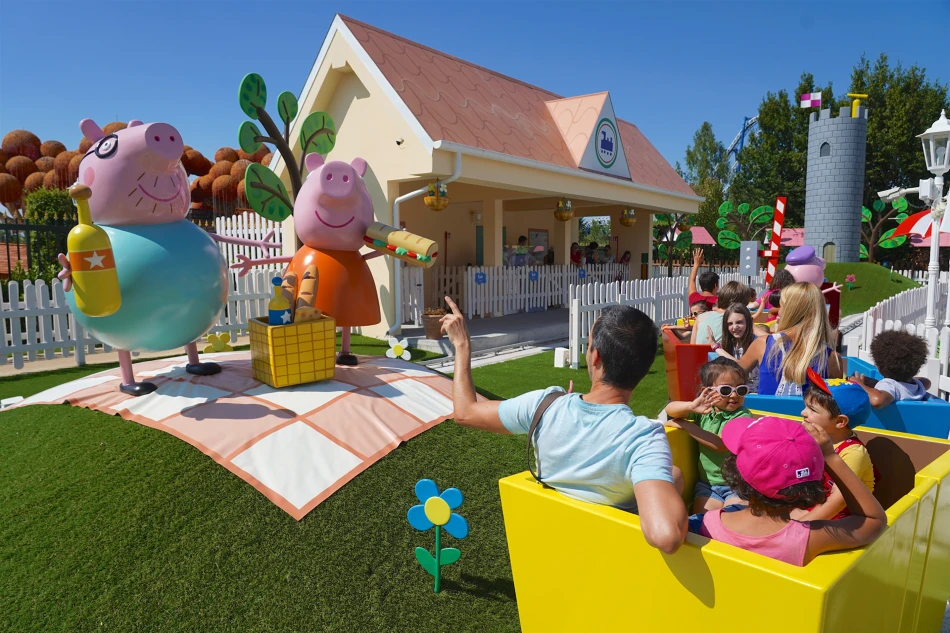 This ticket gets you access to Gardaland Park, Legoland Water Park and the Peppa Pig Land for one whole day.
Experience the excitement of riding on rollercoasters such as Shaman, Space Vertigo, and Blue Tornado, or brave the watery plunge on the Escape from Atlantis.
Meet Peppa Pig in person at the fully-themed Peppa Pig Land, and explore the 4D Ice Age adventure before taking a leisurely log ride on the Colorado Boat.
To get into Gardaland and Peppa Pig Land, you must bring your Passport or ID card.
Ticket Price
Adult Ticket (10+ years): €44
Child Ticket (up to 9 years): €40
2-day Gardaland & Peppa Pig Land tickets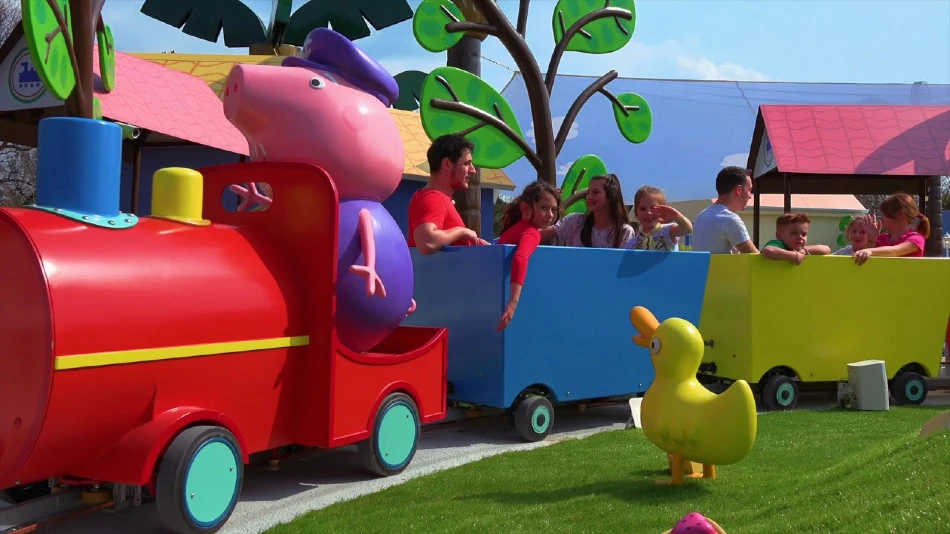 If your kids don't tire easily, one day won't be enough to discover both Gardaland Park and Peppa Pig Land.
With the two-day ticket you can spread the fun over two days and not rush through the experience.
Ticket Prices
Adult Ticket (10+ years): €53
Child Ticket (up to 9 years): €47
Recommended Reading
# Everything about Gardaland Park tickets
# Gardaland Park rides & height restrictions
Gardaland Park and SEA LIFE Aquarium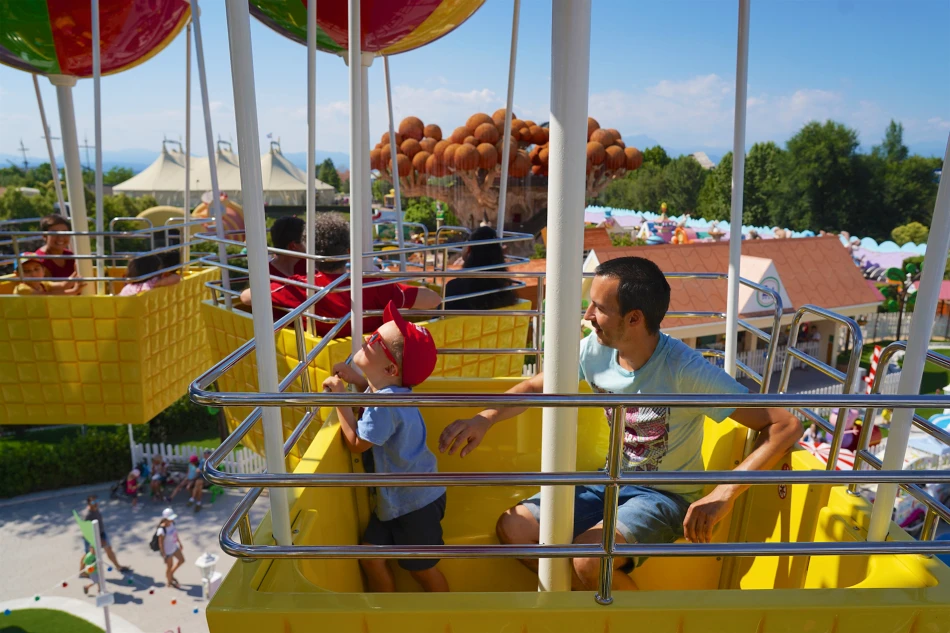 This ticket lets you simultaneously visit the Gardaland Park, the SEA LIFE Aquarium, and the Peppa Pig Land.
Access all the rides, activities, and themed areas for two consecutive days.
With 5,000 specimens in 37 tanks, the SEA LIFE Aquarium offers you the chance to view some of the most exquisite animals globally.
With this ticket, you can bypass the line at the entrance and enter the park and aquarium immediately.
Ticket Price
Adult Ticket (10+ years): €49
Child Ticket (up to 9 years): €45
Does you child love sea creatures? Find out everything about Sea Life Aquarium at Gardaland.
---
---
Peppa Pig Timings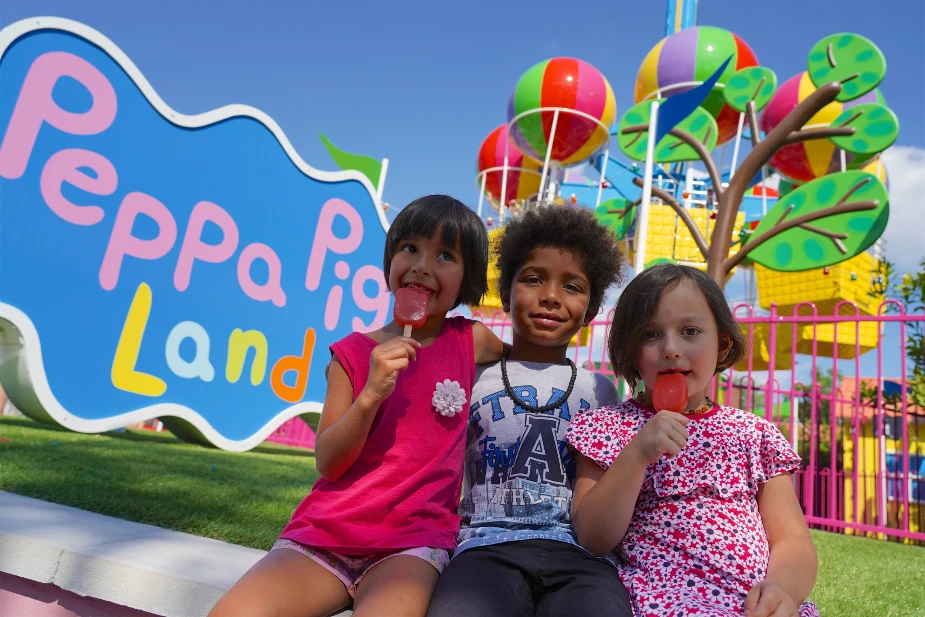 The Peppa Pig Land opens at the same time as Gardaland Park.
During the peak season of July to September, Peppa Pig Land at Gardaland is open daily from 10 am to 11 pm.
From April to June it is open from 10 am to 6 pm.
The kids themed park is closed from October to March, except on weekends and the Christmas break.
We recommend you check the official calendar for the latest timings.
Best time to visit Peppa Pig Land
The best time to visit Peppa Pig Land in Gardaland is as soon as it opens at 10 am.
The crowd is yet to come in and the weather is pleasant.
If you can't make it in the morning, the next best time is after 6 pm (during summer months the attraction is open till 11 pm).
The price of the tickets is lower in the evening, it's cooler outside, and you have plenty of time to explore.
How long does Peppa Pig Land take
You'd need at least three to four hours to explore Peppa Pig Land keeping in mind the waiting time at rides.
Near the front of the park is Mr. Fox's Shop, packed wall to wall with adorable Peppa Pig merchandise.
If you go on a shopping spree here with kids, you can expect your stay to extend by at least half an hour.
You can spend some time in Peppa Pig Land and the rest in Gardaland amusement park.
How to reach Peppa Pig Land
The Peppa Pig Land is inside the Gardaland Park which is located in Castelnuovo del Garda.
Address: 37014 Castelnuovo del Garda, Province of Verona, Italy. Get Directions
You can reach the location by car, train, or bus.
By Bus
The bus is one of the easiest ways to get to Gardaland Amusement park.
If you're coming from Italy, you can get on FlixBus or Busforfun.
You can take the 164, 483, or SC420 and get off at Gardaland B.
From there, it is a 2-minute walk to Gardaland Park.
By Train
The Peschiera del Garda train station is only 2 kilometers (approx 1 mile) from the park.
A free shuttle bus service is available every half hour, from the station to take you to Gardaland.
The first departure from the station is at 9.30 am and the last departure from Gardaland is at 6.30 pm.
By Car
If you're traveling by car, turn on your Google Maps and get started.
Click here, to find the perfect car parking spot for you!
Popular attractions in Milan
# Milan Cathedral
# Sforza Castle
# Leolandia
# Gardaland Park
# AC Milan Museum
# Leonardo3
# La Scala Theatre & Museum
# Peppa Ping Land
# Legoland at Gardaland
# Leonardo's Last Supper
# Gardaland SEA LIFE Aquarium
# Museum of Illusions
# Leonardo's Vineyard
# Leonardo da Vinci Science Museum
# Villa Necchi Campiglio
# Pinacoteca Ambrosiana