San Diego is a fantastic place to explore the local food, culture, and entertainment. With some of the most beautiful beaches in the country, San Diego offers an ethereal experience for couples.
The weather in San Diego is almost always remarkable, not becoming too hot or too cold. Your loved one will love how San Diego treats her with the cool breeze hitting her hair.
Thanks to its rich history, couples can view major historical sites and museums in San Diego. San Diego is often known as the birthplace of California.
Old Town State Park, Presidio Park, and the Gaslamp Quarter are some of the most iconic historical sites to explore.
San Diego treats you with warm delicacies ranging from burgers and fries to mouth-watering Mexican cuisine to make things even better.
In this blog, we'll enlist 20 couple things to do in San Diego.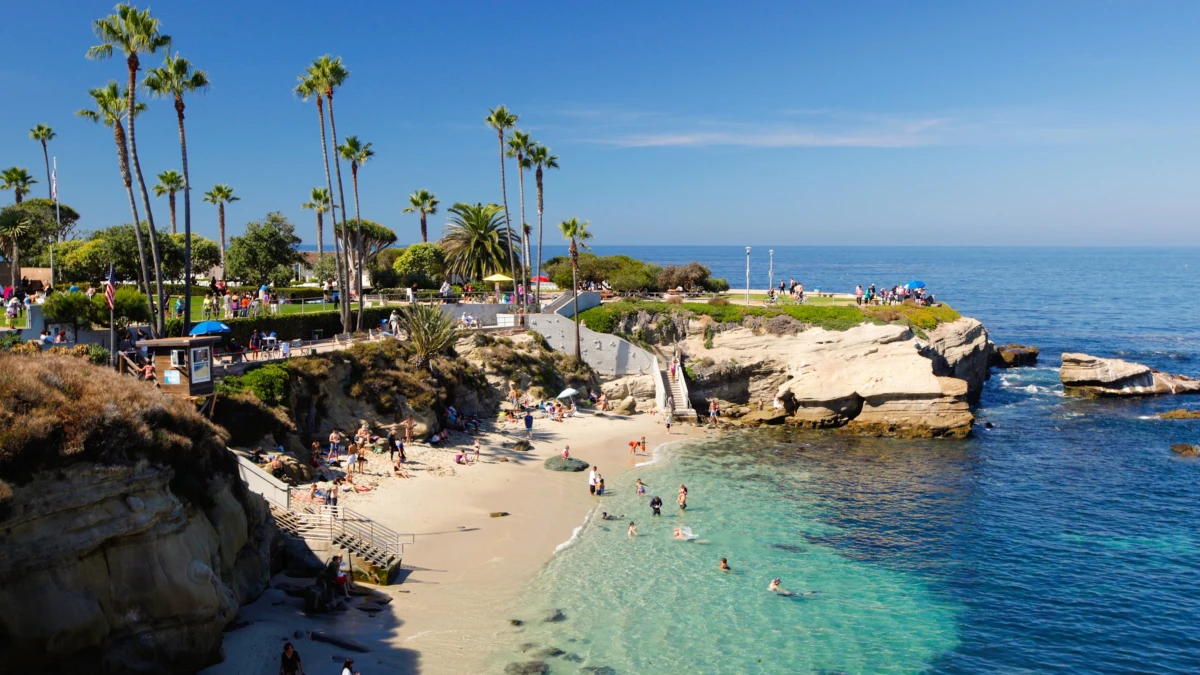 Steer your way through Gaslamp Quarter
Gaslamp quarter sounds like an intriguing name for a place. The historical sites and buildings that this place holds on give a spooky reputation.
It will take only a couple of minutes to reach Gaslamp Quarter from the San Diego Convention Center.
Romantic couples travel back in time to see how things fared by then by taking a close look at these solemnly built 19th-century buildings;
Most of the buildings seen in the present times were once earlier saloons, shops, and restaurants. Strolling down some of the streets, you will be pleased to see the historical significance of this place.
One of the tastiest foods in the Gaslamp Quarter is the Japanese-Peruvian fusion, making your sweetheart very happy.
---
---
Visit the USS Midway Museum
USS Midway is an aircraft carrier that served in the United States Navy for 47 years and, till 1955, was the largest ship in the World.
Today, USS Midway is a museum in San Diego, a tribute to the Battle of Midway, which happened in June of 1942. The Midway Museum receives more than one and a half million visitors annually.
USS Midway in San Diego opens at 10 am and closes at 5 pm all through the week. The last entry is at 4 pm.
The museum remains closed for Thanksgiving and Christmas. Couples spend three to four hours exploring the various exhibits and activities at USS Midway.
---
---
Take a glance inside USS Midway
USS Midway Museum has 10 acres of exhibits and displays, including 30 restored aircraft.
From high up on the ship's bridge to the main engine room below, visitors see more than 60 exhibit areas painstakingly restored to their glory days.
We list the must-see attractions at this No. 1 tourist spot in San Diego.
Romantic couples get to see and interpret interactive displays on the Battle of Midway, including the restored F4F Wildcat fighter and SBD Dauntless dive bomber aircraft.
USS Midway had missed WW II by weeks, but that didn't stop the massive ship from deploying wartime aircraft designs in her early days.
---
---
Take a stroll through Balboa Park
Balboa Park is a place in San Diego that instantly attracts romantic couples due to the vast stretches of green that outline this place.
Every couple will have a pleasant spot in this iconic park. Locals come here day in and day out to experience the beauty and serenity of Balboa Park.
One of the iconic spots in downtown Balboa park is the El Prado. Every couple is sure to engage in some romance here in this state-of-the-art park.
After having walked through the main lanes of El Prado, you can take your loved one to enjoy the freshness of the Botanical Building.
The place is an occasional selfie spot for couples who want to store some memories upfront.
---
---
Explore the San Diego Safari Park
San Diego Safari Park is a wildlife paradise in Southern California. Visiting the park is one of the top things for couples to do in San Diego.
The 1,800-acre Safari Park houses more than 2,500 animals of 300 species in open field enclosures.
It is San Diego Zoo's sister and often gets referred to as San Diego Zoo Safari Park.
It is best to visit San Diego Zoo Safari Park as soon as it opens at 9 am because the animals are most active during the first half of the day.
On Weekdays, expect the most extended lines at San Diego Safari Park between 11 am to 1 pm, and on weekends, it is between 11 am to 3 pm.
---
---
Hike the Torrey Pines
Behold, Torrey Pines is one of the best pines that only grow here along the San Diego coastline.
The Torrey Pines State Natural Reserve is a beautiful place situated 20 miles north of Downtown San Diego.
This region's numerous hiking trails will require a spirit of sportsmanship to explore the various rock formations and Torrey Pines.
The place is full of life, giving a chance to see coyotes, foxes, and bobcats in the park. Couples can also see humpback and grey whales from atop the cliffs.
If your partner is a golf lover, you can take him to the Torrey Pines Golf Course, which features two 18-hole championships golf courses.
---
---
Enjoy the San Diego Harbor Cruises
San Diego Harbor Cruises is the best way to explore the San Diego Bay area, a natural harbor and a deepwater port.
These cruises are professionally narrated tours that take couples under the Coronado Bridge, past military ships, waterfront landmarks, etc., to look at San Diego's scenic beauty.
Romantic couples can choose from dinner cruises, champagne cruises, speed boat rides, drive-your-own speedboats, and more.
While booking a San Diego Harbour Cruise, tourists have three options: they can opt for the North Harbor, South Harbour, or both.
The 1-hour harbor tour by Flagship Cruises to either South or North of the San Diego Bay costs US$ 28 per person.
---
---
Do Whale watching in San Diego
Whale watching is one of the fun things to do for couples in San Diego.
Couples worldwide love whale-watching cruises, which are both entertaining and educational.
Guided by marine biologists, these tours are an excellent way to explore the beautiful marine ecosystem San Diego offers.
More than twenty thousand Gray Whales travel a distance of 16000 km (10000 miles) from Alaska to Baja California's lagoons every year.
After giving birth to their young ones, and watch them grow stronger in the warmer Baja California waters, the whales' journey north again in spring.
This trip is the longest known distance any mammal migrates annually.
---
---
Go Wine Tasting in San Diego County
Cheers to your beloved!
Every romantic journey is accompanied by love, surprises, and, most importantly, good wine. San Diego offers you top-quality wine, rich in its medicinal value and highly addictive.
Wine tasting is one of the top things to do for couples in San Diego.
If your beloved loves to taste different wines, it is ideal to take her to Temecula. The wine shops located in this place give you a taste of pleasure that your sweetheart will have had a memorable day by the end.
You can spend a whole day wine tasting at Bernado's Winery, which has a particular room for the purpose. Couples wishing to stay at night can book a room at Rancho Bernado.
---
---
Look out for your favorite animal at San Diego Zoo
Spread over 100 acres with more than 3,500 animals, San Diego Zoo welcomes around four million visitors annually.
Many consider it one of the best zoos in the country for its 700+ unique species, conservation programs, excellent visitor facilities, and friendly staff.
No wonder it is the most visited Zoo in the USA.
San Diego Zoo opens at 9 am, all through the year, including holidays.
In peak summer months, which sees maximum tourists, the Zoo remains open till 9 pm, and in winter, it closes at 5 pm. The best time to visit San Diego Zoo is as soon as they open at 9 am.
---
---
Spend quality time at La Jolla Shores
Basking under the sun on La Jolla shores is one of the top things for couples to do in San Diego. You can easily lie down on the grass or the sand where the waves come roaring at you.
The sand in La Jolla Beach is clean and soft, giving you and your loved one cool spots to relax and chill. You will also find everyday beach lovers surfing in the waters.
It would be amazing to take a surfing class at Surf Diva, located on the La Jolla Shore business street. The underwater park here makes it possible for the waves to gently hit you, giving you the confidence to take surfing lessons.
The beach also has swimming zones for those who love a light dip in the waters.
---
---
Explore different species of fish at Birch Aquarium
Once you have spent quality time with your loved one in La Jolla, it is time that you visit the Birch Aquarium. The aquarium is just a 10-minute walk from La Jolla.
The Berch aquarium is full of rare exhibits and species of fish that you don't get to see in various other places. You can have a fun time with your life partner by imaginarily talking to the fish.
It will also be a treat to see sea dragons, leopard sharks, and other fascinating fish species in more than 60 habitats. The Loggerhead Sea Turtle, a Giant Pacific Octopus, Leopard Sharks, and jellies are other rare exhibits.
The outdoor touch pools are transparent enough to look at these rare and diverse fish species and sharks.
---
---
Travel back in time at Little Italy
Little Italy is a beautiful neighborhood in downtown San Deigo featuring pathways where you can walk and talk with your loved one. It is one of the top things for couples to do in San Diego.
This city takes you back to the 1920s, an excellent place for locals to gather and have some explicit Italian foods. To this date, the city has been loyal to providing mouth-watering Italian food.
You can grab a cup of coffee in the local cafes here and experience the city's quietness solemnly with your life partner.
Make a headway into the Church to see good architectural designs of the 1920s era. The Church is famous for its portrayal of the Divine Mercy of Jesus.
---
---
Observe the marine life at SeaWorld San Diego
SeaWorld San Diego is an aquatic theme park with lots of animal interactions, exciting shows, and some of the World's most thrilling rides.
This couple-friendly attraction gets around five million visitors annually.
SeaWorld San Diego opens at 10 am every day of the year.
From Monday to Thursday it closes at 7 pm and on Friday, Saturday and Sunday it remains open till 9 pm.
The animals are fresh and active early in the day, and the crowd is yet to come in, resulting in shorter queues.
Most families spend six to seven hours at SeaWorld San Diego. Staying longer helps you see all the shows, animal exhibits and encounters, and rides.
---
---
Go for a ride at SeaWorld San Diego
Romantic couples flock to SeaWorld San Diego for three things – animal encounters, shows, and thrilling rides.
Most couples check out the animals, attend shows, then head out to SeaWorld San Diego's rides for their adrenalin rush.
SeaWorld has five high thrill rides, out of which four are roller coasters.
Emperor, the fifth roller coaster of the attraction, is expected to be unveiled in 2021.
SeaWorld also has two water rides and nine rides for smaller kids.
The Electric Eel is the tallest, fastest roller coaster in San Diego and is 260 meters (853 feet) of adrenalin rush. Yes, that's how long this ride is.
Its multi-launch coaster with high-energy twists, electrifying loops, and inversions is popular with everybody.
---
---
Go paddle boarding at Coronado island
Coronado Island, originally known as the old Ferry Landing, promises exciting views of art galleries, shops, and restaurants, giving a time for couples to enjoy each other's company.
At Corona Island, you can fancy the chance to eat fresh seafood from the local eateries. Your loved one will be delighted to take a bite of the local seafood here.
Take some time to admire the island's waters while romancing your sweetheart. Up next, you can take your loved one to go for paddleboarding, one of the top things for couples to do in San Diego.
The bay will appear majestic as you glance from your paddleboarding sessions.
---
---
Buy fresh produce from Ocean Beach Farmers Market
Couples who are very cautious of the food they eat need no more worries. Ocean Beach Farmers Market offers fresh produce of vegetables and fruits, strawberries being the market's highlight.
The overall vibe of the place will get you into party mode as you hear good music in the background of the hustle-bustle.
You can do all the necessary shopping from this market as everything from homegrown veggies to souvenirs is available.
The Farmers' market lies along a narrow stretch of land, and various shops sell top-quality produce and other utensils.
The market gives you such positive energy as various flowers fill the air with their natural scents.
---
---
Surf smoothly at The Tourmaline Surfing Park
As the name suggests, this park is all about surfing and living the ultimate experience. Couples come here to surf and sailboard and enjoy their time at Tourmaline Surfing Park.
Surfers can be pleased to surf in this park owing to the slow-rolling Tourmaline waves. The waves are a great attraction as they soar down like an enchanted eagle.
Your loved one might also prefer sitting down on the Beachland while seeing the surfers do their thing. You can have a cocktail and a pizza and make the visit a peaceful one.
---
---
Amble Along the Embarcadero to Seaport Village
The walk along the Embarcadero to Seaport village is quite a tour and one of the fun things to do for couples in San Diego.
Across the lane, you can take a look at the pedestrians who are on the world of their own. You can stop at spots you like and have a great picnic with your sweetheart.
Artworks such as the Unconditional Surrender statue near the USS Midway Museum can capture your imagination and transport you to another world.
You can click snacks and selfies to make this walk a memorable experience. Also do opt for kite flying. The locals here fly their kites with such expertise.
---
---
Catch the Sunset at Sunset Cliffs
Sunset Cliffs Natural park spans across 68 acres on the western edge of Point Loma. A viewpoint called the Pappy's point is a great spot in the parking lot of Sunset Cliffs to view the meltdown.
The most romantic thing to do with your sweetheart is watch the Sunset at Sunset Cliffs. You can see the sunset from up close and click a snap or a selfie.
At Sunset Cliffs you can watch the sun sink into the surf. It is a view of a lifetime to see the sun so close to you. All you need to do is approach the spot where'd you like to be before other take their place.
Best romantic destinations for couples