Tampa Zoo at Lowry Park houses more than 1300 animals and occupies one of the most beautiful, tropical zoological settings globally.
Because of its location, visitors often refer to it as the Lowry Park Zoo.
Tampa Zoo animals are split into five different habitats – Florida Wildlife, Primates World, Asian Gardens, Safari Africa, and Wallaroo Station.
Some animals at the Tampa Zoo include elephants, tigers, giraffes, rhinoceroses, and many primates, birds, and reptiles.
Almost one million people visit Tampa Zoo every year to see its animals, attend wildlife shows, splash in water play areas, feel the thrill on its rides, etc.
One of the highlights of the Tampa Zoo is the Primate World exhibit, which is home to various primates, including chimpanzees, orangutans, and lemurs.
The exhibit allows visitors to observe these intelligent animals up close and learn about their behavior, habitat, and conservation efforts.
Tampa Zoo is a wonderful destination for animal lovers and families looking to learn about the natural world.
In this article, we share everything you must know before buying Tampa Zoo tickets.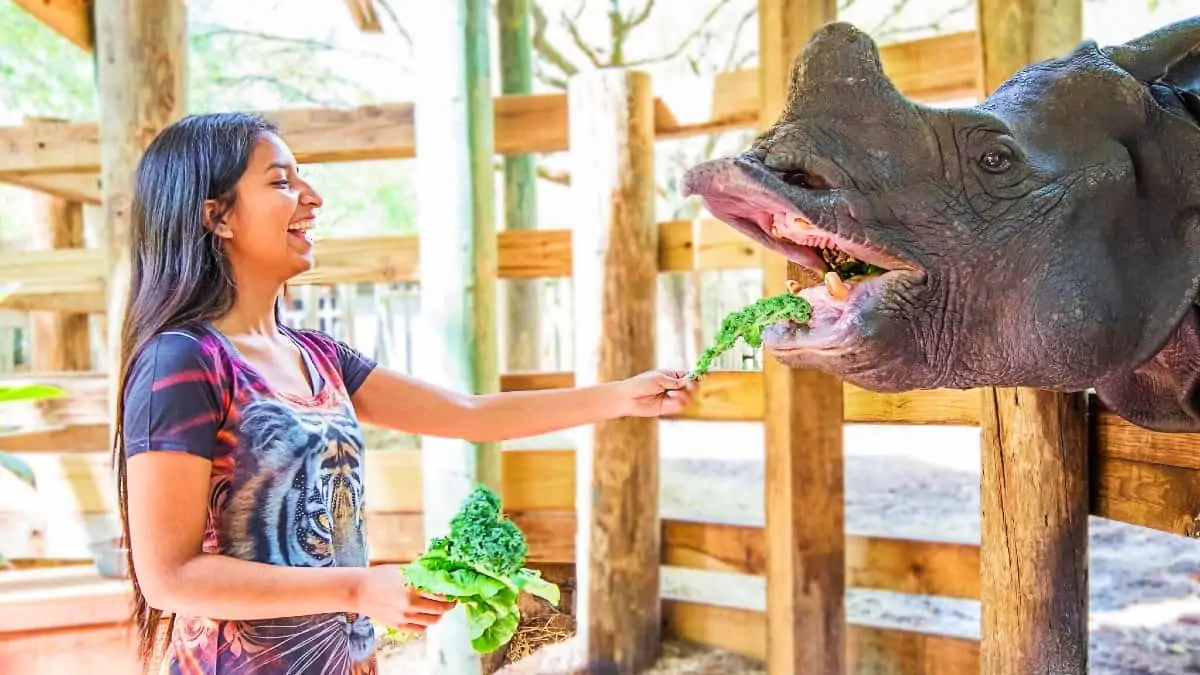 Tampa Zoo ticket prices
The regular Lowry Park Zoo ticket for a visitor 12 years and above costs $46.
The child ticket, applicable to all visitors aged 3 to 11 years, is priced at $36.
Tampa Zoo discounts
The most significant Lowry Park Zoo discount is reserved for kids three years and below – they enter for free.
Children between 3 to 12 years get the second-best ticket discount – they get a $10 reduction on the adult ticket and pay only $36 for entry.
Tampa Zoo offers a military discount at their ticket counters. Active duty military and veterans with a valid ID can get $4 off per ticket on up to four tickets.
ZooTampa does not offer ticket discounts for seniors and students.
Note: Tickets are $3 costlier at the zoo's ticket counters.
---
---
Tampa Zoo tickets
Purchasing your tickets for Tampa Zoo online is a better experience for three reasons:
When you book at least a day before your visit, you save $3 per ticket. Online tickets are cheaper because there is no 'ticketing window surcharge.'
You don't wait in the ticket counter queue and waste your time and energy.
Tickets on-site are sold on a 'first-come, first-served basis. Booking your tickets online (and in advance) ensures a guaranteed entry.
The tickets get emailed to you. On the day of the visit, you can Skip the line at admissions and proceed directly to the check-in booth to scan your smartphone ticket.
Kids under three years get in free.
Note: This ticket allows re-entry with a wristband (ask the attendant at the Zoo exit)
Ticket price
Adult ticket (12+ years): $46
Child ticket (3 to 11 years): $36
---
---
Tampa Zoo and aquarium
These are also known as the Tampa ZooQuarium tickets and popular with families with kids.
This combo ticket gets you a 20% discount on what you would have paid if you bought Tampa Zoo and Florida Aquarium tickets individually.
It is a perfect ticket for an animal-loving family.
You can visit either of the two venues first and see the second venue within the next seven days.
Ticket price
Adult ticket (12+ years): $81
Child ticket (3 to 11 years): $66
Do you live close to the Tampa Zoo? Or love animals way too much? Check out Tampa Zoo's Pay for a day, and come back all year offer.
---
---
Tampa Zoo entry with Tampa Bay CityPass
Tampa Bay CityPass is an excellent way to see more for less.
With CityPASS, you'll save 53% of your ticket costs while exploring five Tampa attractions over 30 days.
Admission to the ZooTampa at Lowry Park, Busch Gardens Tampa Bay, and Florida Aquarium is guaranteed with this discount card.
And you can choose two more attractions –
Clearwater Marine Aquarium OR Chihuly Collection
Museum of Science & Industry (MOSI) OR Tropics Boat Tours
Ticket Price
Adult ticket (10+ years): $139
Child ticket (3 to 9 years): $124
Find out everything about the six fantastic zoos in Florida.
---
---
Tampa Zoo hours
Tampa Zoo opens at 9.30 am and closes at 5 pm, every day of the week.
On Christmas Eve, the zoo opens at 9.30 am but closes earlier at 4 pm.
ZooTampa remains closed on Thanksgiving and Christmas Day.
---
---
Best time to visit Tampa Zoo
The best time to visit Lowry Park Zoo is as soon as they open at 9.30 am.
There are four advantages of starting early – the animals are most active early in the morning, the temperatures are still moderate, the crowd is yet to get in, and you have the whole day to explore.
When you start early, you can also attend the Wild School of Training show scheduled at 11.30 am daily.
Earlier in the day, you won't have to wait in a queue for the Africa safari tram, which starts doing the rounds at 10.30 am.
We recommend weekdays for a peaceful visit because it gets crowded on weekends and school holidays.
Tip: When you buy Tampa Zoo tickets in advance, you can skip the ticket office lines and save time.
---
---
How long does Tampa Zoo take
If you are visiting with kids and plan to attend keeper talks, feeding sessions, animal shows, and try out the Africa Safari Tram, you need around four hours to explore Tampa Zoo Lowry Park.
However, if you are a bunch of adults and want to wrap up soon, you can cover most animal exhibits in two hours.
---
---
What to see and do at Tampa Zoo
Tampa Zoo animals are split into five different habitats – Florida Wildlife, Primates World, Asian Gardens, Safari Africa, and Wallaroo Station.
But first, let us tell you about Manatee Circle, the enclosure you enter the moment you step into Tampa Zoo at Lowry Park.
Manatee Circle
The wild fun begins as soon as you are in Manatee Circle, the gateway to all the other habitats.
There are three things you can do at Manatee Circle – visit the Main Free-Flight Aviary, splash around in the Manatee Fountains, or recharge for the zoo-time ahead at Macaw's Landing Cafe.
Before heading out to one of the habitats, look up at the sky for a while and catch Lowry Park Zoo's now-famous Macaw Flyover (video below).
During the quick show, a trained flock of colorful macaws fly over the entrance around Manatee Circle, stop for a photo op, and then head back up the path into the Florida habitat.
Florida Wildlife
The Florida Boardwalk & Manatee Mangrove is home to a wide variety of exotic animals from the Americas.
Some of these animals at Native Florida Wildlife habitat are rare and threatened with extinction.
Animals you can expect to see in Florida Wildlife habitat are Manatees, Red Wolves, Florida Panthers, Black Bears, Sandhill Cranes, Skunks, River Otters, American Alligators, American Bald Eagles, etc.
Rides: Roaring Springs
Dining options: Sweet Shoppe
Other amenities: Restrooms, Drinking Fountain, Smoking Area
ZooVentures Theatre
The ZooVentures Theatre in the Florida habitat offers two popular activities – Wild School of Training and Animal Mingle.
Both are fantastic opportunities to get up close to the animals and learn about them.
The Wild School of Training show happens daily at 11.30 am, while the Animal Mingle happens daily at 1.30 pm and 3 pm.
Conservation Tails Walkabout
The Conservation Tails Walkabout is a 15-20 minute walk and talk to hear stories about the conservation efforts of manatees, panthers, etc.
It starts every day at 2.30 pm, from Manatee Overlook on the Florida Boardwalk.
No reservations are needed, but it is better to arrive ten minutes before the talk starts.
Manatee Critical Care Center
The Zoo's David A. Straz, Jr. Manatee Critical Care Center focuses on rehabilitating critically injured, sick and orphaned manatees.
The dedicated team has treated around 400 manatees and released more than half of them back into Florida waters.
As the Manatee patients recover, guests can see this life-saving care in real-time in the recovery pools of Manatee Mangrove.
Stingray Bay
Kids love the Stingray Bay, which is on the Florida Boardwalk.
Visitors can touch the Stingrays, and the experience is included in the regular Tampa Lowry zoo tickets.
However, to feed the Stingrays, you must purchase the feed from the gift shop.
Primates World
Most of the primates on display at Lowry Zoo are endangered in the wild.
The most popular animals in the Primates World habitat are Bornean Orangutans, Colobus Monkeys, Lemurs, Mandrills, Guenons, Titi Monkey, Siamang, etc.
Besides seeing the animals, visitors also learn how to protect these different monkeys and apes for future generations.
Rides: Jungle Carousel
Dining options: Rango Snacks, Carousel Dogs
Other amenities: Restrooms, Drinking Fountain
Asian Gardens
Asian Gardens is Tampa Zoo Florida's oldest habitat and has a pagoda-like design that is subtle but noticeable, giving an authentic Asian feel.
This section is a chance to get up close to many rare and endangered animals such as Malayan Tigers, Sun Bear, Komodo Dragons, Malayan Tapirs, Indian Rhinos, Clouded Leopards, Gharials, etc.
Lorikeet Aviary and Sulawesi Aviary are in this part of the zoo.
Rides: None
Dining options: None
Other amenities: Gift shop
Lorikeet Landing
Lorikeet Landing is a free flight aviary between Asian Gardens and Primate World.
If you plan to feed the birds, buy nectar at the gift shop through which everybody must walk to get to the aviary.
Do check if the feeding time is on – you will find a sign on the aviary door.
The Sulawesi Aviary is on the Asian boardwalk.
Safari Africa
The Safari Africa habitat at Lowry Park Zoo has some of the world's largest, rarest, and most impressive animals.
Visitors can expect to see Elephants, Giraffes, Southern White Rhinos, Okapi, Red River Hogs, Maribou Storks, Von Der Decken Hornbills, Meerkat, Pygmy Hippos, African Painted Dogs, etc.
No wonder it is one of the most popular parts of the zoo.
Rides: None
Dining options: Chakula Canteen, Beer & Wine Garden, Reilly's Reserve, Savanna Oasis
Other amenities: Restrooms, Drinking Fountain, Smoking Area, Gift shop
Africa Safari Tram Ride
The Expedition Africa safari tram is an excellent opportunity to get inside the individual habitats of the numerous animals in Safari Africa and see the animals from real close.
The tram ride is included for free with the Lowry Park Zoo tickets.
The open-air, custom-made safari vehicle takes visitors on a 15-minute long narrated ride.
Depending on the time of the day and season, you may have to stand in the tram line queue for a short while.
The Tram Ride runs every ten minutes, from 10.30 am to 3.30 pm.
Wallaroo Station
The Wallaroo Station is Lowry Park Zoo's land down under and showcases animals such as Emu, Koala, Llama, Pony, Goat, Flying Fox Bat, etc.
This Australia-themed wildlife habitat has four of the zoo's rides, a splash pad, and a petting zoo making it a family favorite.
Rides: Overland Express Train, Koala Clubhouse Playground, Splash Pad,
Boomer's Flying Bananas, and Tasmanian Tiger Coaster
Dining options: Boomer's Cafe
Other amenities: Restrooms, Family Restroom, Drinking Fountain, Family Rest Area, Gift Shop
Splash Pad
The Tampa Zoo has two water play areas – Manatee Circle Fountain is right at the entrance, and the Splash Pad is at Wallaroo Station.
The Splash Pad is open during regular zoo hours, and kids love spending time getting wet.
It is better to bring a change of clothes if you plan to use the water elements.
When the temperatures go up, this play area can get crowded.
Wallaroo Petting Zoo & Pony Barn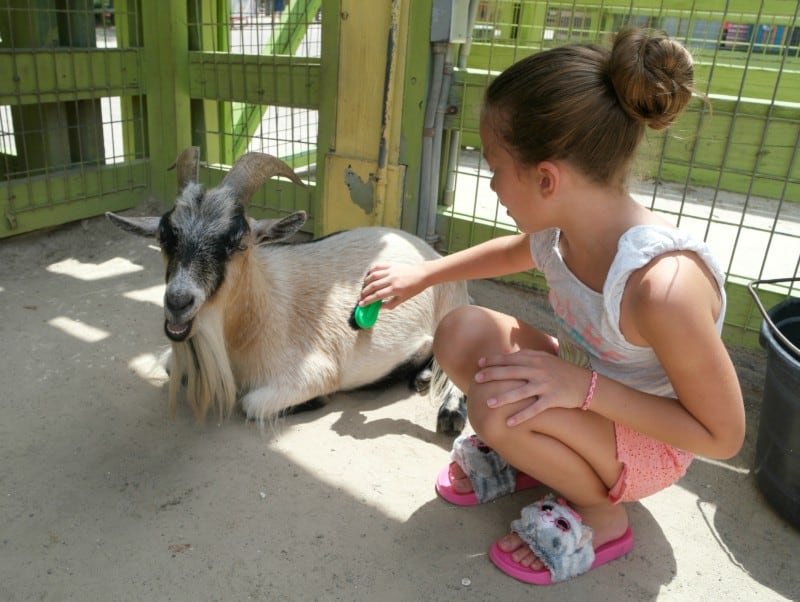 Tampa Zoo's Petting Zoo is in Wallaroo Station, and the experience starts with the animal keeper sharing the rules all visitors must follow.
Kids can pet animals such as Goats, Pigs, Llamas, etc.
If they prefer, they can also brush the goats from head to tail or feed them, which is a paid activity.
The Koala Clubhouse
The Koala Clubhouse is a shaded play area for kids of all ages.
The play area features slides, plenty of spots to climb and discover, and many fans to help keep the kids cool.
Toddlers and little ones can play in the separate area which is under the trees.
---
---
Tampa Zoo rides
Tampa Zoo Lowry Park has five rides, all of which are included in the zoo's regular entry ticket.
Roaring Springs
At the Roaring Springs, which is part of the Florida Wildlife habitat, visitors board a boat and gently drift along a crystal-clear spring surrounded by native landscape.
After a while, the elevation drops, and guests feel an adrenaline rush as they experience a 3-story splashdown.
If you don't want to get splashed, you can stay on the Canopy Walk overseeing the attraction and see your group enjoy the thrill.
Restrictions: Children must be at least 3 feet (36 inches) tall to board the ride. A companion 14 years or older must accompany all kids between 3 and 3.5 feet (42 inches).
Jungle Carousel
At the Jungle Carousel, which is part of the Primates World, riders can choose the animal of their choice and go around and around.
At the colorful carousel, kids can choose between animals such as cheetah, manatee, elephant, tiger, etc.
Restrictions: A standing adult must accompany children under 3 feet (36 inches).
Boomer's Flying Bananas
At Boomer's Flying Bananas in Wallaroo Station, kids can soar high in their own flying banana!
Even as the bananas' fly in a circular motion, the kids can use control levers in the cockpit to move them up and down.
Restrictions: Kids must be between two-and-half feet (30 inches) and four feet (48 inches) to ride.
Tasmanian Tiger Coaster
The Tasmanian Tiger Coaster is in Wallaroo Station, the Australian-themed section of Tampa Zoo.
It is a family-friendly roller coaster with medium thrill levels.
Restrictions: Children must be at least 3 feet (36 inches) tall. A companion 14 years or older must accompany all kids between 3 and 4 feet (48 inches).
---
---
ZooTampa Encounters
For an additional price, Tampa Zoo also offers close-up animal encounters.
These encounters cost $20 per person and are over and above the regular zoo entry ticket.
Some of these encounters have age restrictions.
| Animal Encounter | Age Restriction |
| --- | --- |
| African Penguin Backstage | 5+ years |
| Indian Rhino Feeding | 5+ years |
| Aldabra Tortoise Encounter | All Ages |
| Koala Photo Encounter | All Ages |
| African Elephant Backstage | 5+ years |
| Southern White Rhino Backstage | 5+ years |
| Sloth Photo Encounter (weekends only) | All Ages |
| Giraffe Meet & Greet | 5+ years |
---
---
Tampa Zoo map
With more than 1300 animals to see, it is wiser to have a copy of the Lowry Park Zoo map to navigate the various exhibits.
Besides the animal enclosures, a map also helps you identify visitor services such as restaurants, restrooms, kids parks, gift shops, etc.
Carrying the Tampa Zoo's layout is highly recommended if you are traveling with kids because you won't waste time finding the various exhibits, and in the process, get exhausted.
You can either download the map (580 kb) or request it at the zoo entrance.
---
---
Restaurants at Lowry Park Zoo
The Tampa Zoo has eight food and drink outlets spread out across all the habitats.
If you want to eat something before starting your visit, check out Macaws Landing Café, which is in Manatee Circle, when you enter the zoo.
They serve burgers, sandwiches, salads & fries and kids meals too.
The next biggest sit and dine destination is Boomers Café, at the Wallaroo Station.
Visitors can order personal pizzas, chicken fingers, and sandwiches, etc.
Safari Africa has three food outlets – Tamani's Oasis, Safari Pizza Company, Beer & Wine Garden.
If you prefer Smoked chicken, ribs, sides, etc., opt for Tamani's Oasis.
Carousel Dogs, which offers hot dogs, and the Sweet Shoppe are in the Carousel Circle.
For quick drinks, check out Starbucks, along the main path of Primates World.
---
---
Directions to Tampa Zoo
Tampa Zoo in Lowry Park is approximately 9 km (5.5 miles) north of Downtown Tampa. Get Directions.
If you plan to take public transport, it is best to opt for HART Bus Routes 41 and 45.
If you plan to drive, follow the below-given directions –
From the East (Orlando & Atlantic Coast)
Take I-4 West to I-275 North, Exit 48 (Sligh Ave). Turn left (west) on Sligh Ave, cross N. Boulevard. The zoo entrance is on the right.
From the North
Take I-75 South to I-275 South, Exit 48 (Sligh Ave). Turn right (west) on Sligh Ave, cross N. Boulevard. The zoo entrance is on the right.
From the South
Take I-75 North to I-4 West to I-275 North, Exit 48 (Sligh Ave). Turn left (west) on Sligh Ave, cross N. Boulevard. The zoo entrance is on the right.
From the West (Gulf Beaches)
Take I-275 North, Exit 48 (Sligh Ave). Turn left (west) on Sligh Ave, cross N. Boulevard. The zoo entrance is on the right.
Tampa Zoo parking
Parking at ZooTampa is free for all guests. Zoo Members get access to preferred parking, subject to availability.
Click here to know more about the nearby parking lots.
Sources
# Zootampa.org
# Wikipedia.org
# Visittampabay.com
# Tripadvisor.com

The travel specialists at TheBetterVacation.com use only high-quality sources while researching & writing their articles. We make every attempt to keep our content current, reliable and trustworthy.
Other Zoos in Florida
# Miami Zoo
# Central Florida Zoo
# Jacksonville Zoo