Central Florida Zoo and Botanical Gardens are on the edge of Lake Monroe in Sanford, Florida.
Because of its location, the family-friendly tourist attraction is also referred to as Sanford Zoo.
Both locals and tourists visit the zoo for its 350 animals on display and numerous wildlife experiences.
The zoo's exhibits include the Australasia exhibit featuring animals from Australia and New Guinea, the South America exhibit featuring animals from Central and South America rainforests, and the Florida exhibit featuring native Florida wildlife.
There is also a primate exhibit, a herpetarium featuring reptiles and amphibians, and an Insect Zoo featuring a variety of insects.
Central Florida Zoo and Botanical Gardens are great for families and animal lovers to learn about and interact with various animals and plants.
This article shares everything you must know before purchasing your Central Florida Zoo tickets.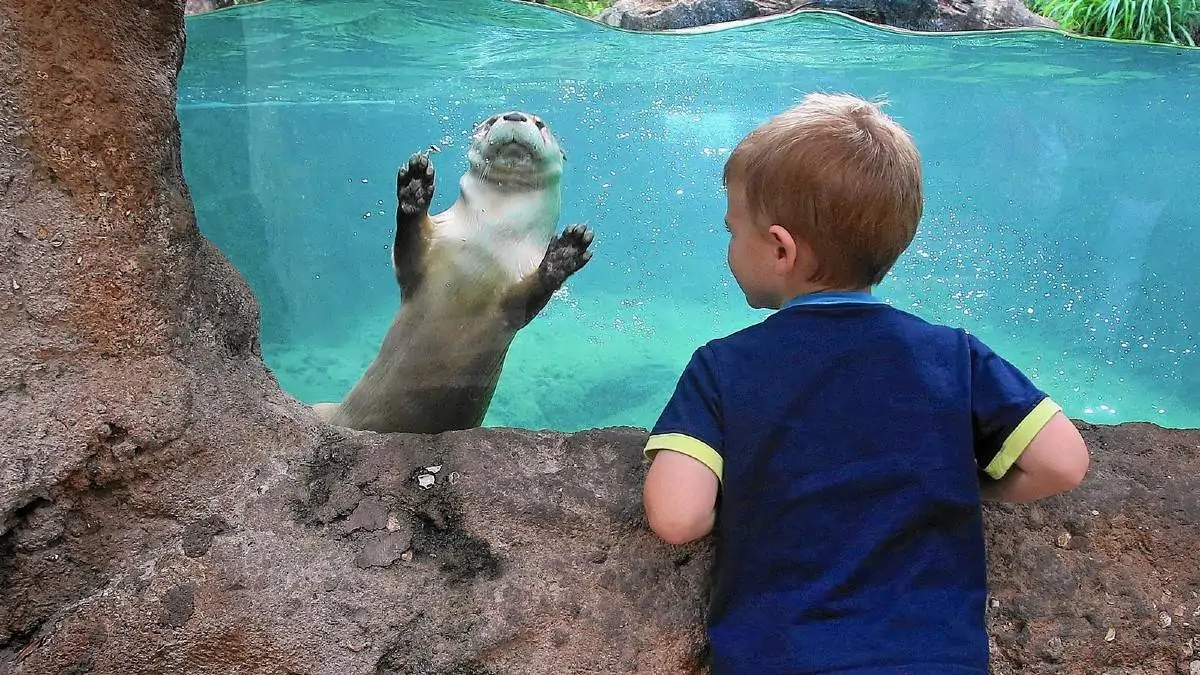 Sanford Zoo hours
The Central Florida Zoo opens at 9 am and closes at 4 pm every day of the week.
The last entry is 30 minutes before closing.
It remains closed on Thanksgiving and Christmas.
---
---
Central Florida Zoo prices
The regular Sanford Zoo ticket for an adult costs $20.
The most significant Sanford Zoo discount is reserved for kids three years and below – they enter for free.
Children between 3 to 12 years get the second-best ticket discount – they get a 30% discount on the adult ticket and pay only $14.
Seniors (55+ years) get an 18% reduction on the ticket's cost and pay only $16 for admission.
---
---
Sanford Zoo tickets
Purchasing your tickets for Sanford Zoo online is a better experience for three reasons:
Online tickets are cheaper than the price you will pay at the entrance
You don't wait in the ticket counter queue and waste your time and energy
Tickets on-site are sold on a 'first-come, first-served basis. Booking your tickets online (and in advance) ensures a guaranteed entry
The tickets get emailed to you. On the day of the visit, you can Skip the line at admissions and proceed directly to the check-in booth to scan your smartphone ticket.
Kids under three years get in free, but please select a free ticket.
Ticket price
Adult ticket (13 to 54 years): $20
Child ticket (3 to 12 years): $14
Seniors ticket (55+ years): $16
---
---
Combo tickets
Combo tickets give you more for less and are popular among Central Florida Sanford Zoo tourists.
Visitors must consider Combo tickets for the following reasons:
1. They are a great way to save up to 20% on ticket expenses.
2. Some visitors finish exploring Central Florida Zoo in two to three hours and need another nearby attraction to make it a full day's outing
Crayola Experience + Central Florida Zoo
Crayola Experience is a vibrant world of color where young artists can try their hand at 26 immersive and engaging activities.
They get to wax, paint, chalk, dry markers, and indulge with digital play stations.
They also get to meet Crayon Characters, solve riddles, etc.
The combo is popular because Crayola Experience and Central Florida Zoo appeal to families with kids.
After a 10% discount, this combo costs $41 per person.
Kennedy Space Center + Central Florida Zoo
At Kennedy Space Center, visitors see the Space Shuttle Atlantis, travel to the Red Planet, and even see a rocket launch.
It is just one hour from both Orlando and Sanford.
The Space Center appeals to the younger generation of space explorers and is a hit with families with kids.
After a 10% discount, this combo costs $90 per person.
With six fantastic zoos, Florida is a wildlife lover's paradise. Read about all the Zoos in Florida.
---
---
Best time to visit Sanford Zoo
The best time to visit Sanford Zoo is when they open at 9 am.
There are four advantages of starting early – the animals are most active early in the morning, the temperatures are still moderate, the crowd is yet to get in, and you have the whole day to explore.
When you start early, you can explore for a few hours, have lunch, and then explore the zoo again.
We recommend weekdays for a peaceful visit because it gets crowded on weekends and school holidays.
---
---
How long does Sanford Zoo take
If you visit with kids and plan to attend keeper talks, feeding sessions, etc., you will need 3 to 4 hours to explore Sanford Zoo in Florida.
However, if you are a bunch of adults and want to wrap up soon, you can cover most animal exhibits in 90 minutes.
Tip: When you buy Central Florida Zoo tickets online, you can skip the long lines at the ticket office and save time.
---
---
Central Florida Zoo animals
The Central Florida Zoo and Botanical Gardens is home to over 350 animals representing over 100 species.
Their collection includes international favorites worldwide and animals such as the Black bear, American alligator, etc., native to Florida.
Amphibians at the Zoo
You can see amphibians at the Central Florida Sanford Zoo, including poison dart frogs, salamanders, and the African bullfrog, in the Herpetarium.
The Insect Zoo inside the Wayne M. Densch Discovery Center also displays some amphibians.
Since these are indoor exhibits, check out the Sanford Zoo's amphibians later in the day when the temperatures are soaring.
Birds at the Sanford Zoo
Visitors through the zoo visit see various birds, including birds of prey, tropical parrots, and even some local wildlife.
Don't miss out on the American Black Vulture and Bald Eagle.
Discovering invertebrates
At the Central Florida Zoo, you can see various invertebrate species inside the Insect Zoo, inside the Wayne M. Densch Discovery Center.
Some of this section's highlights are – the Giant African Millipede, Chilean Rose Tarantula, Madagascar Hissing Cockroach, and Mexican Redknee Tarantula.
Meet the Zoo's mammals
Mammals are the biggest hits of any Zoo, and it also holds for the Central Florida Zoo.
During your visit, check out the Florida Black Bear, Giraffe, Greater One-Horned Rhinos, Otter, Cheetah, Two-Toed Sloth, Ring-Tailed Lemurs, etc.
Reptilian residents of the Zoo
The Central Florida Zoo's Herpetarium is home to venomous snakes from around the world and those native to Central Florida.
Don't miss out on the numerous crocodiles, alligators, and snakes on display.
---
---
What to do at Sanford Zoo, Florida
After seeing the animals, you will still have lots to explore and do at the Sanford Zoo.
Animal Carousel
The Animal Carousel is just outside Central Florida Zoo's entrance, and visitors can try them before entering or after they are done exploring.
The Carousel costs $2 per child and is free for an adult with a child.
The kid can choose their favorite Zoo animal to ride – from alligators, giraffes, ponies, and more.
Splash Ground
The Wharton-Smith Tropical Splash Ground is a great way to beat the heat and is part of the regular Sanford Zoo entry ticket.
It features streams, sprinklers, and sprays, creating an oasis inside the Central Florida Zoo.
Its water features, including animal sprinklers, raining trees, and a bucket dump, make it an all-time favorite.
When the temperature goes below 60 degrees Fahrenheit, Splash Ground is closed for the day.
Giraffe Feeding
Giraffe feeding at the Central Florida Zoo is an opportunity to get close to its tallest inhabitants and learn about them.
You may get to interact with Rafiki or Gage – two of the zoo's giraffes.
Visitors can feed the giraffes from 10 am to 3 pm; the experience costs $5 per person.
Barnyard Buddies Children's Zoo
At the Barnyard Buddies Children's Zoo, kids can interact with farm animals such as alpacas, chickens, donkeys, goats, llamas, etc.
For an additional charge of $4 per portion, kids can feed specific animals at this Central Florida petting zoo.
Children love this hands-on experience – don't be surprised if they request one last look before you exit the zoo.
Visitors can purchase the animal feed from the ZOOfari Outpost Gift Shop.
Image: Funlearninglife.com
Botanical Gardens
The Central Florida Zoo is home to breathtaking flora growing throughout the area.
The zoo has three gardens – Butterfly Garden, Health and Wellness Garden, Spines, Thorns, and Prickles Garden.
Meet the Indian Rhino
Meeting the Indian Rhino at Central Florida Zoo is an exclusive activity, and space is limited to five participants per encounter.
The encounter with PJ, the playful one-horned Indian rhino, costs $30 per person and can be booked at the zoo.
It would be best if you chose between three times – 11.30 am, 11.50, or 12.10 pm.
A paying adult must accompany kids under 13 years.
Bungee Bounce
Bungee Bounce at Sanford Zoo Florida is an adrenaline-filled activity that excites everyone.
It is at the front of the Zoo under Seminole Aerial Adventures.
Keep an eye on the treetops overhead as you launch towards the sky, then dive back down to do it all over again.
Bungee Bounce is available from 10 am to 4.30 pm, costing $7 per person per ride.
Age and weight restrictions apply.
Keeper Talks
Also known as Animal Encounters, the Keeper Talks are a great way to learn about the animals and their habitats and see them in action.
The Keepers Talks at Sanford Zoo happen all day, and for some animals, they happen twice daily.
When you enter the zoo, ask for the day's schedule of the keeper's talk so you can plan your day.
All Keeper Talks are part of the regular zoo entry ticket.
KaBOOM! Playground
The KaBOOM! playground is a great place to play and interact with others.
The 2,500-square-foot playground includes a Funnel Adventure Tube, a Treehouse Climber, a Triple Racer Slide, etc.
Access to the playground is part of the regular Central Florida Zoo ticket.
Face Painting
Younger kids love to look their wildest at the zoo, and the face painting section helps.
They get to choose the animal they want to look like before the artist gets to work.
---
---
Sanford Zoo Zipline
Also known as Seminole Aerial Adventures (SAA), the Sanford Zoo Ziplines Courses are popular with kids and adults.
If you are an adventurer seeking a new kind of thrill, you will love navigating from tree to tree using rope bridges, zips, suspended disks, and numerous other elements.
You also get to see nature from a new perspective.
Depending on how big a challenge you want to try, Central Florida Zoo has three types of Zipline courses.
Whichever course you opt for, please wear sneakers or tennis shoes – they are mandatory.
These zipline flights and courses are timed, so arrive at most 15 minutes before your scheduled flight time.
The last admission for all three zipline courses is 1 pm.
Kids course
Sanford Zoo's Kids' Zipline course is designed for young adventurers.
Children five years and above experience 22 elements, two zip lines, and one sky swing.
The participants must be between 3 feet (36″) to 5 feet (60″) tall.
This course takes approximately 45 minutes to an hour to complete and costs $18 per child.
Upland Course
The Upland course is for adventurers of all ability levels – adults and kids- as long as they qualify for height.
The course has 15 elements and seven zip lines and lasts approximately 90 minutes.
Participants must have a minimum height of 4.5 feet (54″).
The Upland Zipline's course costs $36 per person; after it is over, visitors can upgrade to the Rainforest course for an additional $12.
Rainforest Course
Sanford Zoo's Rainforest Zipline course tests your mind and your body.
Adventurers navigate and cross 33 elements and 13 zip lines, and the course takes around two and a half hours to complete.
Participants must have a minimum height of 4.5 feet (54″) and complete the Upland course to reach the Rainforest.
The Rainforest Zipline course costs $46 per person.
---
---
Central Florida Zoo map
With more than 350 animals to see, it is wiser to have a copy of the Central Florida Zoo map to navigate the various exhibits.
Besides the animal enclosures, a map helps you identify visitor services such as restaurants, restrooms, kids' parks, gift shops, etc.
Carrying the Sanford Zoo's layout is highly recommended if you are traveling with kids because you won't waste time finding the various exhibits and, in the process, get exhausted.
You can download the map (377 Kb) or request it at the zoo entrance.
---
---
Food and drinks at Central Florida Zoo
Since this is a smaller zoo, it has limited food options.
Graze at the Zoo is located near the Wharton-Smith Tropical Splash Ground and is open daily from 10 am till 3 pm.
Guests can get all types of fast food—burgers, sandwiches, chicken tenders, hotdogs, fries, etc.
The second snack bar Swirl is near Rhinoceros habitat.
They serve Ice-cream and beverages.
Outside food is not allowed in the zoo. However, visitors can use the free picnic seating area outside the admission counter to eat their home-packed food.
---
---
How to reach Central Florida Zoo
The Central Florida Zoo and Botanical Gardens is at 3755 W. Seminole Blvd. Sanford, Florida 32771.
The best way to get there is to fire your google map and follow the directions.
From Orlando
Sanford Zoo is 37 km (23 miles) from Orlando, and if you are driving, you can cover the distance in 25 to 30 minutes.
On I-4
Travel east to Exit 104 (HWY 17-92)
Take a left off of exit ramp onto 17-92
The zoo is 1/8 mile on the right on HWY 17-92
On the Central Florida Greenway (417)
Travel north until it ends in Sanford at I-4
Head east on I-4 to Exit 104 (HWY 17-92)
Take a left off the exit ramp onto 17-92
The zoo is 1/8 mile on the right on HWY 17-92
Volusia County
Volusia County is approximately 45 km (28 miles) from the Central Florida Zoo, and you can drive the distance in a little over 30 minutes.
On I-4
Travel west to Exit 104
Exit right off the ramp onto HWY 17-92
The zoo is 1/4 mile on the right
On HWY 17-92
Travel south through Volusia County toward Sanford.
The zoo is on the right side, just past the St. Johns River Bridge.
Brevard County
Brevard County is approximately 116 km (72 miles) from the Central Florida Zoo. Visitors usually drive to the zoo in 65 to 70 minutes.
Take Interstate 95 to State Road 46, Exit 81 (Sanford/Mims)
Travel west to Sanford
Turn right on HWY 17-92 and follow through Sanford and around the lakefront
The zoo is two miles past the Central Florida Regional Hospital on the left
Lake County
Lake County is approximately 65 km (40 miles) from the zoo, and most visitors drive to the family attraction in 55 to 60 minutes.
Take Highway 441 south to State Road 46
Go east on 46 to Interstate 4
Take I-4 east one exit
Exit at #104
Follow the signs to the zoo
The zoo has spacious parking, which is free.
Electric charging stations are available on a first-come, first-serve basis.
Sources
# Centralfloridazoo.org
# Wikipedia.org
# Traveltriangle.com
# Tripadvisor.com

The travel specialists at TheBetterVacation.com use only high-quality sources while researching & writing their articles. We make every attempt to keep our content current, reliable and trustworthy.
Other Zoos in Florida
# Miami Zoo
# Tampa Zoo
# Jacksonville Zoo