Jacksonville Zoo and Gardens is home to over 2000 animals from 350 species and 1000 rare plants.
Spread over 122 acres, it has wildlife worldwide and various kid-friendly activities, making it an excellent family outing.
Some popular exhibits at the Jacksonville Zoo and Gardens include the African Savannah, Range of the Jaguar, Great Apes, and Wild Florida.
The African Savannah exhibit is home to various animals, such as giraffes, zebras, and cheetahs. T
he Range of the Jaguar exhibit is home to jaguars and other animals from Central and South America.
The Great Apes exhibit features gorillas and orangutans, and the Wild Florida exhibit showcases some of the native wildlife of Florida, including alligators and black bears.
This article explains everything you must know before buying your Jacksonville Zoo tickets.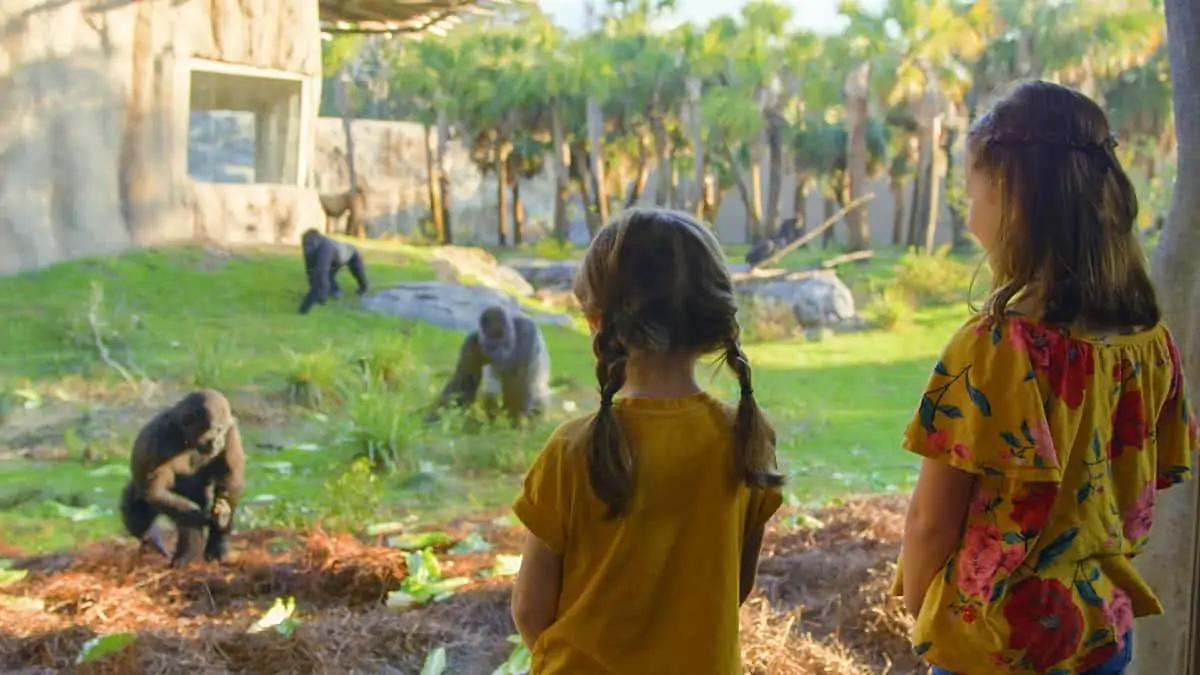 Directions to Jacksonville Zoo
Address: 370 Zoo Parkway, Jacksonville, Florida, 32218. Get Directions
The Jacksonville Zoo and Gardens is near the mouth of the Trout River, which flows into the St. Johns River.
It is 13 km (8 miles) from Downtown Jacksonville.
You can use bus route 1 or 85 to get to Jacksonville Zoo.
Zoo Parkway & Parker Avenue is the closest bus stop.
If you plan to drive to the wildlife attraction, fire up your Google Maps and follow the directions to Jacksonville Zoo parking.
Click here to know about the nearest parking lots.
---
---
Jacksonville Zoo hours
Jacksonville Zoo opens at 9 am and closes at 5 pm every day of the year.
The last admission is one hour before closure.
The Zoo remains closed on Thanksgiving Day and Christmas Day.
---
---
Best time to visit Jacksonville Zoo
The best time to visit Jacksonville Zoo is when they open at 9 am.
Early morning, animals are most active. As the day progresses and gets hotter, they recede to shaded areas and are sometimes hard to spot.
After 11 am, the crowd gets bigger, and queues get longer.
When you start early, you cover a considerable part of the zoo before breaking for lunch.
On weekends and public holidays, Jacksonville Zoo tends to draw many people.
---
---
How long does Jacksonville Zoo take
If you visit with children, you will need three to four hours to explore Jacksonville Zoo.
Kids tend to linger longer around their favorite animal enclosures, attend feeding sessions, keeper talks, try out the rides, etc.
If you are a group of adults hurrying, you can see all the animal exhibits at Jacksonville Zoo in 90 minutes.
Check out the best things to do in Jacksonville, Florida.
---
---
Jacksonville Zoo tickets
At Jacksonville Zoo, you can book two tickets – the General Admission ticket or the Total Experience ticket.
While the General Admission ticket only gets you to the zoo, the Total Experience ticket gets you entry to 4D Theater, unlimited train rides, unlimited carousel rides, and a limited number of animal feedings.
Before purchasing tickets for Jacksonville Zoo, you must be sure of what you want to do because you can't buy the other experiences á la carte.
Price of Total Experience tickets
Adult ticket (13 to 64 years): $40
Child ticket (3 to 12 years): $33
Seniors ticket (65+ years): $38
Price of General Admission tickets
Adult ticket (13 to 64 years): $30
Child ticket (3 to 12 years): $25
Seniors ticket (65+ years): $28
Infants under two years get in for free.
---
---
Animals at Jacksonville Zoo
The 2,000-plus animals at Jacksonville Zoo are exhibited in ten different habitats, and each mimics the creature's natural environment.
Africa Loop
Visitors walk along the 427 meters (1,400 feet) long boardwalk and observe the animals in their large and open habitats.
As soon as you enter Africa Loop, you see the Greater Flamingo exhibit, Aldabra Tortoise, and Warthogs.
Next, you see the Bongo exhibit in the center of the loop around the Plains.
The Cheetah exhibit is 91 meters (300 feet) long, 15 meters (50 feet) wide area, and home to one male Cheetah.
Next, you spot White Rhinoceros, Greater Kudu, Marabou Stork, East African Crowned Crane, and Ostrich, who inhabit one 2.5-acre area.
The Okapi and Zebra exhibits are further down the boardwalk.
Inside the Africa Loop, Elephant Plaza offers an intimate view of the elephants and their 275,000-gallon pool.
You can see two African Elephant females and one male from the top.
Visitors can also see the African Reptile Building in the same area, which houses some of the world's deadliest snakes.
The last part of this massive loop is Lion's one-acre home.
African Forest
African Forest at Jacksonville Zoo and Gardens is the best place to see the great apes closer than ever before.
Visitors are stunned by the 12 meters (40 feet) high Kapok Tree, which serves as the heart and hub of the exhibit.
The interior of the tree's trunk is accessible to zookeepers via a stairway so that they can study and attend to the animals.
At the African Forest, you will see animals such as Bonobo, Angolan Colobus, Guereza Colobus, Western Lowland Gorillas, etc.
Australian Adventure
As the name suggests, the Australian Adventure exhibit exhibits animals from Down Under.
Animals in this South Pacific attraction include Cassowary, Emus, Laughing Kookaburra, Lorikeets, etc.
Visitors can feed the Lorikeets in a free-flight aviary.
Giraffe Overlook
Visitors stroll across this elevated viewing platform and come nose-to-nose with the giraffes.
From the all-weather boardwalk, guests can see Giraffes walk and graze freely in the 2.5-acre exhibit.
Besides the giraffes, the stunning views of the African Savanna make this worthwhile.
Land of the Tiger
On the Asia Loop, visitors will first see the Komodo Dragon exhibit before reaching the award-winning Land of the Tiger.
Malayan and Sumatran tigers can roam through the area via an innovative trail system.
The best part of Jacksonville Zoo's Land of the Tigers is that the guests can view the Tigers from almost anywhere in this 2.5-acre exhibit.
Besides the Tigers, you also see North Sulawesi Babirusa, Wreathed Hornbill, Rhinoceros Hornbill, Asian Small-clawed Otter, etc.
Play Park and Splash Ground
Play Park is 2.5 acres of children's area just past the Range of the Jaguar and the Wildlife Carousel.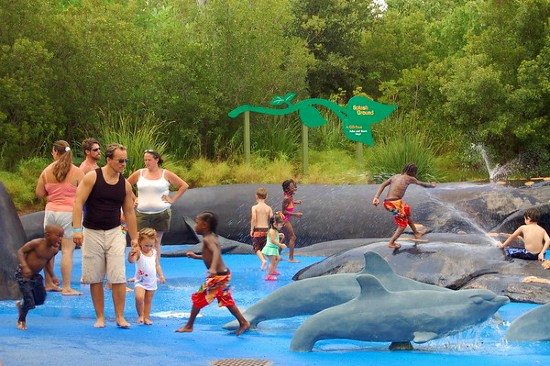 Kids can find their way through two mazes, climb, jump, and get wet in the Splash Ground.
They can imitate the squirrel monkeys by climbing on vines before the animals.
Image: Metrojacksonville.com
The Tree House, Rock Wall, Forest Play area, and Penguins tunnel window are other kids' favorites in the Play Park.
Kids who want to get closer to the animals can brush the West African pygmy and Nigerian Dwarf goats in the Animal Care area.
Range of the Jaguar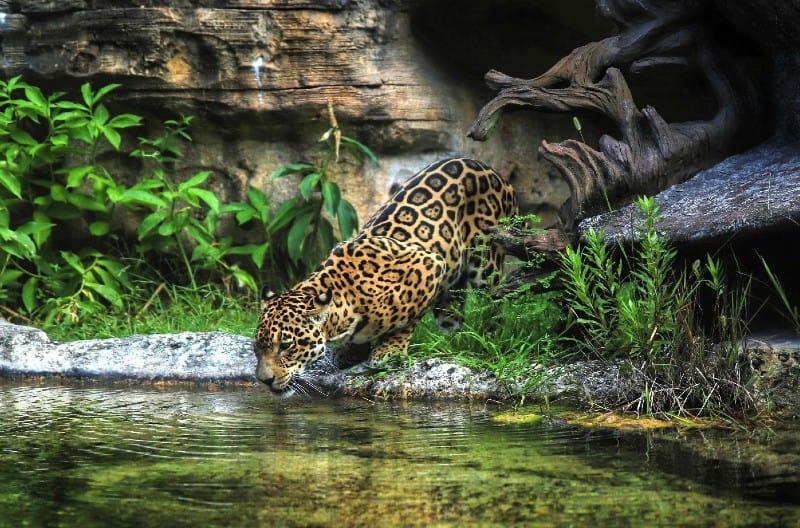 Range of the Jaguar is a South American exhibit with the Palm Plaza restaurant and Village Sweet Shop.
Check out the winding halls of the captivating Lost Temple and see bushmaster snakes, poison dart frogs, anacondas, vampire bats, Utila spiny-tailed iguanas, etc.
In the River's Edge exhibit, you will spot howler monkeys, giant anteaters, and capybaras coexisting.
Next, you must try the Emerald Forest Aviary to see some of the finest birds worldwide.
In the Aviary, look for Arapaima, the largest freshwater fish, which can grow up to 4.6 meters (15 feet) in length.
River Valley Aviary
River Valley Aviary is a two-story enclosure covering 9,000 square feet and is home to exotic birds.
The free-flying aviary has birds such as Yellow-Billed Stork, Abdim Stork African Spoonbill, White-Bellied Bustard, Turacos, etc.
Sting Ray Bay
Kids love this interactive exhibit where they can pet and feed the Stingrays.
Some sea creatures they can see here are Atlantic Guitarfish, Atlantic Stingrays, Bluntnose Stingray, Cownose Stingray, Southern Stingray, etc.
Wild Florida
Wild Florida is 2.5 acres of natural wetlands of native animals and plants.
Visitors see Alligators, Black Bears, Bobcats, White-tailed Deer, Whooping Cranes, Bald Eagles, Pudu, etc.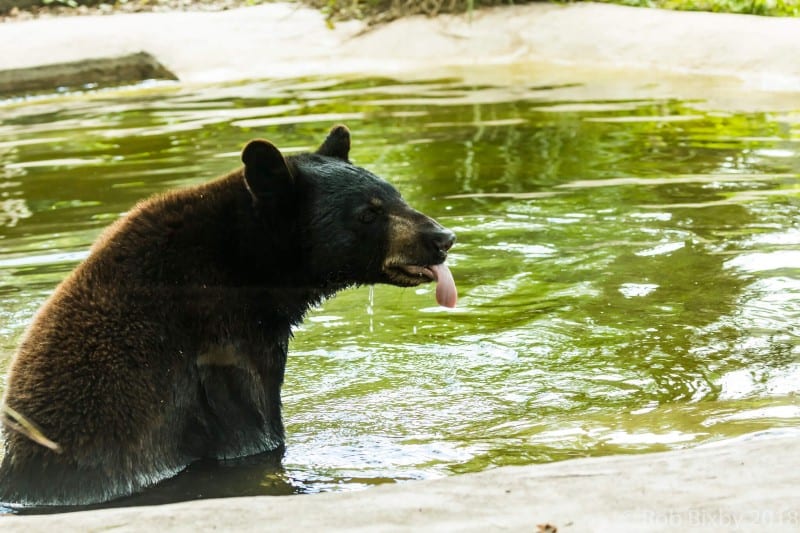 Wild Florida also has a Reptile House with 25 species of reptiles and amphibians.
The Alligators are just north of the Reptile House and are fed every Saturday at 2.15 pm.
Visitors can watch the Alligator feedings only from mid-March to November.
Yet to decide? Check out the best wildlife attractions in Florida.
---
---
Experiences in Jacksonville Zoo
Besides the animal exhibits, Jacksonville Zoo has four unique experiences – 4D Theatre, Zoo Train, Wildlife Carousel, and Animal Feedings.
All these experiences are not part of the zoo's General Admission Ticket.
To these four experiences, you must opt for the Total Experience Tickets.
4D Theatre
The 4D Theatre at Jacksonville Zoo and Gardens offers a multi-sensory movie experience.
It's interactive seats and unique special effects built into the theatre make it quite an experience.
Showtimes vary and are subject to change, so check on the day's timings and arrive early because the entrance is first-come, first-served.
Current movie: Mowgli's 4D Jungle Adventure
The Train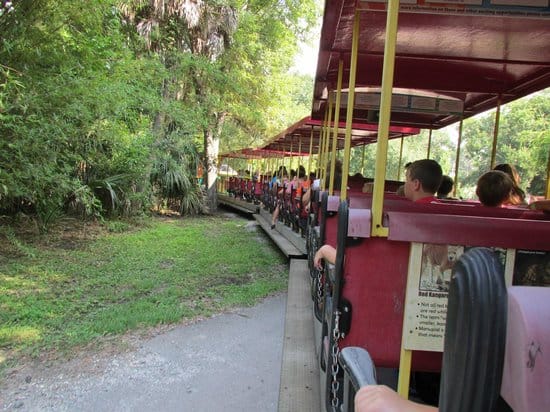 The train at Jacksonville Zoo runs daily; visitors love it because it is an easy way to explore the zoo.
On its route, the train stops near Trout River Plaza and at Main Camp, where you can disembark and explore the nearby parts of the zoo.
Image: Tripadvisor.com
Both kids and adults enjoy the lovely ride.
Wildlife Carousel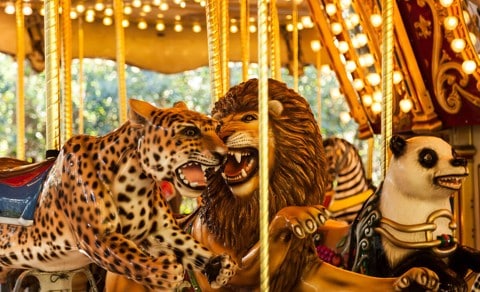 The Wildlife Carousel features gorgeous wild animals such as Tigers, Okapi, Eagles, etc.
Only kids below 12 years can ride the carousel.
Image: Jacksonvillezoo.org
Adults can join in the fun as long as they accompany small children.
Animal Feedings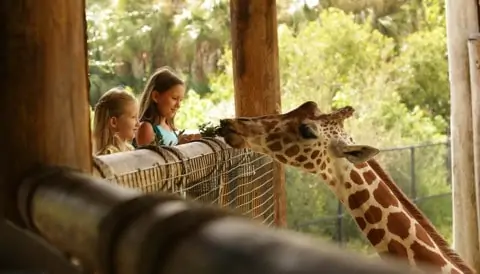 At Jacksonville Zoo, visitors can participate in three feeding encounters – at the Stringray's tank, the Giraffe Overlook, and the Lorikeets Aviary.
Both kids and adults love these animal interactions, which are included in the Total Experience tickets.
Image: Jacksonvillezoo.org
---
---
Jacksonville Zoo map
With more than two thousand animals to see, it is wiser to have a copy of the Jacksonville Zoo's map to navigate the various exhibits.
Besides the animal enclosures, a map helps you identify visitor services such as restaurants, restrooms, kids parks, souvenir shops, etc.
Carrying the Jacksonville Zoo's layout is highly recommended if you are traveling with kids because you won't waste time finding the various exhibits and get exhausted in the process.
You can download the map (from the official site) or bookmark this page later.
---
---
Food at Jacksonville Zoo
Jacksonville Zoo has six food and drinks outlets within the premises.
| Name | Location | Timing |
| --- | --- | --- |
| Main Camp Cafe | Main Camp | 9 am to 4 pm |
| Village Sweet Shop | Range of the Jaguar | 9.30 am to 5 pm |
| Palm Plaza Cafe | Range of the Jaguar | 10 am to 4 pm* |
| Trout River Grill | Trout River Plaza | 10 am to 4 pm |
| Kona Ice | Trout River Plaza | 10 am to 5 pm |
*Saturday & Sunday
Visitors can't bring their coolers or food and beverages inside the Zoo and Gardens.
---
---
Jacksonville Zoo's dinosaurs
Dinosauria is a dinosaur's extravaganza at Jacksonville Zoo.
More than 20 odd dinosaurs, such as T-Rex, Triceratops, etc., are exhibited during this festival.
Visitors walk through a Time Tunnel and get transported back to the forests of the Permian epoch and then to the periods such as Triassic, Jurassic, Cretaceous, Pleistocene periods, etc.
Jacksonville Zoo's dinosaurs exhibition usually starts around March and runs till September.
Sources
# News4jax.com
# Wikipedia.org
# Travel.usnews.com
# Tripadvisor.com

The travel specialists at TheBetterVacation.com use only high-quality sources while researching & writing their articles. We make every attempt to keep our content current, reliable and trustworthy.
Other Zoos in Florida
# Miami Zoo
# Central Florida Zoo
# Tampa Zoo