Indoor Skydiving Tampa, or iFLY Tampa, offers a thrilling and unique skydiving experience without jumping out of a plane.
Located in Tampa, Florida, this indoor skydiving facility provides a safe and controlled environment for people of all ages to enjoy the sensation of freefall.
At Indoor Skydiving Tampa, participants can experience the feeling of weightlessness as they float on a cushion of air generated by powerful vertical wind tunnels.
These wind tunnels create air columns allowing individuals to soar and perform aerial maneuvers like outdoor skydiving.
This article shares everything you need to know before booking tickets for Indoor Skydiving Tampa.
Top Indoor Skydiving Tampa Tickets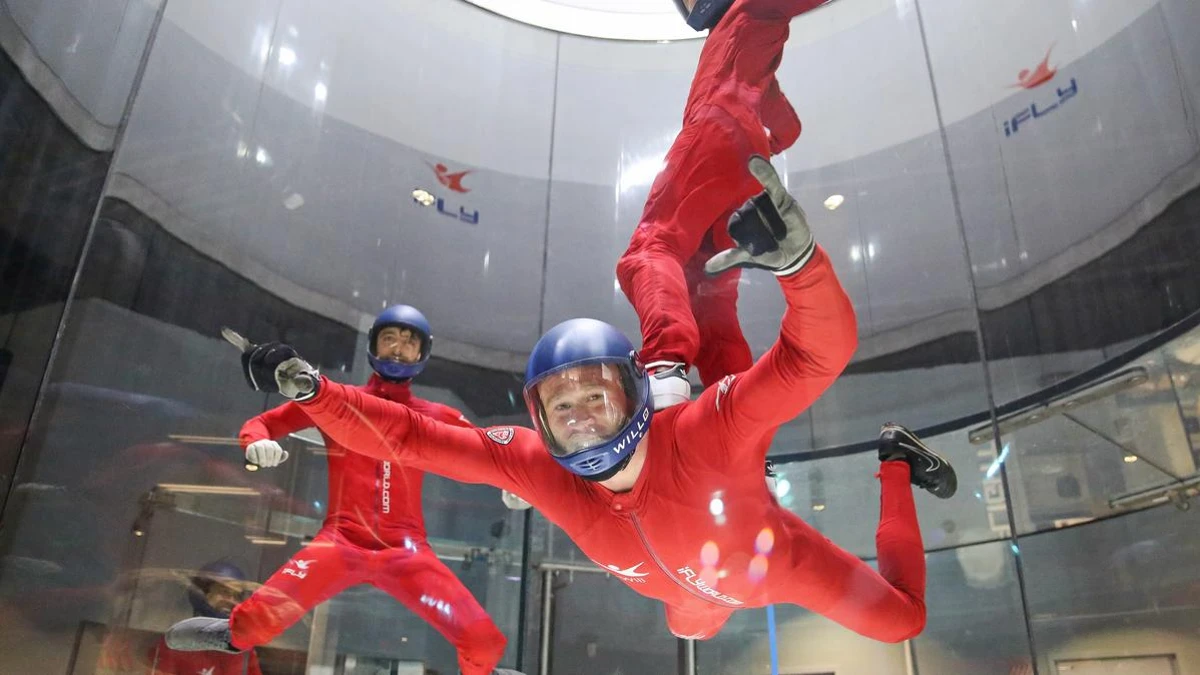 What to expect
The Indoor Skydiving experience at Tampa begins with a comprehensive training session where a qualified instructor guides body positioning and safety procedures.
Participants are then provided with all the necessary flight gear, including a suit, helmet, and goggles.
Once inside the wind tunnel, participants can enjoy the exhilaration of indoor skydiving under the close supervision of experienced instructors.
These instructors provide hands-on assistance and ensure a safe and enjoyable flight for everyone.
Indoor Skydiving Tampa offers various packages and options for different preferences and skill levels.
Whether you're a first-time flier or an experienced skydiver looking to refine your skills, there are options available for everyone.
The facility also provides a comfortable viewing area where friends and family can watch and cheer on the fliers as they defy gravity.
Additionally, Indoor Skydiving Tampa offers amenities such as lockers, changing rooms, and a souvenir shop to enhance the overall experience.
Indoor skydiving is a thrilling activity suitable for individuals, families, groups, and corporate events.
It provides a unique and unforgettable adventure that replicates the sensation of skydiving in a controlled and safe environment.
---
---
Where to book tickets
Tickets for Indoor Skydiving Tampa are available online and at the venue.
We recommend online booking as it helps you save time and money.
Online ticket prices tend to be cheaper than tickets at the venue.
When you buy online, you can avoid the long queues at the ticket counters.
Because some attractions sell a limited number of tickets, booking early helps avoid last-minute disappointment.
When you book early, you also get your preferred time slot.
How do online tickets work?
Visit the Tampa Indoor Skydiving booking page, select the date and number of tickets, and book immediately!
After completing your purchase, you will receive an email with your tickets attached.
Printing them out is unnecessary, as you can simply show the tickets on your smartphone when you arrive at Indoor Skydiving Tampa.
It's recommended to arrive at the attraction at least ten minutes before the time stated on your ticket.
Indoor Skydiving Tampa ticket price
The tickets for Tampa Indoor Skydiving costs US$98 for all visitors above the age of three.
Infants up to the age of three can enjoy the tour for free.
Indoor Skydiving Tampa tickets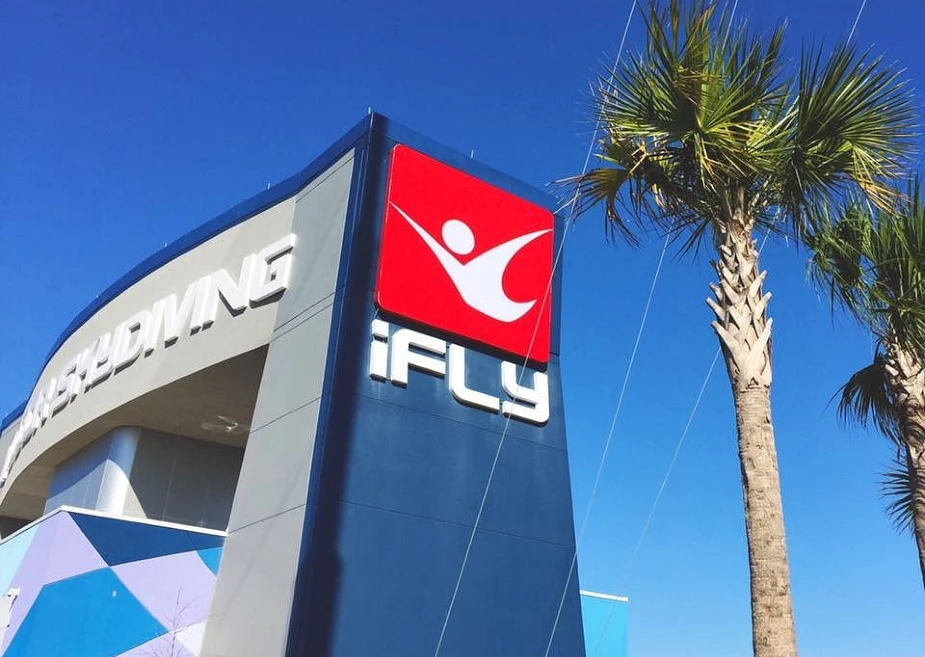 Experience the exhilaration of skydiving without the need to jump out of a plane at iFLY Tampa, Florida.
Step into the vertical wind tunnel and feel the rush of simulated freefall as you soar through the air.
With two 60-second "freefalls" and guidance from a certified flight instructor, you'll get a taste of the real skydiving experience.
You don't need previous experience as there are instructors to train you.
After your flights, receive a personalized flight certificate to commemorate your adventure.
iFLY Tampa offers an affordable alternative to traditional skydiving, allowing you to enjoy the thrill of flying indoors.
This package includes two flights for one person, providing ample opportunity to enjoy the sensation of freefalling in a safe and controlled environment.
Before your flights, you'll receive comprehensive training and have access to all the necessary gear.
A certified flight instructor will provide personalized guidance throughout your experience, ensuring your safety and maximizing your enjoyment.
Please note that certain medical conditions and weight restrictions apply to ensure the safety of both participants and instructors.
While not wheelchair accessible, the facility is stroller accessible, allowing most travelers to participate in this exhilarating adventure.
Ticket Price: US$98
Save time and money! The city of Tampa is known for its stunning waterfront, lovely beaches, historical centers, art and culture backdrop, and thriving urban setting. At just $139, the Tampa Bay CityPASS allows you access to Busch Gardens, The Florida Aquarium, and the ZooTampa, among many other attractions. The CityPASS is valid for nine consecutive days after its first use.
---
---
How to reach
Address: 10654 Palm River Rd, Tampa, FL 33619, United States. Get Directions
You can either take public transport or your car to reach the venue!
By Bus
Take the 360 Bus and get off at Causeway Blvd @ Falkenburg Rd.
From there, it is a 20-minute walk to the attraction.
By Car
Put your starting point here to get to the meeting point.
The facility has ample parking available for visitors. Check out the spots!
You can always hire a taxi or use rideshare options like Uber, Lyft, etc.
Timings
iFLY Tampa offers thrilling indoor skydiving experiences for visitors looking to experience the sensation of freefalling in a safe and controlled environment.
The facility operates on a varied schedule throughout the week.
| Day | Timings |
| --- | --- |
| Monday and Tuesday | Closed |
| Wednesday | 11 am to 6 pm |
| Thursday | 10 am to 6.30 pm |
| Friday | 10 am to 7 pm |
| Saturday | 10 am to 8 pm |
| Sunday | 10 am to 6 pm |
Best time for Indoor Skydiving Tampa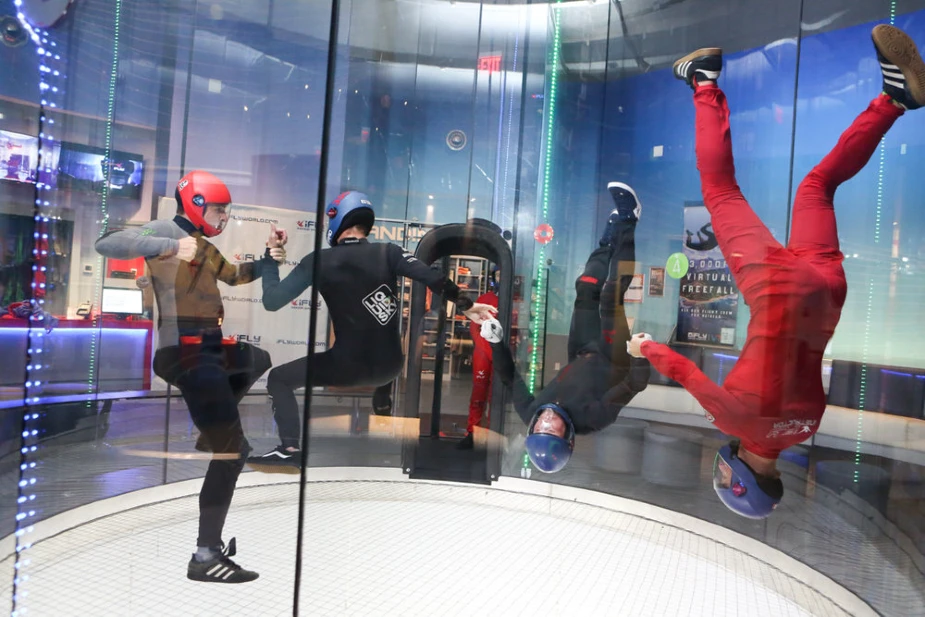 The best time to go for Indoor Skydiving in Tampa is at 10 or 11 am during weekdays, especially Wednesdays and Thursdays, as you get a relaxed and less crowded atmosphere than on weekends.
These midweek days are ideal if you prefer a quieter experience with shorter wait times.
Arriving earlier in the day when the facility opens allows you to kickstart your adrenaline-filled journey before the crowds arrive.
If you enjoy the crowd, then weekends would also be good for planning the activity.
How long does the activity take
The duration of Tampa Indoor Skydiving can vary depending on the package and the number of flights selected.
Generally, the entire experience, including training, gearing up, and flying, can take 1 to 1.5 hours.
This time frame allows participants to receive thorough training, suit up in the necessary gear, and enjoy their two flights in the vertical wind tunnel with the guidance of a certified flight instructor.
---
---
FAQs
Here are some frequently asked questions about Indoor Skydiving in Tampa.
Is there a weight restriction for indoor skydiving?
iFLY may not be able to accommodate fliers who weigh between 260 and 300 lbs (90.6 and 135.9 kg). People who weigh more than 300 lbs (135.9 kg) are not allowed.

Review by local staff will be necessary during check-in to ascertain whether fliers between 260 and 300 lbs may be accommodated and other restrictions may apply. 
Do we need to attend the training before flying?
Yes, training is mandatory for everyone. 

You'll learn a lot and also get some pre-flight flying position practice. 
Could I put on my glasses during the activity?
Yes. Our larger goggles can be worn over eyeglasses.
Will I have to remove my jewelry and watch?
Yes. You should remove any jewelry, including earrings, necklaces, bracelets, watches, rings, and hair decorations that could move around. 

You should also take everything out of your pockets. 
Can I perform flips and tricks within the tunnel?
Only skilled fliers can safely attempt tricks or flips. 

Work with the instructor and get proper guidance before attempting any tricks.
What do I need to wear for indoor skydiving?
Wear comfortable running shoes or trainers with laces. 

Other footwear is inappropriate. 

Put on some comfortable clothing, ideally trousers and a collarless shirt.
Sources
# iflyworld.com
# Indoorskydivingsource.com
# Tripadvisor.com

The travel specialists at TheBetterVacation.com use only high-quality sources while researching & writing their articles. We make every attempt to keep our content current, reliable and trustworthy.